MuDD Architects: Marrying Cutting-Edge Technology and Raw Materials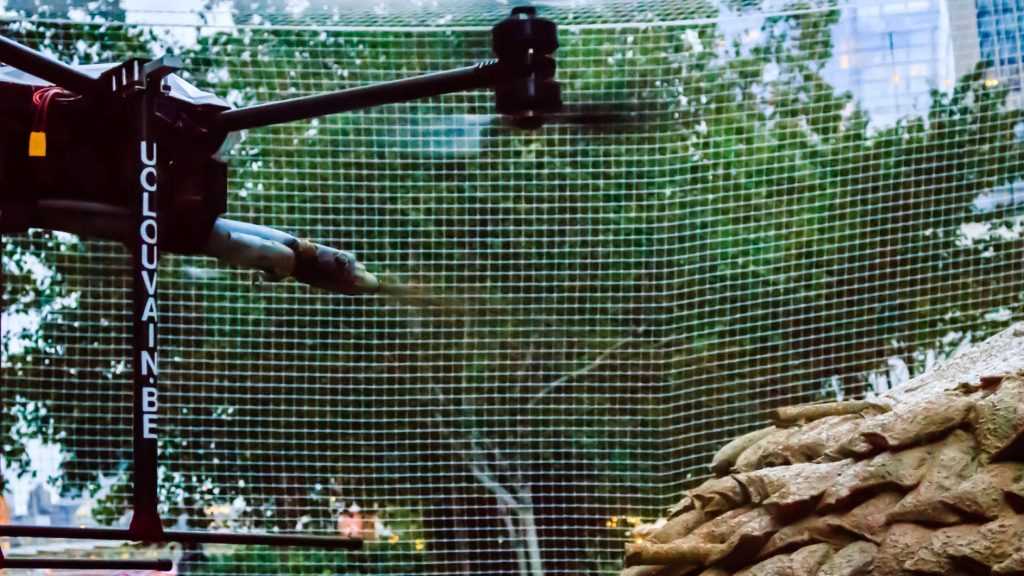 MuDD Architects is an architectural and interior design studio with offices in Paris and Barcelona. Co-founded by French architect and interior designer Stephanie Chaltiel in Singapore in 2012, she began her career in Mexico and French Guyana, after which she worked for Bernard Tschumi Architects in New York, OMA, and Zaha Hadid Architects. With projects internationally, the firm is known for its fusion of counting-edge technology, notably drone and natural materials, such as mud and tadelakt.
Stephanie has taught at SUTD Singapore, Westminster London, AA London, Ravensbourne London, the architectural school of Brighton, and, more recently, at Elisava Barcelona. While on a four-year EU Marie Curie scholarship, she developed drone spray technology for sustainable architecture and refurbishments.
The Spaces
Mud Shell (London, England, 2018)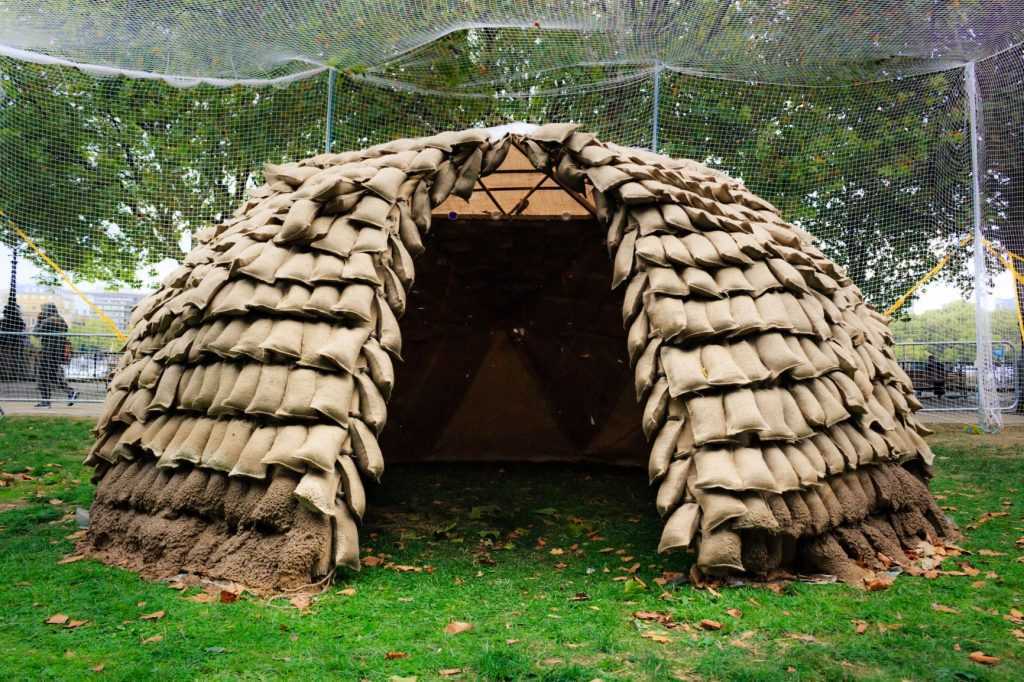 The Mud Shell is one of the firm's ephemeral architecture, designed for the 2018 London Design Festival as a prototype for emergency housing. Built in just three days, with a surface area of 25 square meters, the team used cheap, lightweight and readily available materials, combining ancient building techniques of wattle and daub with cutting edge drone application technology.
Small sacking bags filled with hay were mounted on a formwork of wooden struts arranged in a dome shape. The drone-sprayed coating binds the structure together, making it durable, weatherproof, and permanent.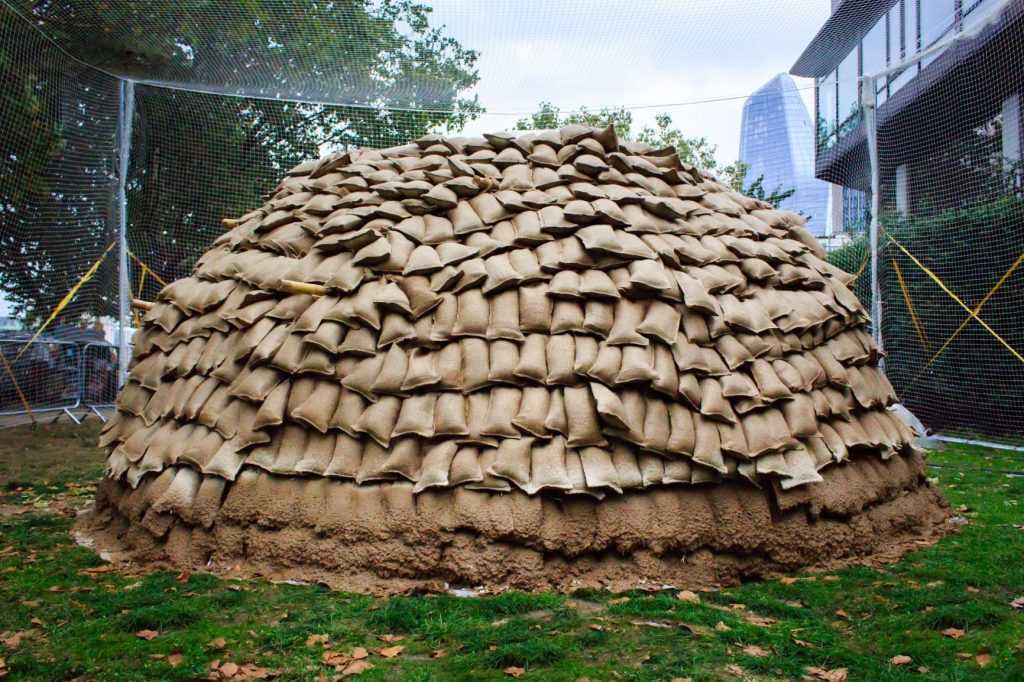 This project received the distinction "Highly commended" in the category of Installation Design for the 2019 Dezeen Awards.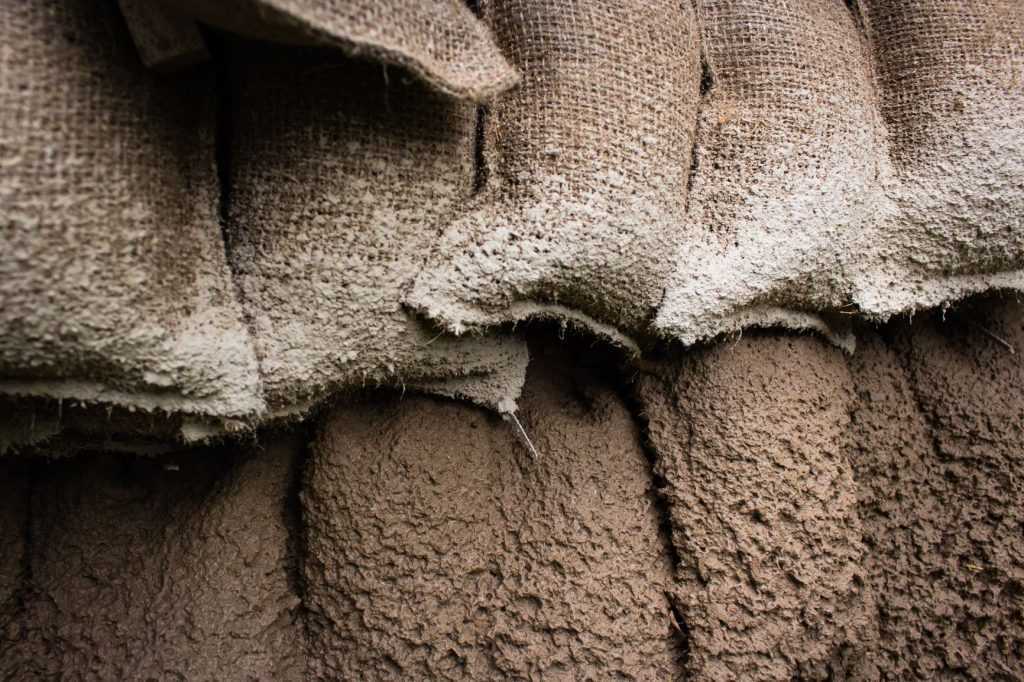 Photography by Rosie Marks
The Writer's Cabin (Madrid, Spain, 2021)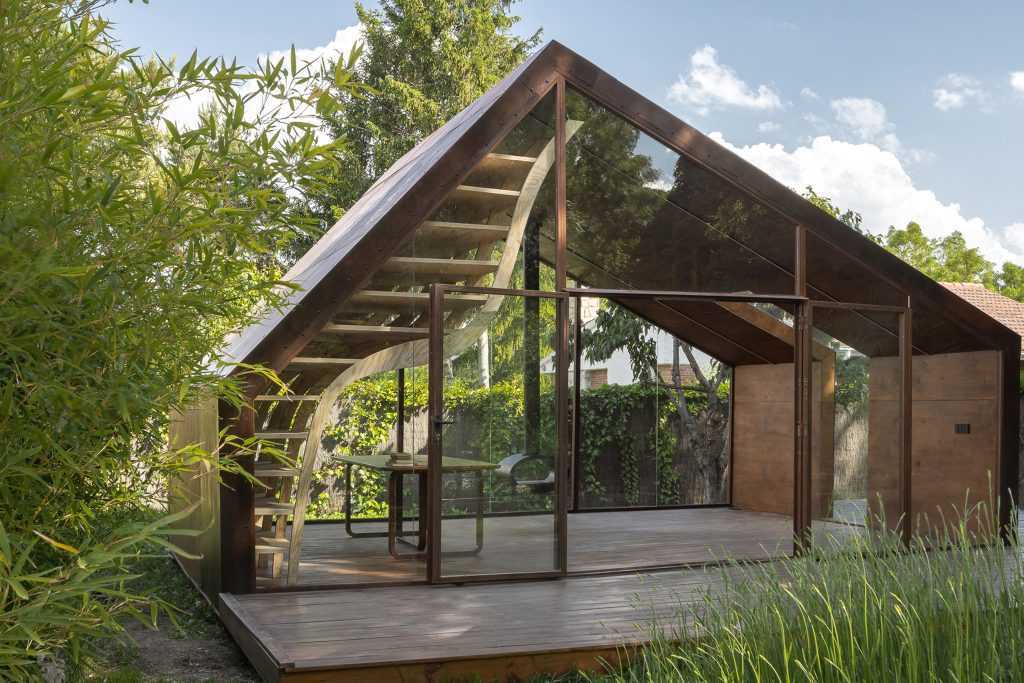 The 27-square-meter writer's cabin north of Madrid is for a children's books author. The studio began the project a few months after the beginning of the pandemic and completed it in 2021. ​​The brief and the challenge was to design a structure with vernacular cabin-like architecture but with a contemporary twist. For the author, the process and the resulting build needed to be both evocative and a source of inspiration for her works.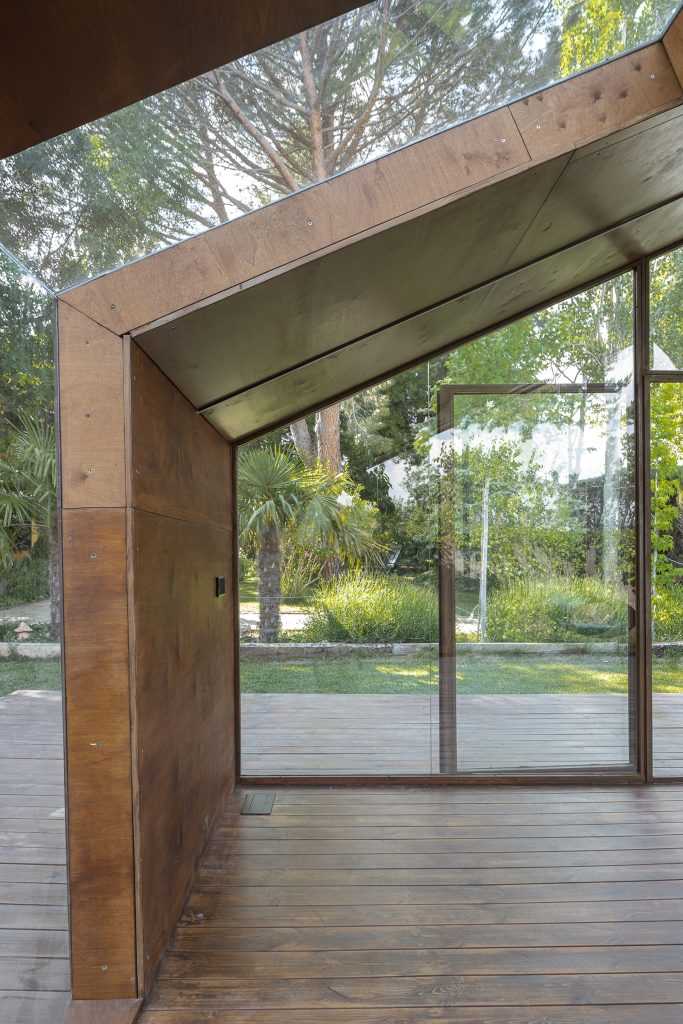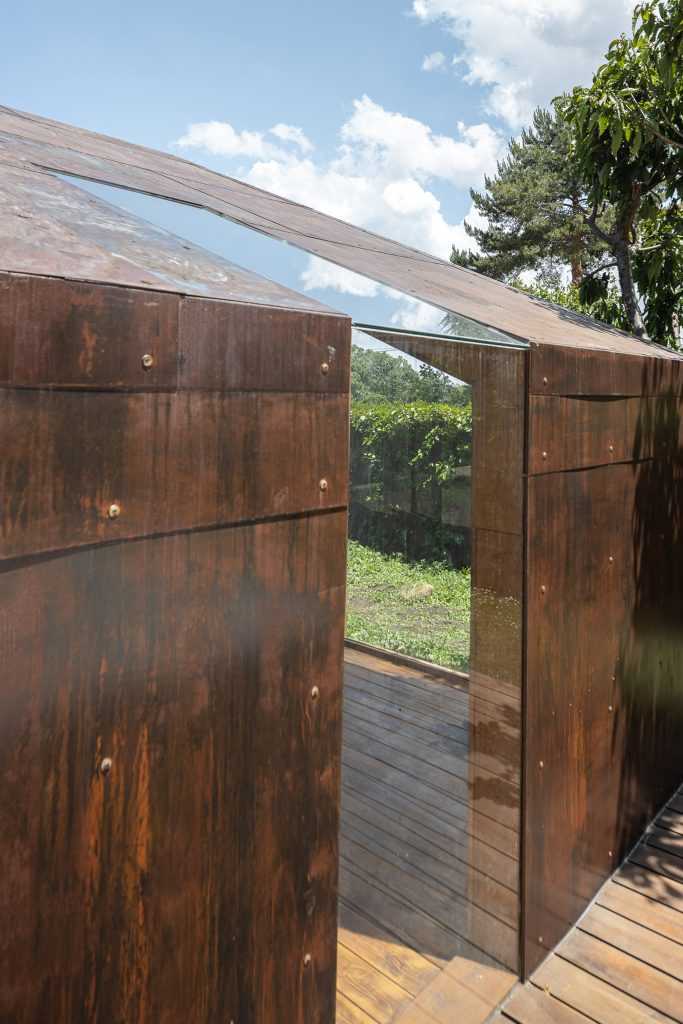 The cabin exterior is of folded oxidized iron, for which the level of oxidization determines the colors and finishes. The thin frame that supports the laminated glass walls does not block sightlines, thus allowing for an integration of the interior with the stunning garden.​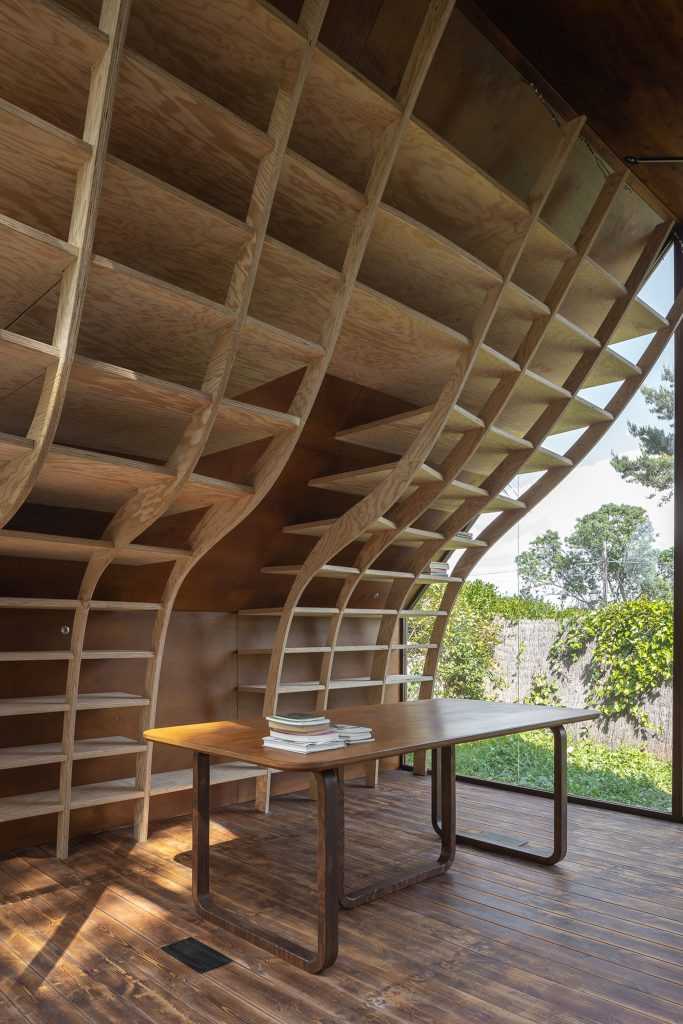 The interior cladding is locally sourced maple wood. ​The design of the curvy bookshelves, the form for which follow the slopes of the roof, was one of the most challenging aspects of the project. Contrasting with the maple cladding of the interior, the studio used 100 pieces of locally sourced pine wood to build them. The bookshelves create a sensation of movement held still in time, and the visual weight of the horizontal and vertical lines counterbalance the visual weight of the high roof. ​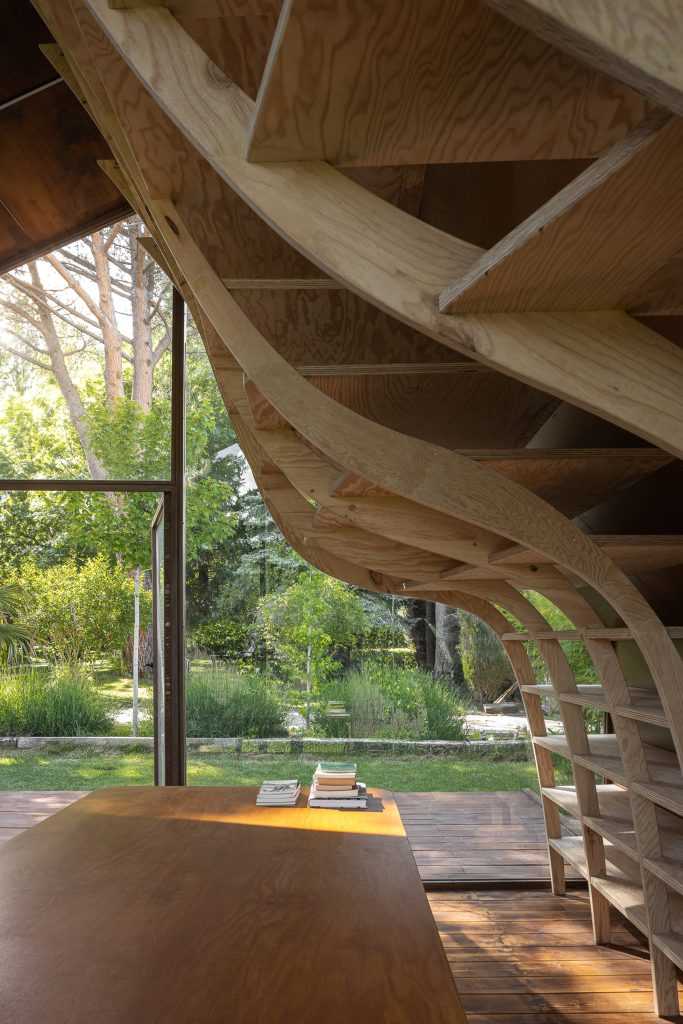 The terrace is a seamless continuation of the indoor wooden floor, further breaking down the division between inside and out. Indoor and outdoor lighting elements include LEDs with dimmers with which the user can change the ambiance and spotlights integrated into the shelves. This project combines digital fabrication and the highly skilled artisanship of master builders. The result is unique, aesthetically stunning, and highly affordable.
​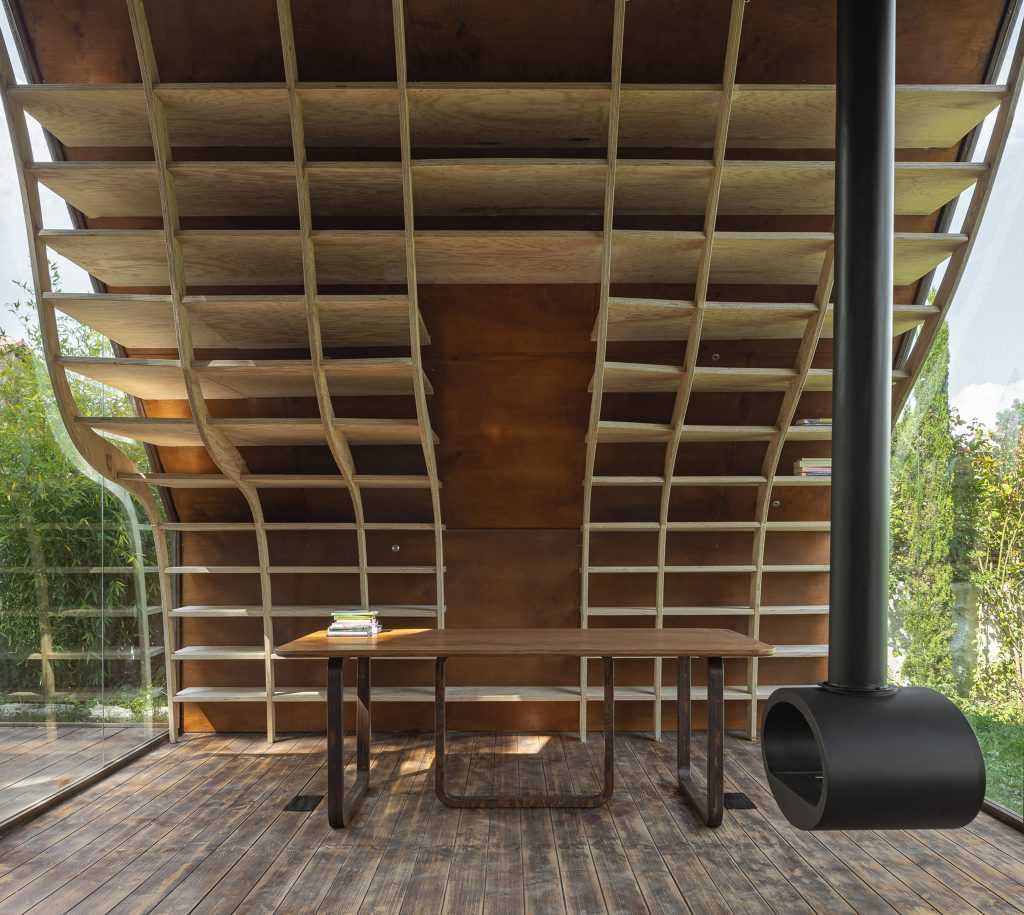 The black cast-iron stove, which hangs from the highest point of the roof, creates a sensation of equilibrium with the horizontal and vertical lines.
This project was Longlisted in the small building category for the 2021 Dezeen Awards . It received a nomination for the ArchDaily 2022 Building of the Year Awards.
Photography by Nacho Villa.
Hotel Swiss Moraira Terrace (Alicante, Spain, 2021)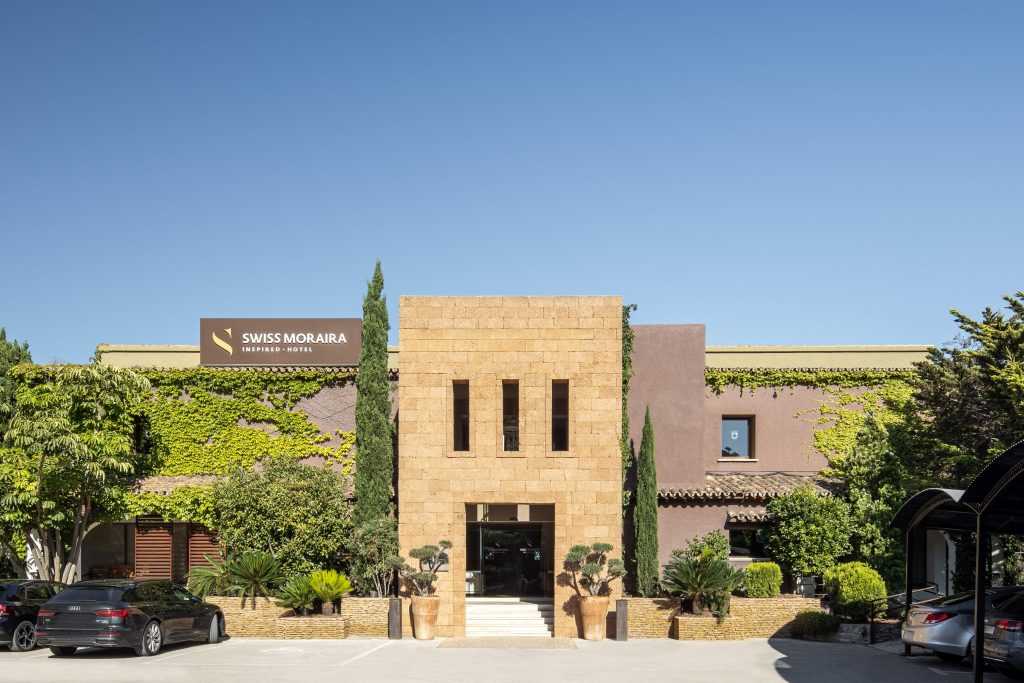 The 200 meter square new terrace of Hotel Swiss Moraira's gastronomic restaurant was designed and built in a few months.
​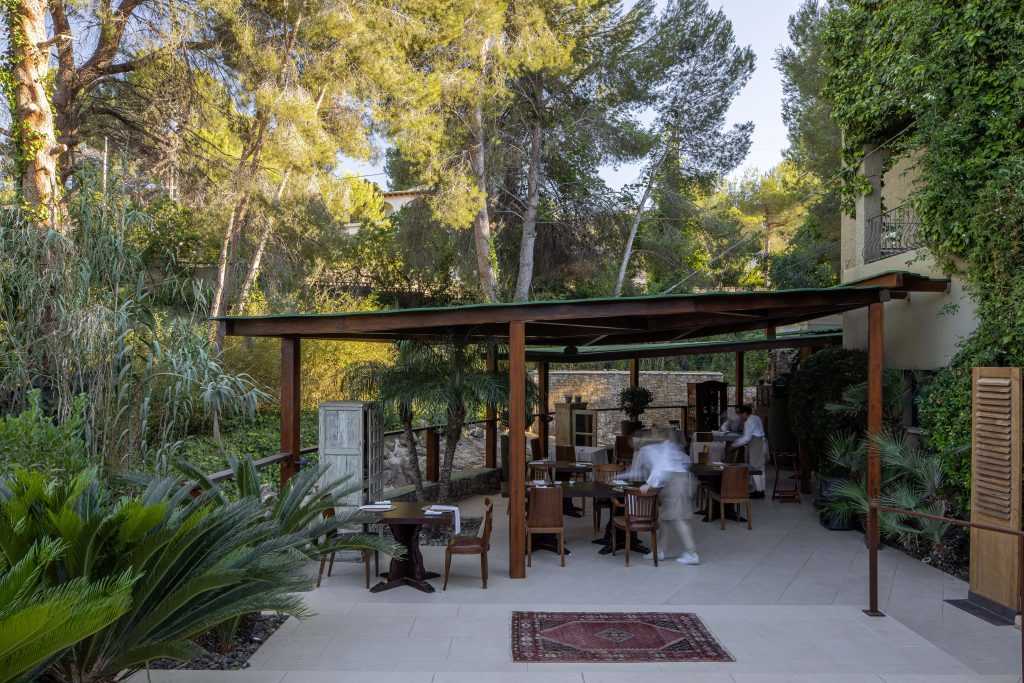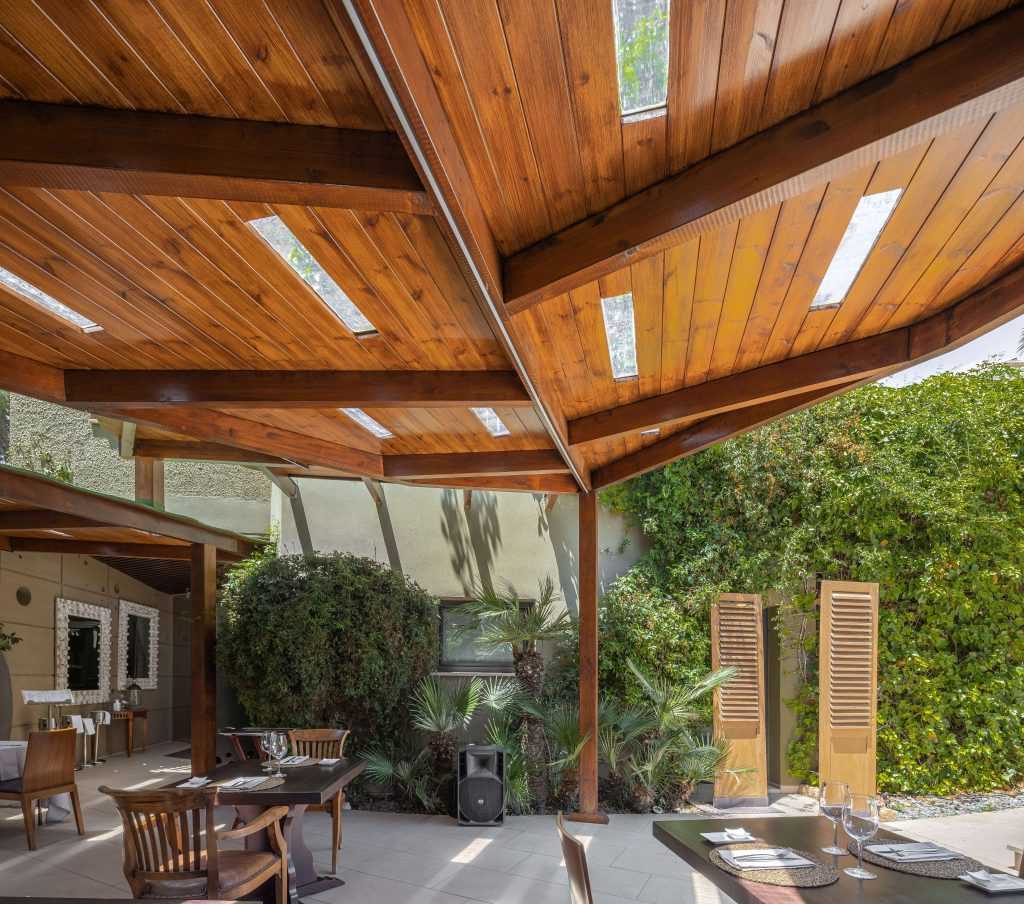 Staying true to the firm's design ethos, the team sourced local wood for the structure and finishes.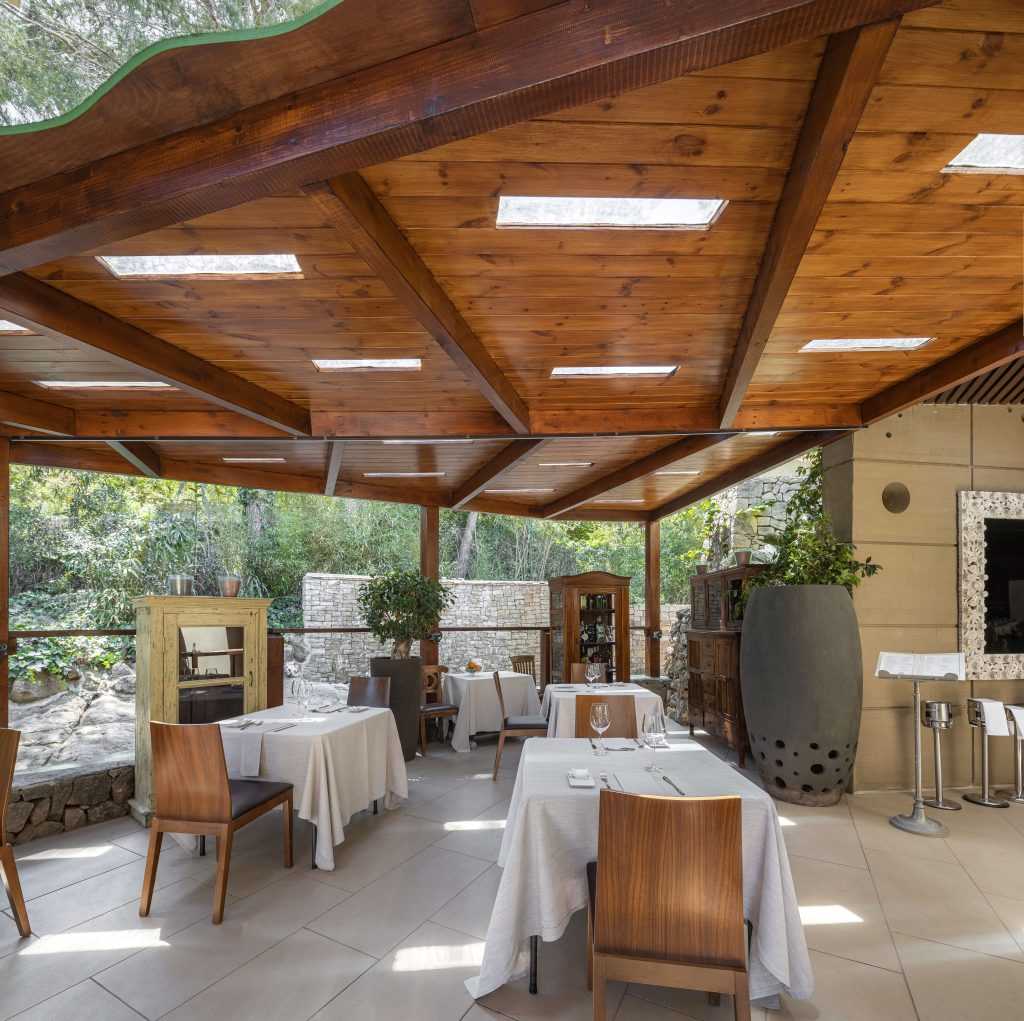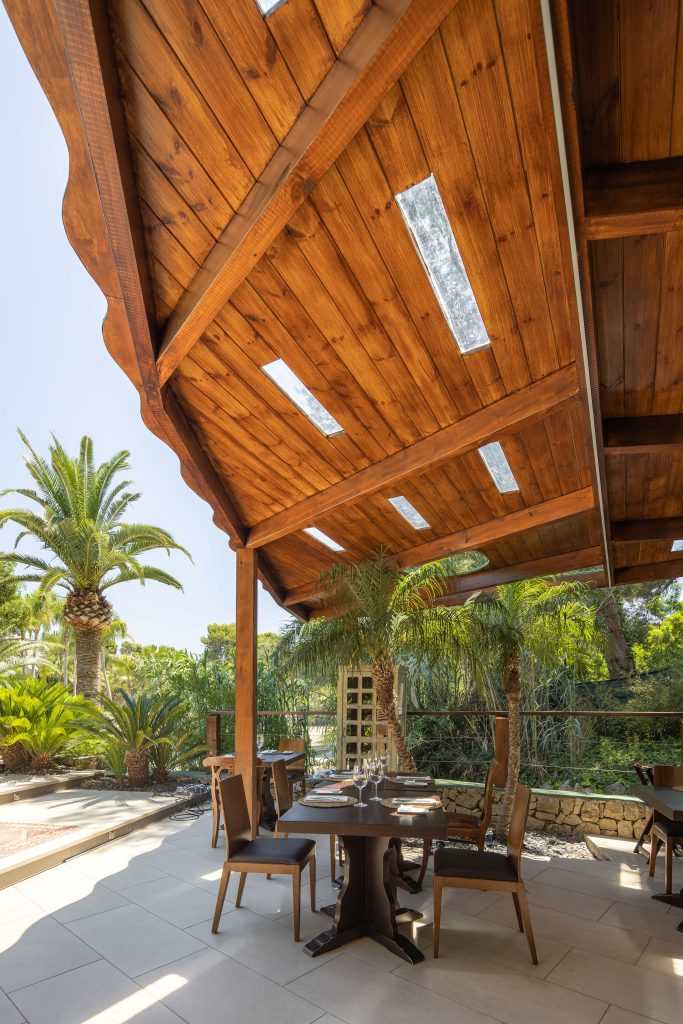 ​
Collaborators: Naturwood Simon, Panaled and Shantidas Riedacker.
Photography by Nacho Villa.
Carcassonne Project (Carcassonne, France 2023- in progress)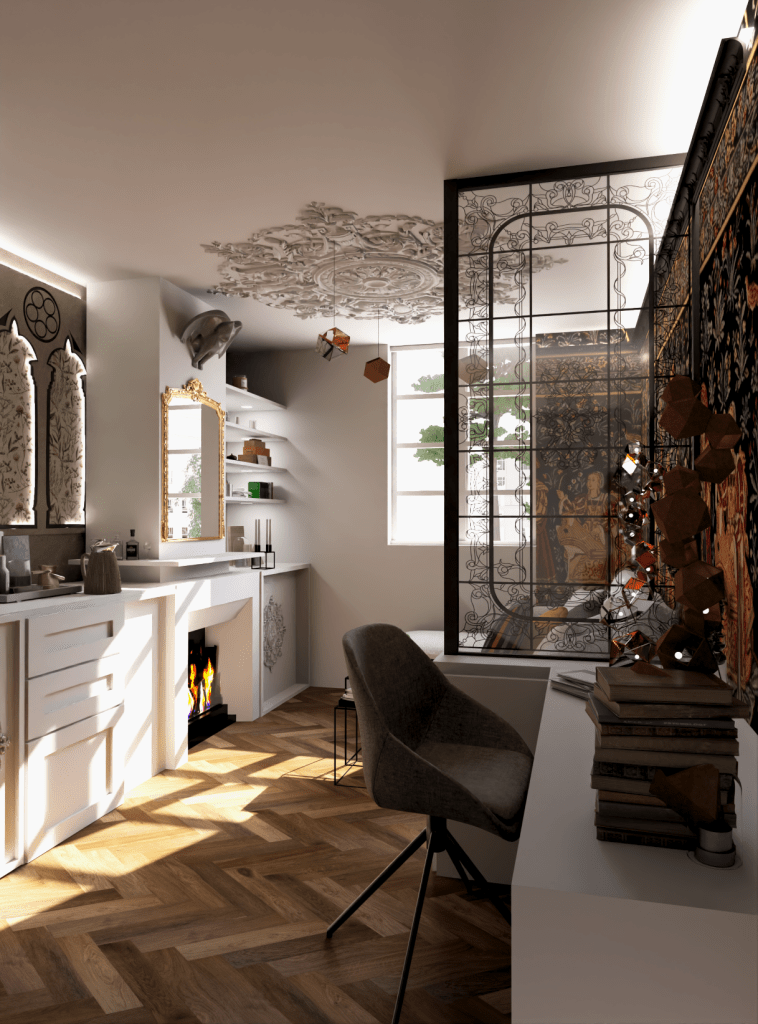 The studio refurbished a historic building in Carcassone to serve as student housing and, in the summer, as tourist accommodation. The brief was to allow renters to experience a space that combines practicality and aesthetics.
The inspiration for the design is the charm of Medieval style with its characteristic ornamentation, stained glass, arches, and heavy paintings that are an interplay of classical, early Christian, and "barbarian" art. As the spaces are not large, the team introduced modern elements to prevent the rooms from feeling overwhelming. Each of the sixteen apartment has vintage and new decor and innovations. The modern white color palette is juxtaposed with a Medievel palette of darker colors, such as dark brown and black.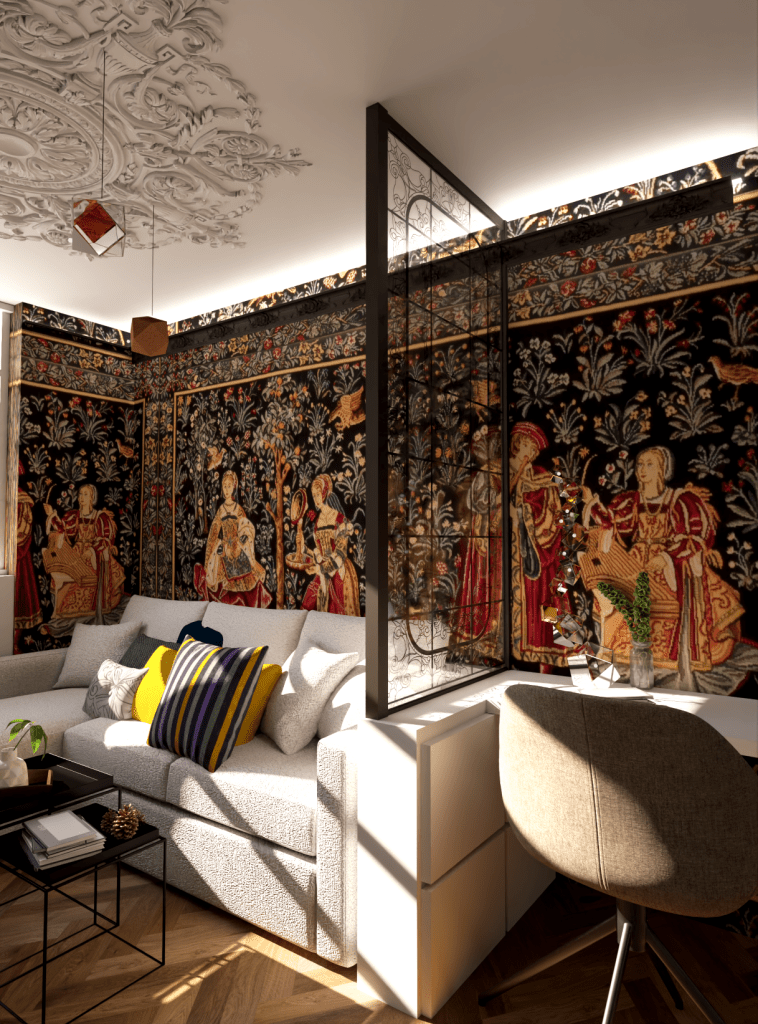 The Medieval tapestry on the wall provides a stunning backdrop to the modern furniture. Furniture pieces or stained glass separate areas with different purposes. Multi-functional furniture allows for fluid circulation.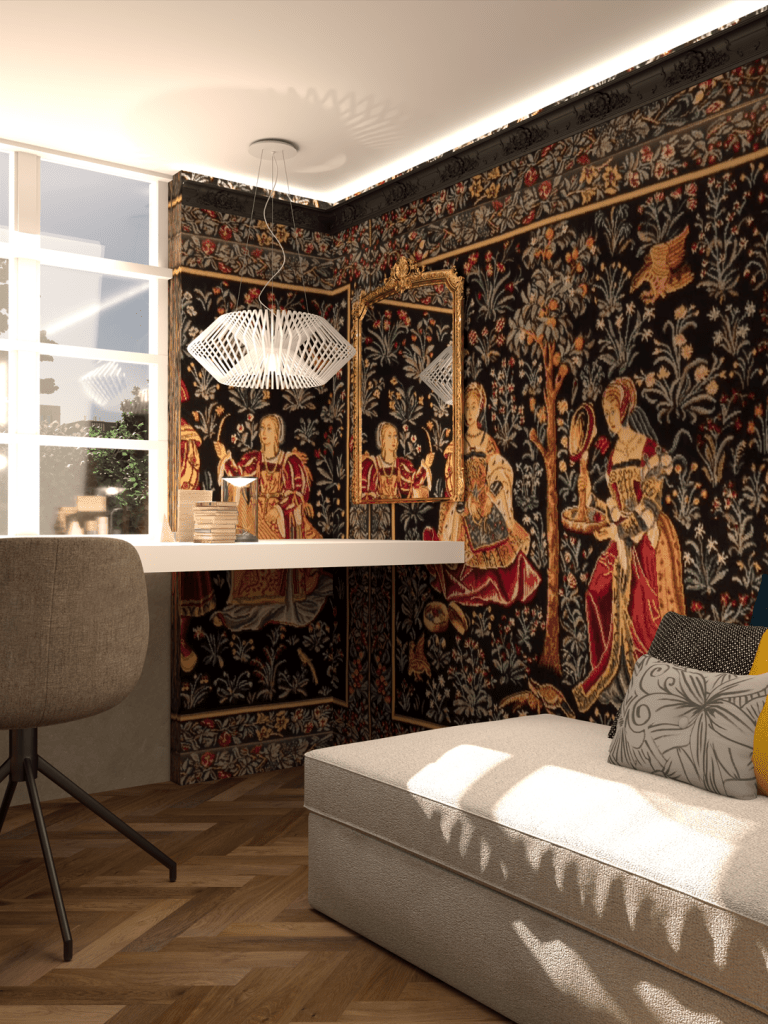 As Stephanie explains, "The Carcassonne project was an amazing project to work on, between the challenges and the motivation. We believe that we have succeeded in creating a beautiful environment for renters to experience daily life."
The Objects
"Freeze and Clay" Saphirkeramik sculpture for "Time Space Existence" exhibition (Venice Biennale, 2023)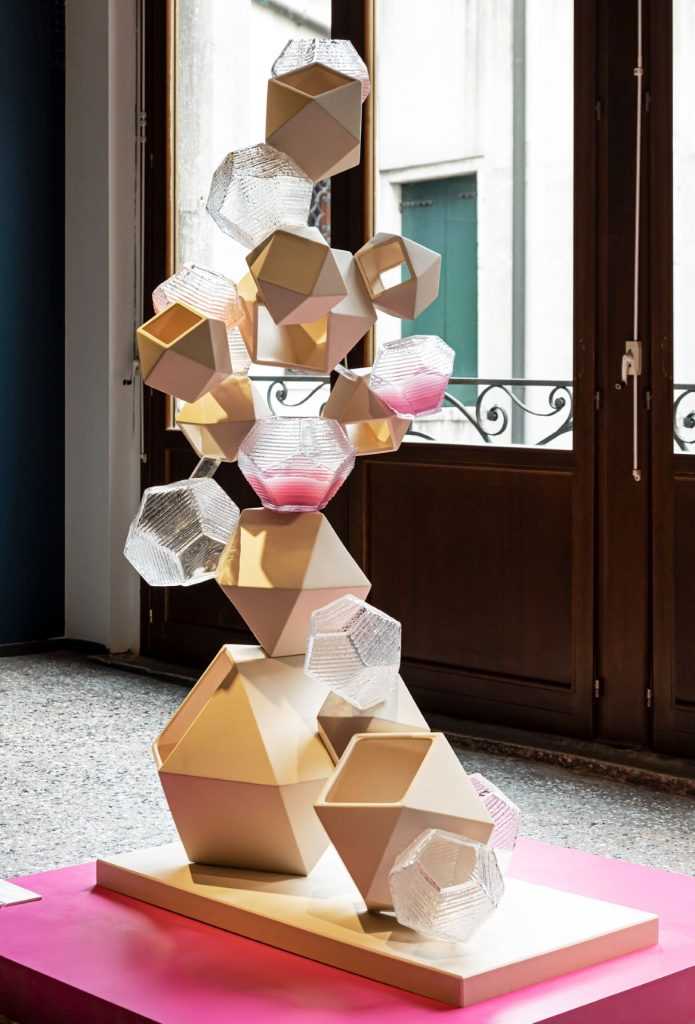 The Saphirkeramik is a mixed-media sculpture for the "Time Space Existence" exhibition at the 2023 Venice Biennale, which the European Cultural Centre organized and hosted. The intricate 1.8-meter-high art sculpture consists of two of the world's oldest materials, glass and clay ceramics, which underwent a traditional manual production process requiring high temperatures along with technological innovations.
MuDD architects collaborated with Florida Atlantic University's School of Architecture (Joseph Choma) and with two international leaders in manufacturing and artisanship to produce modules for the sculpture: Swiss bathroom specialist Laufen produced a dozen hollow ceramic modules and French glassblowing workshop TiPii produced ten handmade glass modules.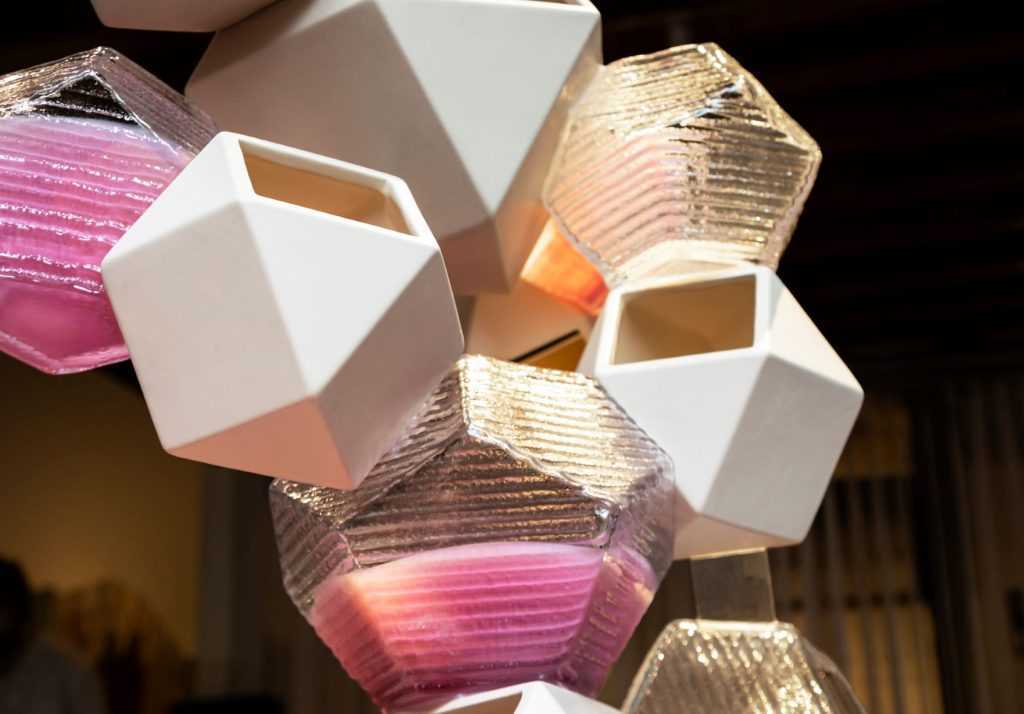 The ceramic and glass elements were assembled by hand according to 3D specifications and glued with a high-performance resin. There is a visual lightness due to the mix of materials. Stephanie explains, "We purposely chose transparent glass polyhedra with their light pink splashes of color, reminiscent of crystals and pieces of ice, to make the 1.80-meter-high sculpture look delicate, almost as though it is floating in space".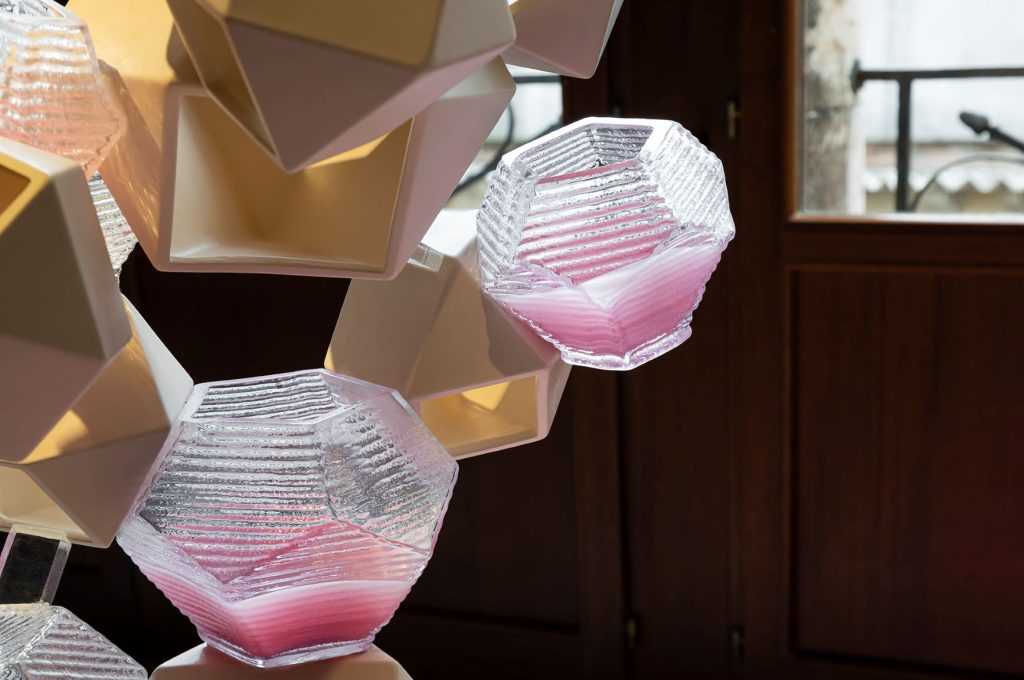 Collaborators: Florida Atlantic University's School of Architecture, Laufen, TiPii Atelier
Photography by Marcela Grassi Photography.
Puzzle Coffee Table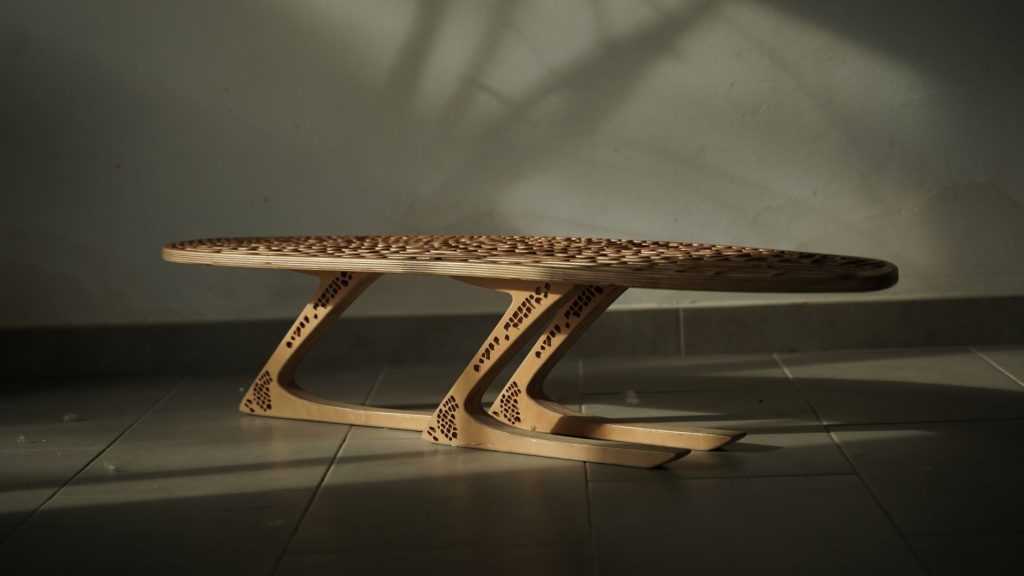 The Puzzle coffee table, made with sustainably sourced pine, looks like a dragonfly wing. Users can personalize the surface with thousands of colourful puzzle pieces.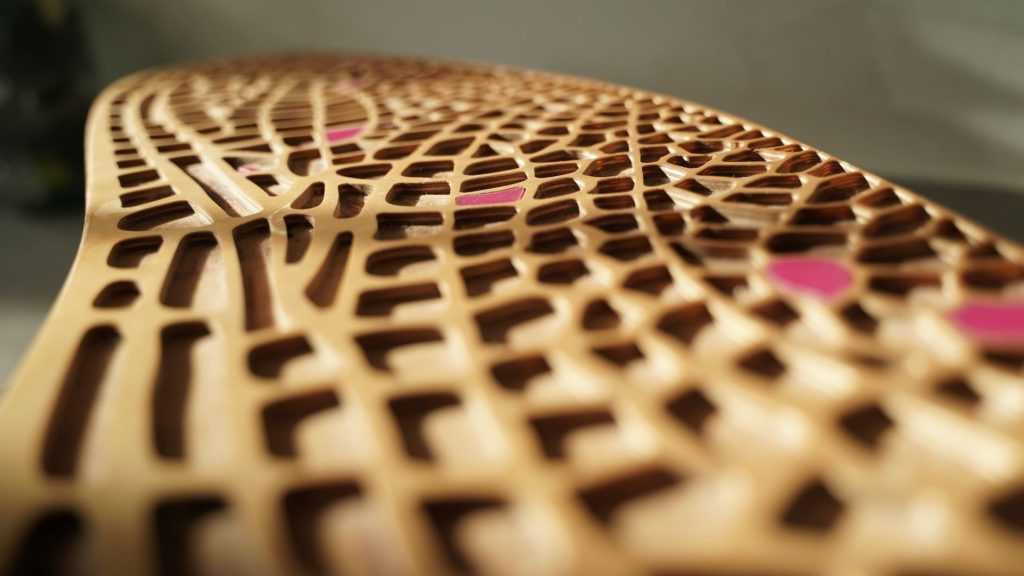 Vinyl Furniture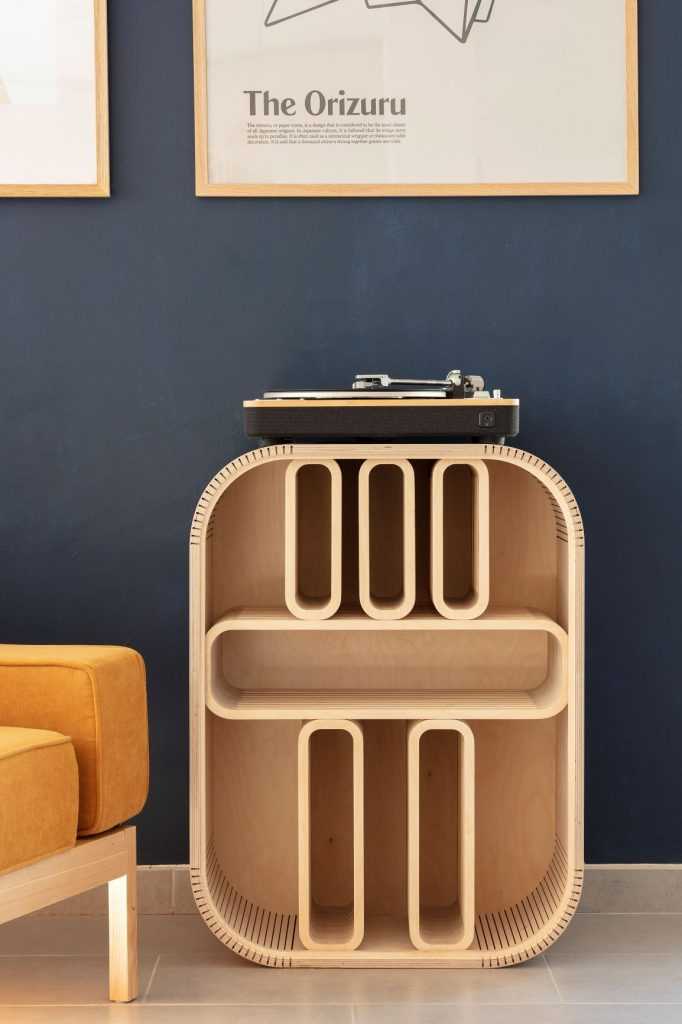 The structure of this piece is sustainably sourced pine. It is available with or without legs.
Developed with Fusteria Digital.
The Studio
Stephanie recounted her sources of inspiration and design process to Spain for Design.
Briefly describe the firm and its beginnings.
MuDD Architects started in Singapore in 2012. I realized it would be interesting to explore bridging my experience in landscape architecture, digital fabrication, complex geometry, and automation. The following year, I created the MuDD And Digital Lab, an Architectural Association summer school I ran. I established the official legal entity in Barcelona in 2019 after I completed my Marie Curie EU scholarship. During my scholarship, I developed the drone spray technology on fabric for earthen buildings.
Muud is a multinational firm with projects in France as well as Spain. Is there a regional tradition or reference with respect to your technique, design, or inspiration?
Yes, MuDD is based equally in Spain and France, with about the same number of projects in both countries. Our main project areas are private homes, hotels, restaurants, and custom furniture, which we create alongside our R&D endeavours and artistic installations at international salons.
We take every opportunity to transform what appears to be a simple housing or a hotel project into the vast terrain of exploration. We challenge ourselves to combine traditional techniques or architectures with a contemporary twist for their respective construction techniques. For example, for our projects in Normandy we use the ornamental aspects of maisons a colombage but with a method different from the traditional ones. We play with patterns and repetitions. Traditional colombages techniques are interesting because they combine wood and raw earth and are living proof that such sustainable materials can replace concrete, in large part.
What inspires you most when you design?
I guess what inspires me most are my clients' dreams and visions. Clients usually choose us because they already know our projects. We can often connect quite quickly with them.
One of my first assignments while studying architecture in 2000 in Grenoble was to create drawings of our favourite moments in life and the related spaces. I recall this assignment when thinking about my current projects. I try to inject the design with qualities of the emotions I have experienced.
How do you integrate the hand of the maker or artisan in your work as compared to the machine?
For our projects, we use robots or computer-aided machines to cut, assemble or perform repetitive tasks to allow for increased budgets and timelines for the high-quality manual work that machines will never replace, in my view. Like gastronomic cuisine, some tools and machines allow for progress and new experiences in the culinary industry, yet will never replace chefs.
How does your firm integrate environmental considerations into processes?
I always find environmental design logic and strategies to be very ambiguous. They should comprise many factors, such as distance, transport, and the ´healthiness´ of the material. Although we receive certificates in the countries we work in that permit us to have construction licenses, it is a complex game.
Have you incorporated or thought about universal or accessible design in your work, such as lighting, level entryways, or ramps.
We recently worked on some hotels and museum extensions with accessible design features. For our proposal for the extension of the Grande MAXXI project in Rome, we literally made a design feature out of the 4% slope required for wheelchair access to a section of the roof garden.
Are there any notable recent events, recognition (awards), or developments?
We recently presented the Freeze& Clay installation during the Venice Biennale at the Palazzo Bembo.
What are your favourite spots in your city ? (galleries, museums, hotels, shops, restaurants)
Our office in Spain is in Calafell, a small Catalonian village by the sea. Since I spend a lot of time there, I particularly appreciate big cities and finding little cafes, restaurants, and museums I didn't know about before. In London I love the street food in Brixton and have always loved the Tate Modern. I like the smaller galleries in Paris, such as the Rembrandts one in the St Germain quarter. Barcelona has great places, but I prefer the atmosphere in Madrid because of the tapas bars.
Speak about marrying cutting-edge technology and raw material.
Marrying cutting-edge technology with raw material has been one of the missions for our firm since its beginning in Singapore in 2011 when I was teaching at SUTD. I began to envision the enormous potential of this marriage, before it even existed.