Book Nook: Lorenzo Castillo
October 26, 2020
/
/
Comments Off

on Book Nook: Lorenzo Castillo
"Without this training in the decorative arts I would not have become the designer and interior designer I am today. It is perhaps what differentiates me from others and characterizes my style. It is said that Picasso believed that one could not be modern without having been classic before. I believe that I could not have been an interior designer without having been an antique dealer before."
Lorenzo Castillo
Lorenzo Castillo Lorenzo Castillo (Author), Enric Pastor (Author), Michael Boodro (Author), Manolo Yllera Born (Photography). Published by Ediciones El Viso.
I have admired the interiors of Lorenzo Castillo for about a decade. I do not recall when or in which media I first spotted his work. When I did, I pored over images and videos of his commercial work for the Room Mate chain of boutique hotels, the flagship shop of Loewe in Madrid, and the spaces in his now much-photographed home in Madrid. I tried to identify what makes his rooms distinctive, memorable, dramatic, livable, and able to evoke emotion. What exactly is his 'secret sauce'? Undoubtedly, he is a designer who has a deft hand with textiles ("my obsession" as he says) and is at ease with highly graphic patterns and strong colour combinations (no timid "pops of colour" for him).

Castillo is on the list of a select few designers from his country who have achieved global recognition. AD Spain named him Interior Designer of the Year in 2014. Architectural Digest has included his name on its annual list of the hundred best decorators and architects. He has designed rugs for The Rug Company and a collection of fabrics and wallpapers for the prestigious Spanish textile company Gastón y Daniela.
In the introduction to Lorenzo Castillo, AD Spain Director Enric Pastor describes him as a "21st-century aesthete", a "tamer of the eccentric," with a patented "international Spanish style" who likes "to play on the edge of taste." Michael Boodro, writer and former editor-in-chief of Elle Decor US, describes him as a "provocateur," whose rooms carry an unmistakable imprint "with the graphic ingenuity of an optical artist and the colourful palette of a pop artist."
His rooms are a mix of antique, vintage, and contemporary furniture, decor, and art. I hesitate to use the word "eclectic" in the self-described style of many designers. It is too often lazy design by a designer without a point of view, bereft of historical and contemporary references, who lacks grounding in essential design principles, such as scale and proportion. Not so for Castillo. His influences include the arts (Velázquez, Ribera, and Zurbarán), vintage and historical designs, chinoiserie, optical drawings, and Spanish folklore.
With a background in antiques, he successfully achieves "the mix" because he works within a classical design framework, mastering symmetry and balance, added to which is a natural flair for pattern. In the "Red Salon" of the Hotel Santo Mauro, red velvet Knole sofas sit alongside white-painted Chippendale chairs that have red leather upholstery. In his Magdalena street house in Madrid, he placed 18th-century portraits above a plastic Italian table from the 1960s. Boodro notes his ability to mix pictures, stripes, and geometrical figures, counterbalancing braids with prints, squares with stripes, grids with flowers, and ikats with "practically everything." Yet, despite these varying and contrasting elements, he "never loses control because his spaces are never chaotic or cacophonous."
Perhaps Castillo is destined for his chosen career. At the age of four, he received his first art piece, a gift from "Pepa," his grandmother, one of his two influences, along with his mother. Pepa took him to the Madrid flea market and gave him the American edition of Architectural Digest, copies of which he has kept. As a middle child, he felt little pressure to follow in the path of his father, a surgeon, and pursued his passion, studying art history, after which he set up his first antique shop in Madrid with his brother Santiago. His clients asked him to help them with their homes, which allowed him to utilize his knowledge of antiques.
With dozens of his spaces featured in leading international shelter magazines, Lorenzo Castillo is a cross-section of ten of his best designs. One project of note is his redesign of the fabled Santo Mauro hotel, an emblematic luxury hotel in Madrid built in the early 20th century as a palace and one of his first projects to cement his renown. Also included are his homes on Magdalena street in Madrid, in Las Cumbres on the outskirts of Madrid, and his vacation home in Ribadesella in the northern Spanish province of Asturias, the land of his father's family.
What these ten projects show is that although he has a signature style, he is no "cut and paste" designer. Each is a testament to its location, its purpose, and Castillo's evolving development as a designer.
For the everyday dining room of his house on Magdalena street in Madrid, he sought to recreate "the cluttered charm of a typical English country house."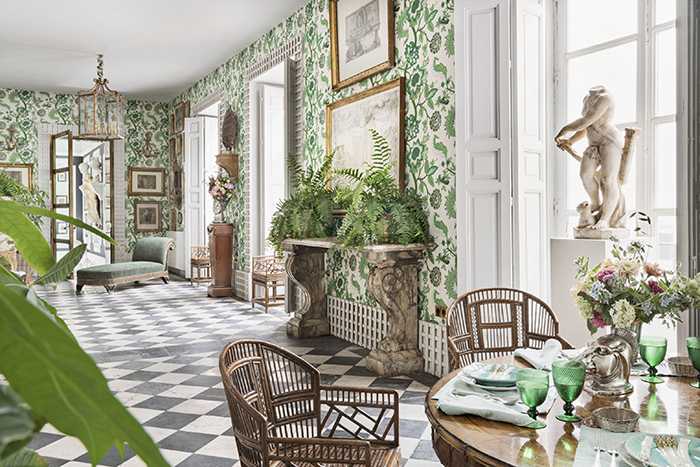 The guest bathroom in the Magdalena house is varnished in bold yellow, creating a striking contrast with the grey marble Art Deco sink and the 18th-century Carrara mirror.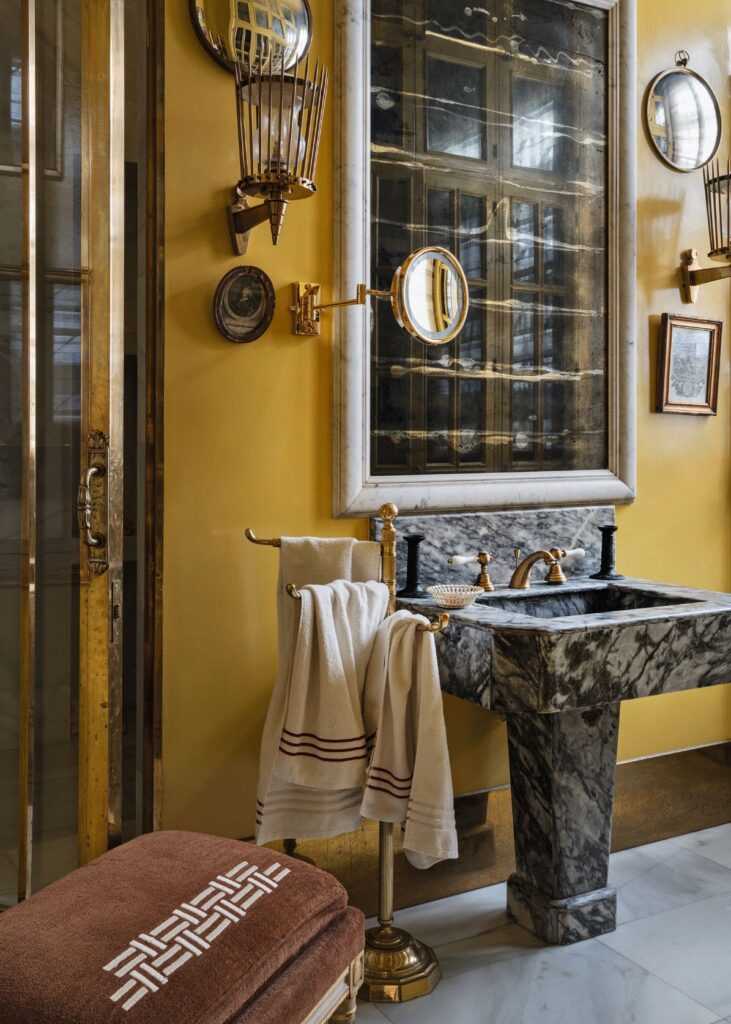 The large oak table in his house in Las Cumbres is baroque, the large sofa is Louis XVI . The maps on the wall are eighteenth century, and the ebony wood mirror is Spanish.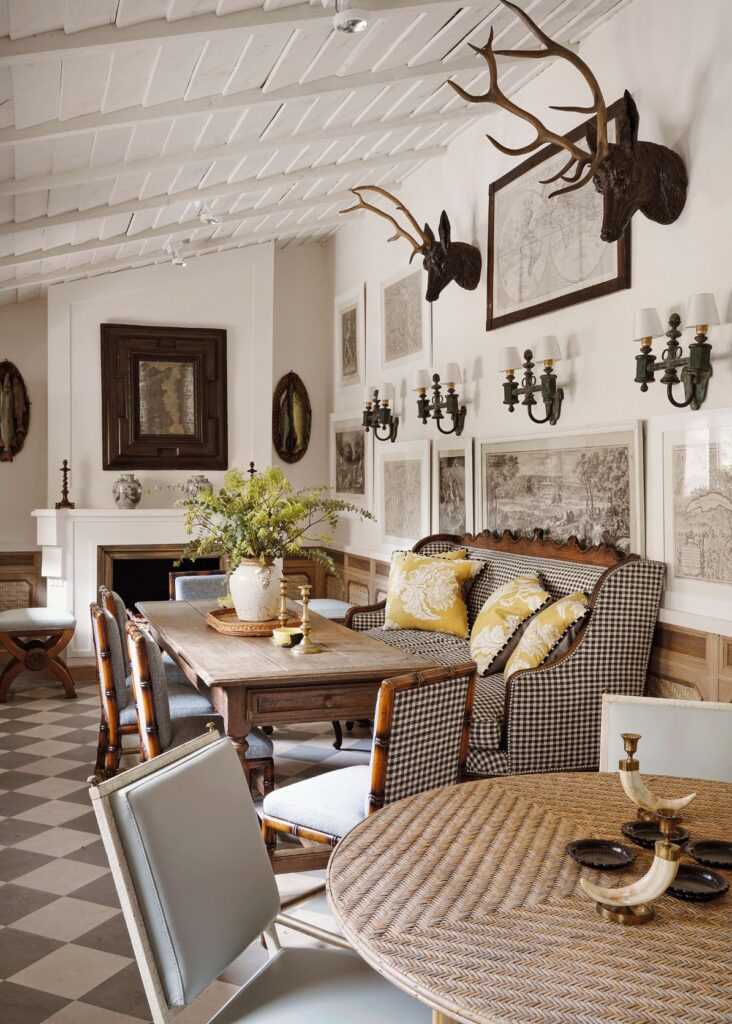 The bathtub has a place of honour in his house in Las Cumbres.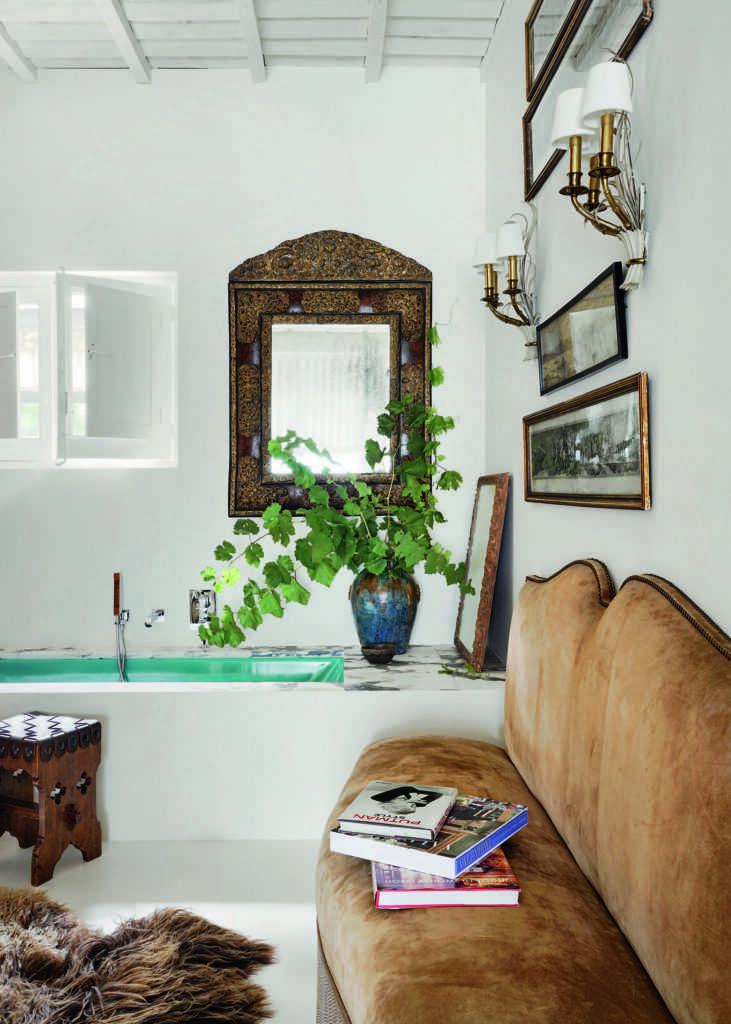 Sevres dishes in an ikat pattern and Baccarat crystal dress the table in a home in Santo Domingo.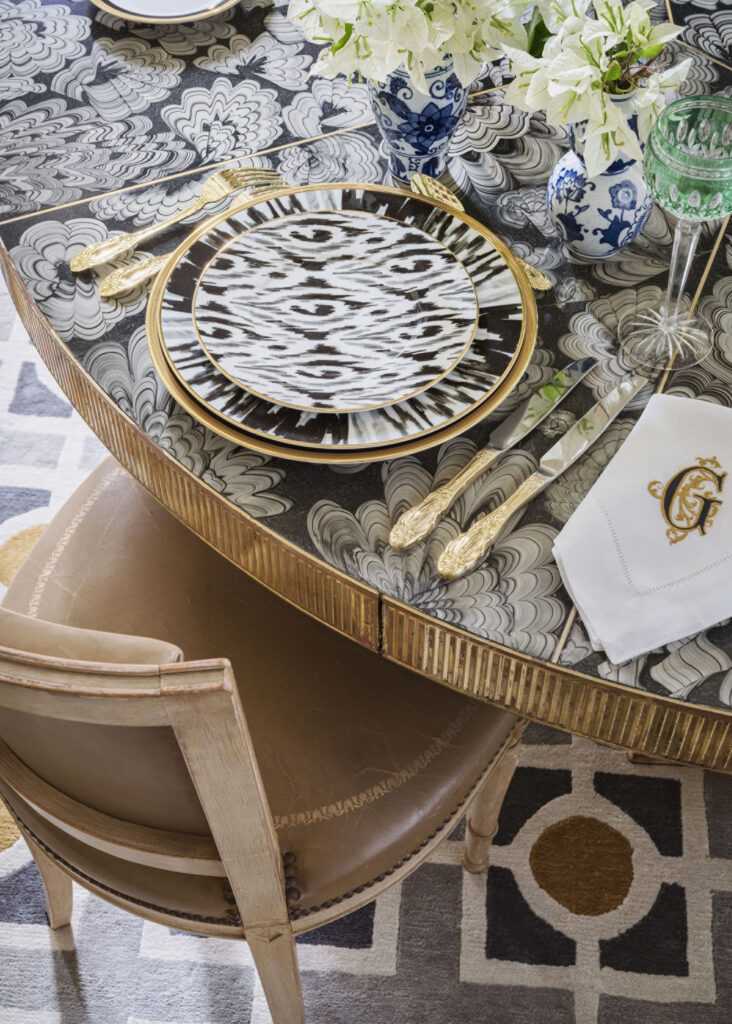 His sister and her family's bedroom in the house in Ribadesella.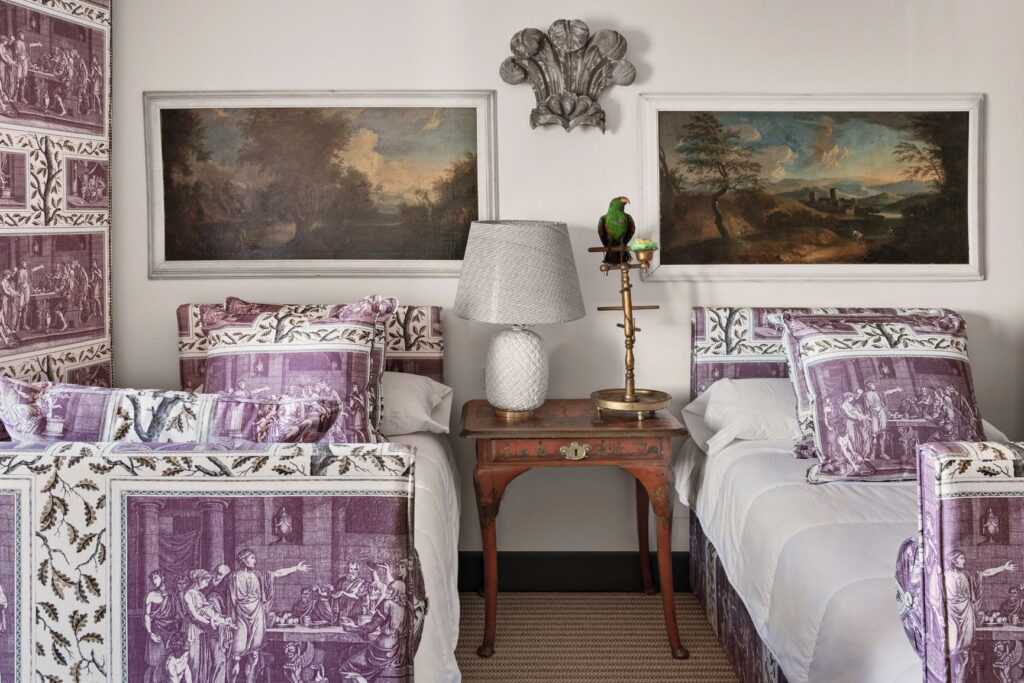 The bar in the Hotel Santo Mauro bar is in homage to Art Deco style.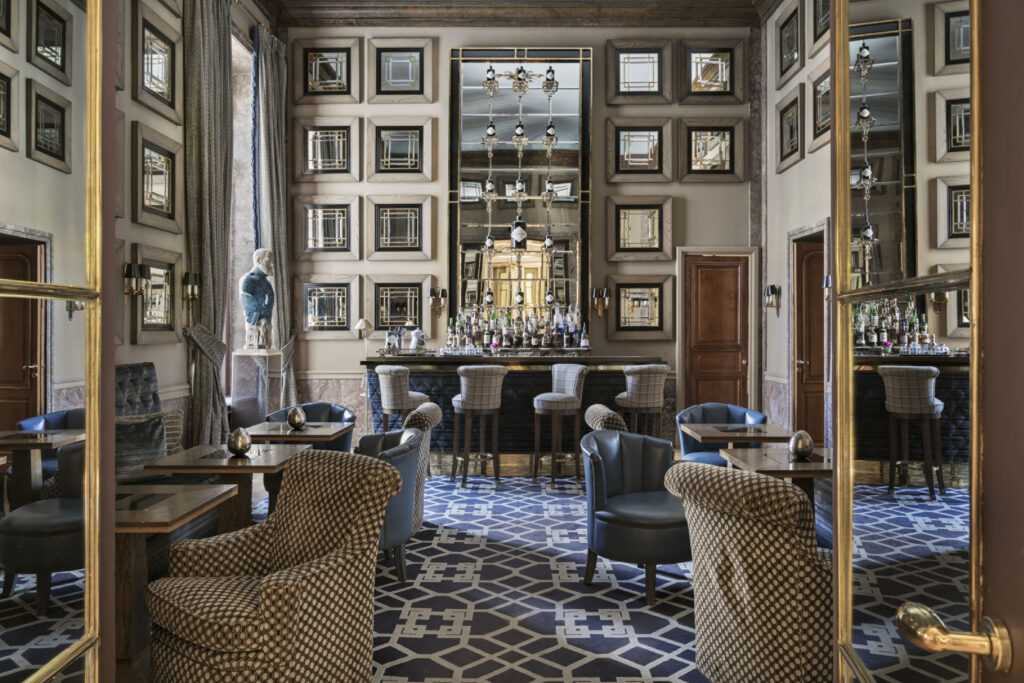 A bedroom in a house in Sevilla.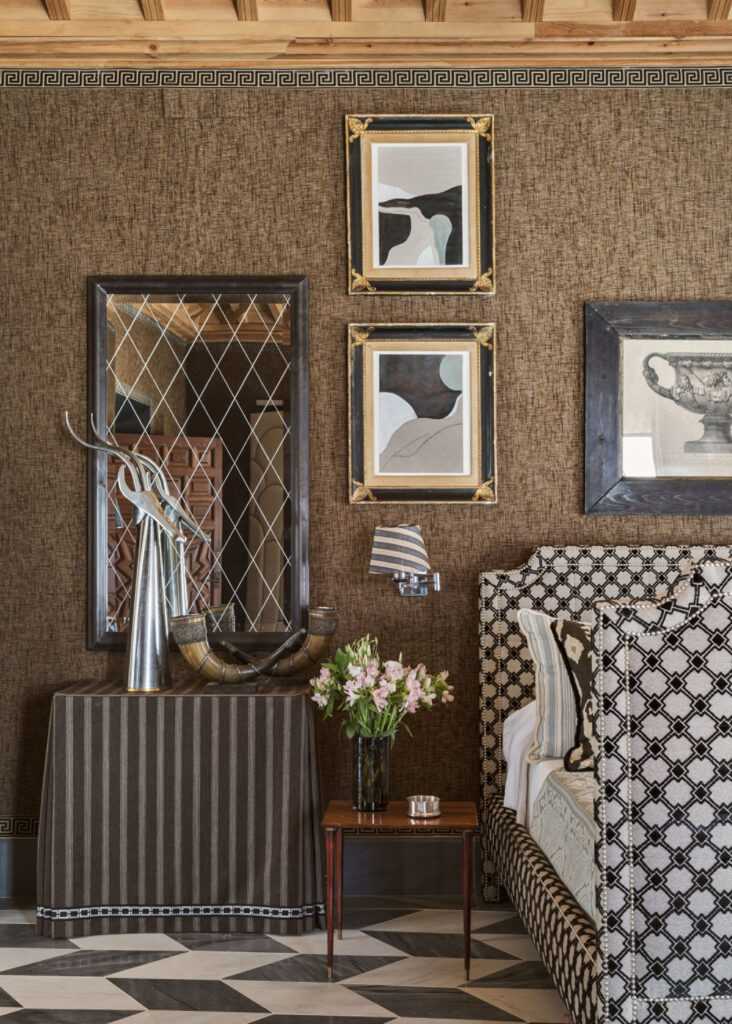 Images by Manolo Yllera Born, courtesy of Ediciones El Viso.
The links below may have affiliate links. Click here to read my affiliate policy.
Please note that this website is a participant in the Indigo Affiliate Program which allows it to earn commissions from Indigo if you make a purchase on indigo.ca after linking through this website.