6 of the Best Made in Spain Low Stools
February 15, 2021
/
/
Comments Off

on 6 of the Best Made in Spain Low Stools
Referred by some as auxiliary furniture, stools are design staples in my home. These portable pieces are practical and versatile. Use them as an occasional table next to the bed or a perch to sit on in the living room. They are made in a multitude of materials and forms. Some have achieved design classic status, such as the Alvar Aalto three-legged stool, a icon of mid century design.
My favourite stools produced by Spanish companies are made by small studios or workshops, and by larger family-owned-companies who have been around for generations and whose designs have garnered international acclaim in the industry. What they have in common is that they show the best of Spanish technical know-and craftsmanship.
Naoshima 703 by Emiliana Design Studio for Vergés Design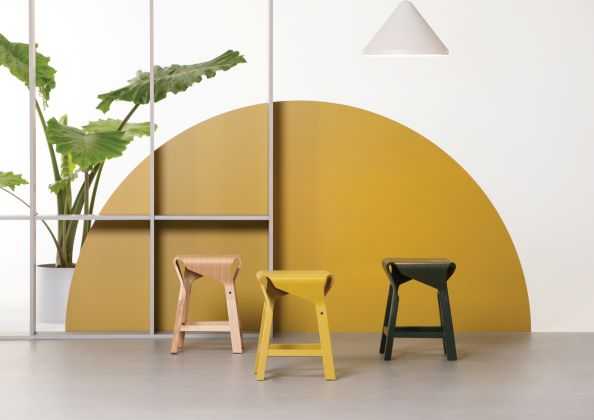 With its striking curved seat, winner of a Red Dot award in 2016, and part of the contemporary art collection of the Centre Pompidou in Paris, the Naoshima stool designed by Emiliana Design Studio for Vergés Design suggests a visual interplay between matter and nothingness.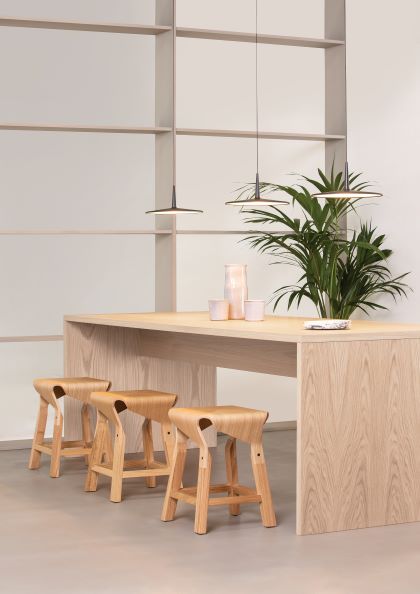 The Naoshima stool is constructed of curved plywood, either beech or oak. Finish options are natural wood, lacquer, or dyes ranging from sophisticated neutrals to eye-popping orange and lime yellow. Available in three heights (45, 65, 75 cm), four identical pieces join to create the seat, the extension of which connects to solid wood legs, creating a strong, and solid result.
Founded by the Vergés Picart family, Vergés Design started as a small family company in Girona and has evolved into a modern and dynamic factory employing approximately 50 people.
Graduates of the Central Saint Martins in London, Ana Mir, and Emili Padrós founded the multidisciplinary Emiliana Design Studio in the late '90s. The studio is currently in charge of the company's artistic direction.
Cubb Stool by Inés Benavides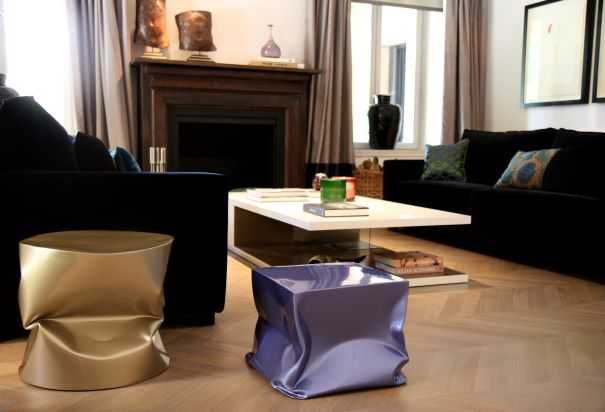 Interior and product designer Inés Benavides came up with the design for her polymorphic stool when she observed a crushed can of soda lying on the floor. The vibrant lacquer finishes are applied and finished in a car brand workshop.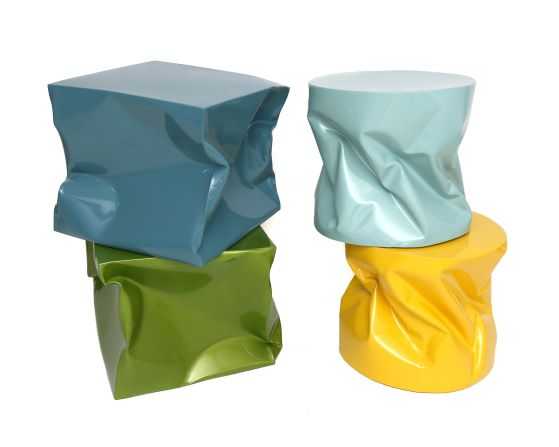 It is available in square, round or polygonal forms. There are two sizes (small, 35 x 35 x 30 cm, and large, 45 x 45 x 40), which can be custom-made to suit outdoor use. The colors include stainless steel, white, yellow, pink, red, and black.

A signature of Inés Benavides' work is her design of functional sculptures, each one unique. The pieces are made from noble and natural materials in small workshops and molded into organic shapes. She searches for deliberate contrasts between textures, which she pairs to harmonious but powerful effect.
Nudo Stool by Juan Ibáñez for Sancal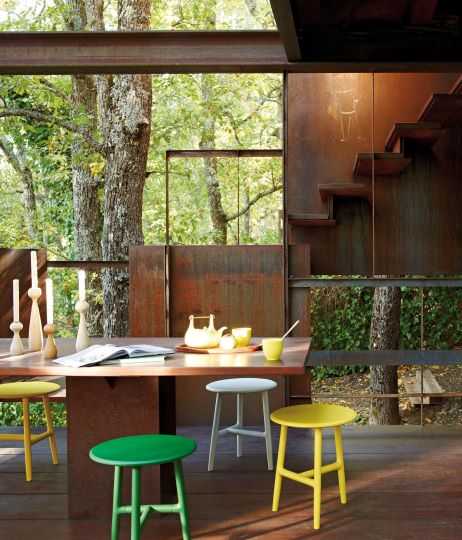 Nudo is the Spanish word for the knots of tree trunks, and nature was the inspiration for the Nudo stool by Sancal. The legs replicate the sinews of a tree-trunk, as if they were branches, thanks to a laborious lathing and carving process.
Part of a collection that includes a coffee table and a desk, the 30 cm diameter top is available in 22 paint and two marble finishes (White Carrera and Black Marquina). A special hard-wearing matt treatment gives the solid oak a traditional wax-like finish, accentuating the natural grain.

Sancal began as a small family-owned furniture company in 1973 in Yecla in the region of Murcia. It is now a multidisciplinary firm that includes graphic, industrial and interior designers. Sancal is known for the striking color of its handmade pieces. It has collaborated on the designs with some of the most celebrated creatives in the field, including Karim Rashid, Pritzker Prize-winning architect Toyo-Ito, Sebastian Herkner, Luca Nichetto, Note Design Studio, and Mut.

Graphic and product designer Juan Ibáñez coordinates the corporate image of Sancal, working on the development of its illustrations, shop, catalogue, and web designs.
Taburete Mesa 03 by Braulio Rodriguez for espacioBRUT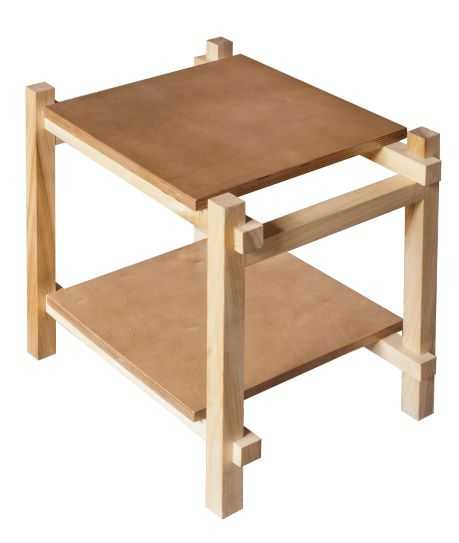 Co-founder of espacioBRUT, Braulio Rodriguez, found inspiration in the architectural forms of pieces by Gerrit Rietveld and the reductionist aesthetic of the De Stijl movement. This geometric stool with exposed joints is handmade from birch plywood and poplar wood.
With its workshop in Madrid and its base in a small village in A Coruña, Galicia, Braulio Rodriguez describes the studio's furniture as pieces for everyday life and are "useful, durable, beautiful and reasonably priced." The studio, which opened in 2006, is listed in the Home Faber Guide of the Michelangelo Foundation, an online platform dedicated to craftsmanship across Europe.
Maia by Óscar Beade Pereda for Nimio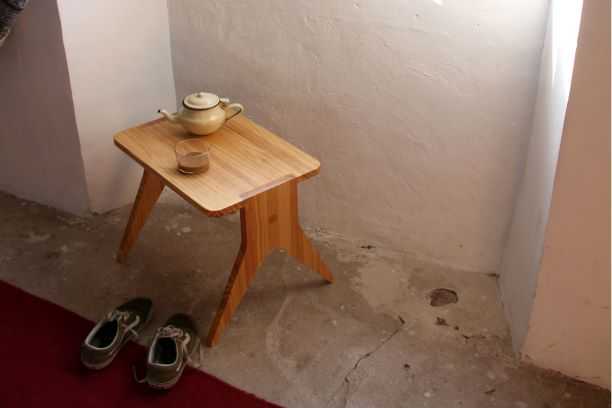 Designed to be used as a table or a stool, MAIA by Nimio is reminiscent of the handcrafted, simple, portable, versatile furniture pieces used in earlier times.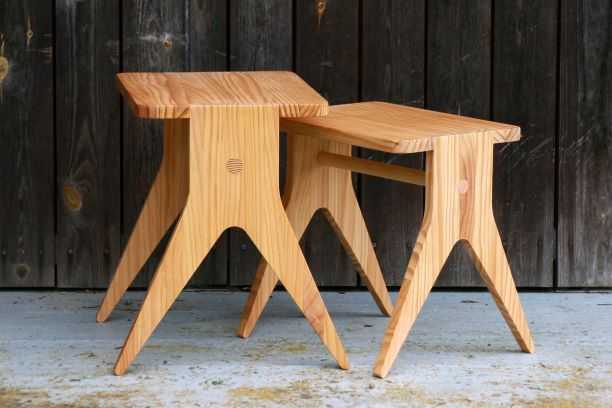 MAIA is hand made of solid pine wood and finished with an ecological and organic oil which is soft to the touch and does not absorb liquids or oils. It is available in small and large sizes.
Founded in 2012 by Francesco Monaco idea, an Italian architect and designer based in Spain, NIMIO furniture is a Madrid-based laboratory for design and production of handmade objects, including custom pieces, for everyday use. Designed by Óscar Beade Pereda in 2018 for a design competition, the MAIA stool went into production in 2019.
Big Walrus Stool (BWS) Color by Francesco Monaco for Nimio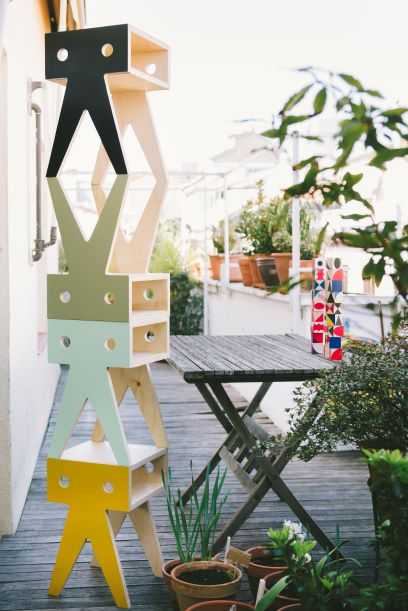 BWS color (The Big Walrus Stool) is a multifunctional stool/ or table available in a variety of vibrant colours.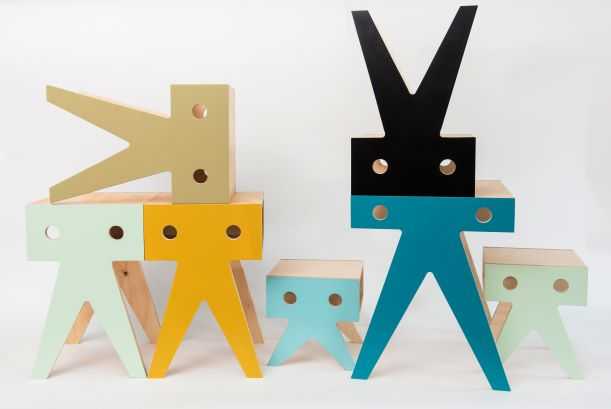 BWS color is handmade with industrial and resistant birch plywood. Finish options are yellow, olive, mint, and black.
Images courtesy of Vergés Design, Inés Benavides, Sancal, Espacio Brut, and Nimio.