7 Interior Design Lessons from Spain's Casa Decor 2021
June 21, 2021
/
/
Comments Off

on 7 Interior Design Lessons from Spain's Casa Decor 2021
It has been one year since Casa Decor 2021 had to prematurely close due to the pandemic, shortly after it opened to the public in March 2020 for its 55th edition. The most celebrated interior design event in Spain managed to reopen in June for a few weeks. This year, for its fifty-sixth edition, over 200 companies and professionals have designed 55 spaces. Held in a different location every year, it takes place in a spectacular 4,000 square meter building; the House of Tomás Allende in the Plaza de Canalejas and Carrera de San Jerónimo in Madrid. Completed in 1920, Leonardo Rucabado designed it for entrepreneur Tomás Allende. It is an example of the early-twentieth-century regionalist style, an eclectic architectural mix of Gothic, Renaissance, Catalan modernism, Art & Crafts, art nouveau, European romanticism, and the so-called "mountain" style inspired by the vernacular architecture in the architect's native Cantabria.
I have been to one Casa Decor when I lived in Madrid. I cannot recall if it was in 2003 or 2004. A feast for the senses, it was one of the highlights of my time in Madrid. I have not attended other editions and, unfortunately, as much as I desired, I could not visit this year's event.

Although there is nothing like seeing the spaces in person, I have viewed countless images of the spaces for this year's edition on websites, the official press kit, Instagram posts, and YouTube videos. These seven spaces stand out to me for one reason or another. As I plan to move into a new home in late summer, they spark ideas for decorating my new condo. I note design features that Soledad Ordoñez Giordano used in the public bathroom to make it accessible. I will consider incorporating pieces that serve more than one function, as Cristina Amigos demonstrates in her multi-functional space. I will work in the many handmade artisan furniture and decor that I have collected over the years, as Miguel Muñoz has done brilliantly in his space for the community of Castilla-La-Mancha. I will add the pretty as Fabián Ñíguez has for the bathroom he designed. And, like Héctor Ruiz Velázquez, I will not let size limit my creativity. Whatever your preferences or needs, these designs offer many ideas to use in your home.
Start With Art: "El Jardín de las Delicias" (The Garden of Earthly Delights), Entrance by Gärna Studio
The multicoloured, serpentine silk and wool rug by Kaymanta, handmade in India that snakes its way up the stairs, is an arresting entrance to the House of Tomás Allende. Designers Laura Gärna and Enrique García of Madrid-based Gärna Studio take their inspiration from The Garden of Earthly Delights by Dutch painter Hieronymus Bosch, now in the Prado Museum.
The designers imagined a garden that "colonises" the house and holds various works of art, reflecting their belief that art is an element that generates spaces, experiences, and sensations. There is a mix of classic, modern, and contemporary elements, neutral and colourful tones, and geometric and organic forms. The greens, blues, oranges, and earth tones on the rug, reference the colours in the painting and the building's fantastical interior and exterior architecture. It flows throughout the room to achieve an enveloping space where art and decor merge.
The green rug and white wall panels mirror the colours of the sculptural marble art pieces on the walls, and the "piel de Mármol" (Marble Skin) piece on the rug, by Fernando De Ana and Enrique García Sánchez for Gärna Art Gallery.
Incorporate Craft Pieces: "Adunia", Salon by Miguel Muñoz for Artesanía Castilla-La Mancha
Artisan works are the antithesis to all things industrial. One of the missions of Spain for Design is to highlight Spain's rich artisan heritage. Miguel Muñoz Studio designed living and dining rooms for the Spanish community of Castilla-La-Mancha, a region with deep-rooted artisan traditions. The designer, who is from the Spanish province of Toledo in this region, has cleverly integrated pieces rooted in the noblest traditions in Castilla-La Mancha but has given them a contemporary twist.
The decorative works, curated by Natalia Ortega, are from twenty artisans from Castilla-La-Mancha, including potters, ceramists, sculptors, glaziers, carpenters, and metalworkers.
The showstopper in the living room is the mural of tiles by the illustrator and muralist Roberto Ramírez. It recreates the principal characters from Don Quixote and traditional iconographies but contemporizes them. It is made with glazed tiles by Cerámica Artística San Ginés.
"Adunia" means in abundance. Cervantes used this term widely in his novel Don Quixote, and if there is something we have, it is an abundance of crafts," Miguel Muñoz explains.
The black clay pots on the coffee table and the white and terra cotta ones on the sideboard are from the Cuenca-based potter Jesús Parra Luna. The two large-blown glass pink sconces by Luis Machí comprise 150 spheres.
The dining room's colour palette contrasts with the softer tone in the living room. The focal point of this vibrantly-hued room is the photograph by David Blázquez of a woman dressed in regional costume from Navalcán, a municipality in Toledo. The handcrafted wooden table is by the Toledo firm Trobal Muebles. The iron ceiling lamp is from Cerrajería Contemporánea.
The pottery on the blue dining room table is by the Centro Cerámico Talavera in Toledo. Those on the sideboard are also by the Jesus Parra.
Among the most notable pieces are the dining chairs. They combine traditional fiber craft on the seat, modern textile design on the backrest and a contemporary wood frame.
Design 0utside the Box: "Niessen Smart Hotel" by Héctor Ruiz Velázquez for ABB Niessen
Over the years, I have devoured books about decorating small spaces. The designs are, unfortunately, too often formalistic and devoid of originality. This thirty-six square meter hotel room by Héctor Ruiz Velázquez Architecture & Design for ABB Niessen Design shows that one can design a small space "outside stereotypes and decorative conventions" and make it innovative and sustainable. It incorporates daily functions without sacrificing style. The sleeping area is on the upper level and the living, kitchen, and bath areas are on the lower.
The architect designed it as the hotel room of the future. It has home solutions by Niessen that regulate energy, humidity, and sound, among other functions. The terra cotta clay nods to the humanistic materials of the past that have embraced and protected us over time. A natural, organic material, it transmits a warmth that is often lacking in contemporary design. Developed by Ecoclay, it is a mixture of the essential elements of earth, water, and fire. They are used to great effect on the curvilinear clay walls.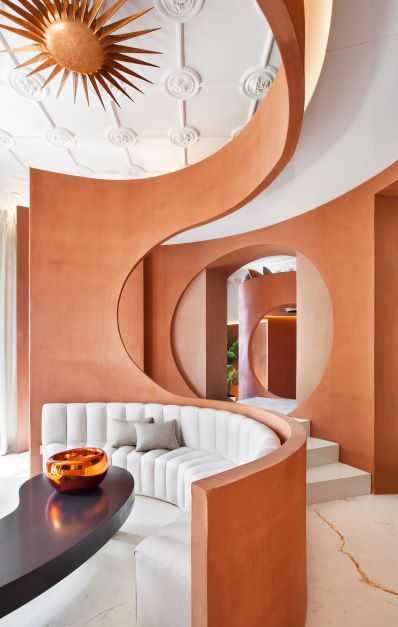 The marble-effect sintered stone flooring is by the Spanish brand Neolith.

Create An Immersive Experience : "D.Lights", Patio by MUDD Architects for Simon
The one space that makes me wish to experience Casa Decor in person is this rooftop structure by Stephanie Chaltiel of Barcelona-based MuDD Architects for Spanish multinational lighting specialists Simon. It represents an essential direction for rethinking the world of construction and sustainability. With the amorphous tent structure, she explores new ways to experience space through immateriality (light, textiles, and drone technology). She expands its limits to highlight the lightness, flexibility, and mutability of the architecture. The architecture is in constant metamorphosis through the immaterial; the lights that fly around the two vaults with their recycled yarn made with 3D fabric technology, and the subtle sounds of nature. Ironically, from the first time I viewed a video of this design on the corporate YouTube channel, I was immediately drawn in. The sounds of nature and the flashing lighting gave me the sensation of being cocooned inside the tent. I heard raindrops, thunder, and then once these subsided, the chanting birds. I felt safe, tranquil for the few minutes I was transported into Chaltiel's world.
The fabric has various densities and degrees of transparency. It incorporates LED light controls by ProtoPixel to create different lighting scenes directly on the tent. The lighting, along with the sounds and colour, connects the user with the external environment.
Make It More Than One Thing: "Atelier-living", Corridor by Cristina Amigo for GM Group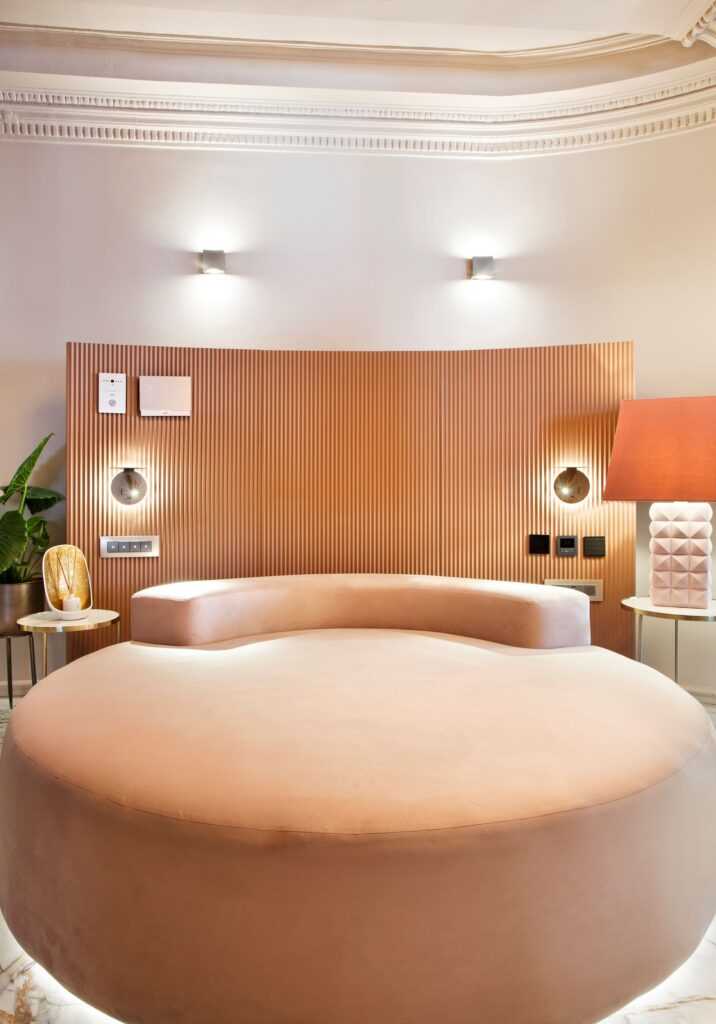 This space by Madrid-based designer Cristina Amigo for home electrical accessories manufacturer GM Group is an elegant space. It combines a soothing rose palette with furniture and decor that integrate seamlessly with the beamed ceiling, columns, mouldings, and other interior architectural features. The designer conceived a multipurpose space- a living room, a bedroom, and an office- with pieces that are also versatile. The circular sofa converts into a bed. The curved screen doubles as a headboard or a movable partition.
As the designer explains, ATELIER-LIVING® is a concept for living that she has developed over many years. They are spaces for both living and working. They are workshops for life. They are diaphanous spaces designed for professionals passionate about their work and who do not separate the different areas of their lives, whether personal, sentimental, or professional. They could be artists, interior designers, or architects who need to adapt their living environments to serve the needs of their creative processes. Spaces where they work, hold exhibitions, workshops, etc. Thus, the furniture has to be modular for ease of movement and also multi-functional. Everything flows. There are no false ceilings, so that ceiling height is at a maximum. There are no walls or doors to divide the space. As Cristina conceived them, these spaces are minimal, industrial with exposed brick, wooden beams, steel, and iron. Materials are natural and have sustainable characteristics. They often connect to the outdoor with patios.
The materials are natural, sustainable, and organic. The black, grey, and rose veining on the sintered stone flooring by Neolith pick up the colours of the light fixtures.
The sofa and pouf are designs by Cristina Amigo with upholstery by Ormo's. She customized the Kedua armchair by Spanish company Moblibérica with Sunbrella fabrics.
How did you come up with the design?
When we selected our space for Casa Decor, I felt its spirit, its classic architecture, the beams, moldings, and columns. I was faithful to my concept of creating multifunctional spaces, which I adapted as an "Ode to Delicacy."
What was your inspiration?
The concept of the Soul of the Space invaded me. It is an oval-shaped room, so I decided that everything should revolve around the sacred figure of the circle. I created circular elements but still used the multifunctional and versatile features that characterize my style.
What does participation in Casa Decor 2021 mean to you on a personal and professional level?
We are very fortunate to have a platform in our sector that supports and recognizes our projects and produces and disseminates our work worldwide. Casa Decor represents a link between fellow architects and artists, brands, companies, and clients from all over the world.
What challenges did you face in organizing the space during the pandemic?
I started this concept sixteen years ago when I designed lofts with "New York vibes." I had a minimal, industrial, eclectic aesthetic and used antique or iconic pieces. For this project, I adapted this aesthetic to the classical architecture of the space. Concerning the pandemic, I have been a visionary, along with a large part of the population. I have had a decades-long concern about the damage we are doing to our planet. For this reason, I create a small ecosystem, a small world within this world, which is necessary right now.
Make It Pretty: «La Dolce Vita», Bathroom by Fabián Ñíguez Studio for Geberit
The space by Madrid-based designer Fabián Ñiguez Studio for bathroom specialist Geberit is just so, so pretty. It pays tribute to Tomás Allende, who financed residential buildings with a classical style for the bourgeoisie. Fabián Ñiguez imagined what the bathing ritual would have looked like in these luxurious buildings. There are two rooms: the first, with a circular floor plan, and the second, a sober and elegant washbasin area. The designer created a lush, layered oasis with a strong presence.
The textiles are by CR Class by Roberto Diz. The wall panels are by Grupo Alvic.
The stone on the flooring, walls, and bathroom elements are by MarmolSpain.
Make It Accessible For All : "Backgammon Mood", Public Restrooms by Soledad Ordoñez Giordano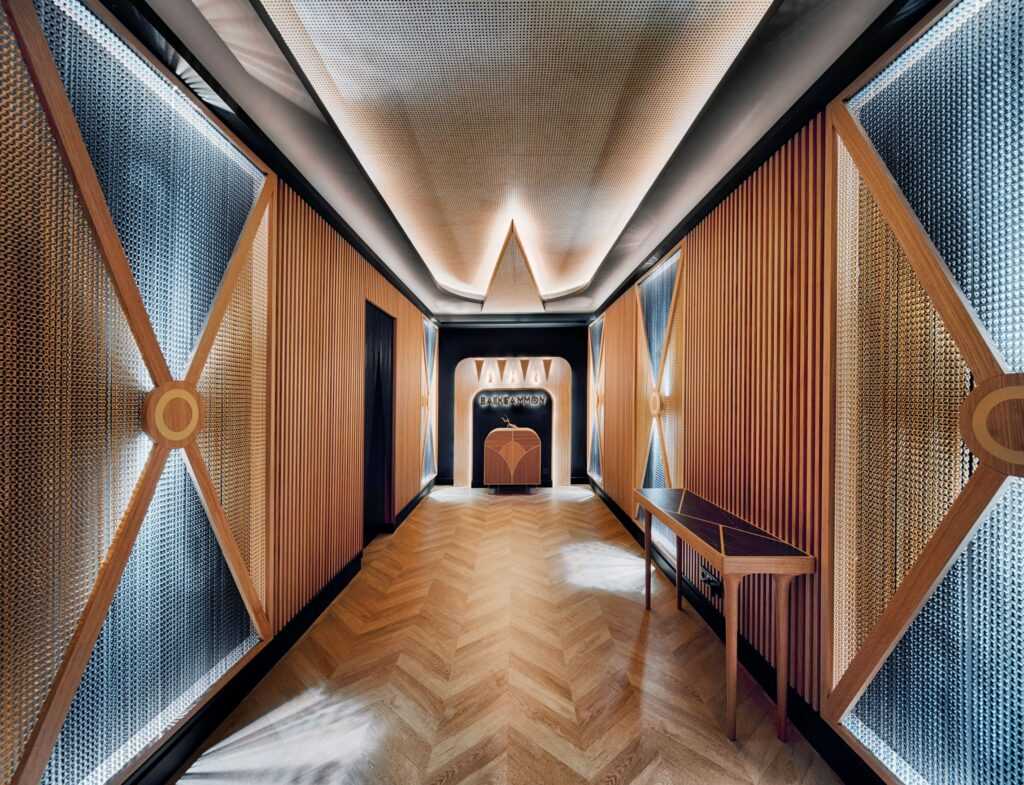 Building features that are taken for granted by those without mobility challenges when they navigate their built environments are daunting for those with them. Although public spaces should be comfortable and safe for all, this is not the reality. Bathrooms are the location in the home where many accidents occur, and those with mobility issues must be mindful of even the tiniest of movement. Unfortunately, members of the industry who create high-end design-builders, architects, and designers-rarely take what is termed accessible or universal design into consideration when they design. Yet, whether we are born with disabilities or develop them as we age, most of us will eventually need features that allow us to safely and comfortably access or navigate our spaces. What is on the market are designed by firms that specialize in producing accessible features, such as grab bars, which are functional but too often devoid of aesthetic appeal.
Soledad Ordoñez Giordano has made a beautiful, accessible, and functional restroom for visitors to Casa Decor. She conceived her design as a reference to the pieces and the geometry of backgammon, using materials such as stone and brass to show that luxury and design are not incompatible with accessibility. "We wanted to create a space that can be enjoyed from a functional point of view. Design, innovation, sustainability, and beauty, placed at the service of accessibility and within reach of all people with disabilities," she explains.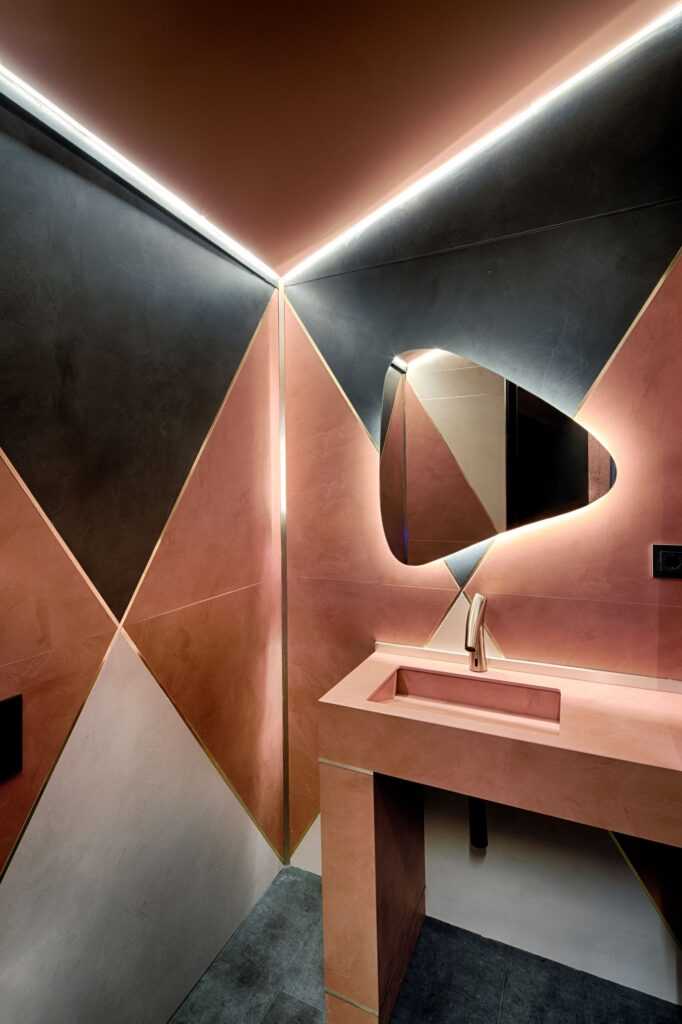 The terra cotta stone by Dekton for Cosentino has no veining and simulates the natural look and feel of the earth. The designer juxtaposes this palette with black stone and accents.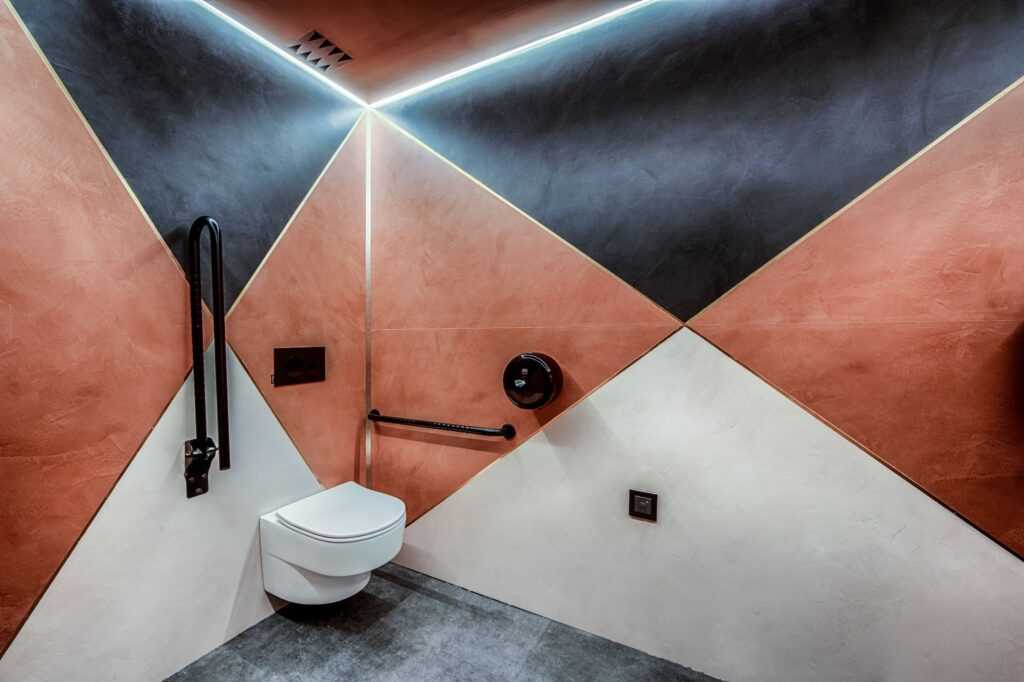 Those who cannot hear can see, smell, feel and experience the space in other ways. For example, there are messages in Braille on the oak panel for those who cannot see.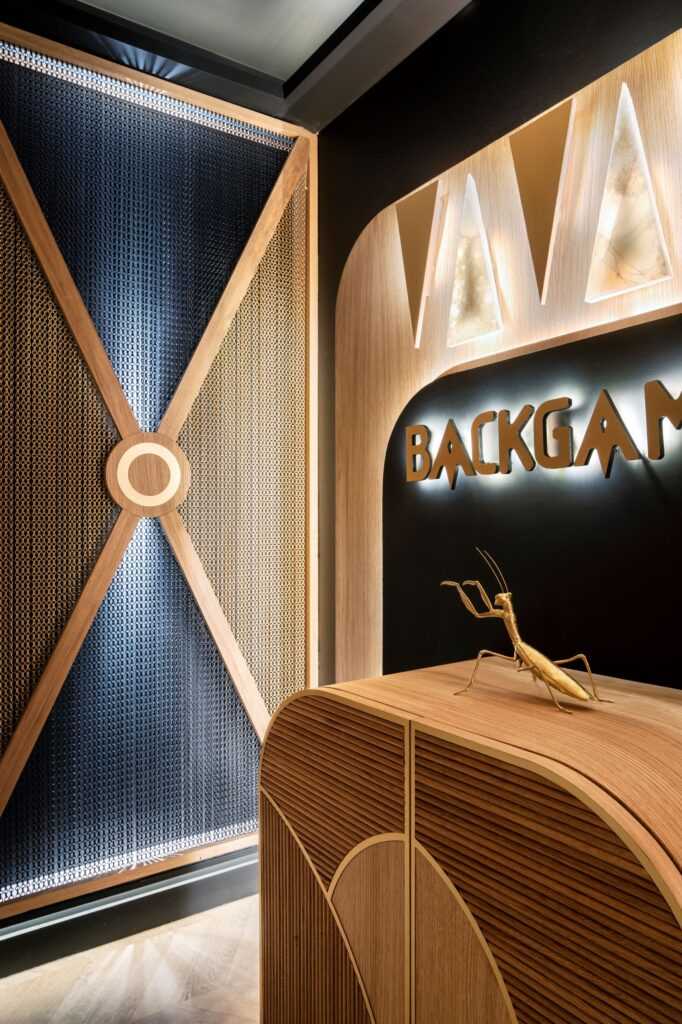 To view other inspirational spaces from Casa Decor 2021, read Casa Decor 2021: 7 Designs to Inspire Your Workspace at Home.
To read my exclusive interview with Alicia García Cabrera, Director General of Casa Decor and her views about organizing it during the pandemic, and one of last year's prize winners Mayice Studio click Casa Decor: One Year Later.