Book Nook: Three Essential Books about Spanish Design
March 24, 2020
/
/
Comments Off

on Book Nook: Three Essential Books about Spanish Design
Design, interior design in particular, is an ever changing field; change for family needs, change for technological needs and change just for change's sake. Despite some designers', perhaps futile, attempt to design "timeless" spaces, interiors featured in period or old books written even just ten years ago may appear dated or generic to today's Instagram-savvy readers, particularly "contemporary" or cutting edge design. Moreover, some of the buildings have been torn down, some of the spaces redesigned and some of the homeowners have moved to seek new adventures elsewhere.
Nevertheless, for the casual, non-scholarly reader, period books about design can be as valuable as books written about the same period at a later point in time. While the latter provides a point of reflection, the former provides images unfiltered by critical thought.
The three featured books are wonderful additions to the bookshelves of readers who want to learn about or supplement their knowledge of vernacular and contemporary architecture and interior design in Spain. Try to get your hands on these vintage or near vintage gems by clicking on the links in the title or images below.
The links below may have affiliate links. Click here to read my affiliate policy.
Please note that this website is a participant in the Indigo Affiliate Program which allows it to earn commissions from Indigo if you make a purchase on indigo.ca after linking through this website.
Text and photography by Hugh Palmer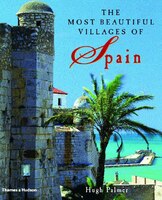 I cannot recommend this book enough. A coffee table book in the best sense of the term, readers will return to it again and again, as I have over the more than sixteen years that I have owned my now dog-eared copy. It is a visual encyclopedia of architectural styles and a comprehensive guide for armchair travellers seeking destinations for future travel in a country replete with cute historic villages, world heritage buildings and breathtaking landscape. Many of the featured buildings are clad in stucco, plaster, brick and stone. Lots and lots of stone, enough to feed my desire to one day own a stone-clad casita in a charming little pueblecito.
Readers will enjoy just perusing the stunning photography capturing public and private spaces in over 30 charming villages in Spain-homes, bridges, castles, market squares, streetscapes and places of worship. However, those who pause to read the text will discover interesting aspects of well-known villages (e.g. Cadaques, Deia, Peniscola, now associated with the Game of Thrones), villages on many lists as among Spain's most charming (e.g. Santillana Del Mar in Cantabria) and more remote or lesser-known villages (e.g. Rupit, Almagro, Llanes).
The book is divided into four sections featuring villages in eastern Spain in the provinces of Teruel, Huesca, Girona, Mallorca, Tarragona, Castello, Barcelona and Zaragona; in Andalucia in the provinces of Jaen, Huelva, Granada and Cadiz; in the heart of Spain in Cuidad Real, Soria, Salamanca, Caceres, Toledo and Segovia; and in the provinces of Cantabria, A Coruna, Navarra, Asturias, Ourense and Guipuzcoa in northern Spain.
Written in 2003, some of the hotel and other listings in the Useful Information section may be dated. What is not dated is Palmers' curated list of books about Spain. Published between the 1920s and 2000, they should interest lovers and collectors of books about important historical periods in Spain, for example, George Orwell's 1938 Homage to Catalonia, his account of fighting for the Republican army during the Spanish civil war, literary works (e.g. Don Quixote by Miguel de Cervantes) and travelogues set in Andalucia.
Ibiza: A Mediterranean Lifestyle
Luis Domenech Girbau (Author), Conrad White (Photographer)
Ibiza has long been one of Spain's leading tourist destinations. From early 20th century stirrings of tourists yet to come, to the home of the hippie culture from the 1960s, many sought and found a natural, untouched land. Its image as a haven for an idyllic lifestyle continued until Ibiza became better known for 24-hour night life, techno music and famous DJs who descend in summer months with their mass followers. Arguably, this has now been supplanted by the image of Ibiza as the destination of choice for the moneyed and for the famous.
It is also one of the regions of Spain which is associated with a characteristic architectural style; white washed stone buildings, rectangular forms and multi-level exterior staircases. Not all of the featured homes are in a vernacular style; some are modern, some built according to the owners plans, while other owners adapted the original architecture of their homes to integrate modern technological preferences.
Published in 1999, this book allows readers into the homes of over 25 expatriates who settled there or have second homes. The author is Spanish architect Luis Domenech, the great grandson of Lluís Domènech i Montaner, one of the most important twentieth-century Catalan modernist architects. This book is a great choice for those who like to know the stories behind the walls.
Michelle Gallindo (Author)
Published in 2011, this book, written in Spanish and English, features 47 public, private and commercial spaces in various regions of Spain, designed by some of Spain's nationally and internationally renowned architects and interior designers, including Patricia Urquiola, Jaime Hayon and A-cero. Some of the architectural styles are classical, others minimal contemporary and others integrate contemporary design elements into buildings that reflect Spain's Gothic, Islamic and Moorish heritages.

Sections are devoted to five types of spaces: offices; hotels, bars and restaurants; culture and leisure; residential spaces; and retail.
Among the standouts are a law firm in Barcelona with a polychromatic cement tile flooring in the boardroom, a parish center in Madrid with a Corten steel exterior and interiors clad in light-coloured reinforced concrete and a restaurant in Madrid with ceiling and walls covered entirely with 1000 interconnected ivory coloured peinetas, the decorative combs used to hold up mantillas, the traditional scarves worn during festivals and weddings.
Retail spaces featured include the flagship store of fashion label Lurdes Bergada designed by Dear Design; the H & M store on Avigunda del Portal de l'Angel in Barcelona designed by Estudio Mariscal; and stores in Barcelona and Valencia for Spanish sports footwear company Munich designed by Dear Design.
Far from being generic or frozen in time, many of the spaces featured in this book are current because they are singular and defy easy stylistic labels.