5 of the Best Portable Lamps Made in Spain
May 5, 2020
/
/
Comments Off

on 5 of the Best Portable Lamps Made in Spain
Portable lamps create an immediate connection between user and object like few other design elements. Not normally intended for task lighting, they give that nice, soft ambient glow that creates an atmosphere. Place it on an outdoor table to create an intimate dining experience. Move indoors and put it on the floor next to a comfy chair to continue the conversation well into the night. As fatigue makes its way through the body, move it to the bedside and dim it to the lowest level for a moody ambiance before switching it off.
The practicality and versatility of portable lamps are their advantages over their corded cousins. They make use of the latest technology: rechargeable batteries that can last anywhere from five to twenty-four hours, LED light source, and three-level dimmer switches.
This is all good and fine, but what about the design? No worries. The lamps featured below are from Spanish lighting companies that have received industry acclaim for residential and commercial lighting. Global brands with a strong presence outside of Spain, they have collaborated with leading designers from around the world to develop some of the most innovative, striking designs in the industry. All have won international acclaim. Some have received recognition from the most prestigious industrial design awards, such as the Red Dot Award and the iF Product Design Award, and two are regarded as design classics. They all show the best of Spanish expertise and craftsmanship.
This post has affiliate links, but all opinions are those of Spain for Design. Please read my affiliate policy.
The Cestita Batería by Miguel Milá for Santa & Cole (2017)
Introduced in 2017, the Cestita Batería lamp by Santa & Cole is a portable, cordless version of the iconic Cesta Table Lamp designed by Miguel Milá in 1962. The word cesta is Spanish for basket, but its roots are in the ancient magic lantern tradition.
The Cestita Batería is made with traditional techniques: steam bending for the cherry wood frame and glassblowing for the opal glass shade. It has a built-in LED light, a three-position dimmer switch, and a rechargeable lithium battery that lasts from five to twenty-four hours depending on the chosen intensity level.
Santa & Cole is headquartered in a former educational residence on the 140 hectares grounds of Parc de Belloch, about thirty kilometers from Barcelona. Founded in 1985 by Javier Santa, Gabriel Cole, and Nina Maso, it prides itself on being a small, independent global editor of lighting. Its extensive catalogue boasts eighty historic and contemporary designs, some of which are icons.
An interior designer and inventor, Miguel Milá began working in the fifties and is considered a pioneer in his field. In 1987, he received the Premio Nacional de Diseño, awarded by the Spanish government to designers who have contributed to and made innovations in the field. In 2008, he received the prestigious Compasso d'Oro in recognition of his career trajectory and his contribution to the promotion of Spanish design.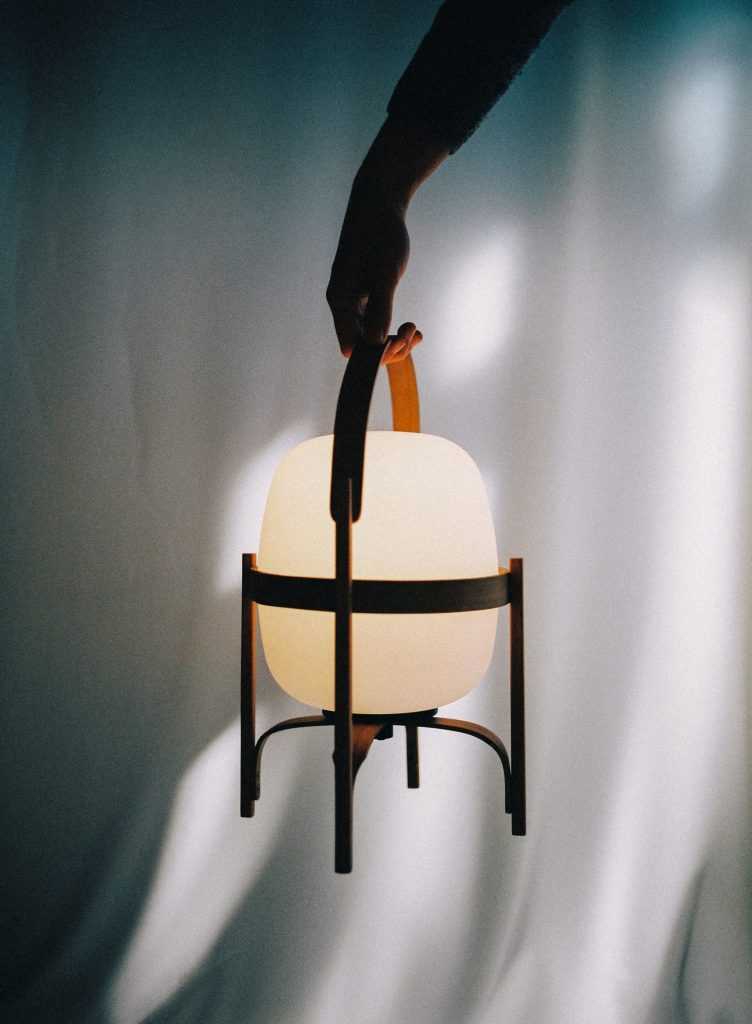 The FollowMe Portable Table Lamp by Inma Bermúdez for Marset (2014)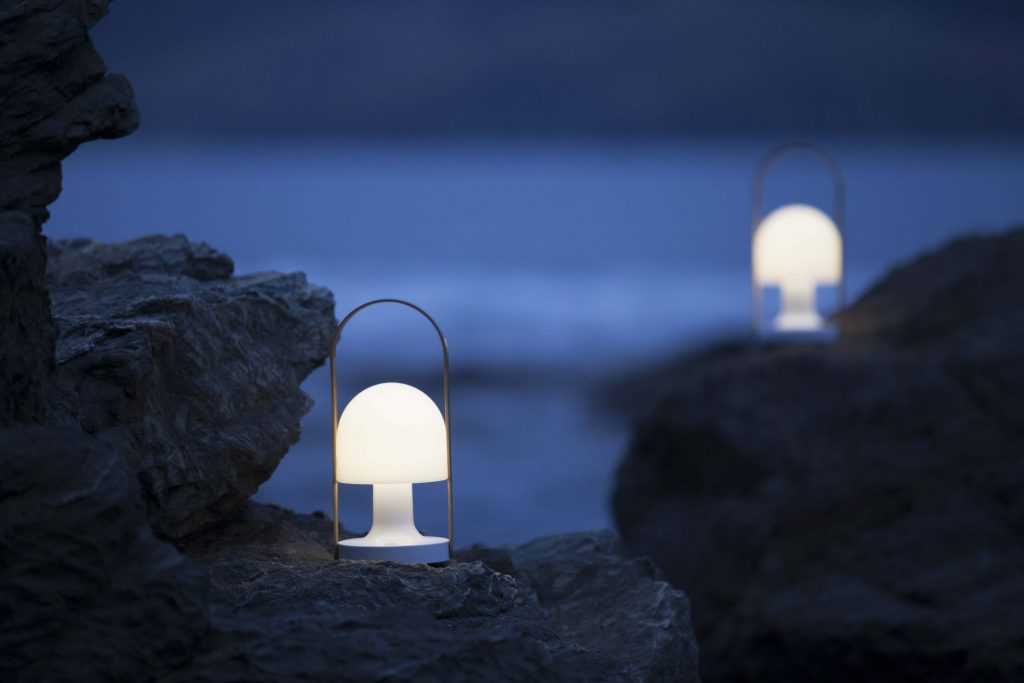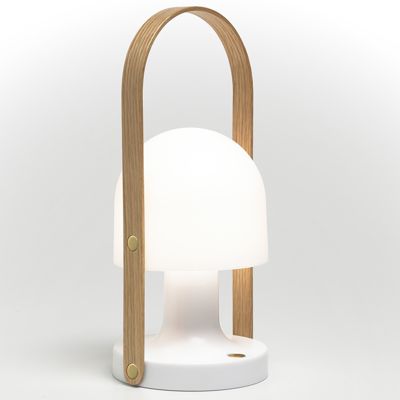 Winner of the 2016 Red Dot award for Product Design and added to the permanent collection of the Museum of Design in Barcelona, among numerous distinctions, the FollowMe Portable Table Lamp by Valencia-based Studio Inma Bermúdez for Marset is as beautiful as it is practical. The original design features an oak veneer handle and a white polycarbonate shade, but the handle and base are now available in green, blue, pink and terracotta finishes.
The lamp integrates LED technology, a rechargeable built-in battery that lasts from five to twenty hours and a micro USB charging cable. The user can control the intensity of the light by adjusting the tiltable shade and selecting one of three positions for the brass dimmer switch.
In 2017, Marset introduced a new version, the FollowMe Plus Table Lamp, which is larger and with a greater light output.
Marset has its headquarters in Terrassa, twenty kilometers northwest of Barcelona. With its origins as a family business dedicated to casting metals, the company has evolved over the years to create innovative, yet timeless lighting.
Industrial designer Inma Bermúdez founded Studio Inma Bermúdez in 2007 and Moritz Krefter, who has a background in architecture, joined the studio in 2009. Based in Valencia, they focus on the design of furniture, lighting, and accessories and have developed products for leading global brands from Spain, France, Portugal, Germany, Sweden, India, and Colombia.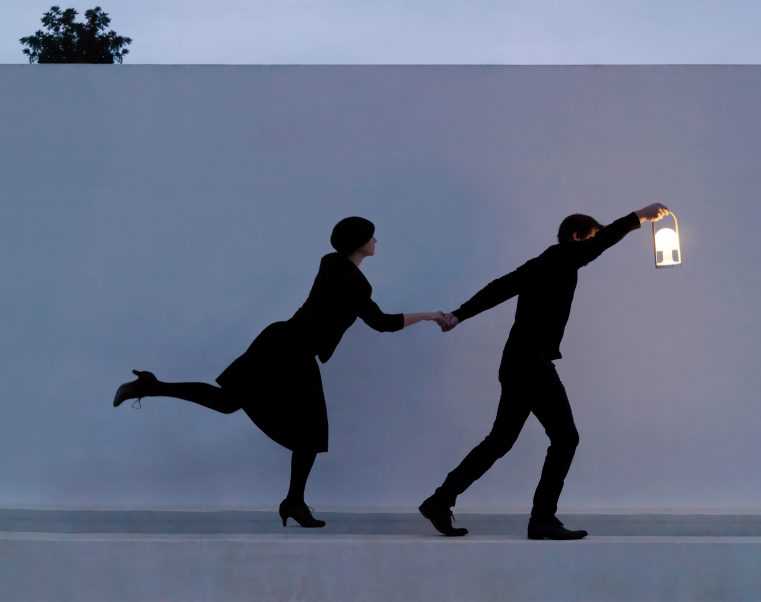 Piknik by Macalula for LZF (2015)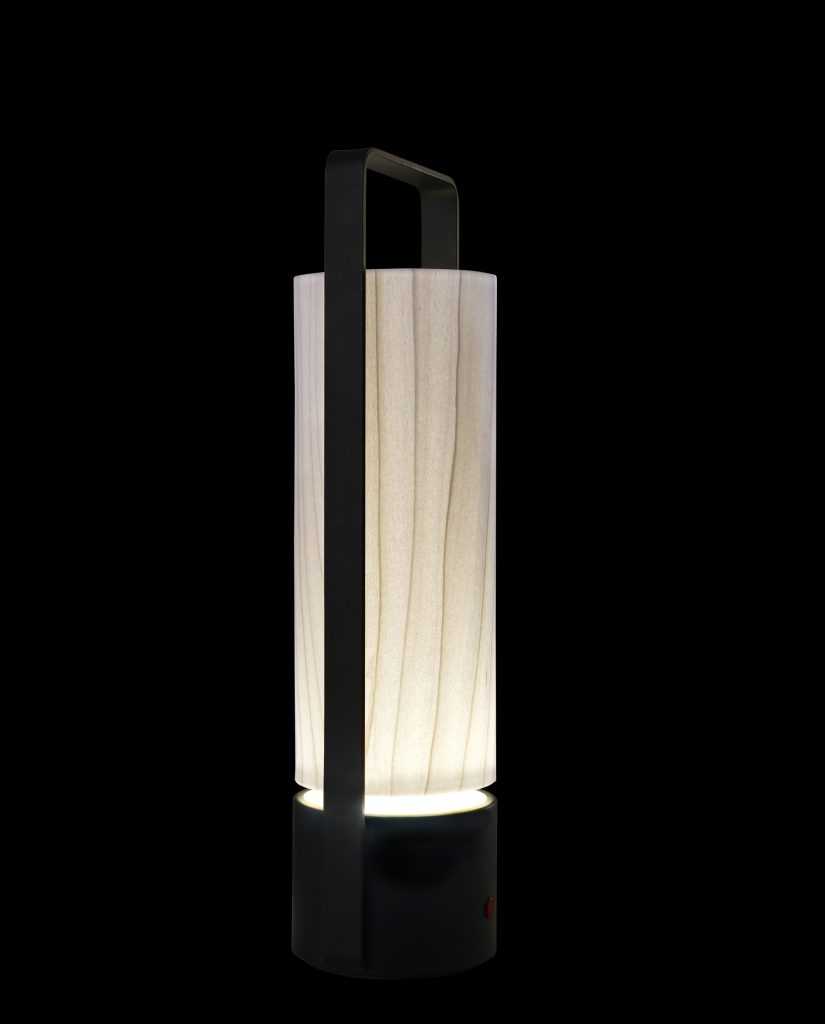 Recipient of the 2016 Special Mention by the prestigious IF Design Award and a 2016 Special Mention for Excellent Product Design by the German Council Design, Piknik by LZF is a portable and versatile lamp that can be used both indoors and outdoors. Its tubular wood veneer lampshade, which comes in eleven finishes, hangs freely, which allows it to rock by movement or the breeze creating a flickering candle-like effect. Piknik also features an integrated LED light source, a rechargeable battery that lasts for up to seven hours at maximum power, touch sensor dimming, and a USB connector for smartphone charging.
Founded in 1994, LZF is a Valencia-based company that started manufacturing hand-made wood veneer lamps from a small studio in the city's historic centre. It has since grown to become specialists in handmade, contemporary design.
In 2012, LZF and the design collective Surtido launched a design competition for the creation of a cordless and rechargeable lamp using the company's signature wood veneer. The winners were Belén Moratalla, Cristina Planells, and Inelén Ortín, graduates in industrial design from the Polytechnical University of Valencia, who at that time made up the multidisciplinary design studio Macalula, which they launched in 2006.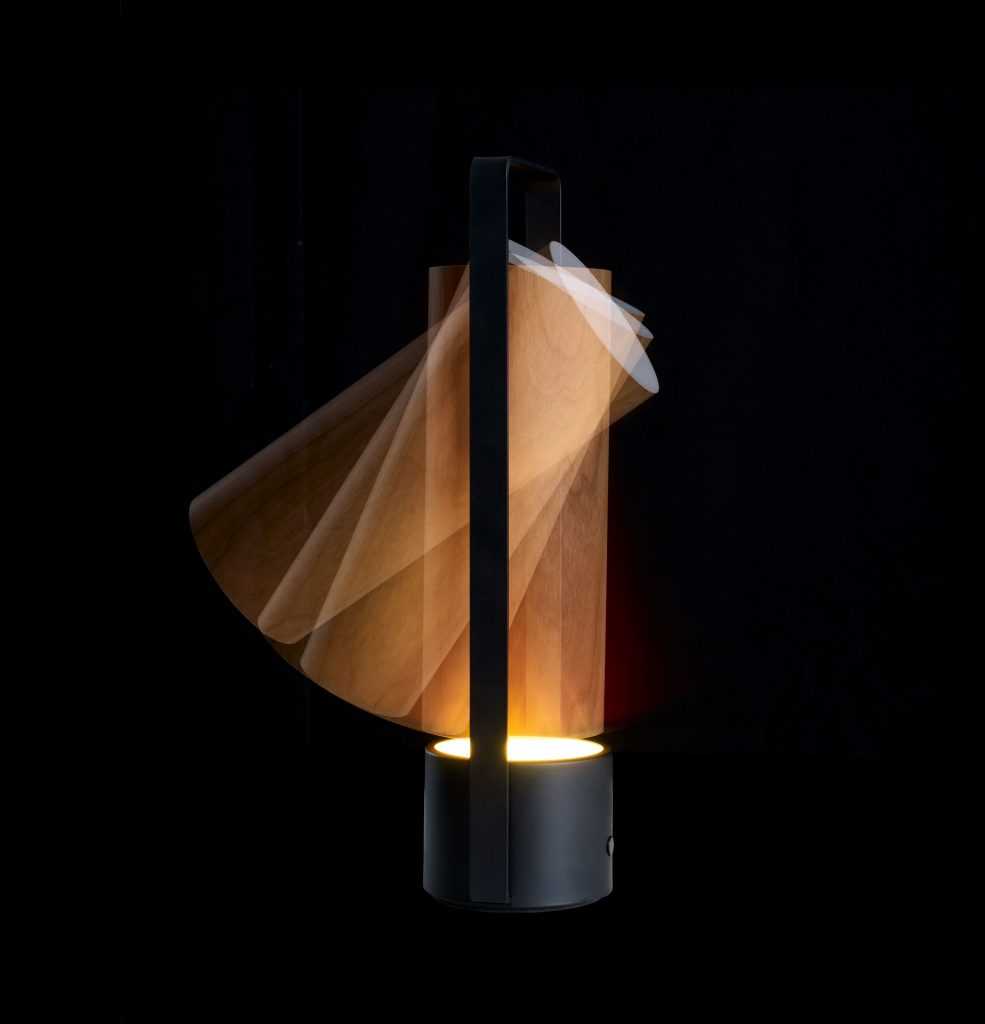 Mini Chou Portable Cordless LED Lamp by Yonoh Estudio Creativo for LZF (2019)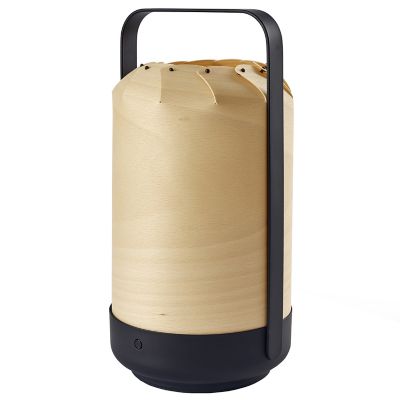 The Mini Chou Portable Cordless LED Lamp by LZF is part of a line of portable lamps, including the award-winning Chou lamp. The inspiration for the design is the Japanese paper lantern, or "chouchin". Instead of paper, the shade is made with natural wood veneer, thin enough to manipulate like paper, but with the texture and characteristics of real wood. The battery can be charged with a USB charger and emits light for up to seven hours at full power, or longer when the LEDs are dimmed. The shade is available in grey, ivory, natural beech, pale rose, red and sea blue finishes.

Clara del Portillo and Alex Selma founded Yonoh Creative Studio in 2006. Based in Valencia, they focus on product, graphic, and interior design. The studio has received industry acclaim from Good Design, Wallpaper*, Red Dot, Good Design, and IF design awards.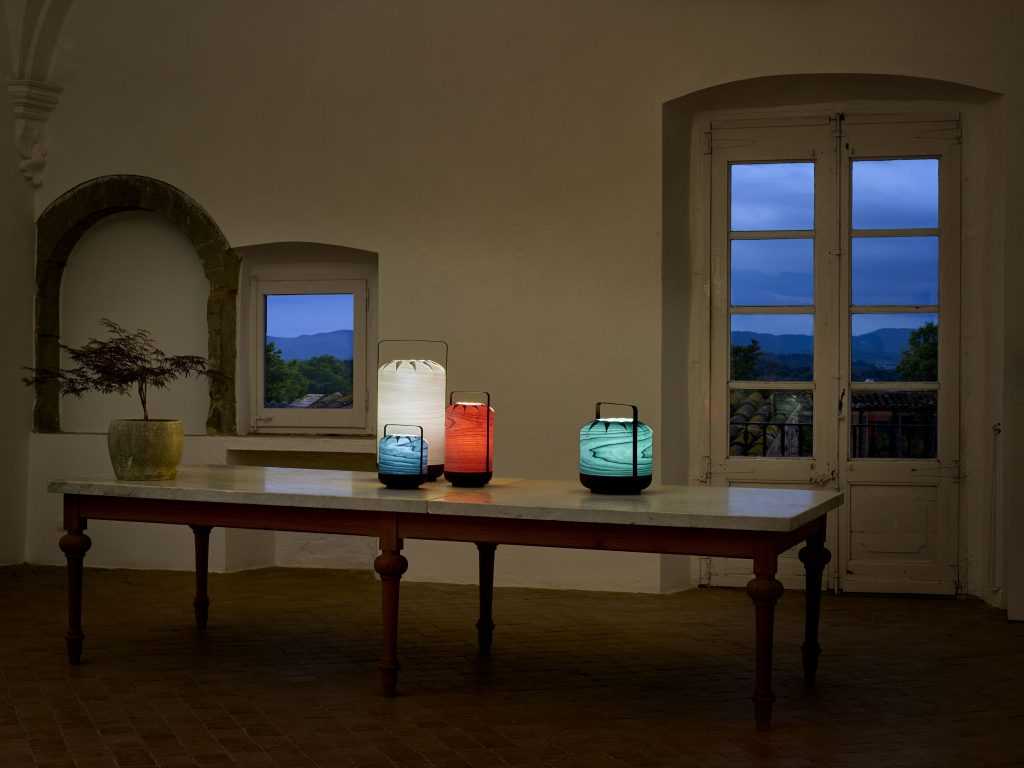 Bicoca Table Lamp by Christophe Mathieu for Marset (2017)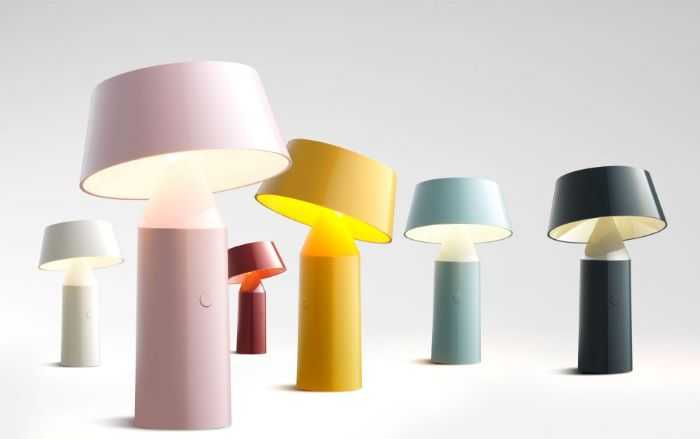 The Bicoca lamp is colorful and lightweight. The cylindrical polycarbonate body and tiltable shade are available in off-white, anthracite, red wine, light blue, pale pink, and yellow finishes. Three accessories increase its versatility so that it can be affixed onto different surfaces, including metal and fabric. It has a diffuser, a rechargeable LED battery that lasts from five to twenty hours depending on the chosen light intensity and a three-position dimmer switch.
The Bicoca received the 2018 Design Plus award, promoted by the Light + Building show in Frankfurt, and was selected by Metropolis magazine to receive a #MetropolisLikes award during NYCxDESIGN 2017.
Christophe Mathieu is one of Marset's veteran designers. Born in Germany of Belgian heritage, he grew up in Spain where he studied interior design. After completing his studies, he moved to Milan where he switched his focus to industrial design and worked for prominent design studios. He returned to Spain, and lived in Barcelona where he collaborated with various design studios. Among his prominent designs for Marset is the pendant light Discocó, which is regarded as a design classic.