Madrid Design Festival 2021
April 6, 2021
/
/
Comments Off

on Madrid Design Festival 2021
The fourth edition of the Madrid Design Festival 21 (MDF21) took place in February and March. The only festival in Spain that brings together all design disciplines, there were 183 activities, 58 exhibitions, and the participation of more than 500 designers and 72 institutions from the world of design, art, and culture. Organized by Madrid-based cultural promoter La Fábrica, through in-person, digital, and audiovisual formats, it showcased the best designs from Spain and other countries and the ability of those who work in this sector to resolve complex social, economic, and creative challenges.
Valencia was the guest city. Designated the World Design Capital 2022 by the World Design Organization, the festival showcased some of the best designs from this city as a precursor of events planned for next year's "Valencia Capital of the World of Design in 2022." "Valencia Pavilion. The Future is Design" was a digital exhibition that promoted Valencian design in industry and craftsmanship and the distinctive aestetic of creatives from the Mediterranean. With a showroom by MUT Design, Estudio Savage curated the exhibition, which featured 50 projects in five categories: approaches to a circular economy, contemporary industry and artisanship, design focused on the transformative economy, the border between art and design, and technology.
As in previous years, the festival recognized national and international talent with the Madrid Design Festival Awards. The honorees for this year's festival were renowned Spanish designer Jaime Hayon and architects José Selgas and Lucia Cano of the firm Selgascano.
The first MINI Design Award, launched by the automobile company, rewards professional designers and young design talent who seek to improve the quality of life in cities by using their talent to question, innovate and transform urban lives through sustainability and the efficient use of resources. The award in the Professional category was for the project "Contenedor Blanco" (White Container) by industrial designer Inma Bermúdez. The jury, made up of professionals from the world of design and MINI brand personnel, awarded this project "for being a circular economy project, endorsed, tangible and scalable, with great potential in environmental sustainability and launched by an individual initiative that promotes entrepreneurship."
The winner in the category of New Talents was the VORA project by the students in the research department of the Elisava school in Barcelona. VORA seeks to consolidate the space gained from the road during the pandemic for a new pedestrian area. The VORA prototype was a set of digitally manufactured temporary wooden structures in a corner near the Sagrada Familia School in Barcelona, in the spaces that vehicles had previously occupied. It represents a safe boundary between vehicles and the pedestrian zone and promotes educational, leisure, and cultural activities. It responds to the current needs of many educational centres for outdoor spaces and new ways of teaching. The jury distinguished the project for "promoting an intelligent use of space, taking younger citizens into account and transforming cities in a friendlier way."
"Connected' was an exhibition conceived as a response to the confinement due to Covid-19. The American Hardwood Export Council (AHEC), Benchmark Furniture, and the Design Museum of London challenged leading international designers to respond to the pandemic by creating a multi-functional table that would adapt to new ways of living and working from home. Benchmark Furniture made the designs in its workshop using three sustainable American hardwoods: red oak, maple, and cherry. The designers had to produce their respective projects by working with Benchmark solely through digital communication.
"Kadamba Gate" by Swiss designer Ini Archibong has a strong narrative that guided the choice of materials and its construction. The Giant's Causeway in Northern Ireland was the inspiration for the base of the bench seating and table. Intended for outdoor use, it was constructed from a mix of red oak, cherry, and thermally modified red oak seats. The tabletop has a colourful glossy epoxy finish with removable brass detailing. The bench has a removable vegetable-tanned seat made by artisans from the Bill Amberg Studio.
"Mesamachine" by Spanish designer Jaime Hayón consists of multiple elements that provide one space to work, play, eat, and spend family time. It is a complex interplay of precisely designed parts made from cherry wood that can open and expand to create tables, storage, extendable shelves, two stools, and a bench.
Moving between "work and "hide-and-seek" modes, "Candy Cubicle" by Dutch designer Sabine Marcelis has its design inspiration from the suitcase scene in the movie Pulp Fiction. Maple veneer interior compartments coated with hand-polished translucent yellow high-gloss lacquer conceal items used for telework during nonworking hours. A circular stool made of solid American maple has matching castors. The exterior surfaces are also made from maple veneer but have a white oil finish. The piece sits on yellow castors allowing for ease of movement.
Inspired by nature, Pink Moon is a tabletop by Studiopepe of Italy that plays with the idea of cycles of renewal and a new beginning. The seats suspend a machined "moon" made from maple. The design is reminiscent of the reductionist aesthetic of Charles Rennie Mackintosh.
The Madrid Design Portrait was an exhibition of contemporary product design proposals from professionals in industrial, graphic, fashion, illustration, and interior design from or based in Madrid. The participating firms were Lucas Muñoz, Miguel Leiro, Mayice, Izaskun Chinchilla, Moneo Brock, Patricia Bustos, Federico Antelo, Tornasol, Estudio Báltico, Andrea Santamarina, Mariano, Mad Lab, Kike Keller, Álvaro Catalán de Ocón and Enorme Studio.
Spain for Design reached out to one of the participants, textile designer Federico Antelo Granero.
How important is this event for you?
It is a huge opportunity for my work to get seen, which is essential in the world we live in these days.
Can you describe the challenges of preparing for this event under the pandemic situation?
Fortunately, I had none. However, during the phase when I was making the piece, I was afraid of being banned from accessing my studio.
What is the name and concept of your piece?
"Extracto de Proceso." It is a visual metaphor of my working process.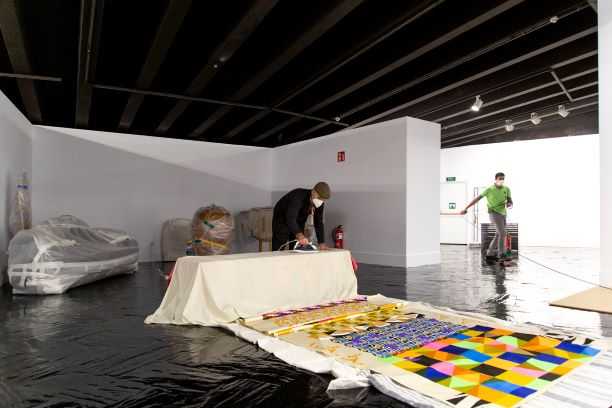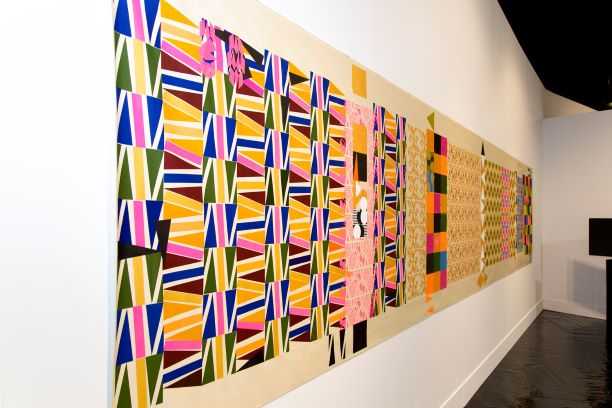 SACo, the Sociedad de Artesanía Contemporánea, an association of contemporary artisans in Spain, organized an exhibition and talks around the theme of Comunidad Circular (Circular Community) in association with Mazda. The concept of contemporary artisanship for a sustainable future seeks to elevate the relationship between the visitor and contemporary crafts with the circle as its core. Materials used in the exhibition can be reused, thus minimising their ecological impact. The pieces were handcrafted within a radius of less than 20 km from the centre of Madrid.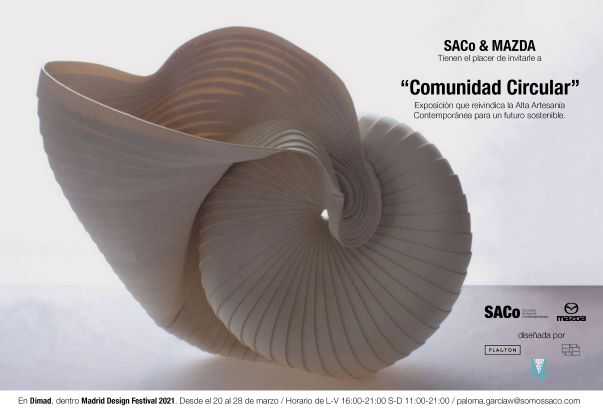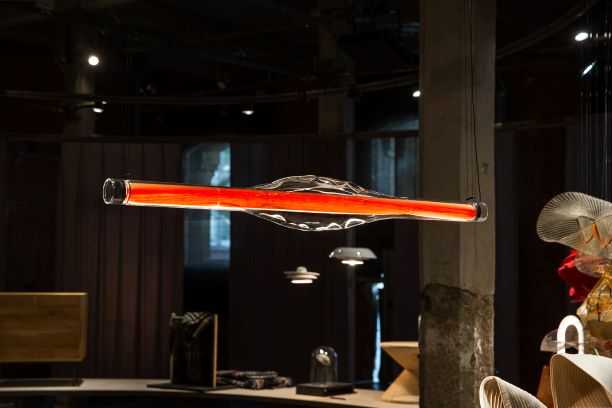 Spain for Design reached out to Marta Alonso Yebra, one of the founders of award-winning design studio Mayice Studio, along with Imanol Calderón Elósegui, for her thoughts about the festival.
What are your feelings about your studio Mayice being part of an event like MDF?
Being able to participate in Madrid Design Festival is so important. We have taken part in it for a few years. We will never forget when we presented Filamento at our studio in 2018. This year is our second as part of SACo, both years in a strong partnership with Mazda. We showed our Dune lamp for LZF, which won the Best of the Year by Interior Magazine in NYC. Each Dune lamp is unique. Its beauty lies in the imperfection of hand-blown glass with its almost wabi-sabi quality. For this reason, Dune is like a piece of art.
SACo organized several workshops and lectures and a public competition to find a designer to create the space for our exhibition, Comunidad Circular. The winners were Bátlico Studio and Placton Design. La Fábrica organized and promoted the festival, and Alvaro Matías, the director, has participated in Madrid Design Festival since the beginning. Madrid is a city full of energy and, at this moment, is at a milestone in history. There are so many great architects and designers. Some have studied abroad, in London, Eindhoven, while others, like Imanol and I, studied in Madrid.
Can you describe the restrictions your studio/SACo faced in preparing for it due to the pandemic?
Many lectures had to stream online. We had to avoid going into the workshop. We had several visits from the students at the Design School because they needed to touch the pieces. As Elena Goded (one of the founders of SACo) says, touch is one of the most important senses. We missed this part of the process during the event.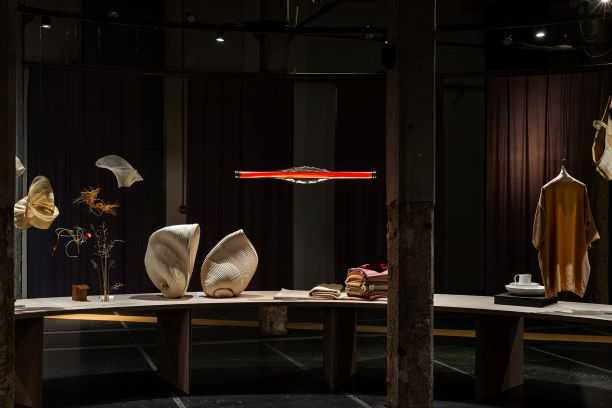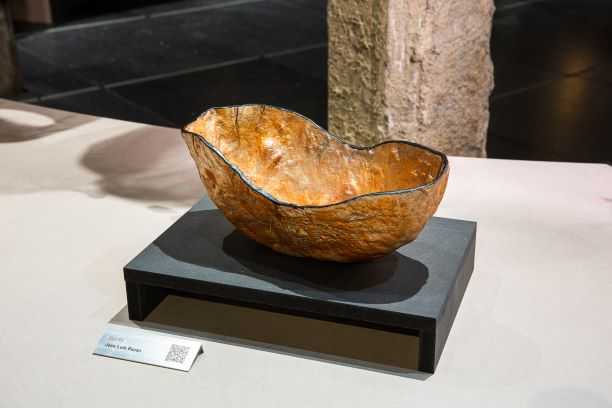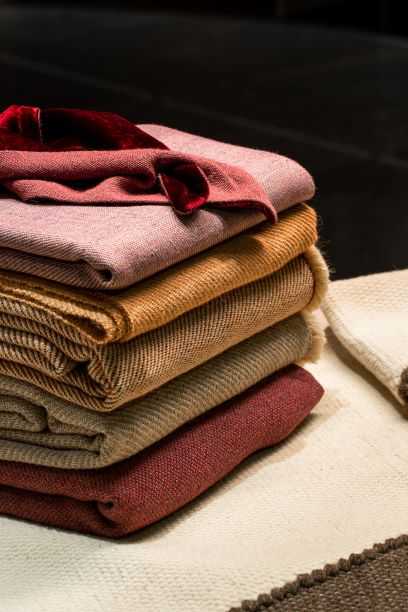 Read more about SACo: SACo: Showcasing Contemporary Spanish Artisanship.