The Natural Environment Inspires Masquespacio's Design of Restaurant in Huesca
July 5, 2021
/
/
Comments Off

on The Natural Environment Inspires Masquespacio's Design of Restaurant in Huesca
Award-winning studio Masquespacio designed Pukkel, a fine dining restaurant in the city center of Huesca in Spain's autonomous community of Aragon. Owners Jorge and Mikel opened the 140-square-meter eatery in January 2021 to offer signature healthy food options, where guests can have a sensory experience beyond gastronomy. Diners enjoy a menu made from quality local products without refined sugars, flours, and unnecessary additives.
"After doing a workshop with Jorge and Mikel, we immediately proposed to work with 100% natural materials and integrate nature into the space," says Christophe Penasse, co-founder of Masquespacio.
The starting point for the design was to pinpoint a connection between the city of Huesca, gastronomy, and a healthy lifestyle. "We investigated the province of Huesca and started to discover the beauty of the mountains and parks in its surroundings," recalls Ana Hernández, creative director of Masquespacio. "We found the reference we were looking for, and that fitted perfectly with the healthy lifestyle concept from Pukkel."

References to nature, the forest, and the mountains abound. The earthy colour palette is a variety of browns, whites, and greens. Gold accents add sophistication. The organic forms are deliberately imperfect, mirroring those found in the natural environment. The rough textures of the stucco, ceramic, and terracotta tiles references the earth and mountains. The furniture and the pattern of terracotta on the floor tiles, bars, and some of the walls are custom designs by Masquespacio.

Another reference to the natural environment is the circular layout around the seating which simulates a walk in the mountains, while the arrangement of the floor tiles impart the sensation of a walk in the forest. The circular layout also facilitates interaction between family and friends while they dine.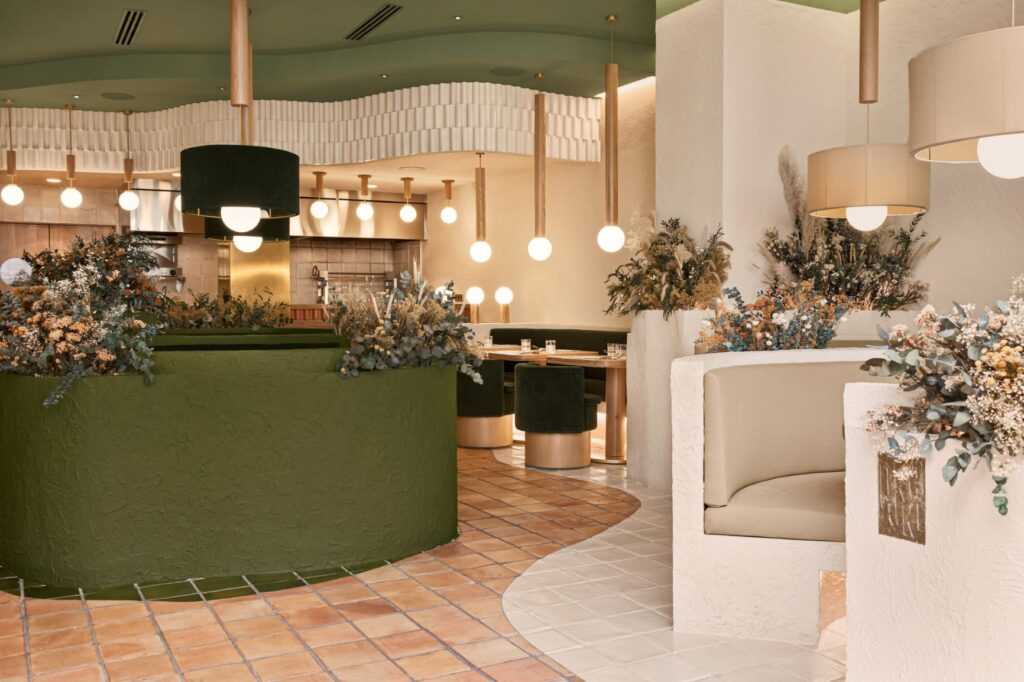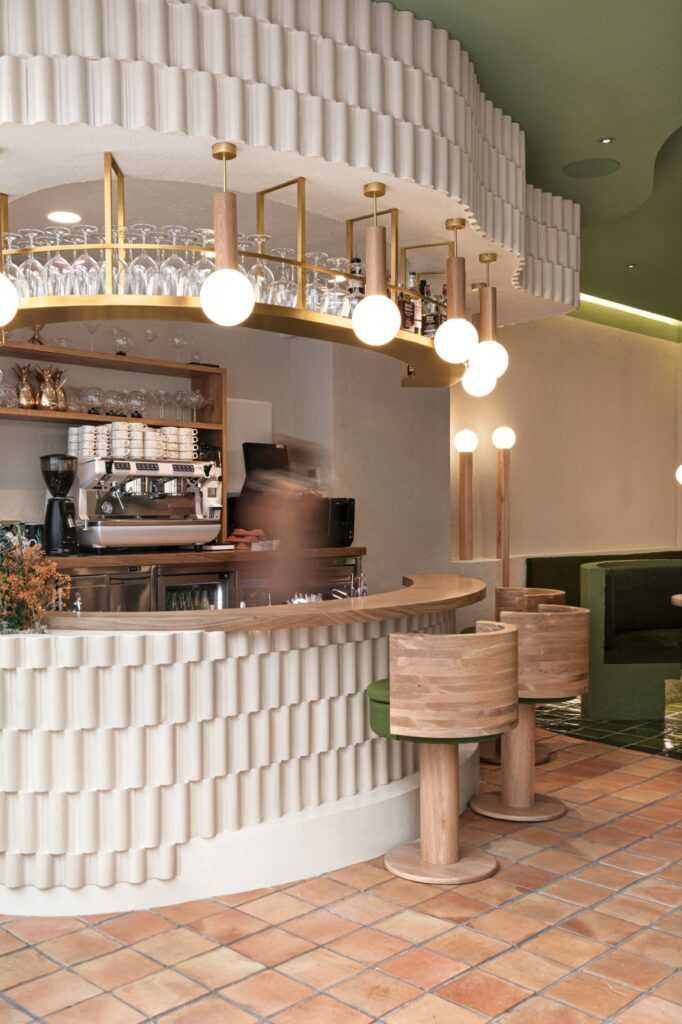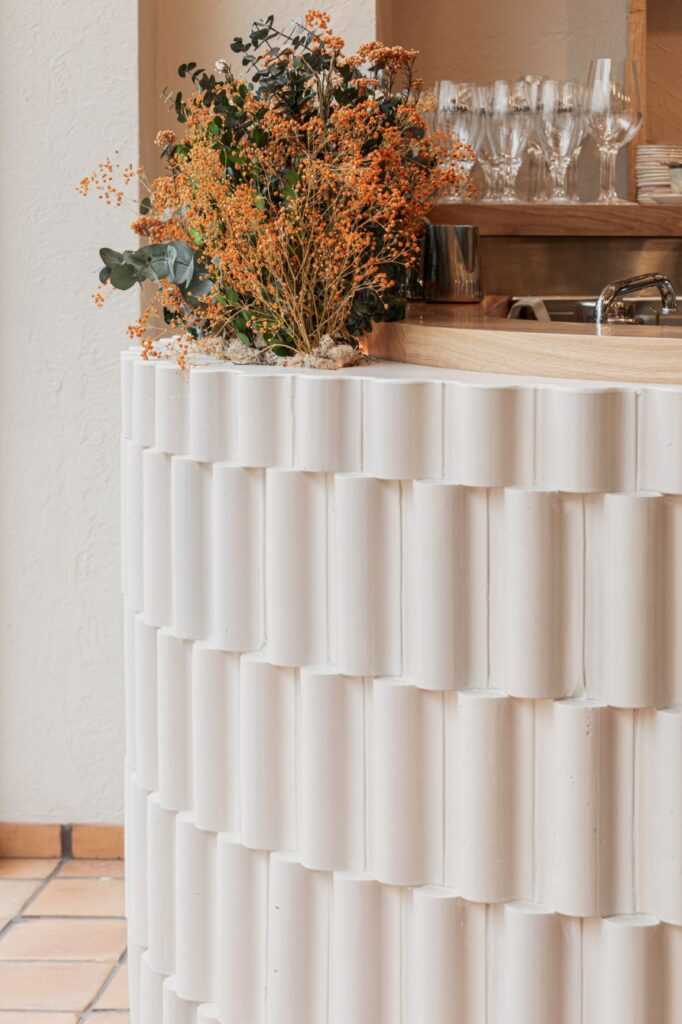 Plants and flowers are dispersed throughout the space and will change seasonally.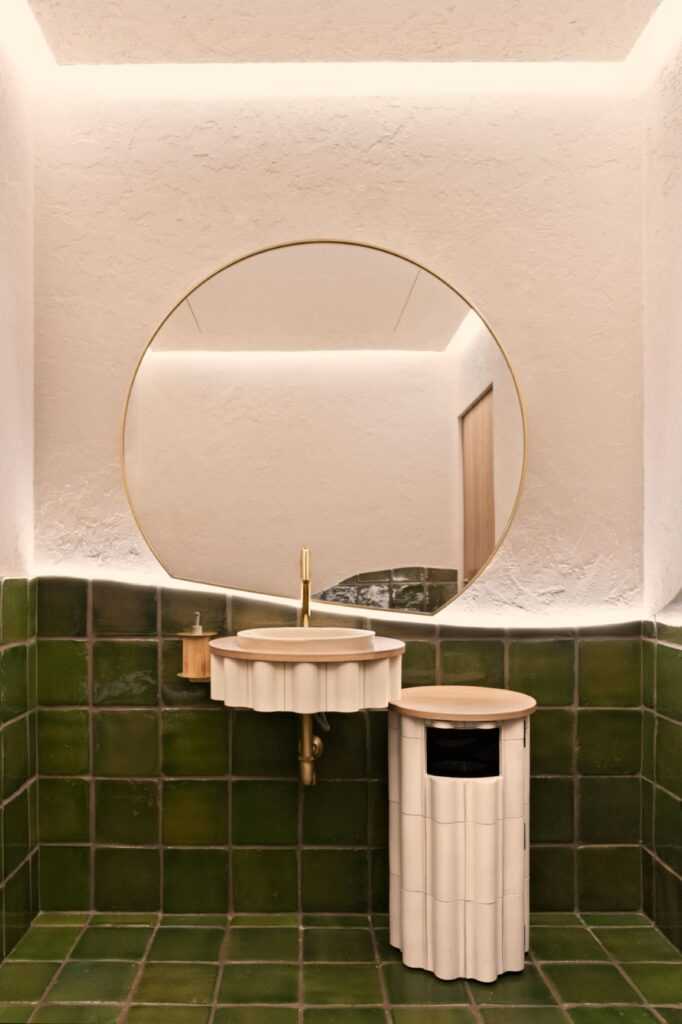 Masquespacio is an award-winning creative consultancy created in 2010 by Ana Milena Hernández Palacios and Christophe Penasse. Combining the two disciplines of their founders, interior design and marketing, the Spanish design agency creates branding and interior projects with fresh and innovative concepts. They have worked on projects in Norway, the USA, Portugal, Germany, Spain, Saudi Arabia, Cambodia, Qatar, Italy, France, and Colombia.
To learn more about this prolific studio, read Profile: Masquespacio: Singular Designs.
Images courtesy of Masquespacio.