Gijón Science and Technology Park Scientific Marries Innovation and Design
October 18, 2021
/
/
Comments Off

on Gijón Science and Technology Park Scientific Marries Innovation and Design
The Gijón Scientific and Technological Park (Parque Científico Tecnológico de Gijón) is an industrial park in the enclave of Cabueñes in Gijon, a city in the north of Spain. Managed by the municipality, Gijón Impulsa, the objective of the development is to provide space and services to support new science and technology companies and, in turn, promote business innovation and regional economic development.
The location near the Labour University in Gijon (Universidad Laboral) and the Scientific-Technological Campus of the University of Oviedo facilitate collaborations in research and development.
Spain for Design commissioned local photographer Érika Anes to photograph three of the park's buildings, notable for their contemporary architecture and sustainable characteristics.
Impulsa Building (2000)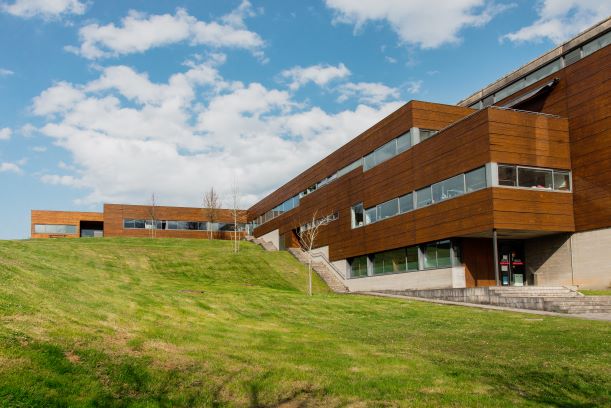 Completed in 2000, the Impulsa is one of the municipal administration buildings. Made of reinforced concrete, it sits on uneven terrain. The architecture is by Arturo Gutiérrez of Terán and Blanco, based in Santiago de Compostela. The firm has won several prizes for the design, including second prize for the Asturias Award for Architecture XV edition and second prize for the 2001 Julio Galán Carvajal Architecture Prize, which recognized it for addressing the difficulties of the topography.
As described by Arturo Gutiérrez in his blog:
"It was necessary to address the challenge of building on a plot with twelve meters of unevenness, which we solved with a descending ramp from the main access, located on one side. The magnificent building of La Laboral conditions forms, materials, and height."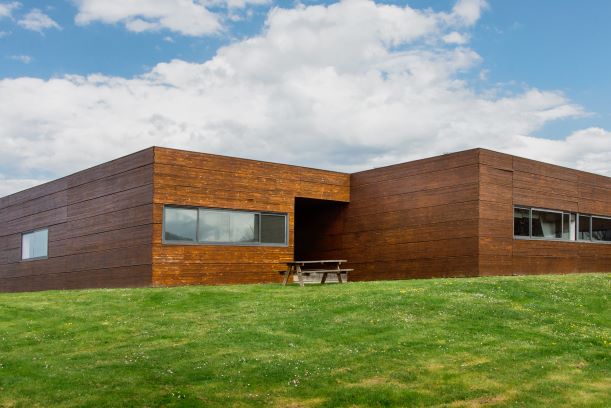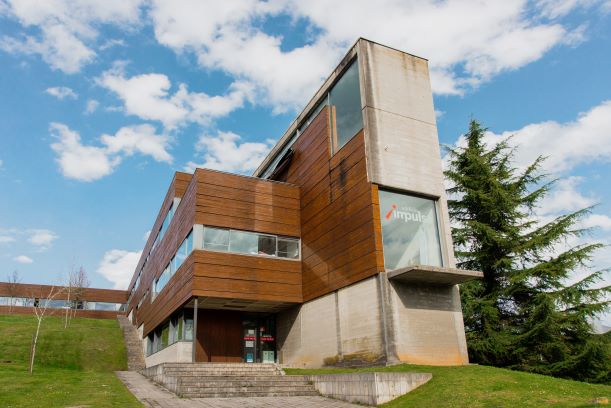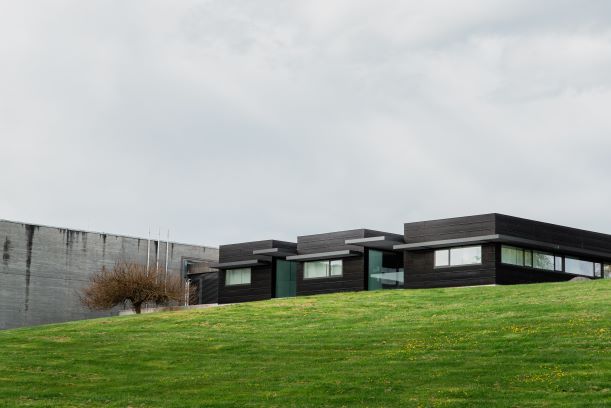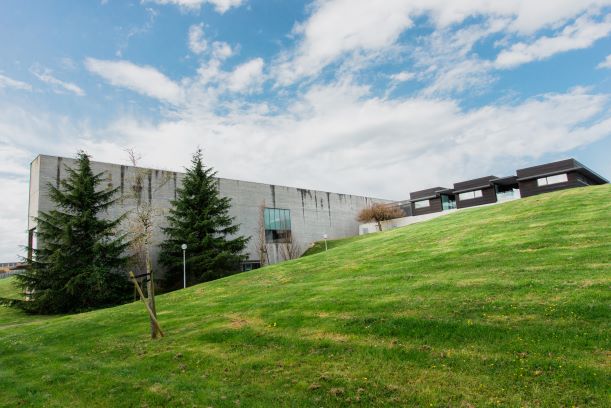 Futuver Building (2007)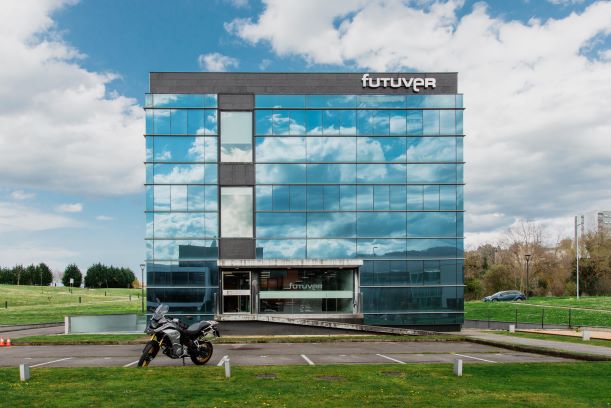 Inaugurated in 2009 and designed by the firm of Arquitectura Ramón Ruiz, this 1,500M² modern building is the headquarters of Futuver, an international technology development company, and the realization of one of its most ambitious projects. It serves as a space for work, team meetings, and team-building activities. In addition to work areas for more than 50 professionals, the property has green areas, garage space, an R&D Laboratory, and leisure facilities.
The glass facade in blue tones accords with the company's corporate image and allows natural acclimatization of the interior, with the consequent energy efficiency. In the interior, the open layout encourages collaborative work and the flow of ideas between teams. There are also closed spaces, including offices, meeting and training rooms. As evidence of its commitment to the environment and, in particular, solar energy, in 2021, Futiver incorporated solar panels on the roof of the building.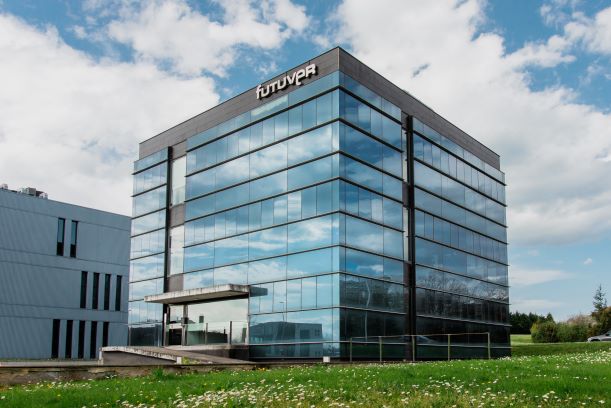 Greenpeace Building (2020)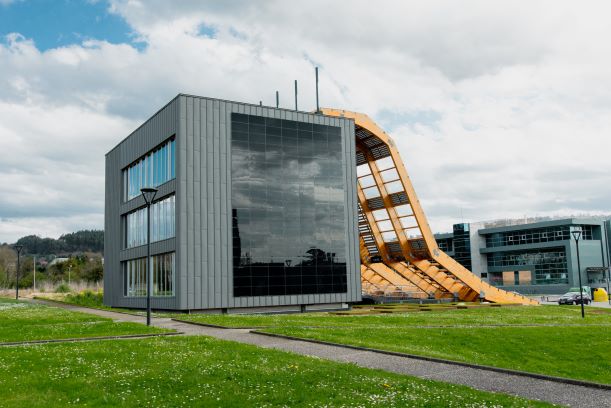 The Greenspace PCTG office building is an award-winning bioclimatic design by founding partners, Eugenia del Río Villar and Eladio Rodríguez Álvarez of EMASE Arquitectura​. The over ​​1,400 m² building comprises a ground floor, two upper floors, basement, and deck. It serves as office space for start-ups and companies committed to innovation and digitization. Through high efficiency active and passive measures, the building generates more energy than it consumes and is the first in Asturia to achieve Gold level in the LEED certification program from the U.S. Green Building Council.
Passive measures include its orientation, insulation, natural lighting, and the green roof. Active measures include the air conditioning system, underfloor heating, ventilation with heat recovery, LED lighting with sensors, comprehensive management control of the water cycle, and a rainwater recycling tank for use in toilets and irrigation.
The distinctive wooden photovoltaic pergola with its panels provides shade to the southern façade of the building and generates renewable energy.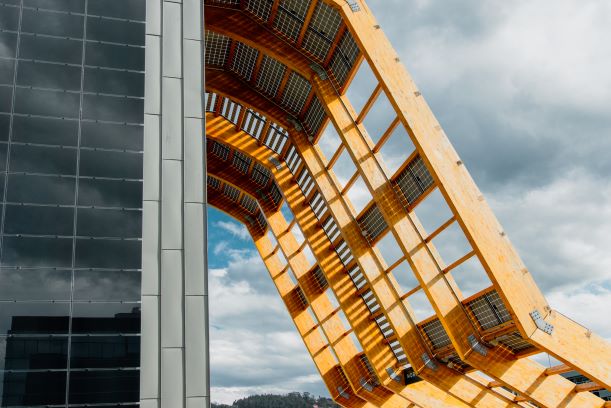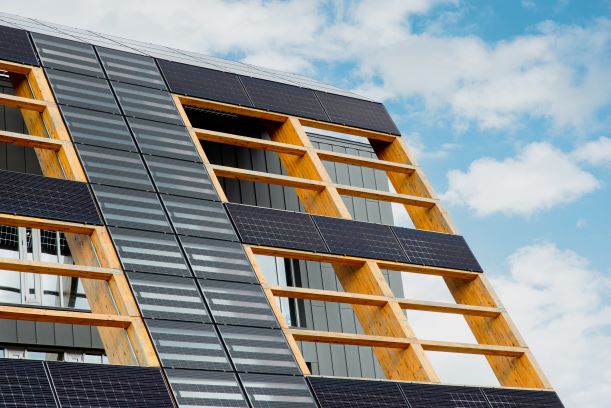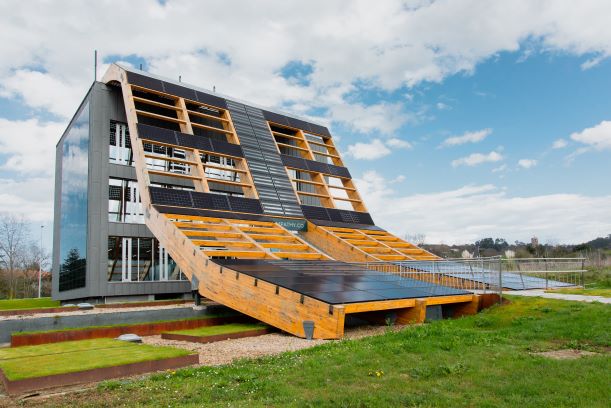 Asturias-based Érika Anes has been interested and linked to the arts since childhood, an interest that prompted her to study photography and lighting in Oviedo. In 2014 she started working for Mediadvanced, a multidisciplinary creative agency that develops communication, image, photography, art, marketing, and e-commerce projects. She has worked for several Spanish brands and companies in different sectors. A regular contributor to Spain for Design, she continues to develop as a freelance photographer.
To view more of Erika's photography in Spain's northern province, read Asturias for Design and Asturias for Architecture.