Restaurant in Almerimar, Spain Evokes Youthful Ambience
October 11, 2021
/
/
Comments Off

on Restaurant in Almerimar, Spain Evokes Youthful Ambience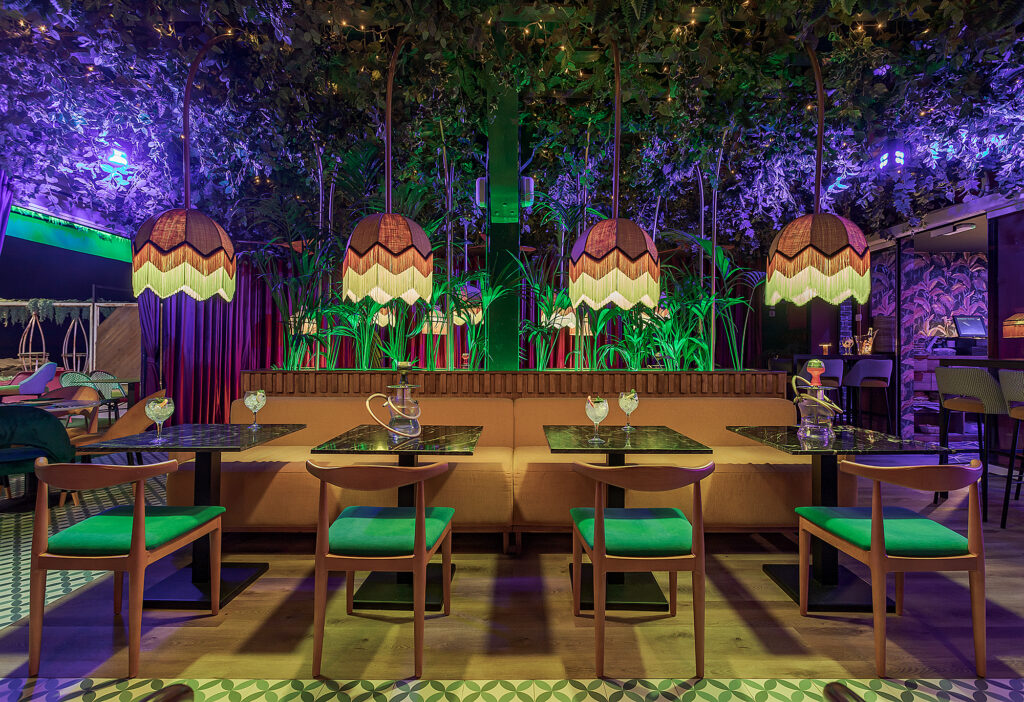 The design of the Amarte Fun Kitchen (@amarte_funkitchen) in the resort town of Almerimar is the work of Almeria-based Javier Escobar Design. Opened in June 2021, it is part of the Mar Poniente group of hospitality locales. Tropical elements fuse with Mediterranean cuisine for a pure expression of youthful exuberance.
The brief was to design a space that evokes youthful play and a comfortable, warm ambiance where guests enjoy good food and good times with family and friends. Javier Escobar is successful in creating a restaurant that is vibrant, layered, and inviting. He achieves this by using a natural material palette, natural and artificial lighting, varying colours, and textures.
There are two areas with distinct ambiances. The center evokes a tropical and garden vibe, with lush vegetation on the ceiling. Sofas, tables and chairs, and high tables on the sides dot the space. Wood flooring and geometric tiles on the perimeters add depth. Pendant lamps hand-made with jute, velvet, fringe, and fabric illuminate the tables.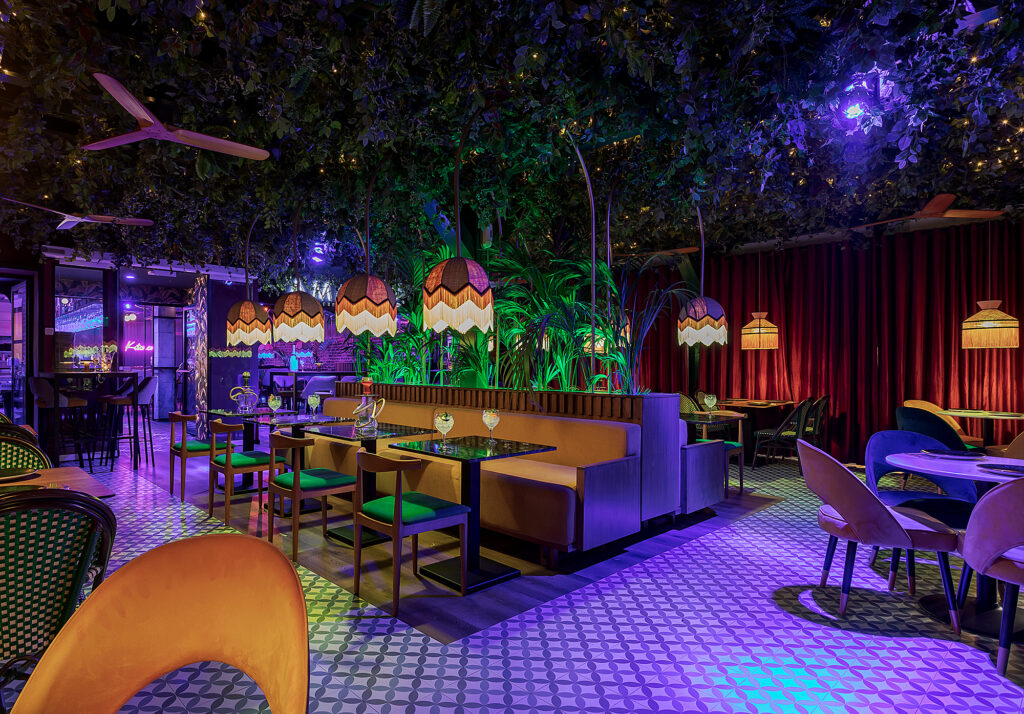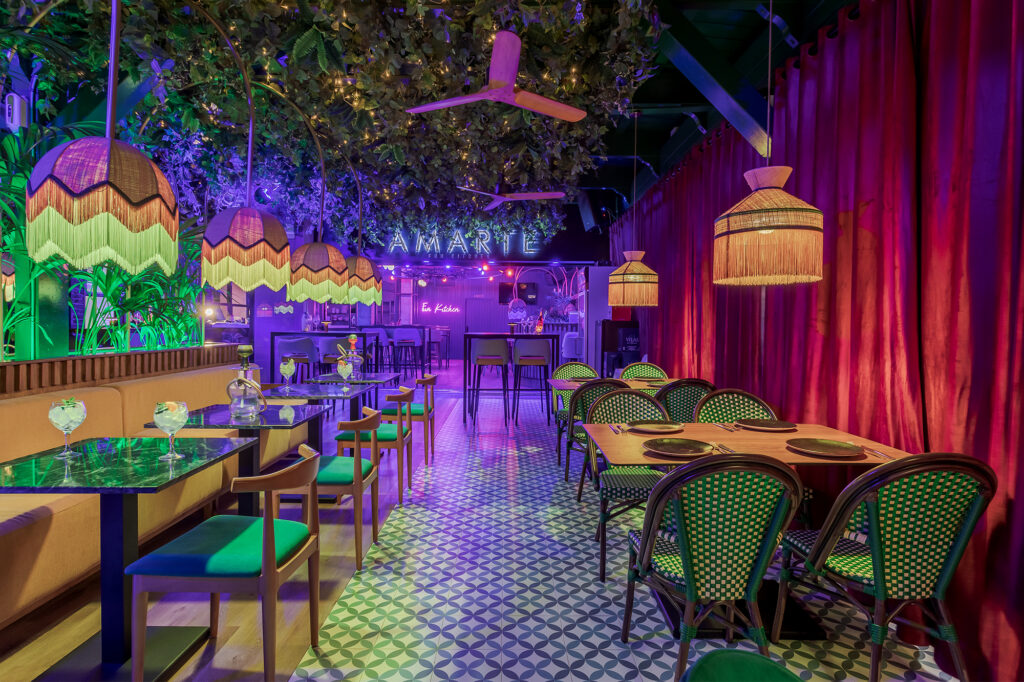 The interior area is more exclusive and intimate, with the warm tones of the wood flooring, brick walls, and bar counters made of stone and natural wood.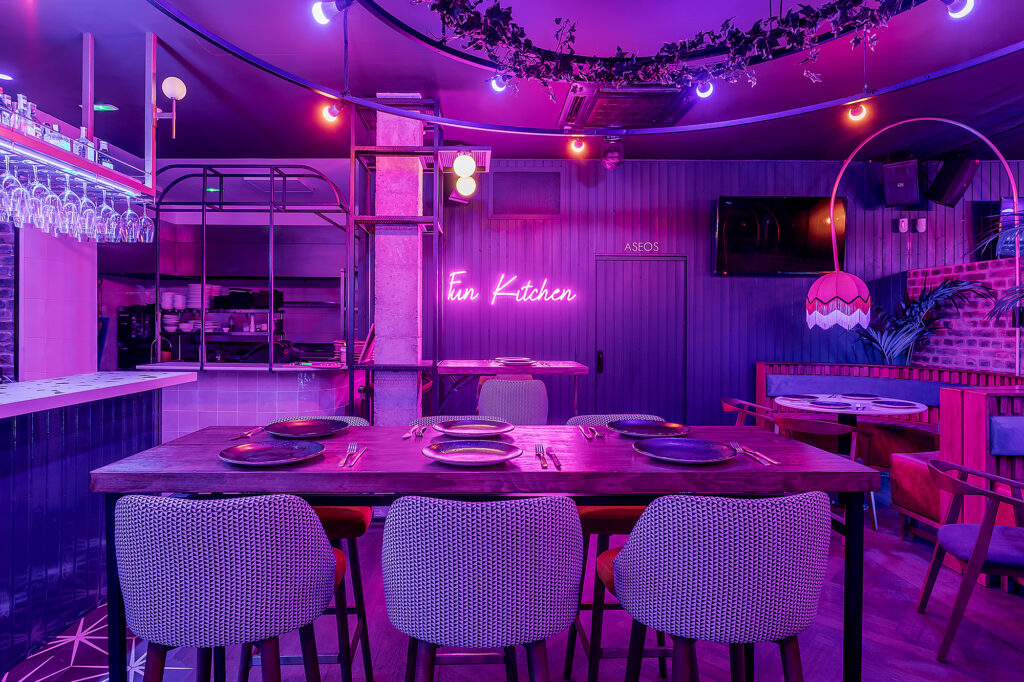 Javier Escobar is an interior design studio in Almería that specialises in designing spaces "to live and enjoy." Describing his studio, he states, "We love to defy the rules of traditional design. The main objective of our interior architecture projects is to create functional spaces for the people who will enjoy it, transforming and adapting to the importance of each environment. We listen to the client, and we work hand in hand with them to carry out their dream project."
Recognized for his exuberant design, he won Jury Special Mention for Creative Process for his "Latidos" (Heartbeat) project at the 9th edition of the Casa Decor Interiors and Design Awards. To view this project, read Casa Decor 2021: 7 Designs to Inspire Your Workspace at Home.
Photography by Adam García of Hani Photography.