José Luis Bazán is Awarded Spain's Prestigious National Crafts Award for 2021
January 24, 2022
/
/
Comments Off

on José Luis Bazán is Awarded Spain's Prestigious National Crafts Award for 2021
"He has put Spain on the map of contemporary leather craftsmanship." SACo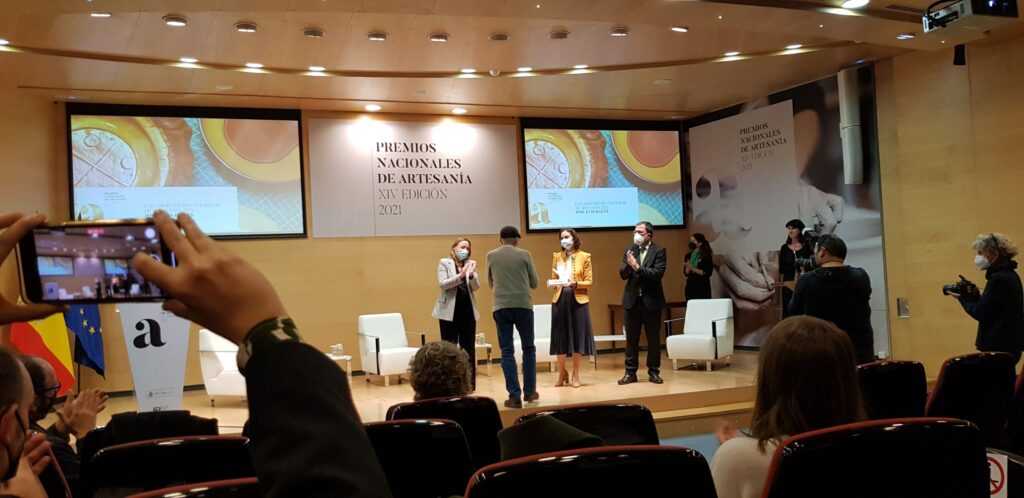 Renowned leather artisan José Luis Bazán has added another honor to his long list of accomplishments. On December 21, 2021, Spain's Ministry of Industry, Commerce, and Tourism awarded him Spain's prestigious Premio Nacional de Artesanía 2021 (National Crafts Award) at the fourteenth edition. The annual awards distinguish relevant actors of national crafts who, through their work, make the sector an engine of the economy, employment, or innovation and add value to the prestige of Spain. There are five categories: National Award, Product Award, Entrepreneurship Award, Promociona Award for Private Entities, and Promociona Award for Public Entities. In awarding him the National Award, the jury noted his continual exploration of the limits of the material and his ability to recover ancient techniques while investigating new forms of production.
José is a member of SACo, the association of contemporary artisans in Spain whose mission is to showcase creations by artisans and designers from Spain who work in various disciplines. Commenting about this honor, the association released the following statement:
When we created the Spanish Association of Contemporary Crafts in 2018, one of the fundamental requirements to enter it was and continues to be excellence. For this reason, SACo knew from the first moment that we had to have the best and, among them, José Luis Bazán is the best in leather crafts. He became part of SACo in 2019. Since then, we have shared a friendship and mutually enriching project. He has accompanied us in significant moments of life and with different processes and professional trajectories. He truly deserves this award. He started his craft at twelve and has worked a "lifetime" with leather. He has collaborated with major brands in Spain and Europe and was the first Spaniard to participate in the first edition of the Homo Faber event in Venice. He has trained many people in the trade, and his love for his work motivates him to transmit his knowledge to future generations. He promotes his craft as a center of reference in his land and actively participates with institutions to continue training in his legacy. He innovates with novel concepts, colors, and forms, going beyond that which is customarily commercialized. In short, he is a true MASTER in the broadest sense of the word. SACo endorsed his candidacy (for this award) with the confidence that it was "his award." Members of the jury unanimously agreed. He has put Spain on the map of contemporary leather craftsmanship.
José Luis Bazán has exhibited his pieces in Spain, France, Portugal, Morocco, India, Italy, among other counties. His products are available in the United States, and he has collaborated with companies such as Loewe. He works from the Sierra de Grazalema, a unique place in permanent contact with nature that, due to its characteristics, has been the cradle of leather in Spain.
For articles featuring this artisan, read Singular Design by Leather Artisan José-Luis Bazán and SACo: Showcasing Contemporary Spanish Artisanship.