Certified Decorator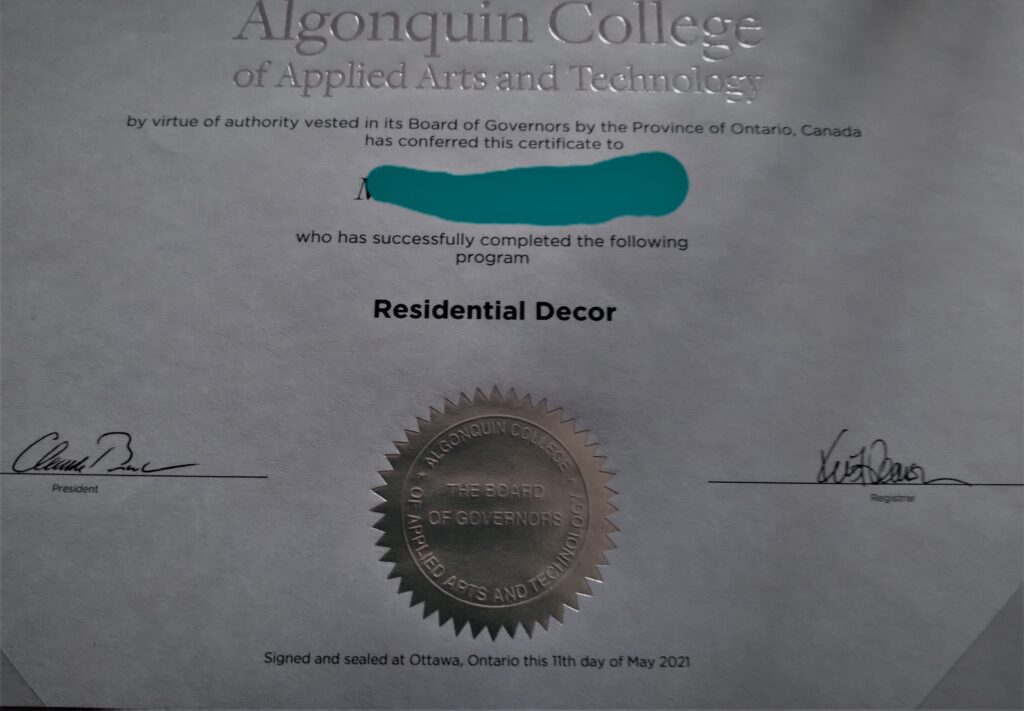 Last year, I finally received my certificate in residential decor from the continuing education program at a local college. It was seven years of attending evening and night courses after my full-time day job. There were long rides on public transportation lugging drafting equipment, and bulky mood, or presentation boards on cold winter days. I enjoyed and learned much in the courses about the history of furniture, hard surfaces and materials, and the elements and principles of design. I struggled with the courses on drafting, drawing, and layout. They frustrated me because they were technical and involved working with my hands. I did not devote the time to learning the many software programs that facilitate these techniques.
Some students whose paths I have crossed during the seven years decided to work in the industry. They were, surprisingly, in the minority. My interest was never professional. I do not want to open a design firm or work as a decorator. I admire those who do. It takes hard work, determination, and a certain degree of financial risk. Yes, I love design. I would even say it is an obsession. I watch endless hours of YouTube and other videos focused on decorating. The main reason is that after many years of client-focused work for my full-time job and having switched to a different department last year, I do not wish to return. Rightly or wrongly, I envision calls in the middle of the night from clients who wonder if the peacock blue drapery would not be better than the indigo ones and who make untimely changes to well-thought-out plans. I do not have the patience, the bandwidth, for this.
However, I do want to use the knowledge I have gained. I have enjoyed writing this blog. I hope I have expanded the public discourse about Spanish design and artisanal traditions. I received gratitude and public acknowledgment from many Spanish designers and artisans for spotlighting their work. I realize that, with this platform, I have a voice to advocate for issues in which I believe.
Design for All
I have long had an interest in accessibility in design. Accessible design. Universal design. Living in place. Aging in place. There are differences, but, essentially, they are subsets of a type of design that can and should be enjoyed by all.
I have faced some medical challenges over the past year, which have affected my mobility. I now walk with the aid of forearm crutches. Late last year, I sold my six-level semi-detached house and moved into a condo. I welcome one-level living.

I am about to undertake a bathroom renovation. Bathrooms are the location in the home where many accidents occur, and those with mobility issues must be mindful of even the tiniest of movement. I carried out small renovation projects in my previous home, but this is bigger than anything I have undertaken. I plan to incorporate tools that will serve my entire family. There will be a toilet that is of a comfortable, sometimes called universal, height (for which the top of the toilet seat is 17-19″ inches from the floor), and adjacent grab bars. I will replace the bathtub with a shower. My son and husband will miss that tub, but I will install a drop-down shower seat as an alternative, which should suit the three of us. There will be grab bars next to it and in other areas of the shower stall, which will have non-slip flooring.
Public spaces should be comfortable and safe for all, but this is not the situation. In my low-rise -building, there are push buttons before the doors that lead to the storage room in the lowest level and in front of the side entry door, which I access with a ramp. Amazing. Ironically, beyond my home, I am shocked to see how little accessible design exists: shops, restaurants, and cafes that do not have access for those with reduced mobility. I recently went to a local hospital for some tests and although there were push buttons at the entry door, there were none to open internal doors between spaces. As I walked along a corridor to my testing center, I noticed through open doors that a few bathrooms did not have grab bars. I did find one that did when I later needed to.
Building features that those without mobility challenges access without thought are daunting for those with them. Sadly, members of the industry who create high-end design-builders, architects, and designers- rarely consider incorporating universal design features. Yet, whether we are born with disabilities or develop them as we age, most of us will eventually need features that allow us to safely and comfortably access or navigate our spaces. What is on the market are designed by firms that specialize in producing accessible features, such as grab bars, which are functional but too often devoid of aesthetic appeal.
Beautiful and Functional
My mission going forward is to feature beautiful spaces in Spain and Spanish products that enable those with all abilities to enjoy the built environment. I featured this bathroom by Soledad Ordoñez Giordano in my article 7 Interior Design Lessons from Spain's Casa Decor 2021. She designed the public restroom for visitors at the Casa Decor showhouse, Spain's premier platform for interior design, design, trends and lifestyle . She incorporated braille in the signage leading to the room. The addition of grab bars in the toilet area does not detract from the impact of the design. Soledad shows that luxury and beautiful design are not incompatible with accessibility.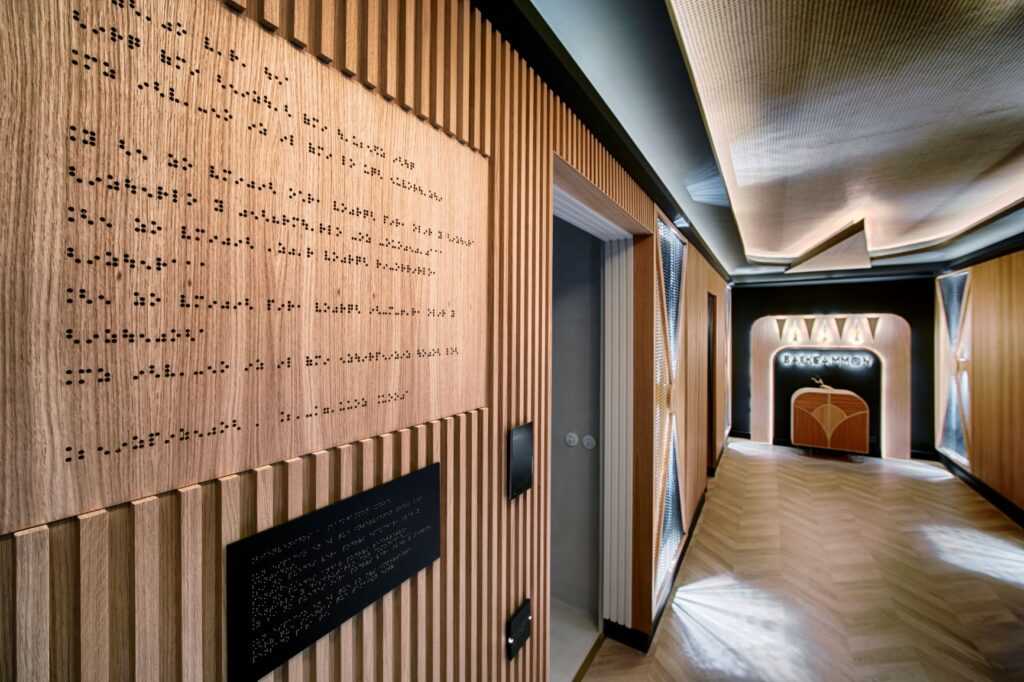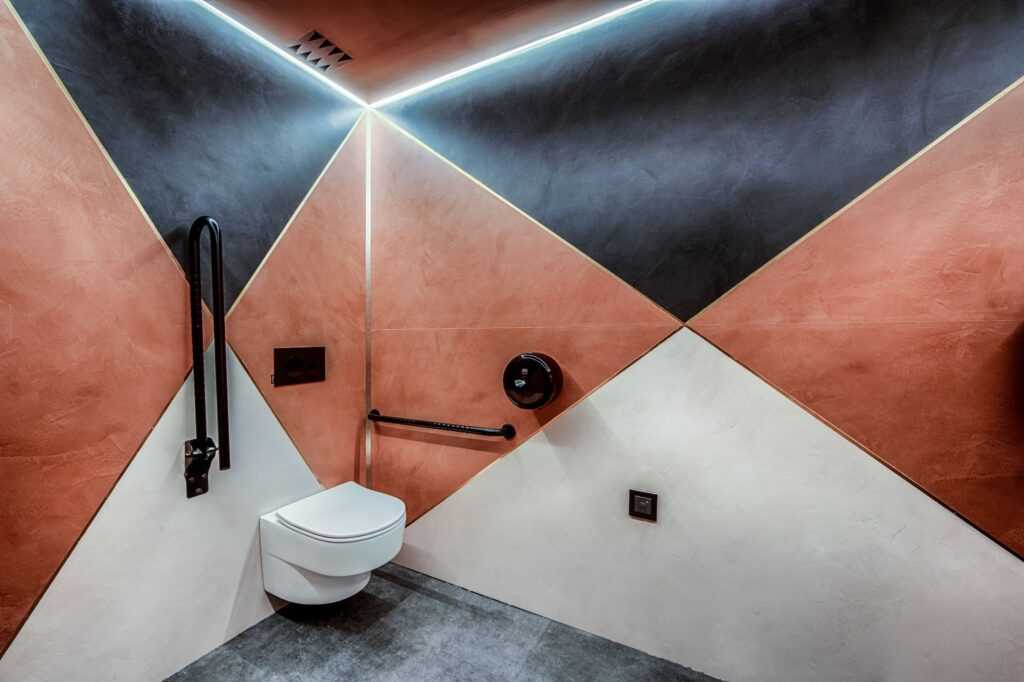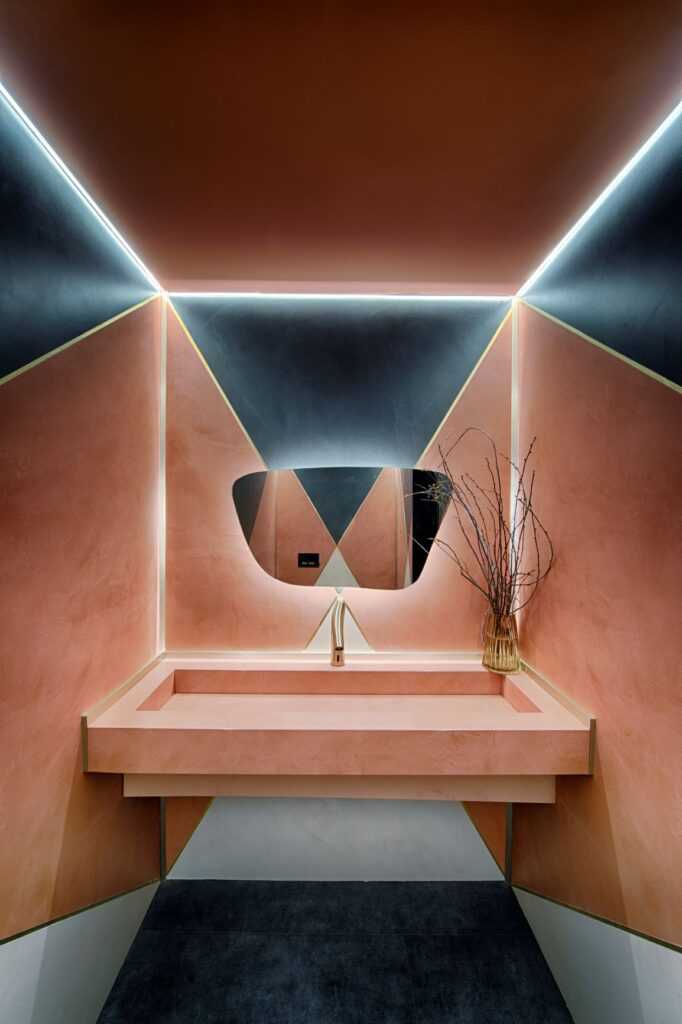 Blogging Now
As I approach my second anniversary, I am less enthused about trying to maintain a once-a-week publication schedule. Last year, I got caught up selling my home and buying a new one and took little time off from work. I could not maintain this schedule. I now want to write quality articles and publish them biweekly. This schedule will allow me time to carry out more research to produce what, I hope, are thoughtful and insightful articles. Vamonos!