Madrid Design Festival 2022
April 4, 2022
/
/
Comments Off

on Madrid Design Festival 2022
In February and March, Madrid hosted the fifth edition of the Madrid Design Festival at venues throughout the city and online, placing the city at the forefront of the international design scene. This edition centered around three fundamental themes: transformation, economy, and prosperity, which formed the basis of the over 200 activities and 41 exhibitions. Showcasing the best local, national, and international design, renowned guests included Spanish architect and designer Patricia Urquiola, and Dutch industrial designer Hella Jongerius.
The Spanish community of Valencia organized events within the framework of the festival. With Valencia holding the designation of the World Design Capital for 2022, the events revolved around the theme The Future is Design, where participants reflected on why the future passes through design from multidisciplinary viewpoints.
MINI Design Awards
The MINI Design Awards recognize innovative initiatives that generate changes to the urban environment, actions to improve the quality of life and the efficiency of cities, and projects that speak to new possibilities and challenges to achieve intelligent, inclusive, and sustainable cities in the 21st century.
The winner in the professional category is Campo Adentro's "Majada Rurbana Inland," an agroecological infrastructure project that seeks a new type of sustainable urbanism. Its conceptual basis is transhumance, which is livestock farming with regular seasonal movements. The goal is to fulfill production functions by closing the economic and agroecological cycle of shepherding through socio-environmental services, workshops, and training to bring rural life closer to cities, the countryside back in touch with the city, and culture in touch with nature as essential aspects in the transition towards a sustainable society. The infrastructure is a set of interrelated, replicable mobile elements. A sheep barn. A mobile unit. A cheesemaking workshop. A radio station. A shepherd's habitat. A feed storehouse for urban grazing.
Ana Hernando Moreno's "Parque Constanz" won in the new talent category. Parque Constanz is a playground concept that allows full accessibility for families and children with disabilities.
There are over 25,000 children with disabilities in Madrid. Recognizing that existing legislation neither addresses their real-life needs nor can it guarantee that they will not face barriers to accessing playground structures, she conceived a playground structure with distinct geometric forms and bright colors. It allows blind children to relate form to colour. Her goal is to normalize disability needs by having children between the ages of three and twelve come together, interact and learn to live with one another, regardless of capacity.

From Cadiz, Ana Hernando Moreno is a student in design and advertising at Francisco de Vitoria University.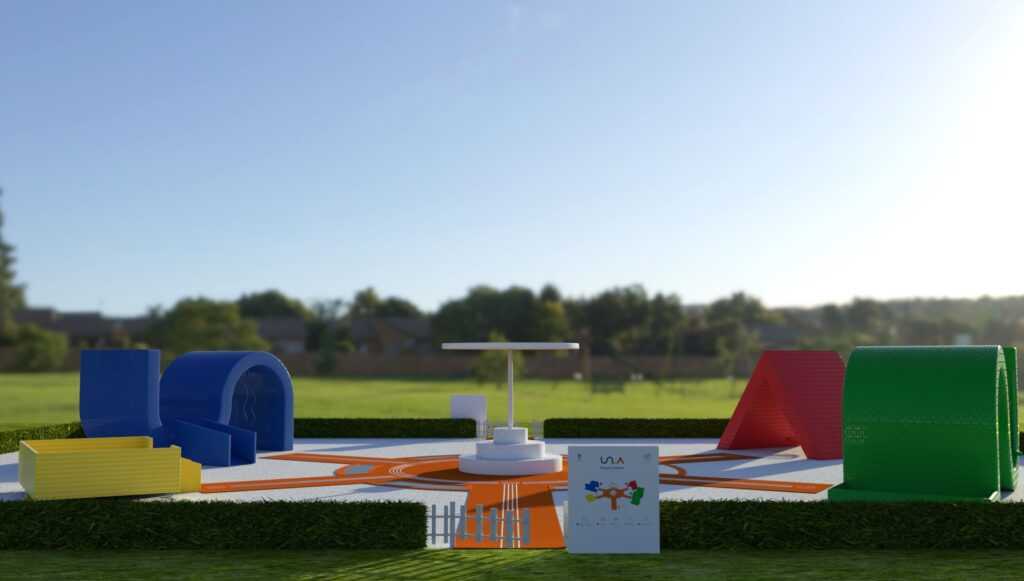 Images courtesy of Madrid Design Festival.
Seis cerámicas (Six Ceramicists)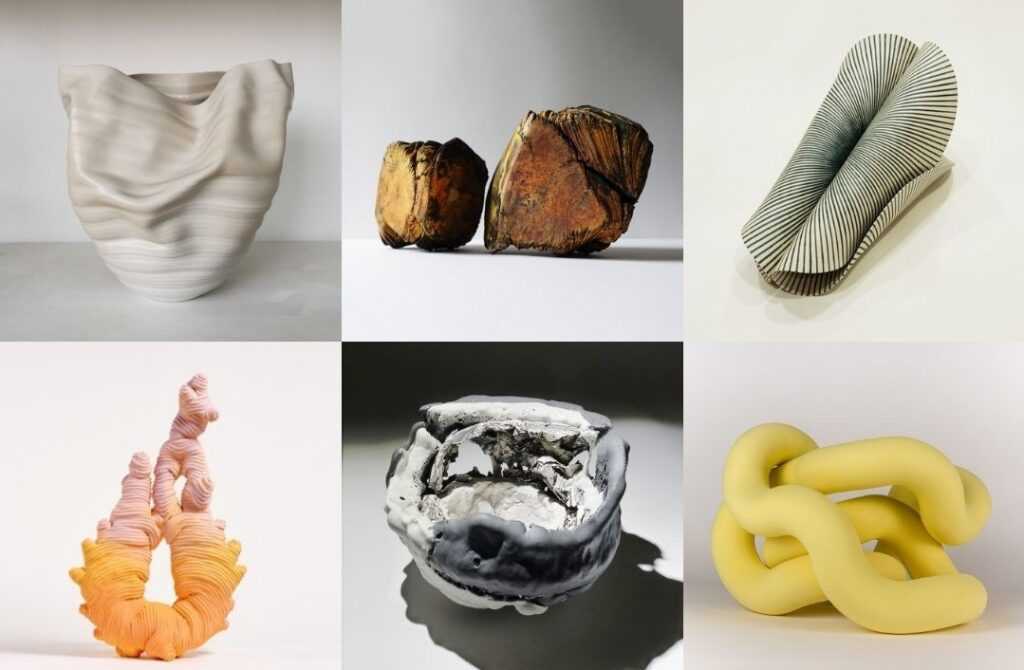 Espacio Intermedio organized the exhibition "Seis Ceramicas" to show the diversity of contemporary ceramics through the work of six Spanish artist-ceramists: Nicholas Arroyave-Portela, Ícaro Maiterena, María Oriza, Eusebio Sánchez, Rafa Pérez and Roger Coll. Despite their unique and personal approaches to this medium, they share a passion for the material and an interest in exploring new creative processes to express themselves through it.
The pieces are unique. They capture landscapes, movements, time, and emptiness. Conceptual and almost always intuitive, they are abstract, organic, and geometric. The finishes are diverse. They have no defined function but are full of expression and convey emotions. In short, these are exceptional works with multiple interpretations.
Espacio Intermedio is an online gallery specializing in contemporary artistic crafts. Learn more about them in Espacio Intermedio: The Space In-Between.
Image courtesy of Espacio Intermedio.
Álvaro Catalán de Ocón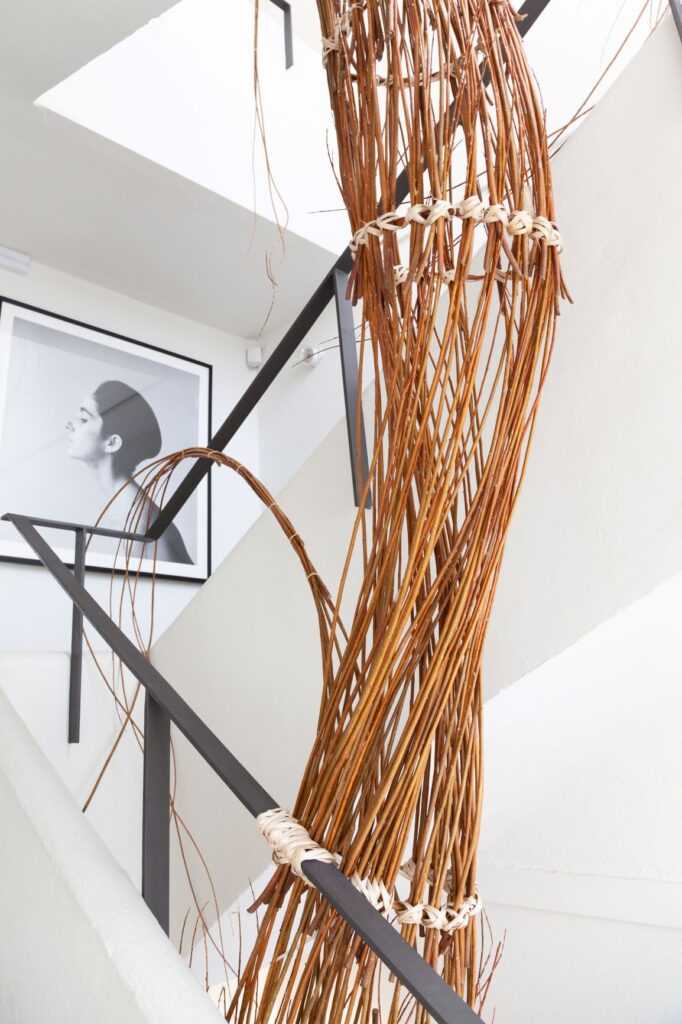 Design and architecture schools and professionals from Madrid from various disciplines participated in a workshop led by two European references in the study of basketry: master basket maker Carlos Fontales and Guillermo Barrios of Cesta República. It provided participants with an immersive experience to demonstrate the application of fiber to architecture, specifically to walls and ceilings. Using the interior and exterior spaces of the Madrid studio of Alvaro Catalán de Ocón as the platform, each participant worked on a specific area, using the same basic materials: a rigid fiber (wicker) and a soft one (esparto, a Spanish grass). The result was an invigoration and expansion of basketry techniques to open new paths of experimentation.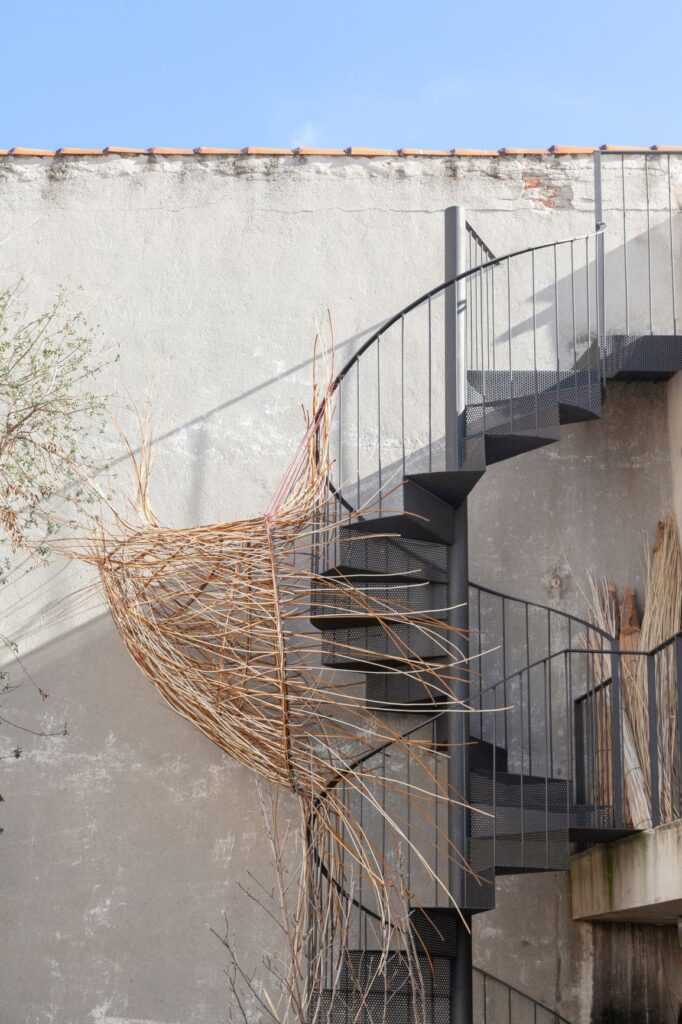 Carlos Fontales has dedicated his work to basketry by demonstrating the richness and diversity of techniques, materials, and forms. His work as a researcher, collector, creator, and teacher has been the subject of numerous publications and exhibitions in Spain and other countries of Europe.
Guillermo Barrios is an architect, academic and cultural promoter. He was the executive director of the National Art Gallery, Caracas, the National Director of Museums of the National Council of Culture (CONAC) in Caracas, and professor and dean of the Faculty of Architecture and Urbanism of the Central University of Venezuela.
Celebrated Madrid-based Alvaro Catalán de Ocón is the head designer of ACdO, a design studio, and editor that works in different mediums. He explores traditional Spanish art while incorporating contemporary ideas and techniques. Multiculturalism, craftsmanship, and sustainability are at the core of beautiful and functional objects that provoke necessary debates around societal issues, such as sustainability. His award-winning PET Lamp project focuses on the reuse of PET plastic bottles as the material for basketry by artisans in Colombia, Chile, Japan, Ethiopia, Australia, Thailand, and Ghana.
Alvaro Catalán de Ocón is a member of SACo, the association of contemporary artisans in Spain whose mission is to showcase creations by artisans and designers from Spain in various disciplines. Learn about this organization in SACo: Showcasing Contemporary Spanish Artisanship.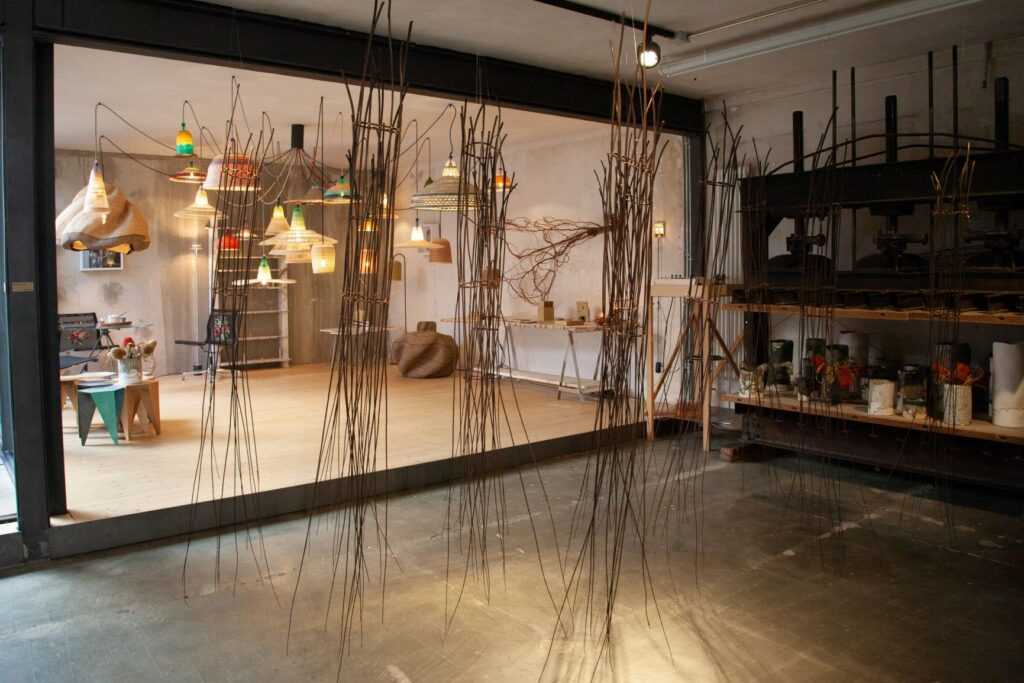 Images courtesy of ACdO/.
Next Gen: Seniors by Espadaysantacruz Studio for IKEA
Estimates indicate that in 2050, Spain will have one of the oldest populations on the planet. How will cities adapt to this unprecedented change? This issue was the conceptual basis for the installation by multidisciplinary Espadaysantacruz Studio for Ikea Spain about the challenges to aging in cities. It represented a dialogue with society to devise solutions that will soon allow for the configuration of friendlier, safe, and more functional spaces in homes and cities. The installation at MDF22 consisted of a real-time and interactive data visualization showing how different generations in Spain perceive their future around three themes: social, time, and the environment.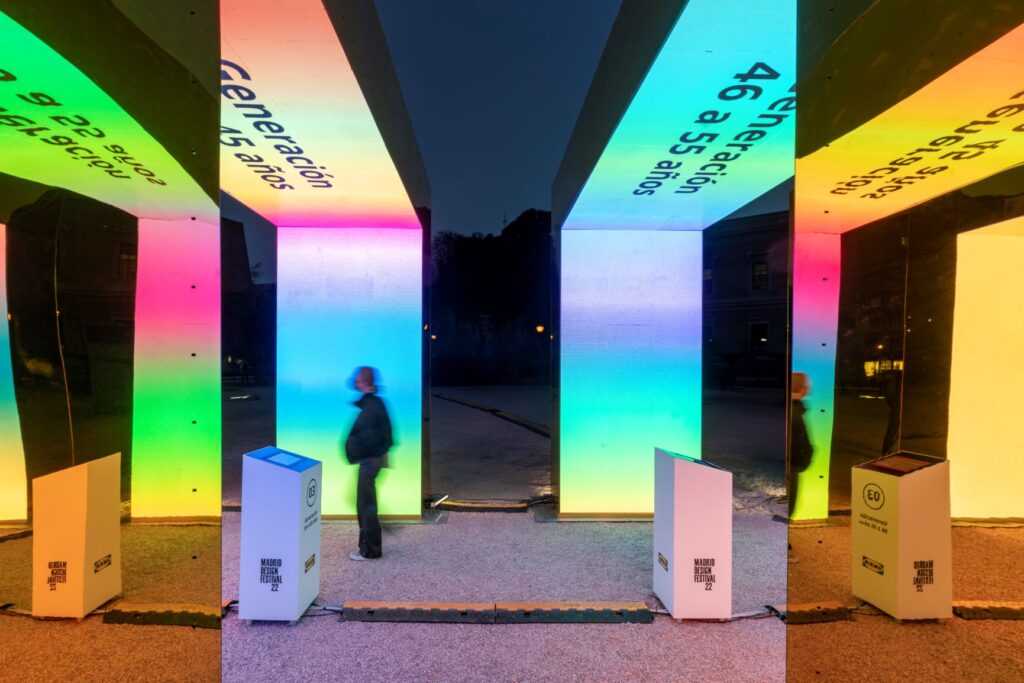 Spain for Design caught up with Espadaysantacruz Studio.
Please describe your project?
We designed an interactive real-time data art installation. We invited users to live an immersive and emotional experience. It is a listening channel where they could freely and creatively approach a subject rarely spoken of, specifically the aging of our societies and, therefore, our cities.
Five arches of screens corresponded to five decades or five different generational sections. As if in a time tunnel, users positioned themselves under the arch corresponding to their age. They used a touch screen to respond to questions about aging in cities around the themes of social, time, and the environment. The data we collected from their responses translated into a specific colour. Thus, each participant had a color that reflected their answers. We metaphorically refer to this as "the color with which you see your future.", which we then displayed in real-time.
Colour is the protagonist that shows, creatively and plainly, the state of interest and the perception that people have regarding their future senior. Each question belongs to a category, and we associated an RGB color with each. RGB stands for red, green, and blue and refers to three hues of light that mix to create different colors. Our system analyzes the responses of an individual and calculates the resulting color.
By combining the different color combinations of users in the same generation, we created the average color for each generation. Users could compare their individual results with the average. They thus knew how related or unrelated their perception was to that of the future senior for their generation.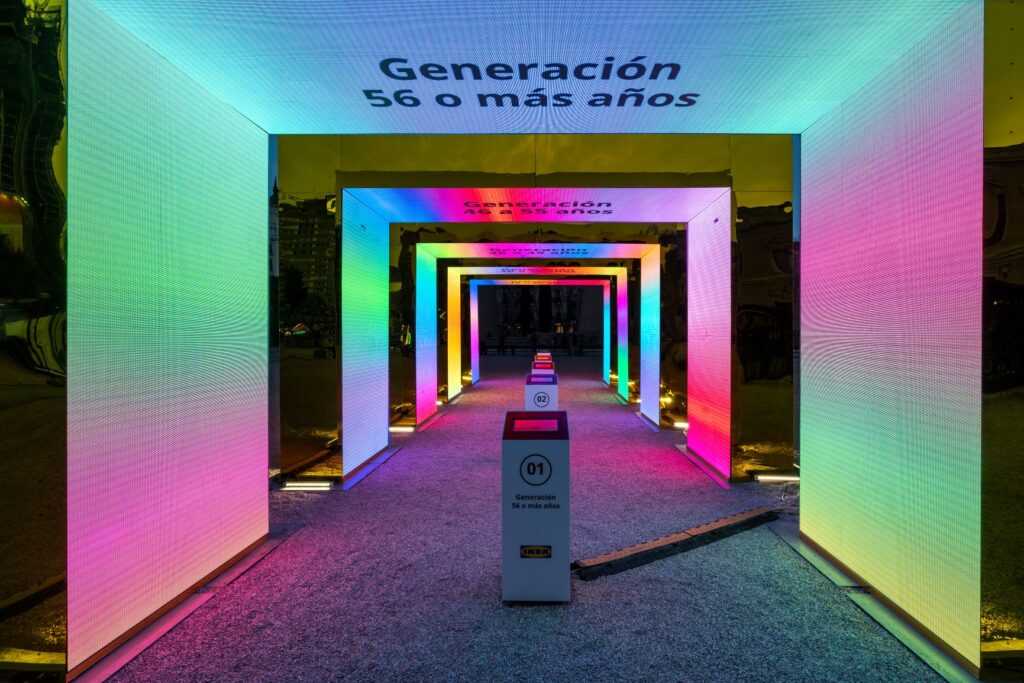 What did you want to convey to the public?
We seek to arouse interest and reflection through a visual and sensory experience about a subject that affects us all, specifically, the aging of our societies. We do not judge or evaluate people's opinions. We make visible, creatively and emotionally, their interests, perception, and concerns regarding old age and indicate this information for different generations.
Were there any interesting findings?
Loneliness is one of the greatest fears of participants. Additionally, only one in ten would choose to enter a senior residence.