5 Next Level Bathrooms at Casa Decor 2022 to Inspire Your Renovation
May 9, 2022
/
/
Comments Off

on 5 Next Level Bathrooms at Casa Decor 2022 to Inspire Your Renovation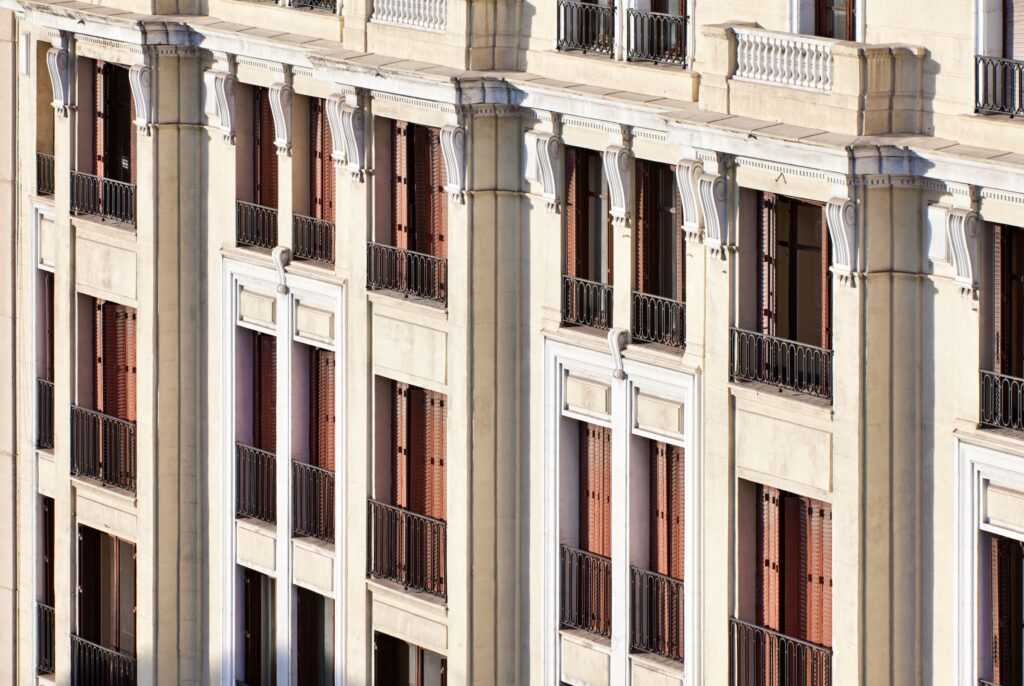 Over 200 companies, architects, designers, landscapers, and artisans are participating in Casa Decor, Spain's most prominent interior design event. For this, its thirtieth anniversary, and fifty-seventh edition, it returns to its roots in the upscale Salamanca district of Madrid. The event is in a 4,600 m2 1920 building on Goya street that retains many of its original elements, such as wooden floors, glass, doors, and eight-five floor-to-ceiling windows with period hardware that let in an abundance of light. At the apex of Goya street and Alcalá, Narváez, and Conde de Peñalver streets, it is one of the most important and busy commercial axes in Madrid.
This year, there are 57 spaces. As for previous years, they incorporate sustainable materials and concepts as part of the #CasaDecorSustainable campaign.
The Building: Goya 89
Goya 89 has two wings, each of which comprises two houses. The many openings in the facade reflect a neoclassical arrangement of vertical panels with one or two windows, alternating with ledges for a rhythmical symmetrical appearance. The building and ornamentation are sober and concise in appearance. This understated appearance is relieved with flourishes of neoclassical details, notably the false pilasters topped with scrolls on the upper part, fluted capitals, and friezes with medallion shapes.
The building preserves its original distribution characteristic of houses built for the bourgeoisie who lived in Salamanca at the beginning of the twentieth century when the area underwent a flourishing business in real estate investment. There are six floors above the ground level. The pyramidal structure loosely reflects the ordering of social classes at the time. The street level was for shops, the floor above for owners' homes, the one above for renters, most often professionals, such as doctors, lawyers, engineers, and architects. The floor above was for merchants, officials, and renters from the middle bourgeoisie. The dormers had housing for the doorman and service staff and space for laundry.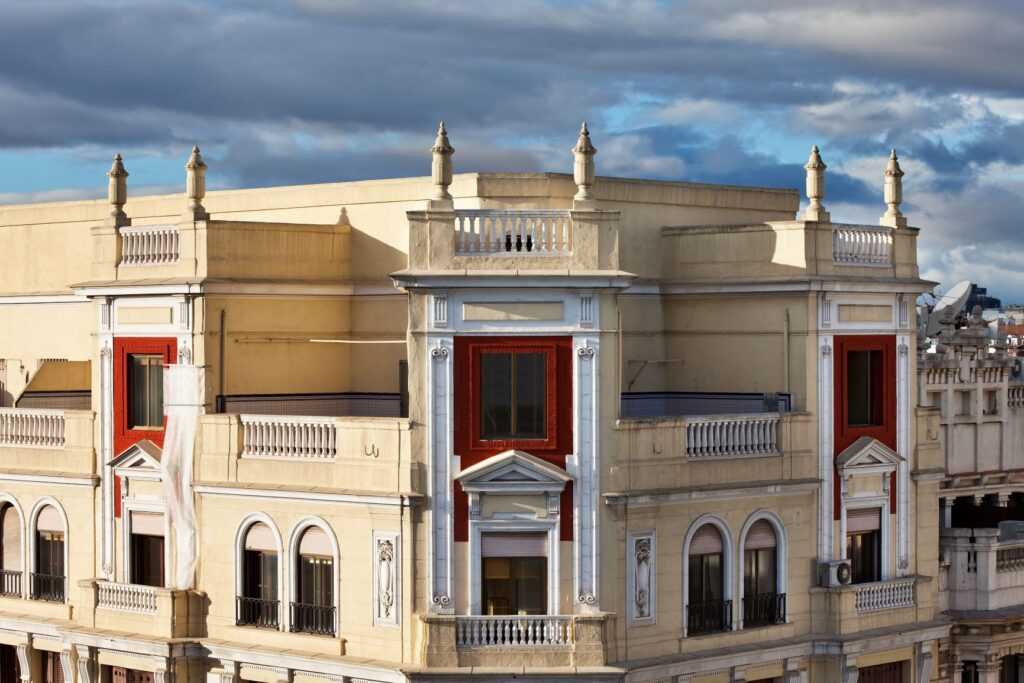 The Spaces
I am undergoing a bathroom renovation to replace my tub with a walk-in shower, install a wall-hung shower seat, a hand shower, and grab bars to make it more accessible for me as I have mobility issues. I want a bathroom that is not only accessible but beautiful. Casa Decor has many spaces that inspire me. Due to the pandemic, I will not travel to Spain this year, but from the official website and Instagram feed, and numerous videos, I have spotted five bathrooms that inspire my renovation. Three are outstanding examples of how to create high impact with color. Another is a thought-provoking design that one expects from Javier Escobar, one of the most exciting designers working in Spain today, in my opinion.
The public restroom by Somos 2 Studio deserves a special mention. It represents what I want to see in all interior design: accessible and aesthetically stunning. In keeping with my commitment to feature accessible design in Spain, read my interview with the designers below.
Creating a Sanctuary: «Creo» (I believe), Public Washroom, by Javier Escobar Interiors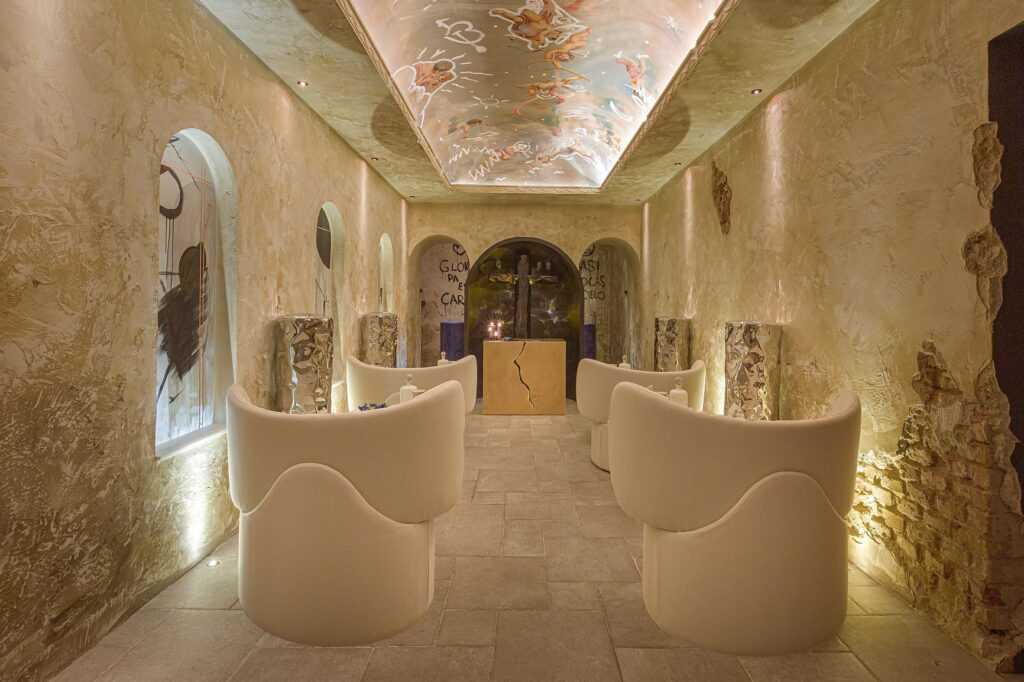 Almeira-based Javier Escobar's space reflects his continual search for experimentation.
"My inspiration is a belief in oneself and is a personal story," says Escobar. "Since childhood, I've been thirsty to create, perhaps make mistakes along the way, but to have fun without bad feelings. My ideas were more whimsical than anyone imagined, and I believed. The youngest part of me, the most revolutionary, has remained. It occurred in a great sanctuary, like a cathedral torn to pieces over time, but with a magic that was let loose. I want to transport visitors from one space to another, make them excited, like a child, a dreamer, turn their minds upside down, commit to my world, and become believers in my creations."
With a gift for mixing the incongruous to create edgy interiors, Escobar skillfully incorporates a Renaissance fresco, sculpture, and contemporary furniture. There is a varied material palette of stone, patinated paint, shiny metals, faded walls, and tempered wood. This space shows a keen understanding of how materiality and texture are combined to create emotion.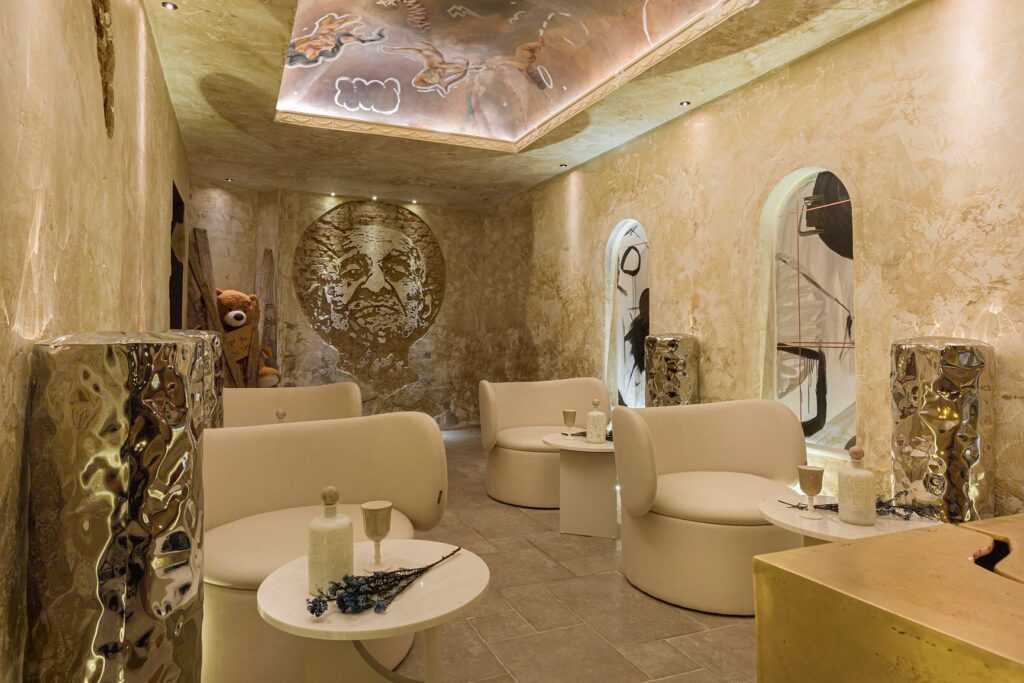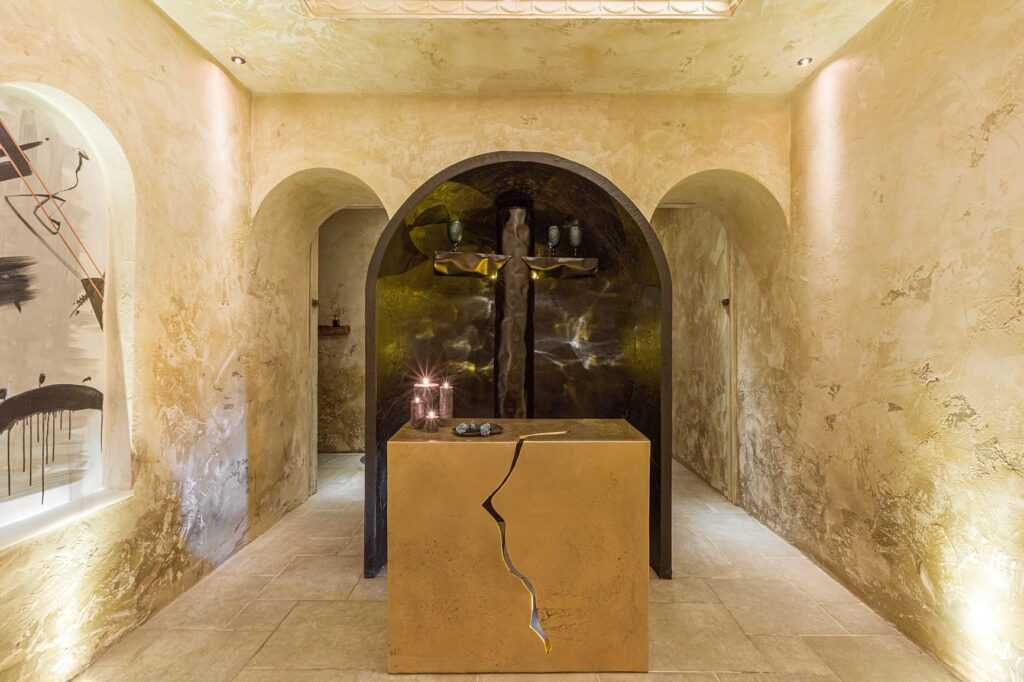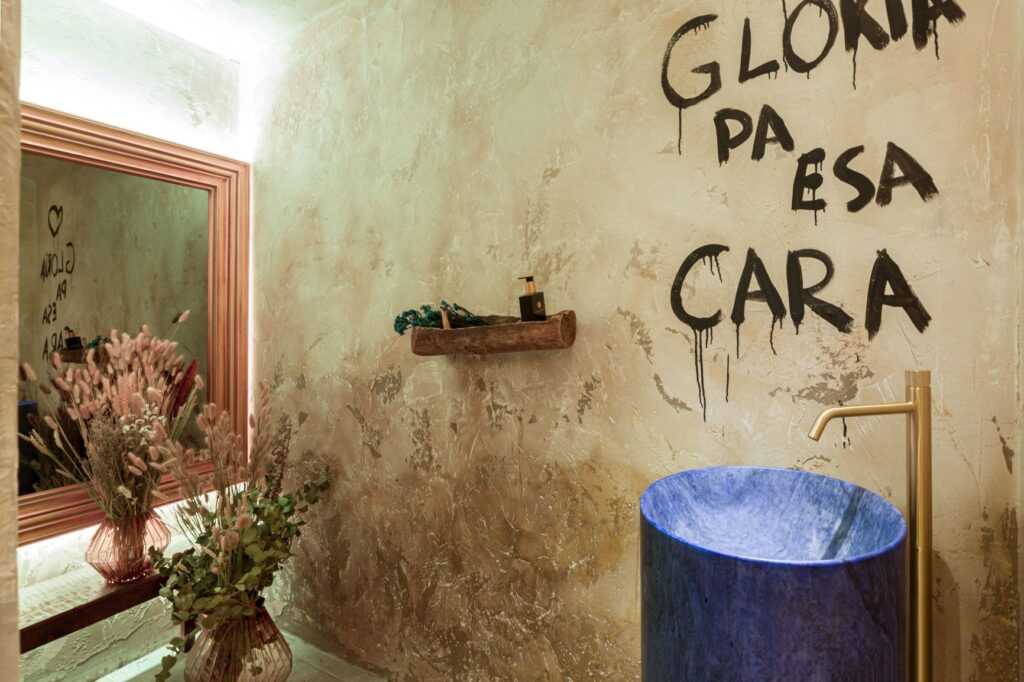 The project incorporates sustainability through natural and recycled materials, essential aspects of the project.
.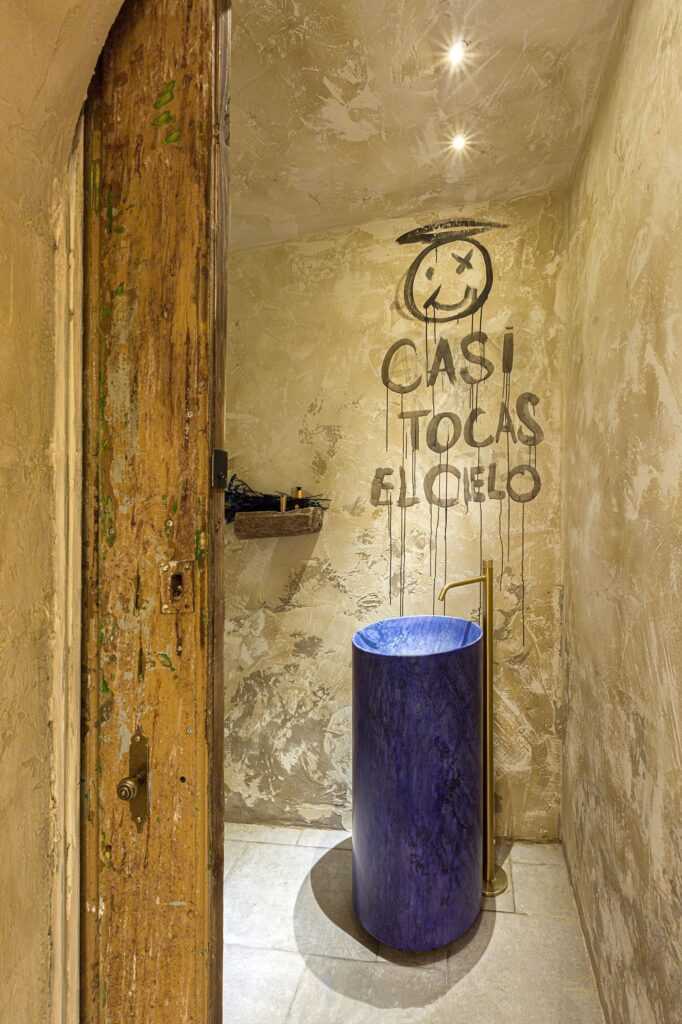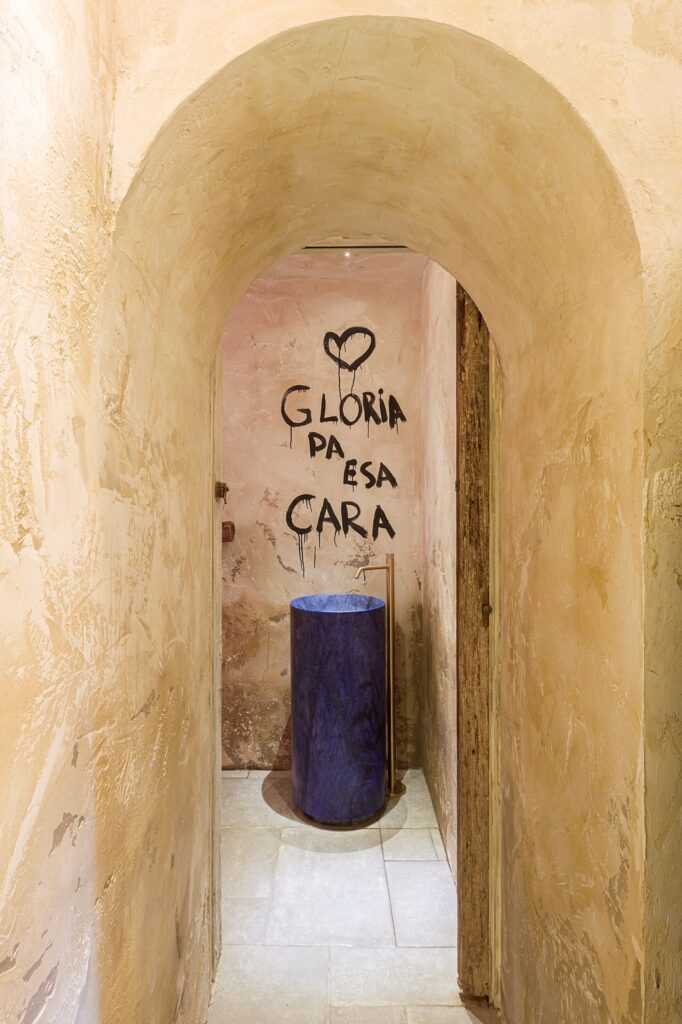 Photos by Lupe Clemente for Casa Decor.
Learn more about Javier's work at Javier Escobar Designs Rural Retreat in Granada and Restaurant in Almerimar, Spain Evokes Youthful Ambience.
New Concept Wellness: «Universo Sergio Luppi» (Sergio Luppi Universe), Bathroom, by Virginia Albuja for Sergio Luppi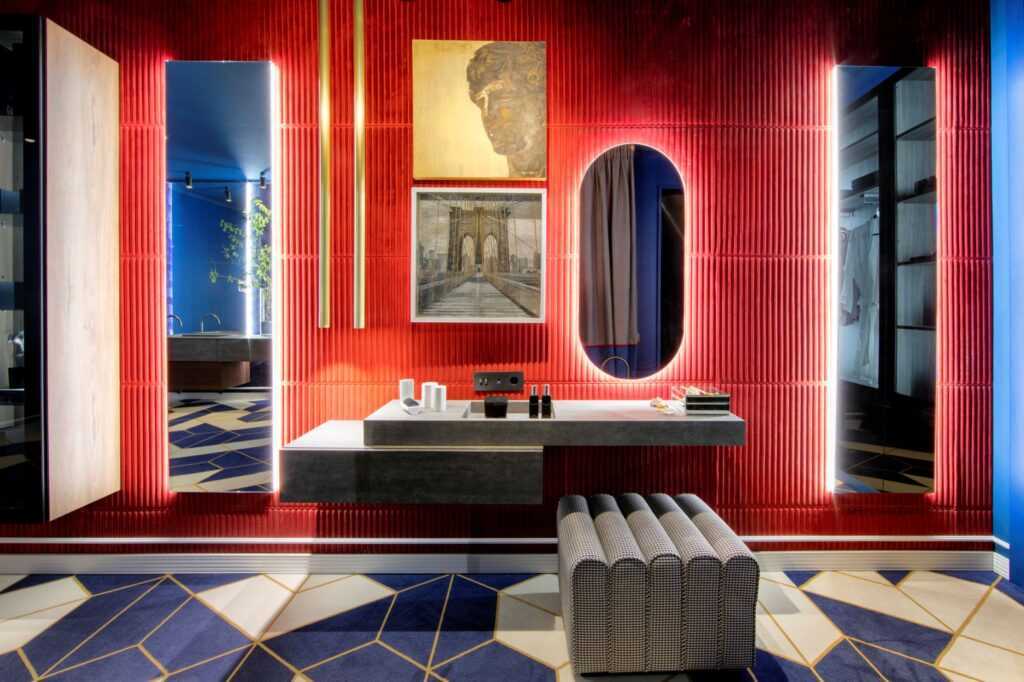 Designer Virginia Albuja designs a new concept for lovers of well-being, one that combines design and functionality for an immersive experience. Users entering the Sergio Luppi universe enjoy what is personal, emotional, and spiritual.
Cobalt blue and fire engine red are not the expected cool chromatic palette that has come to define wellness spaces. The bold palette, a skillful blend of geometric tile and mirror, and the stunning red and white oblong tub make this bathroom a standout.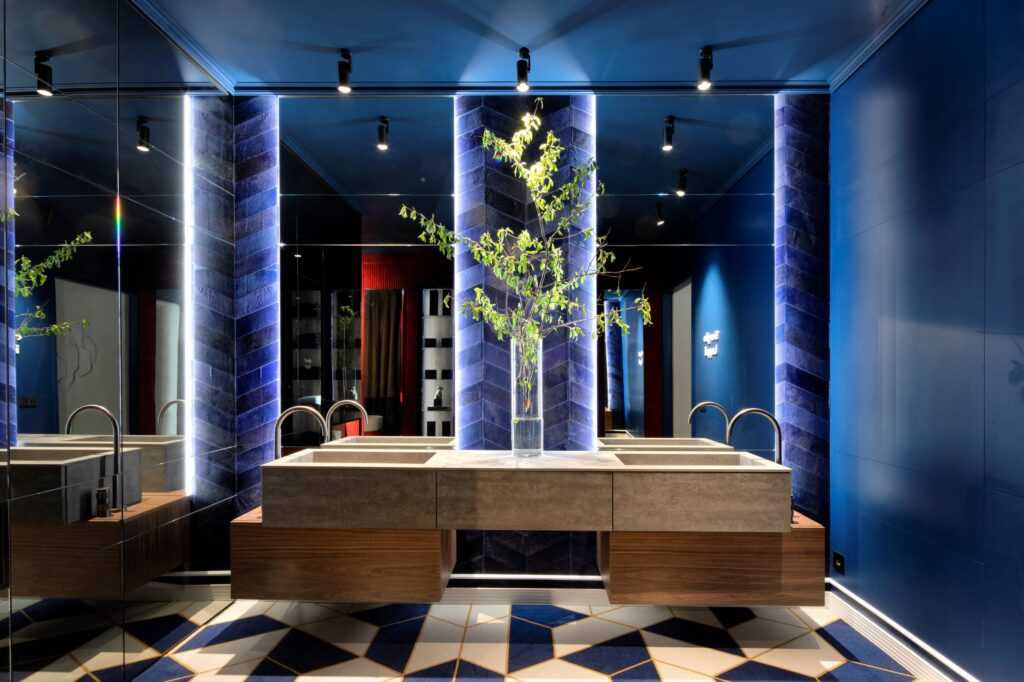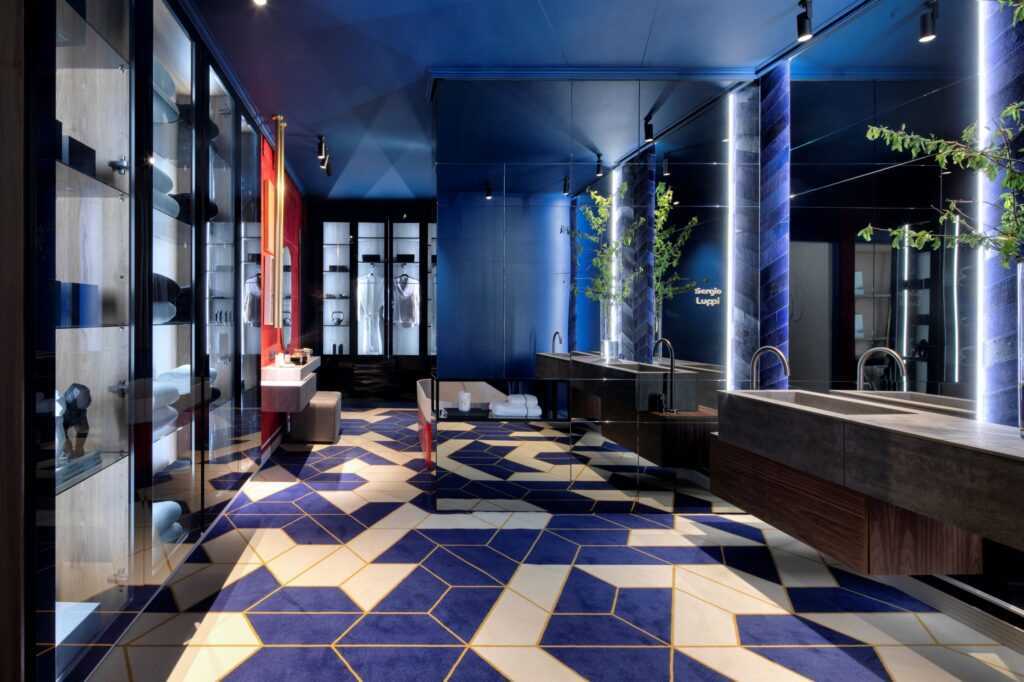 Technologically advanced materials, such as HPL (High-Pressure Laminate), contrast with traditional ones of natural wood and glass. "We are constantly searching for innovative materials to achieve sustainability," says Albuja. "They were all carefully selected, and we always make sure of their biocompatibility and impact on the environment."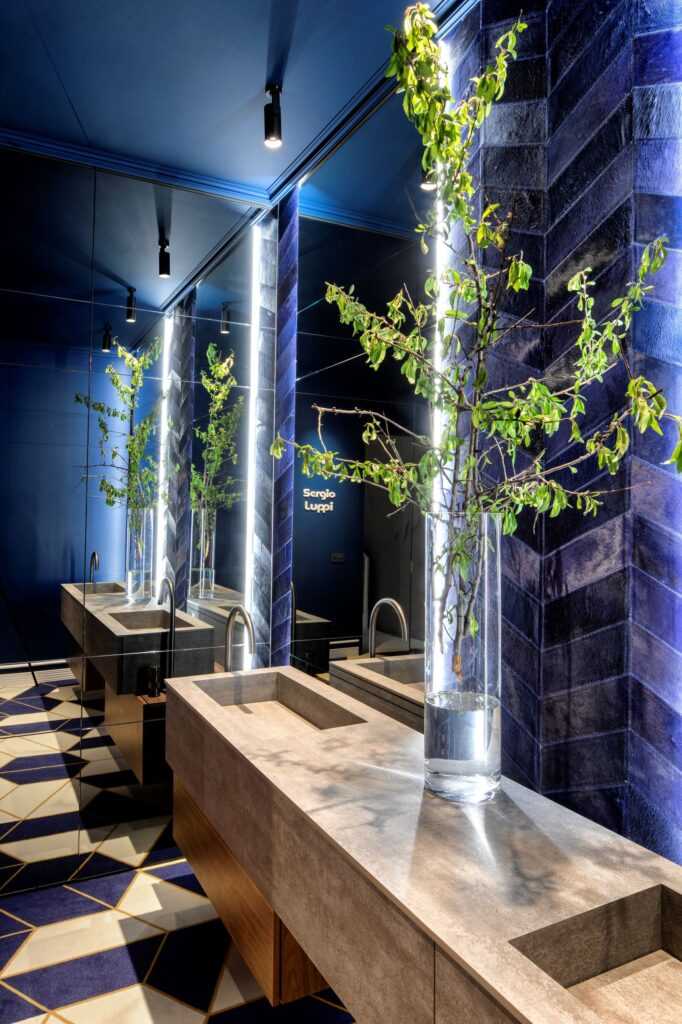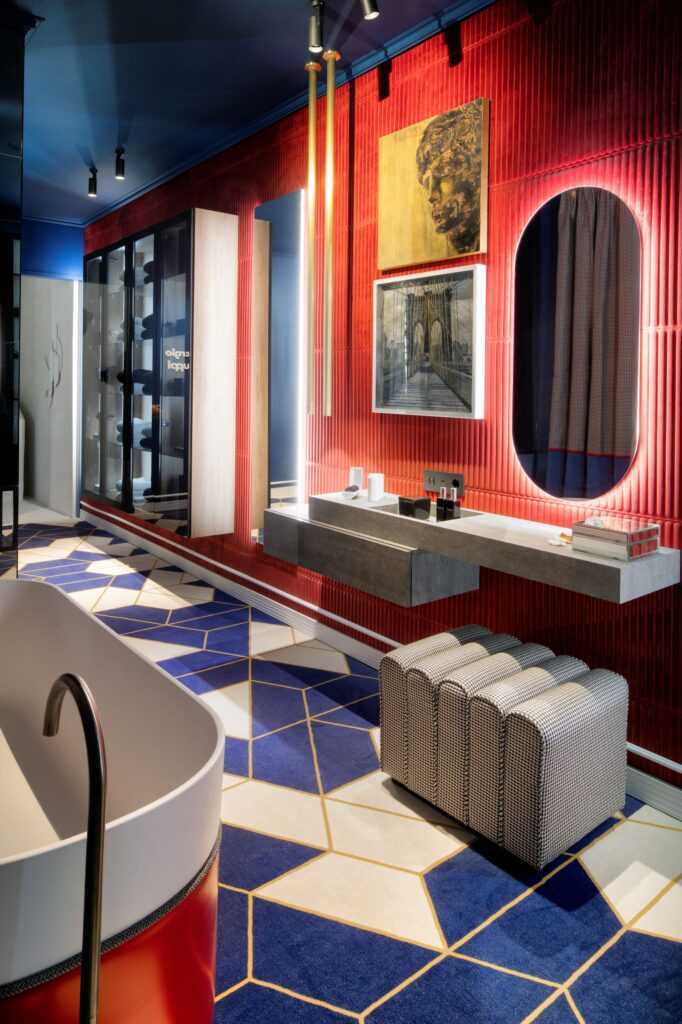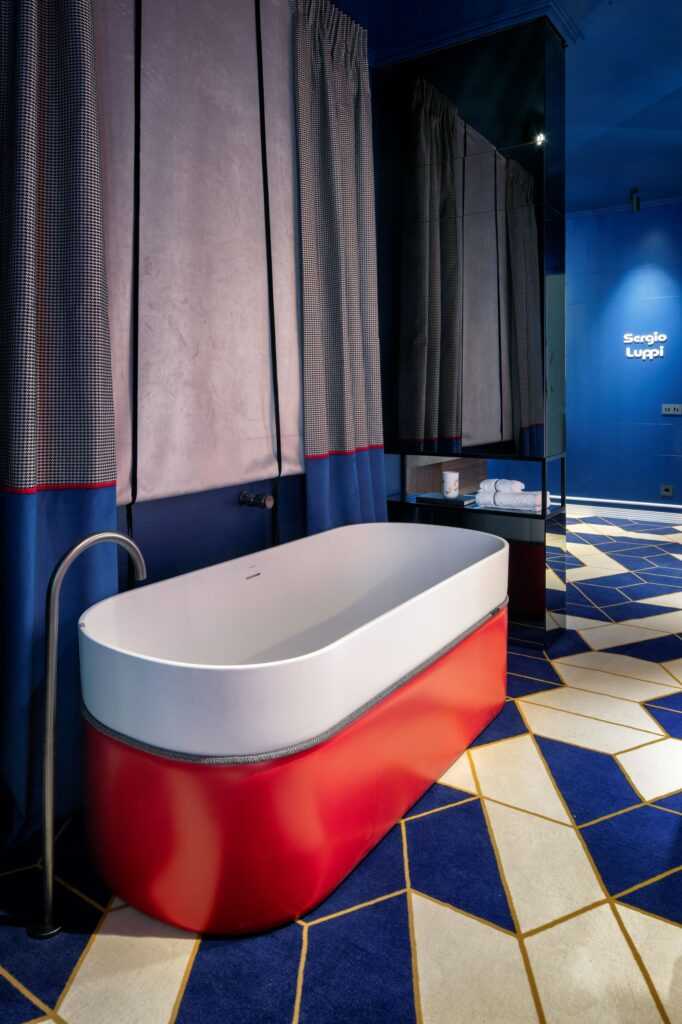 Photos by Luis Helva for Casa Decor
Tone on Tone Palette: «Sheroes» (She + Heroes), Bathroom, by Virginia Sánchez for Geberit
"Sheroes" is a tribute by designer Virginia Sánchez to women who have been pioneers in their fields and broken established stereotypes. The theme is the global empowerment of women, from the early twentieth century to its growth in recent years. As the designer says:
"Our space plays with theatricality to break stereotypes and create trends: curved forms alternate with straight lines, colder tones of dark shades, are set against the softness of warm ones; masculine versus feminine. Contrasts that coexist in harmony and attract attention, just like those women did in their time".
Sánchez uses a mostly tone-on-tone palette and introduces a textural variety of blues with highly polished porcelain floors, methacrylate, lush velvet drapery, and wall coverings with a raised surface. She adds splashes of equally bright oranges and greens.
The project incorporates sustainability through natural and recycled materials. Drapery, fixtures, moldings, lighting, and other materials can be reused after the event, generating little waste and doing away with single-use materials.
Photography by ©Nacho Uribesalaza for Casa Decor.
Reinventing Luxury: «Reflejo» (Reflections), Bathroom, by Carlos Tomas for Axor
The concept for the bathroom by designer Carlos Tomás of EstudioReciente for Axor is a contemporary interpretation of luxury that primes reduction, personalization, and differentiation. It is a personal temple that moves away from the expected images of ostentation and social status to focus on individuality and customization where art meets experience and functionality.
The cool tones used for the modular aluminum panels and cerulean blue walls contrast with the red lacquer ceiling and the rich burnt orange for metal fixtures, small furniture, towels, and decor pieces. Natural stone elements associated with the bathroom ritual coexist with textile surfaces in an atmosphere where color is the focal point.
Tomás used recoverable wallcoverings that are sustainable because they can be used beyond Casa Decor.
Photos by Lupe Clemente for Casa Decor.
A Place for Everybody: «A Roman Bath», Public Washroom, by Somos2Studio.
The public washroom, designed by Eva Jurado and María Diaz Leguina of Somos2Studio evokes the majesty of Roman baths, spaces used for hygiene and socializing. The concept is in perfect accordance with the classical style of the Goya Building. Matte surfaces that appear timeworn and mood-enhancing lighting invite relaxation. The overall effect is elegant and contemporary, a seamless dovetailing of classic features with a modern aesthetic.
Resistant ultra-compact surfaces withstand the passage of time. "We use national products, support family businesses that pass on their know-how from generation to generation, and promote crafts by creating unique pieces. We are thus contributing to the reduction of the carbon footprint".
Perhaps most notable is that Diaz Leguina and Jurado achieved an elevated design that incorporates accessible features. Spain fro Design caught up with the designers to inquire about their process.
Why did you decide to design an accessible bathroom?
Our bathroom had to be inclusive because it serves the ground floor of the building and also the ground floor restaurant.
What specific accessible features did you incorporate?
This type of bathroom requires specific measurements to make it easily accessible. We researched official regulations and advised our construction team accordingly. For example, the door width must be at least 80 cm. The vanity area must have a radius of 150 cm so that users in wheelchairs can turn without any problem. The toilet must be between 43 and 47 cm in height.
To facilitate access for wheelchair users, we placed a suspended sink in the vanity area. The motion sensor faucet and tilt frame mirror are other features for accessibility.
We incorporated accessible features and fulfilled our goal of designing an elegant and relaxing bathroom!
Photos by Lupe Clemente for Casa Decor.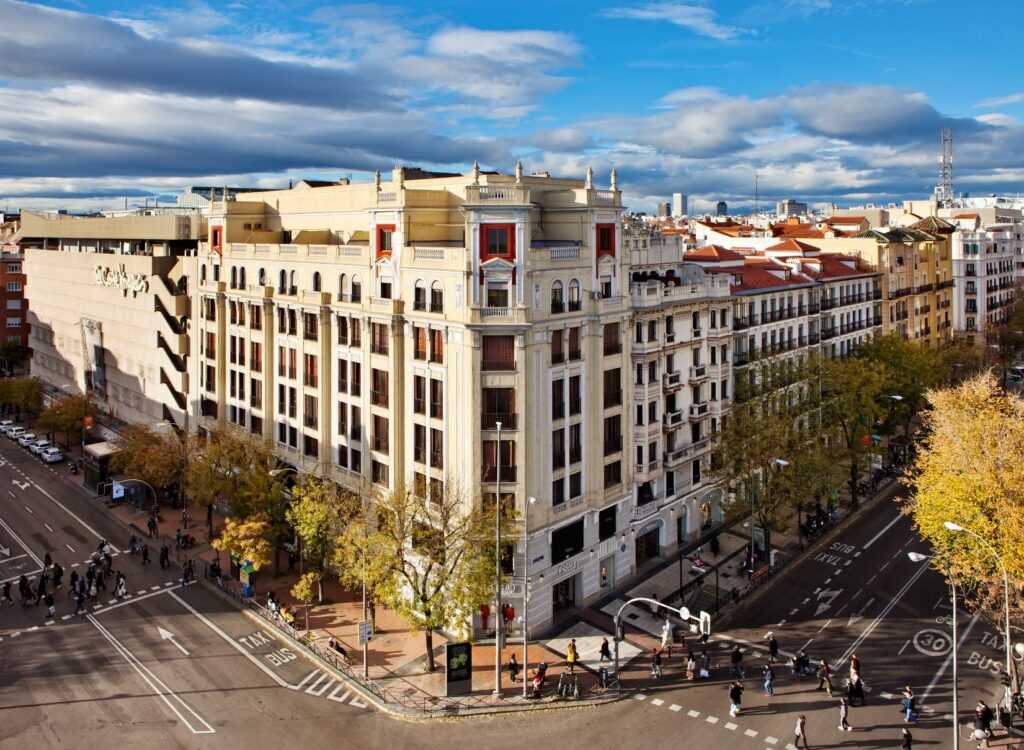 Casa Decor 2022 is open until May 22.