Spain for Accessible Design: Summary 2022
December 19, 2022
/
/
Comments Off

on Spain for Accessible Design: Summary 2022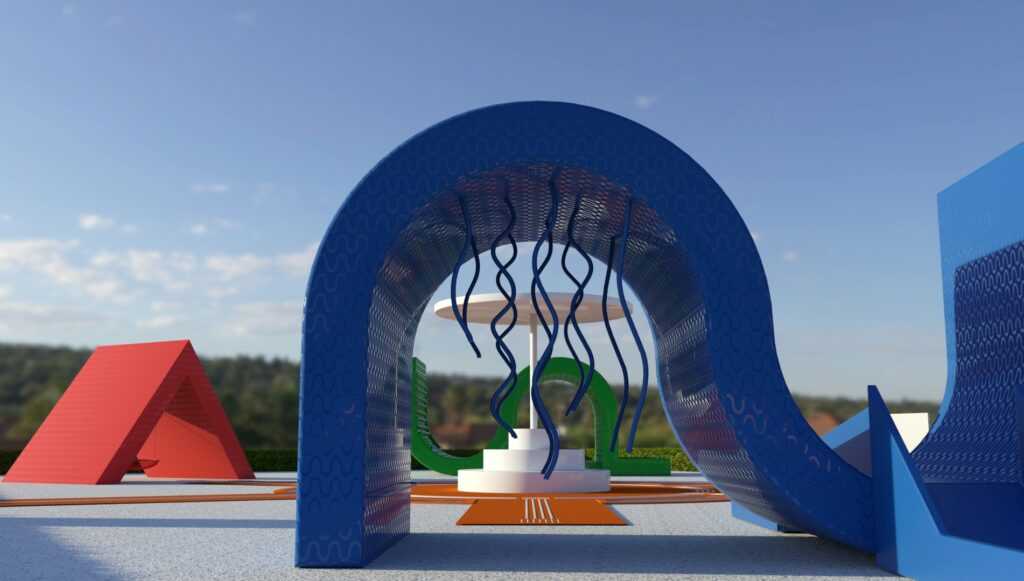 As I wrote in Moving Forward earlier this year, my mission is to feature beautiful interiors and products from Spain that allow those with reduced mobility-and other abilities- to enjoy the built environment. I am always on the lookout for projects, public spaces, and designs that feature accessible design. It is challenging as there is not yet widespread recognition of the need for this design for all.
For me, accessible design means addressing barriers to mobility in the built environment, but it means different things to others who face visual, auditory, and cognitive barriers. Others who do not fit into these categories may need an accessible design due to a temporal injury or through the process of aging. Access needs are on a continuum, even for those with the same type of disability, and it is complicated to conceive one fits all approaches. However, if accessible design is part of the design brief, they can vastly improve what is currently available.
Accessible design can be as basic as ensuring an entry to a building is level to the sidewalk or street to get over a threshold or that there is adequate room under a bathroom vanity to allow wheelchair access. This year, I featured four projects in Spain that incorporate features for those with reduced mobility.
Industrial Design: Bathroom Collection by Roca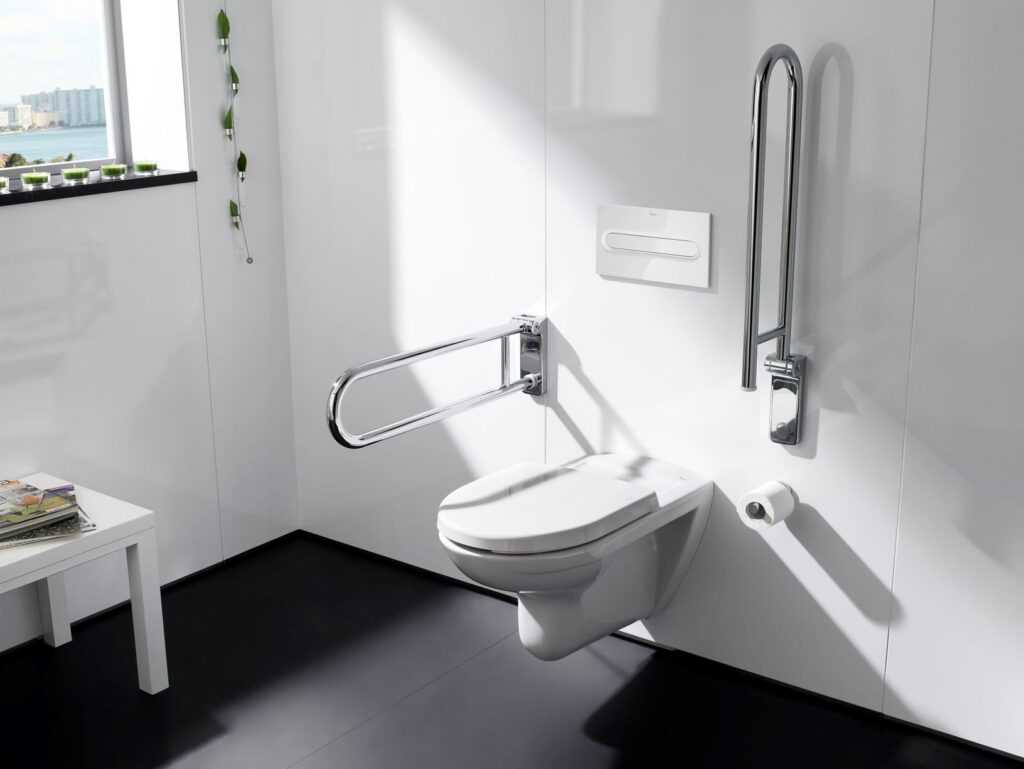 I featured a collection the Access Bath Collection by Rocaby the Spanish firm Roca for those who require accessible features in the bathroom. For those with mobility issues, it is a place that is a minefield of danger. Take it from someone who has fallen a few times in the bathtub. I moved last year from a multi-level house to a one-floor condominium and undertook a bathroom remodel that I will feature soon.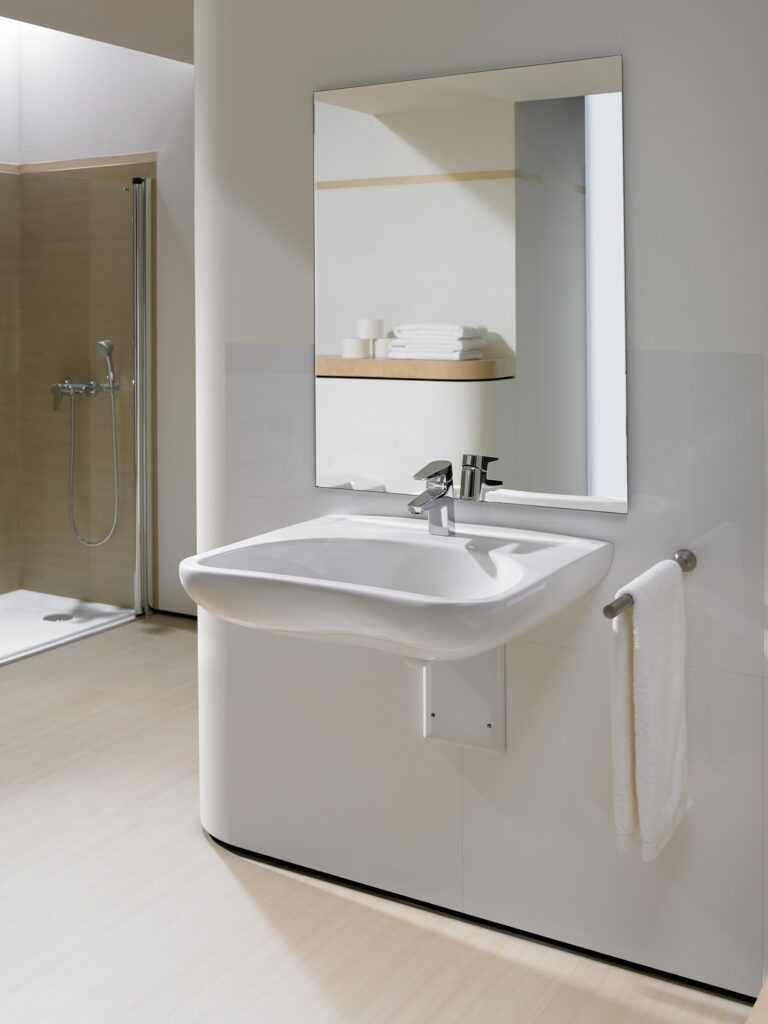 The wall-mounted vanities allow for wheelchair access.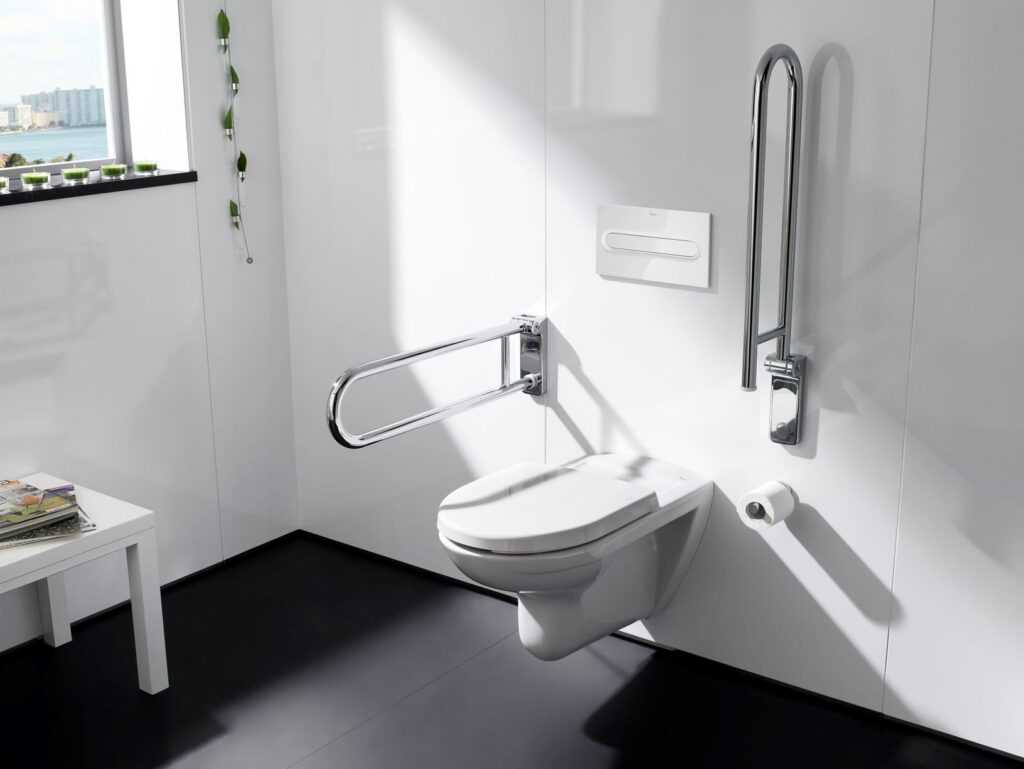 Learn more in The Access Bath Collection by Roca Offers Elevated Design Solutions for Users with Reduced Mobility
Photos courtesy of Roca.
Casa Decor 2022 Bathroom by Somos2Studio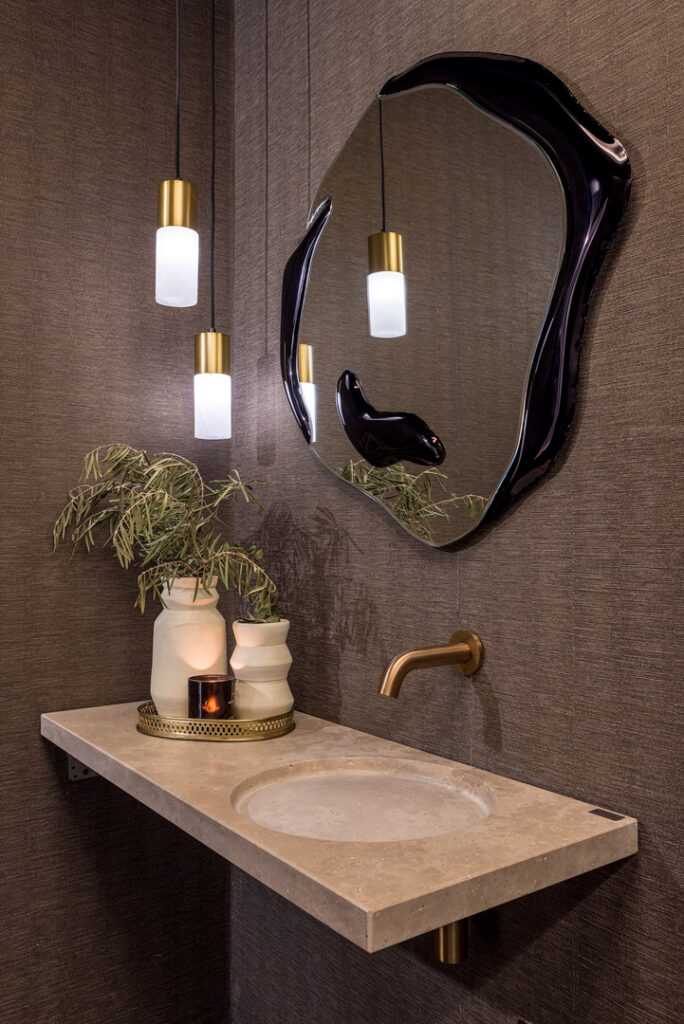 I featured a bathroom that had an accessible design in a project for Casa Decor, Spain's most prominent interior design event. A Place for Everybody: «A Roman Bath» was the public washroom designed by Eva Jurado and María Diaz Leguina of Somos2Studio, which evokes the majesty of Roman baths, spaces used for hygiene and socializing. Matte surfaces that appear timeworn and mood-enhancing lighting invite relaxation. Perhaps most notable is that Diaz Leguina and Jurado achieved an elevated design incorporating accessible features.
Spain for Design caught up with the designers to inquire about their process. They stated that this bathroom requires specific measurements to make it easily accessible. They researched official regulations and advised their construction team accordingly. For example, the door width has to be at least 80 cm. The vanity area must have a radius of 150 cm so that users in wheelchairs can turn without any problem. The toilet must be between 43 and 47 cm in height. To facilitate access for wheelchair users, they placed a suspended sink in the vanity area. The motion sensor faucet and tilt frame mirror are other accessible design features.
Learn more in 5 Next Level Bathrooms at Casa Decor 2022 to Inspire Your Renovation
Residential Design by Romero & Vallejo: Senior Living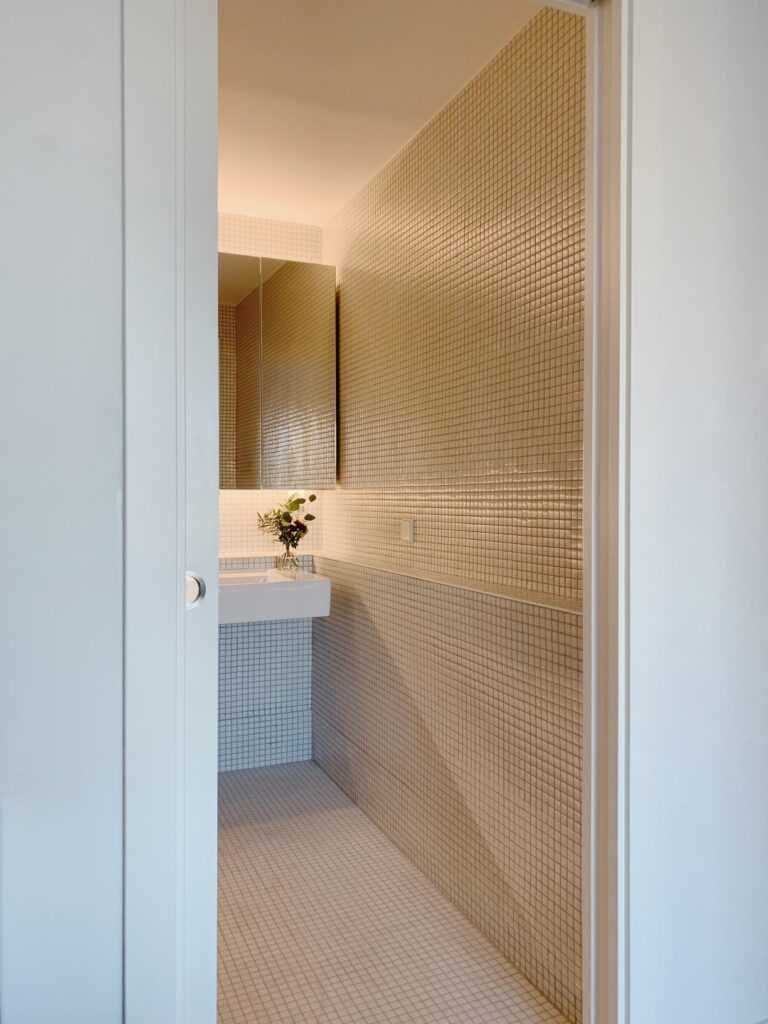 I featured Vitápolis by Toledo-based architectural firm Romero & Vallejo. It is a senior residence in Toledo and this type of design is significant because this is a stage in life when many of us who barely considered the topic of accessibility, experience reduced mobility later on in life. There are accessible design features in public and private spaces.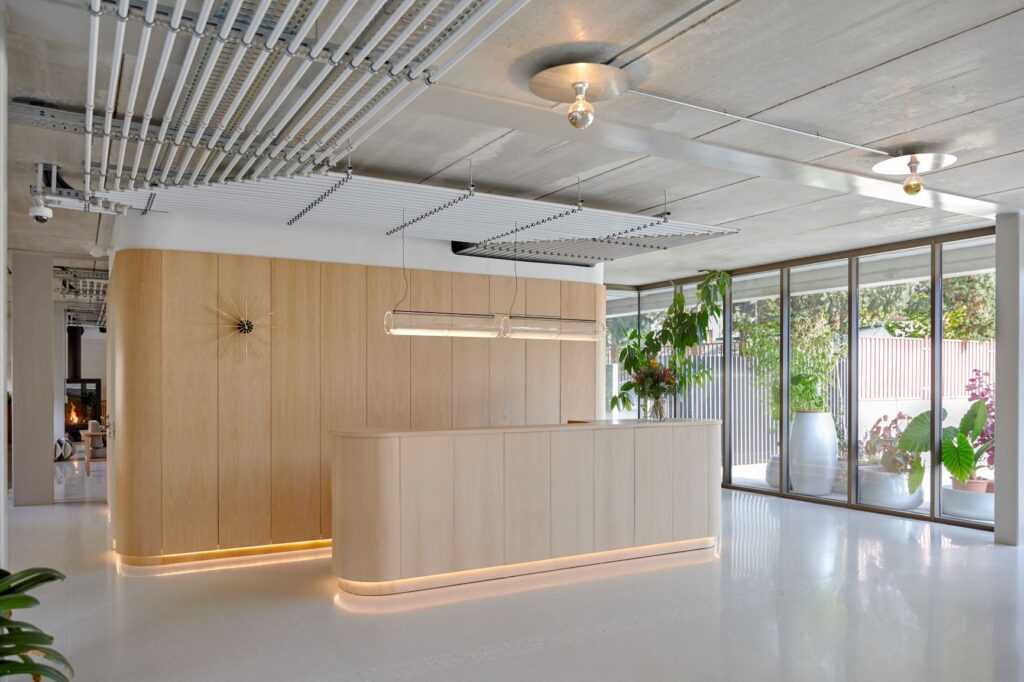 Inclusive play by Ana Hernando Moreno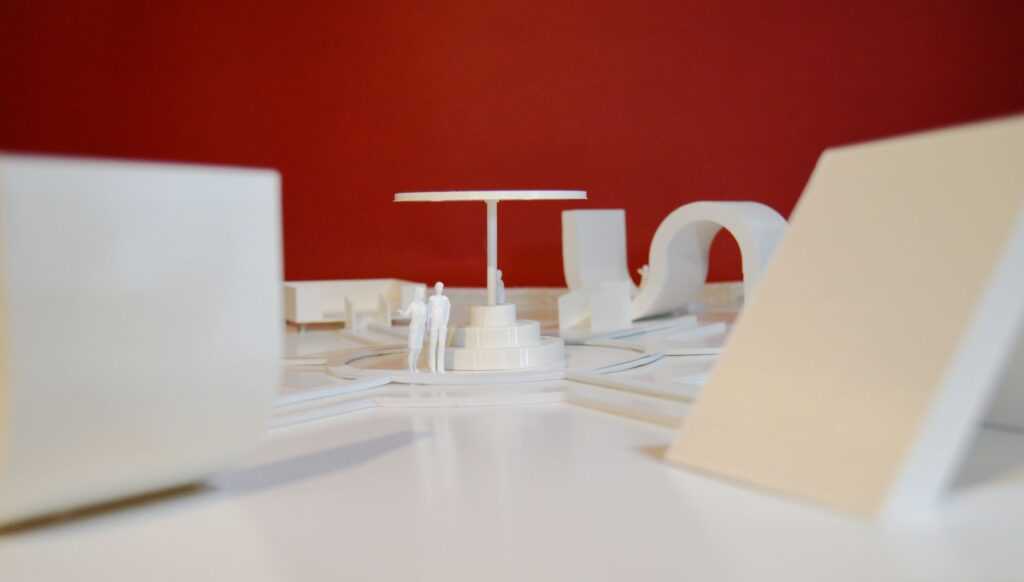 Ana Hernando Moreno devised an accessible playground concept. The project was a winner of the MINI Design Awards at the fifth edition of the annual Madrid Design Festival which took place at venues across Madrid in February and March 2022. It is an accessible playground for children based on the use of colour. Spain for Design reached out to Ana.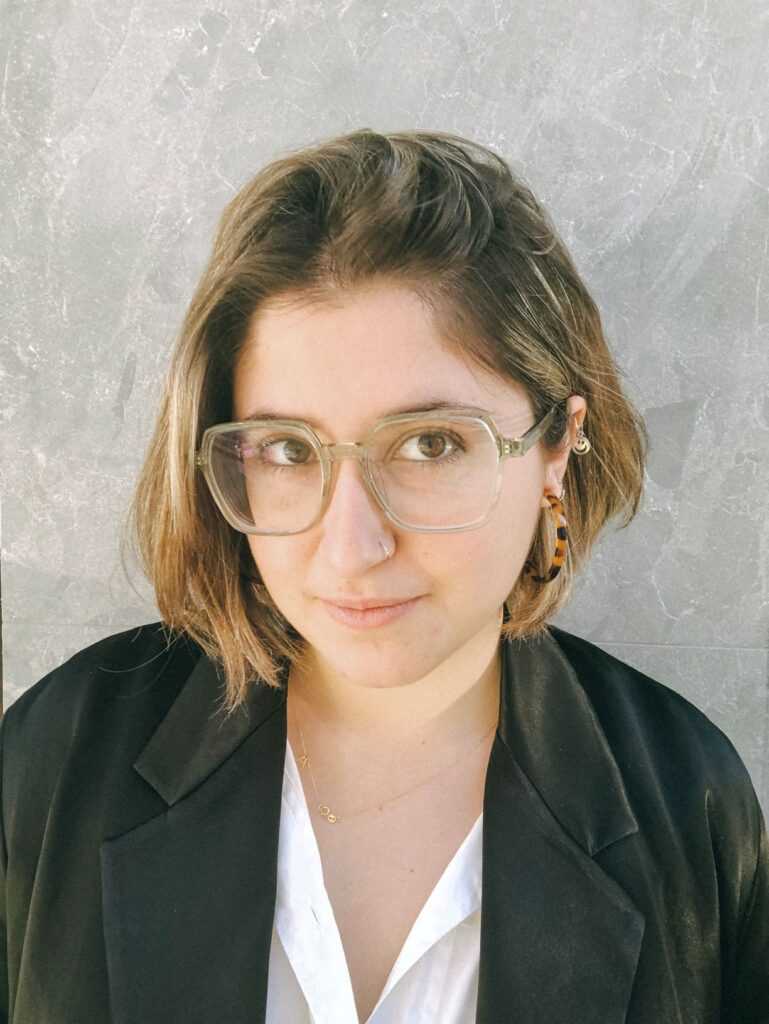 Looking back, how has this project impacted your work and outlook?
Parque Constanz has laid the foundations in my career toward a new way of seeing and understanding design. The impact and interest it has aroused have highlighted the importance of research and development in this design area. It has also highlighted the scarcity of solutions with this approach in the current design discourse. In a society where social awareness is on the rise, we begin to recognize it as fundamental to establish equal treatment for all and for which accessible design is a primary requirement.
Carrying out this project has allowed me to open my eyes even more towards this paradigm, paying greater attention to the small details of the design that usually go unnoticed in the day-to-day of a person alien to the disability. I also consider it vital to understand the transversality of accessibility and the need to build based on a universal design and to ask questions.
Involving those who face inaccessible barriers in the environment is the first step for design, architecture, urbanism, and engineering professionals. They must begin to devise solutions that address the real needs of the individuals to whom they are addressed, turning citizen participation and social listening into two fundamental requirements for accessible design.
From my point of view, one of the main objectives is the normalization of disability, talking about disability as something that affects everybody and not just a percentage of the population which, although very high, is often understood as insignificant. Nobody is exempt. We can all get it at some point in our lives. Even having a temporary injury can make us realize the relevance of accessible design. It is time to introduce an accessible and inclusive approach in all areas, overcoming the barriers that hinder the daily development of people. As stated by Jesús Hernández Galán, the Director of Accessibility of the ONCE Foundation (cooperation and solidarity of the Spanish blind towards other groups of people with disabilities to improve their living conditions), "The disability is not of the person but of its interaction with the environment.".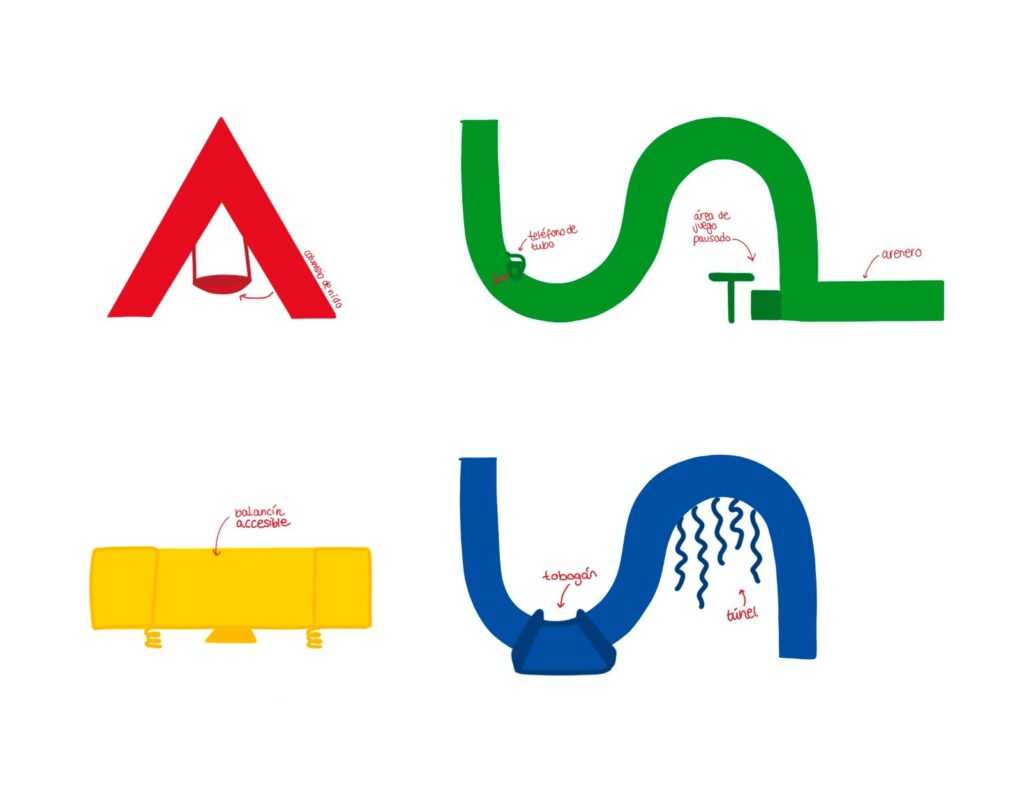 What type of disability does the project address: visual impairment, reduced mobility, etc.?
After reading about disability and creating inclusive spaces, I decided that Parque Constanz would cover all kinds of disabilities. As Susan Goltsman points out "Inclusive design doesn't mean you're designing one thing for all. You're designing diverse ways to participate, so everyone has a sense of belonging." Therefore, the project presents various developments adapted to the needs of children and their families.
I designed a podotactile path and haptic plans for people with visual disabilities, signage in Braille and ARASAAC's pictograms for autistic people, ramps and handles for people with motor disabilities, a sandbox, and trampolines for children with cerebral palsy and other intellectual disabilities. They are all distributed in a series of open interaction structures that, instead of limiting the possibilities and creativity of people and children, offer open play ways that invite development, inclusion, collaboration, and fun for children with and without disabilities.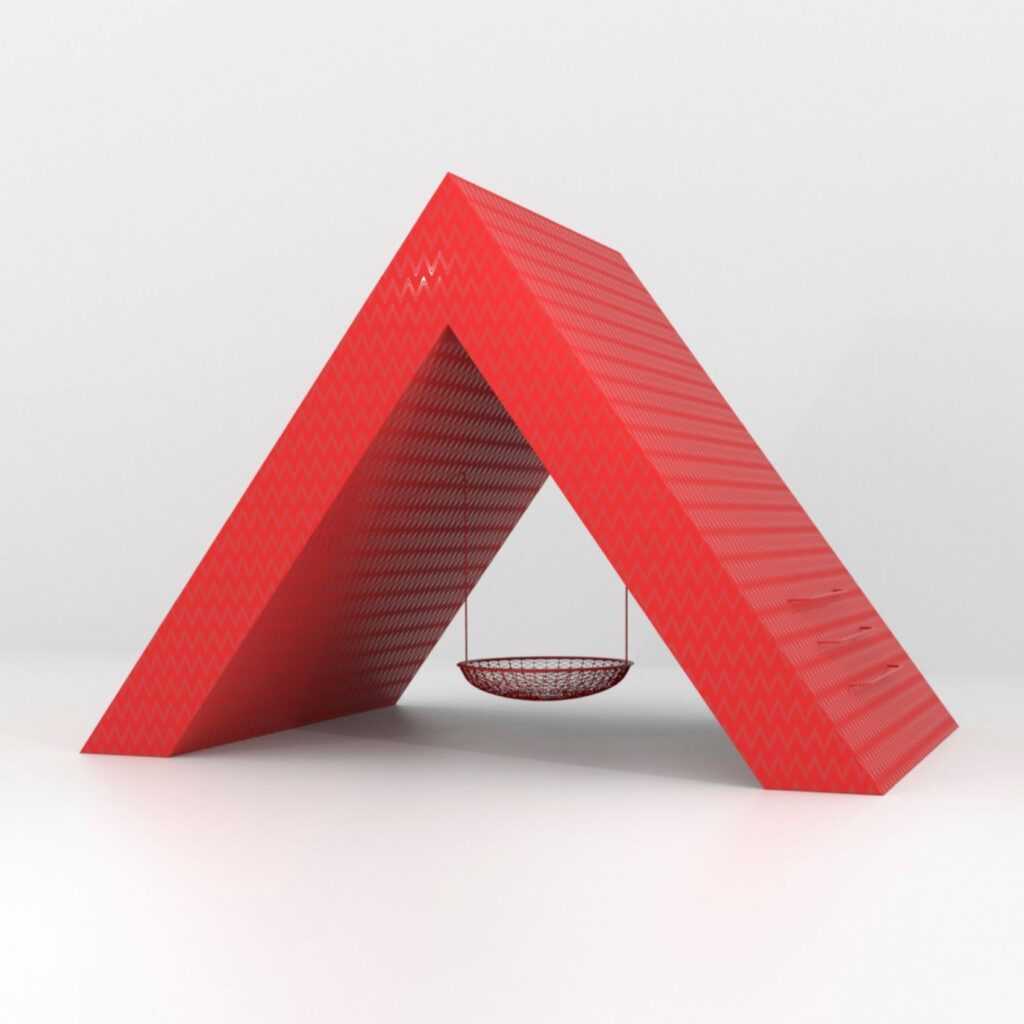 Learn more in Ana Hernando Moreno conceives an award-winning accessible playground for children with disabilities;
Please free to drop me a line if you have any suggestions about accessible public spaces, industrial design, and projects that I can feature.