El Equipo Creativo Reimagines Barcelona's Hotel Plaza as an Ode to the Montjuic Mountain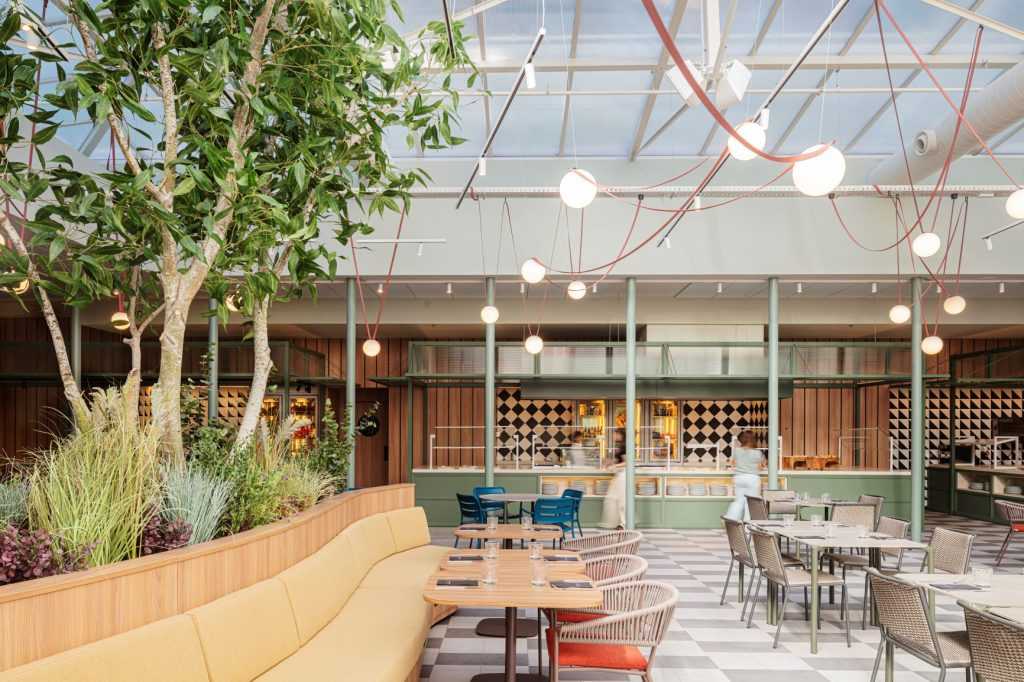 The Barcelona-based studio, El Equipo Creativo designed a new lobby, and bar and redesigned the Simultáneo restaurant in Hotel Plaza, located in Barcelona's Plaza de España. The design brief was to create a gastronomic and cultural space for hotel and other guests.
Located at the base of the majestic Montjuic Mountain, the city's largest urban park, the design seamlessly blends into Montjuic's natural beauty with its Mediterranean charm. The team created stepped organic-shaped platforms on the existing slope between the entrance and the rear restaurant area to create an immersive guest experience of ascending the mountain.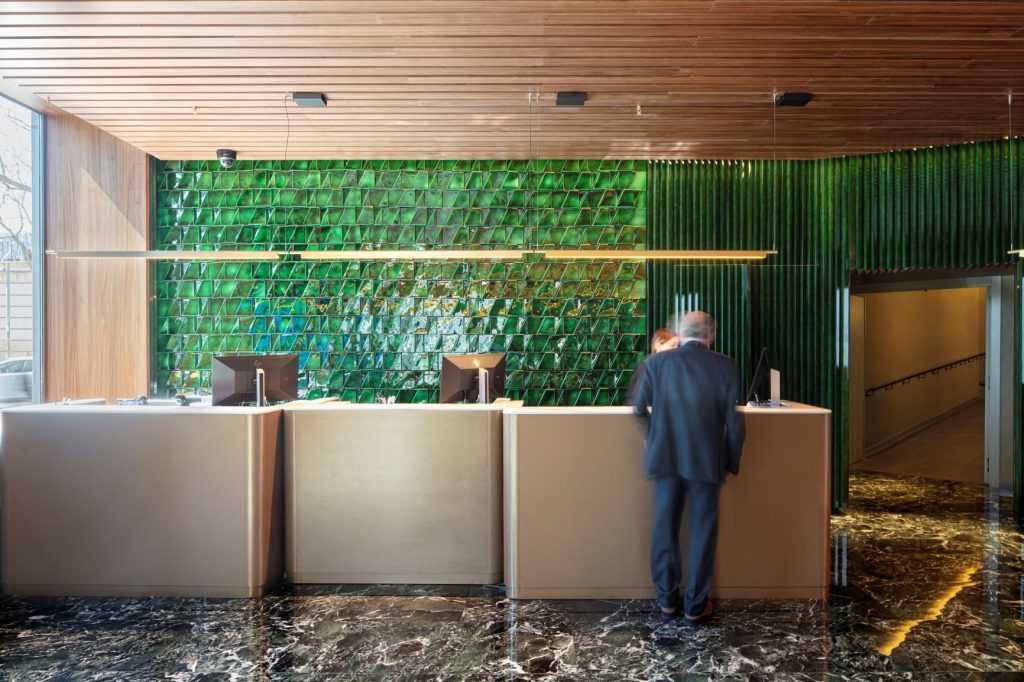 The hotel's reception area, discreetly positioned on the initial access level, features custom artisanal three-dimensional ceramics tiles. The vibrant ceramics establish a visual connection between the bar area and the freshness and greenery of Montjuic.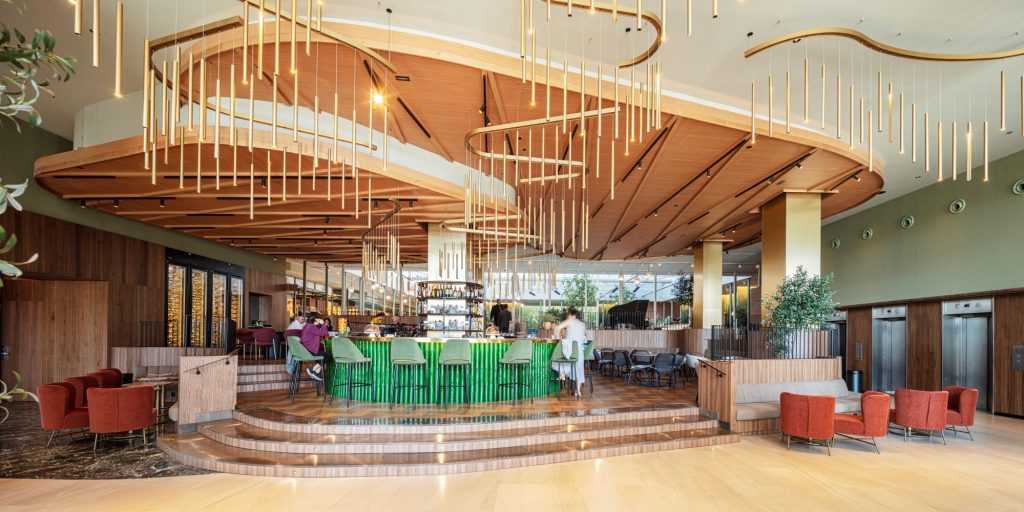 Undulating stepped paths around the new circular bar simulates a new roundabout that engages with Plaza de España. With its prominent presence and visible position from the entrance, the bar becomes the focal point that beckons visitors. The materiality of the design elements in this area recreates the ambience of a garden, with warm wooden ceilings that resemble treetops. A natural and neutral colour palette accentuates the vibrant green of the ceramic tiles on the bar.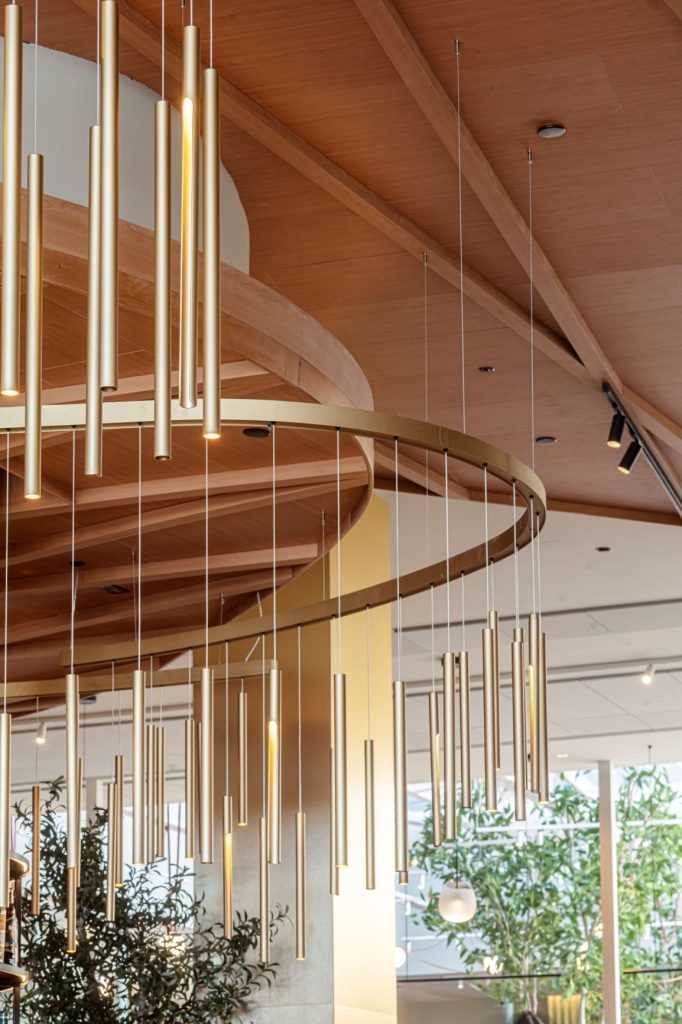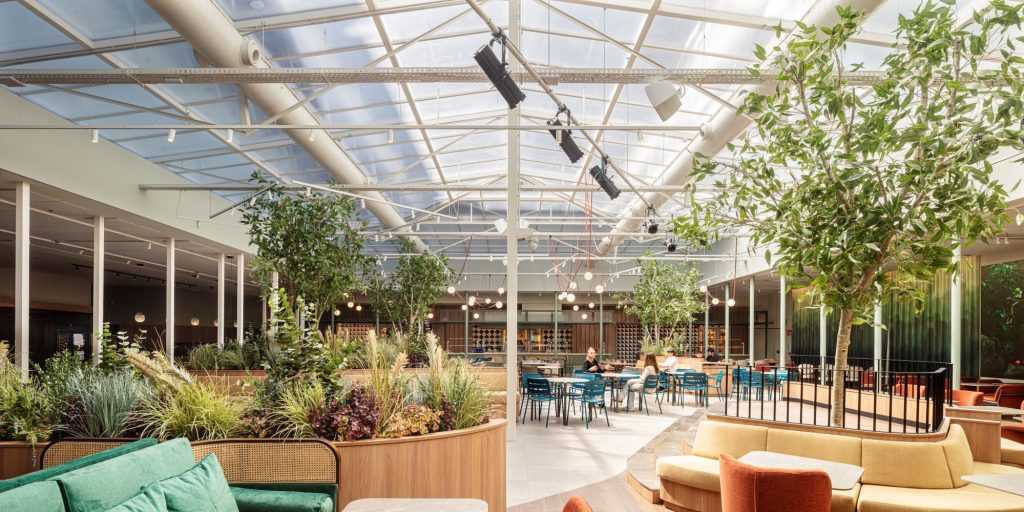 Venturing further, at the top level, the spacious light-filled area of the Simultaneo restaurant greets guests. Bathed in intense natural Mediterranean light, thanks to the translucent greenhouse-like roof, it is a true garden within the city. Large planters fill the space with greenery and freshness and their curvilinear shapes create undulating pathways.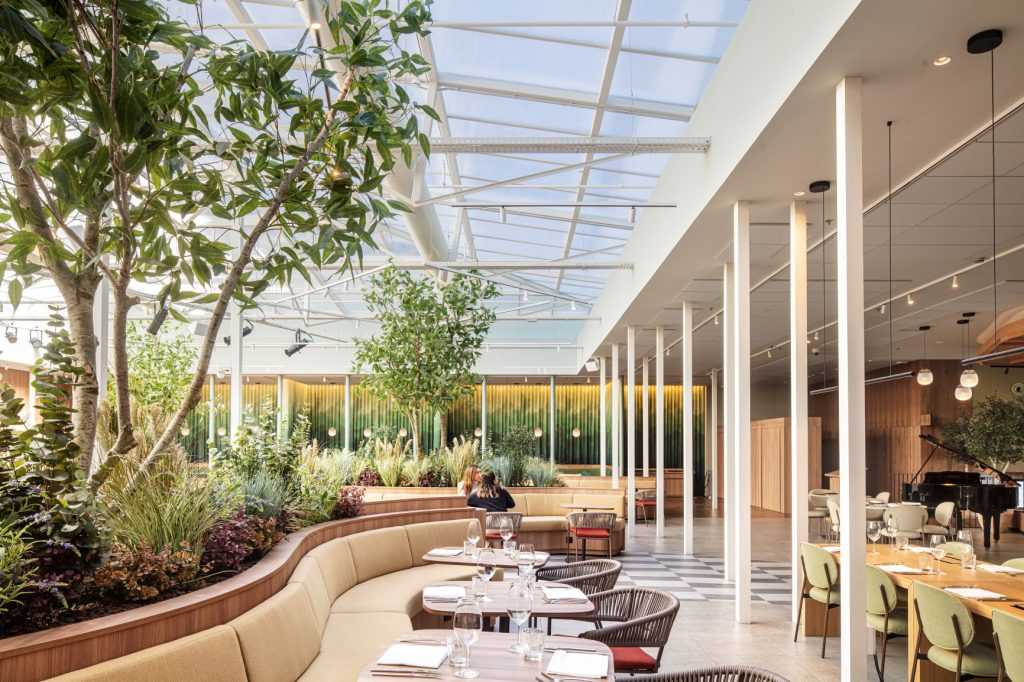 Diverse areas and intimate corners for seating are ideally suited for specific occasions or time of day. The configuration is in accordance with the design brief for Simultaneo restaurant; to fulfil its functional requirement as a spacious, multipurpose, versatile gastronomic and cultural space where multiple activities coexist throughout the day, from breakfast to evening cocktails, from business meetings and family gatherings to conferences and concerts.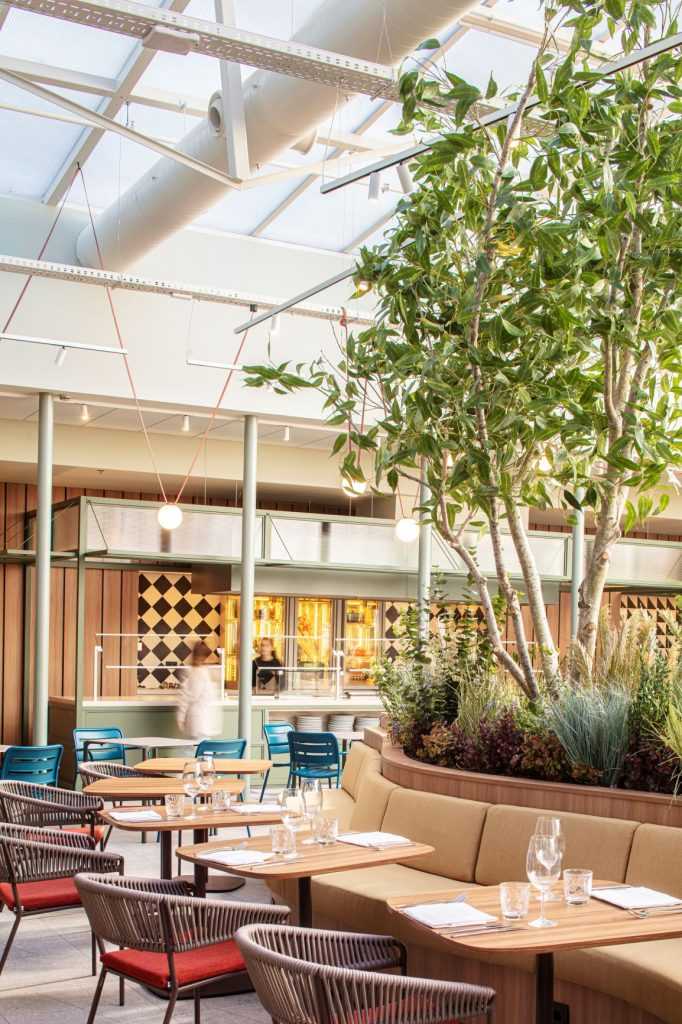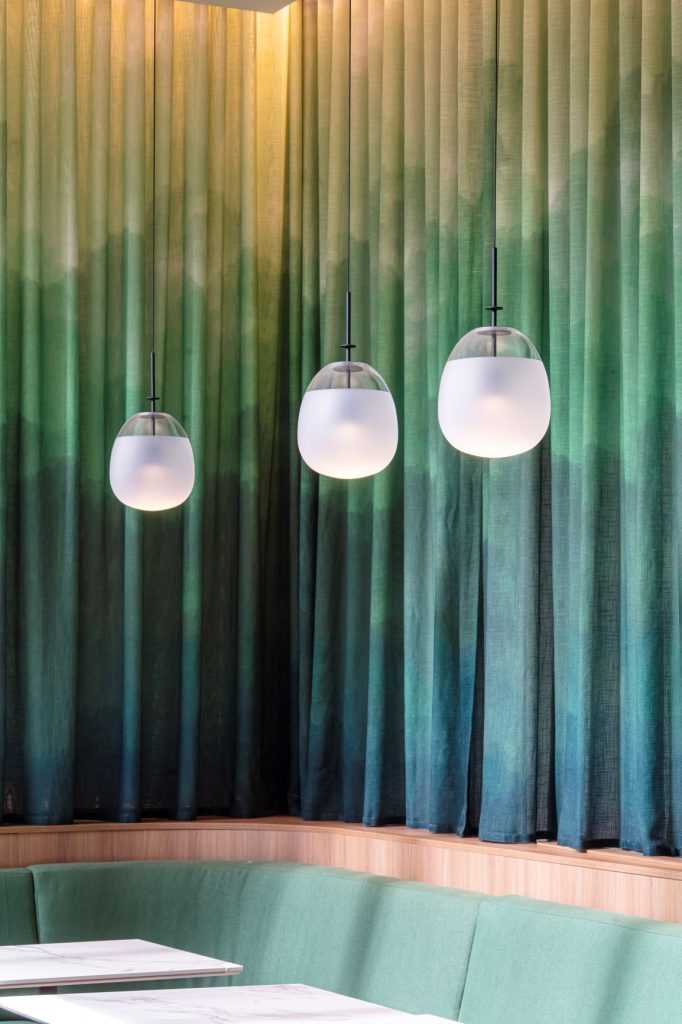 Founded in 2010 by architects Oliver Franz Schmidt, Natali Canas del Pozo, and Lucas Echeveste Lacy, El Equipo Creativo is a Barcelona-based interior architecture studio specializing in hospitality design. They have designed restaurants for some of the most prestigious chefs in the world, including those with 4-star Michelin restaurants, such as world-renowned Spanish chef Ferran Adrià. To see other projects by this design firm, read Contemporary Mediterranean Style for Compartir Barcelona Restaurant by El Equipo Creativo and El Equipo Creativo Creates Urban Retreat for Travelers and Locals in the Kimpton Vividora Barcelona.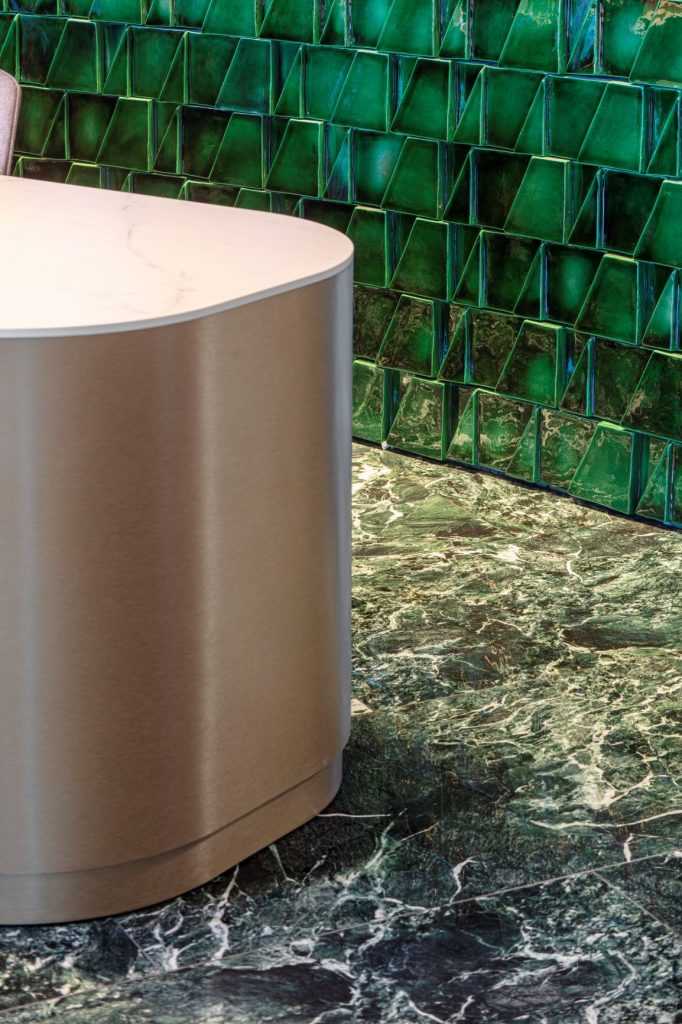 Photography by Adrià Goula Photo.