Woodic: Bringing Technology to the Traditional
August 17, 2020
/
/
Comments Off

on Woodic: Bringing Technology to the Traditional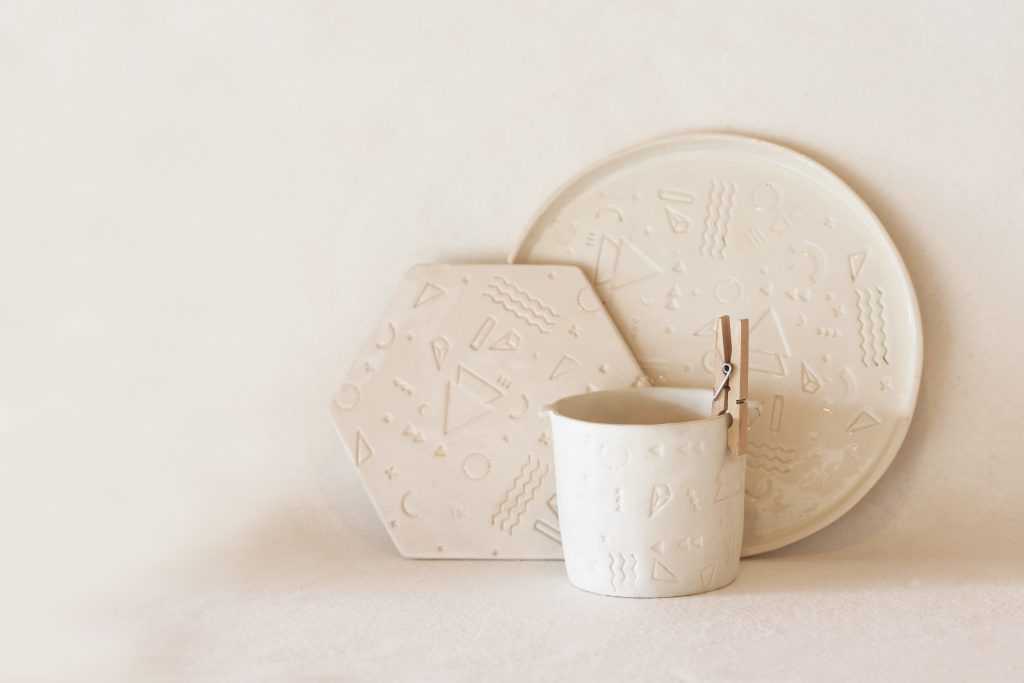 Woodic -a contraction of wood + ceramic- is the ceramic art studio that Natalia Suarez opened in 2018. A graduate of the University of Barcelona in Fine Arts with a specialty in design, she pursued further education in Artistic Ceramics at the Barcelona Arts and Crafts School in Llotja, San Andreu.
Natalia's work reflects her love for traditional crafts, honest designs, and natural materials, such as clay, gold, and wood. Her creative process crosses the divide between the traditional and the contemporary, a modern and integrative approach that combines new technologies with traditional artisan processes. This is evident in her Stamplate and Edra collections, both of which she generates with 3D printing processes.
Her inspiration is Nordic. Her workshop is in the north of the country, in a small parish called El Valle, part of the Candamo municipality of Asturias. Her surroundings inspire her; the natural environment, the slow pace of village life. There are references in her work to the feminine imagination, mythology and the forms found in the natural environment.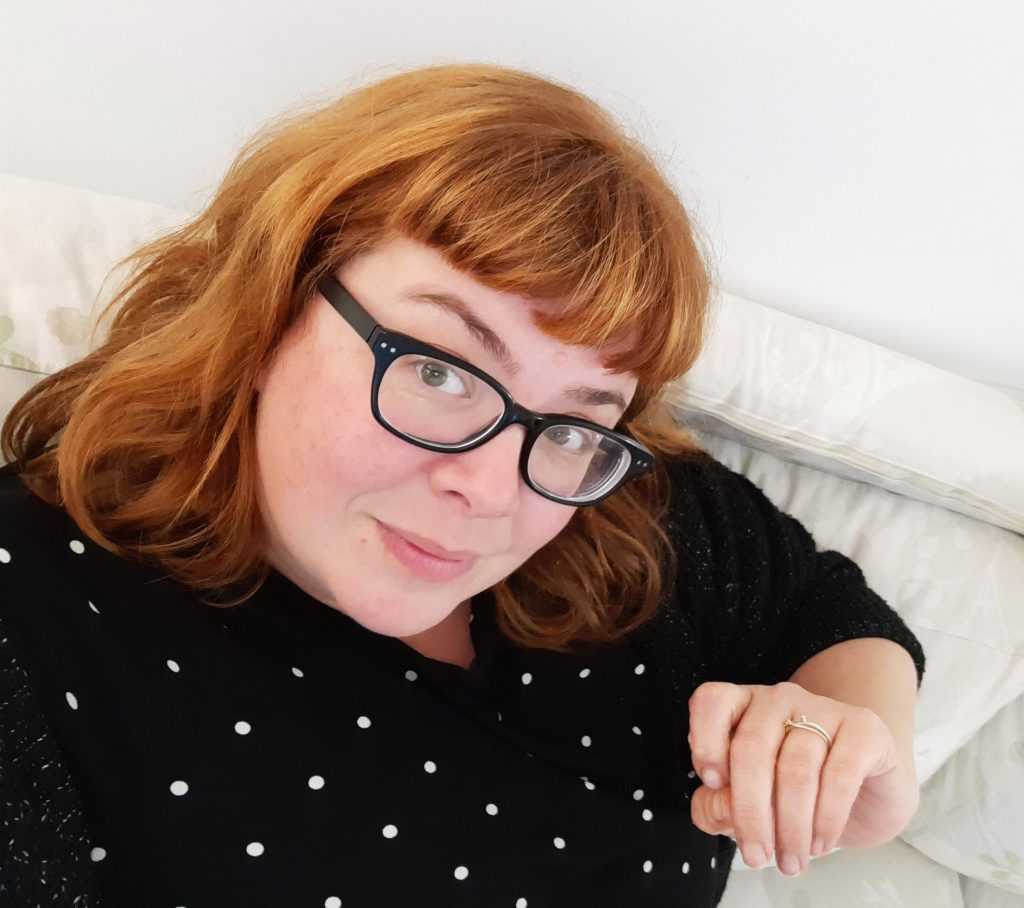 For the Stamplate and Edra collections, Natalia designed a series of geometric prototypes through 3D printing.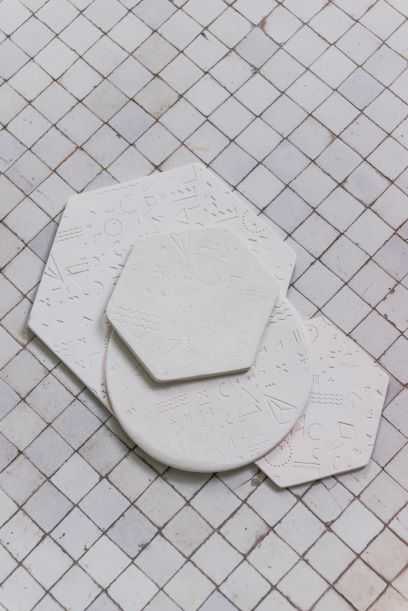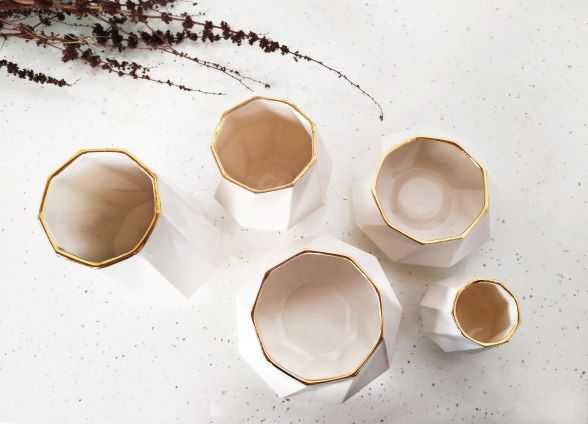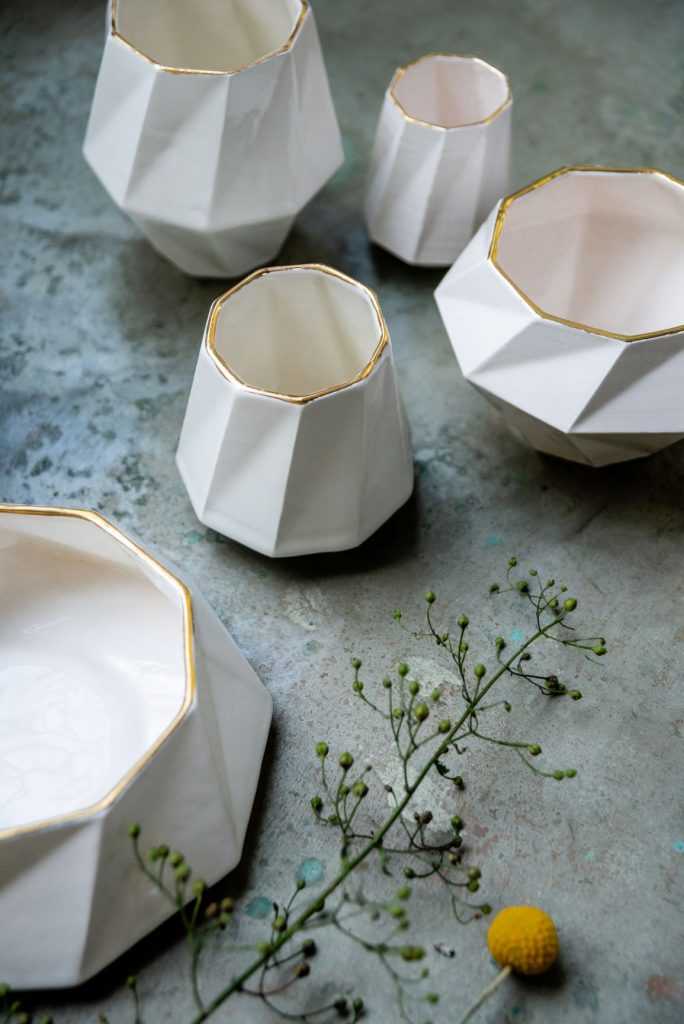 The pieces in the Wildlife series, which comprises the Rabbit, the Cat, and the Fox, are made from enameled white clay. The enamel is used with an ecological and decorative approach.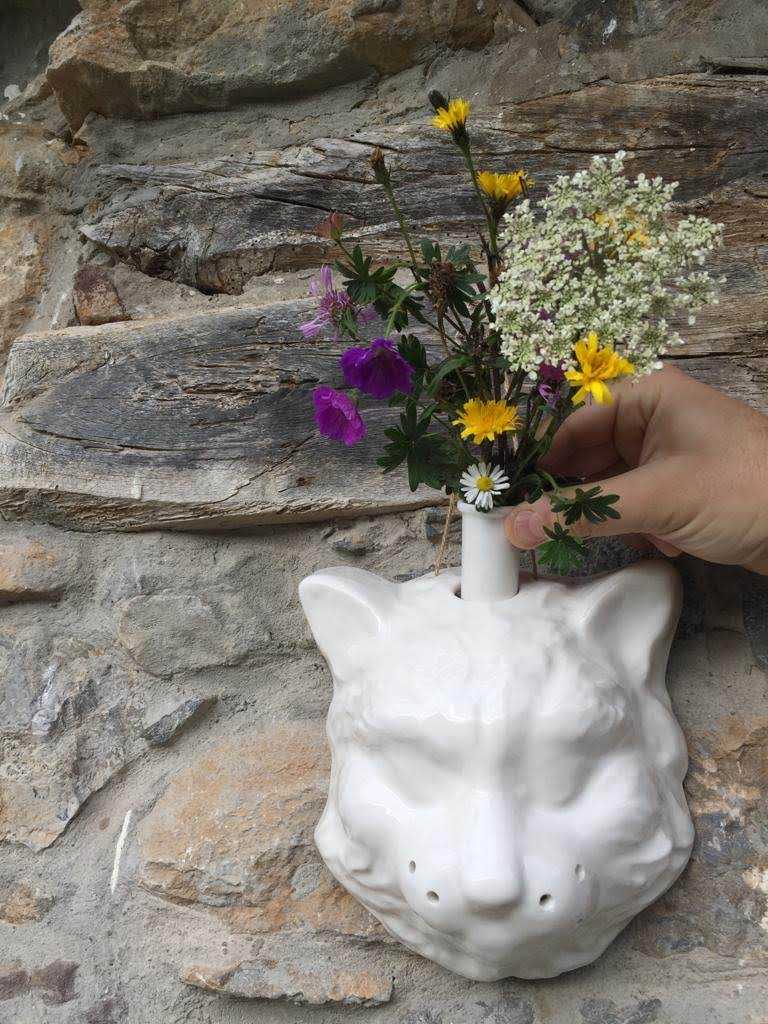 The pieces in Natalia's Goldenipple series represent the female breast, an artistic interpretation of the messaging of the #FreeTheNipple hashtag on social networks. The social network movement is part of the global campaign to decriminalize public displays of the female breast, an image that has been used thousands of time, yet it is censored in our daily lives. As Natalia states:
Our furtive gaze is cleansed and transcends the woman's body, moving openly between intimacy, the private and the public, turning it into a fascinating element, a singular object, an everyday luxury.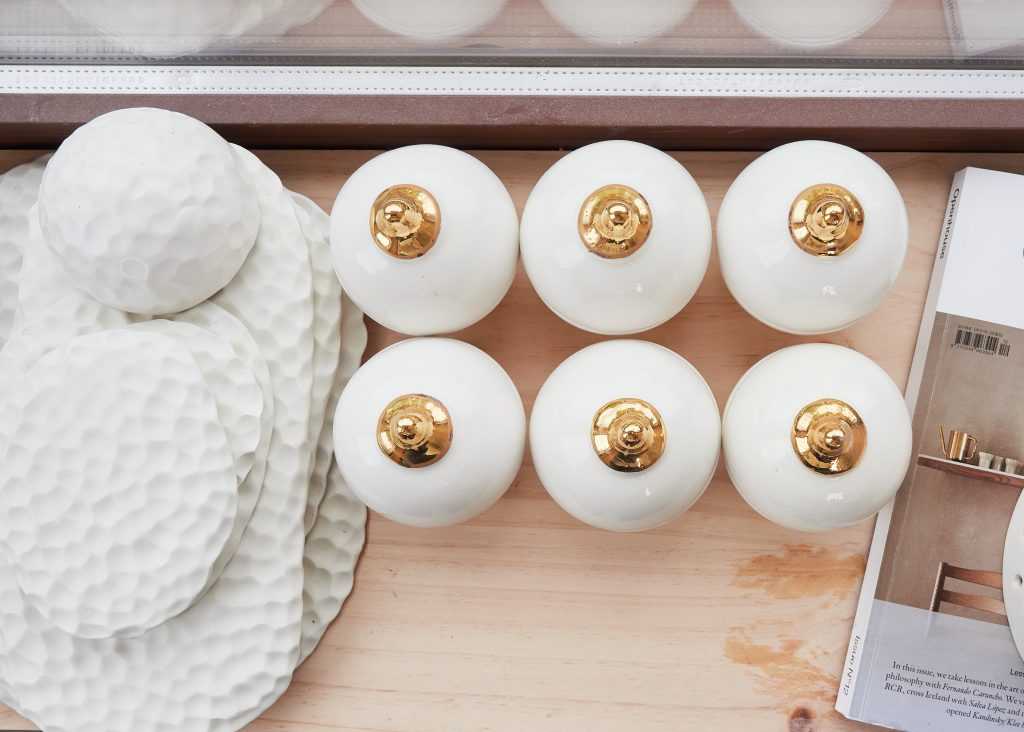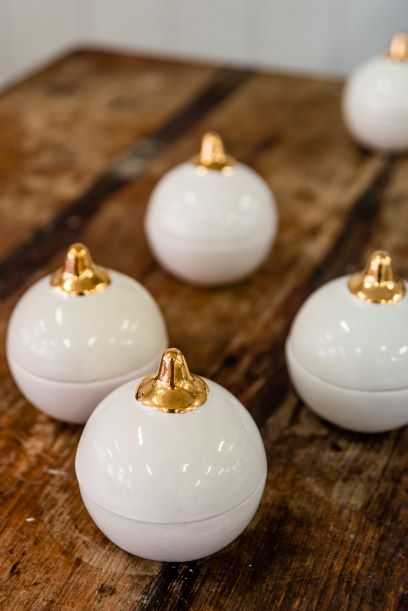 Briefly describe your background and studio's beginning.
I had arts training, and graduated in Fine Arts from the University of Barcelona. Although I was always attached to illustration in some way, I dedicated more than fifteen years of my working life to the world of communication and advertising. The need to create with my hands, away from the computer, and the stress from production, made me seek a new material with which to experiment, and ceramics seemed to be a possible way to continue working in illustration.
What seemed like a new hobby became my new career, and I received a certificate of Higher Graduate in Artistic Ceramics from LLotja de Sant Andreu, Barcelona. From there, I moved to a beautiful town in Asturias, my homeland. In Candamo we found the perfect space to set up a workshop. I named my brand Woodic because of my taste for ceramics and wood, a material which is not only noble, but is present in my surroundings.
What or who has inspired your work?
The shapes and materials of Scandinavian design, the sensual oriental shapes of Jun Kaneko, the geometric textures of Lenneke Wispelwey, the fretwork plates of Maria Bofill, and the art of the Kintsugi, especially under the vision of an artist like Yee Sookyung. I continue to add references, not only from ceramic art. I am also inspired by basketry, Japanese embroidery, and 3D printing.
Different pieces may say different things, but what is the general message or theme?
I have wanted to contemporize an artisan process with pieces that are original, honest, and that present a technical challenge by integrating new technologies into an old process. I want to generate new silhouettes, shapes and uses, through a product design process.
What is your most popular piece?
Well, depending on the event, either the Goldennipple series, associated with the shape of the female breast, or the animal masks, which are quite popular.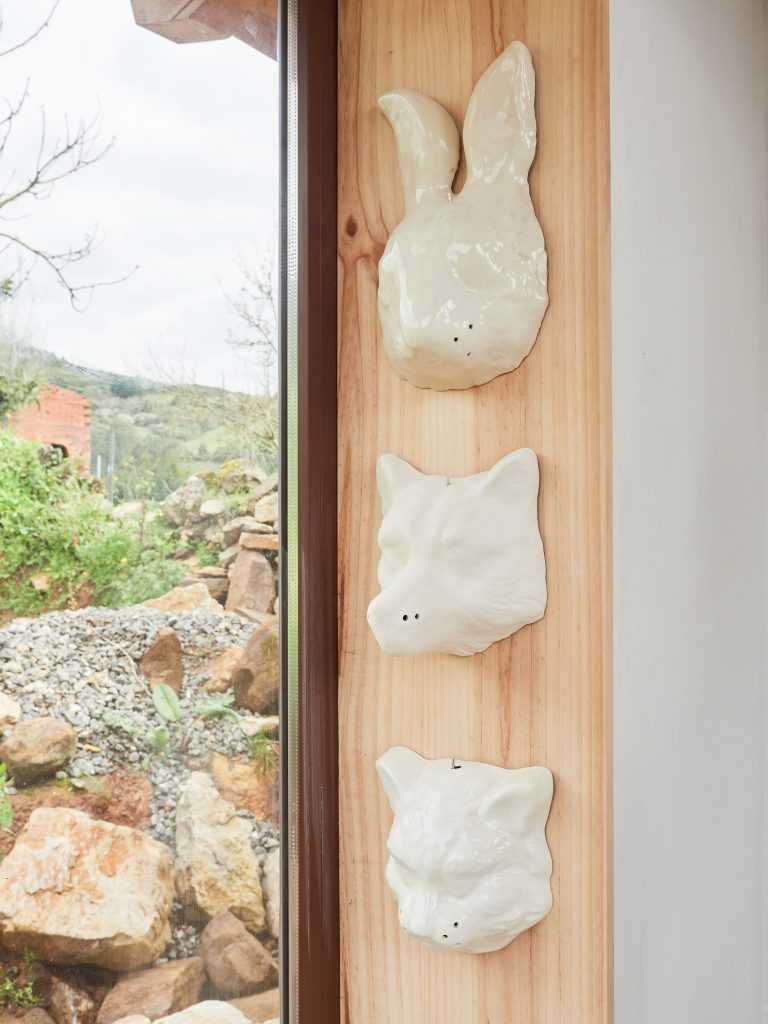 Is there a Spanish/Asturian tradition or reference with respect to your technique, design or inspiration?
The truth is that both my training in ceramics and my references in Asturias are related to the Avilés Cultural Factory, which I am still associated with. I would like to learn from the few remaining potters in Asturias who work with traditional forms from this area.
Do you integrate any environmental considerations in your processes?
One of the aspects that made me fall in love with ceramics is that, with respect to utilitarian objects, it is a much healthier option. This is very much in line with Lauren Moreira's manifesto 'More Clay Less Plastic', which promotes the idea of ​​reducing the use of plastic as a fundamental and urgent step towards saving the environment and improving the quality of life. All my pieces are lead-free, I recycle 95% of the material and I don't let the waste be released into the environment. Woodic came to paradise and I want to protect it.
Are there any recent events, recognition (awards) or developments that you are excited about?
Right now, I am most excited about opening the workshop to visitors, organizing small events and surrounding myself with creative people. One of my dreams is to participate in the Maison & Objet fair in Paris, but I have decided not to attend this year because it is unclear how sales will proceed and if the economy will recover after the Coronavirus pandemic. I was working on several projects that were a bit stagnant prior to the confinement and I would like to complete them.
Any plans for the studio?
Prior to the confinement, I completed the construction of the studio with the aim to establish it as a creative workshop in a rural environment. I hope that it will become a cultural alternative for visitors to Asturias who want to enjoy another leisure activity that puts them in contact with nature. Also on my wish list for this year and next is to organize workshops, fairs, and other events with creatives, but this will depend on how everything evolves. My immediate plan is to create new pieces for each collection and experiment with other materials.
How/Where can one purchase your pieces?
I have several points of sale, including the one-line shops of concept stores. I am currently in discussion with a Galician distributor. Those who are interested in my pieces can also send me direct messages on Instagram or email me. Crafts fairs and markets are the best places to see and touch my pieces. They are a way for me to be in direct contact with clients and view their reactions to new designs. I will soon open an online store on my website and I am currently developing a store on Facebook.
How have you used different social media platforms to your advantage?
Woodic is a brand born from Instagram, and it is my main social network. It has been an essential platform for getting my brand known, viewing the work of many other artisans and creators and for the general development of my collections. With Instagram, I can get an immediate response from people who follow me and value my work, contact them, show them pieces, send videos and even close a sale. I use it on a daily basis and it is an indispensable platform for my business.
How have you combined the creative aspects of your work with the business side?
When you decide to set up your brand as a freelancer and take charge of your project, you know that you are going to have to do a little bit of everything: coordinate production, keep stock and inventory, create pieces, promote them and keep up-to-date accounting. The creative part is fascinating, but for the business to be sustainable, it is important not to forget the commercial side. You also have to organize photos shoot, send emails and look for space in the stores that may attract future customers. I continue to learn how to market my pieces, and price them in line with costs, waste and production time.
Positive word of mouth is important as well as encounters at fairs with shop owners and ongoing communication with them in order to create relationships of trust with people who buy and sell my products.
What is your view of the artisan and art scene in Asturias, including collaborations, associations, promotion of it outside the region?
When you move from a city like Barcelona to a town with fewer than 100 inhabitants, you have to be aware that things can move a little more slowly than in a big city. However, living in a smaller population center provides me with the opportunity to meet people at events, get to know them and establish contacts much faster and with closer ties than is possible in a big city. You can propose events or be available for the first opportunity that arises, which is very enriching.

I have been residing in Asturias for little more than two years. I am almost a foreigner in my land, the land I left when I was 18 and returned to at 41. Little by little, I am participating in the Asturian crafts scene, becoming a member of the association of potters in Asturias and undertaking collaborations, such as my participation in Nexodos, at gallery 451, and my collaboration with Rural Paradise.
My dream project would be…
To be open to new materials. To combine wood, ceramics, brass, stone, concrete, and to merge disciplines, such as basketry and forged ironwork. My dream has come through with the completion of the construction of my studio in the rural, creative enclave of El Valle. I thus I feel no limits to dreaming: making new products, merging my creations with those of other designers or having my pieces on the tables of Michelin starred restaurants. Why not? I embrace any initiative that allows me to grow creatively.
How have you and your business fared during the COVID-19 pandemic?

We have gone through several phases. First, there was the incredulity of seeing how it could affect us, and seeing scheduled courses and initiatives delayed until who knows when. There was also the fear of not knowing if all the work done was lost without compensation and, of course, the loss of income from fairs and markets. There was an absolute decrease in sales, but little by little, thanks to social network, we began to feel hope and noticed that we were not forgotten and that the world was still out there.
We stopped shipping and postponed everything because we did not want to put our family at risk, or other families in the town and, even less, the delivery people. We did receive orders and were in contact with customers and friends who didn't miss the opportunity to comment on our photos, sign up for undated courses and send orders. Now that everything has started again, the support that we received during these months has reinforced our desire to get down to work, open the workshop, and plan for future activities and new collections.
What are your favourite destinations in your locale:
What better opportunity than this summer to invite everyone to get to know beautiful, green and unpolluted Asturias, which seems to have taken advantage of the confinement to shine. We have everything in this, our paradise: mountains, beaches, cosmopolitan and rural life, which successfully combines nature and good food, with cultural offerings that I want to be part of by offering visits to the workshop, as a cultural experience. Asturias is a perfect destination and one of the provinces in Spain that has been least affected by the COVID-19 infection.
Restaurants: My favorite restaurant is El Llar De Viri, two kilometres from the studio, in San Roman de Candamo. It was honoured with a Bibgourmand 2020 distinction by the Michelin guide. I love the dishes at Ronda 14 Avilés, and the impressive menu of Restaurante Yume, also in Aviles. I am looking forward to eating at Okaeri in Gijón.
Accommodation: Also near to my studio is El Hotel Casona Cuervo, which offers accommodation in a large Asturian house. I would definitely recommend Tierra del Agua in Caleao. Besides accommodation, the Casona de Entralgo offers incredible dining.

Art galleries: 451 in Oviedo and the Galería Bea Villamarín in Gijon

Shops: Betina Shop in Aviles which has a superb selection, Vintastic Shop in Gijón, which is very close to La Cósmica, where you will find the best of the best, and La Maleta de mi Abuelo, where you find the most amazing calligraphy products and posters.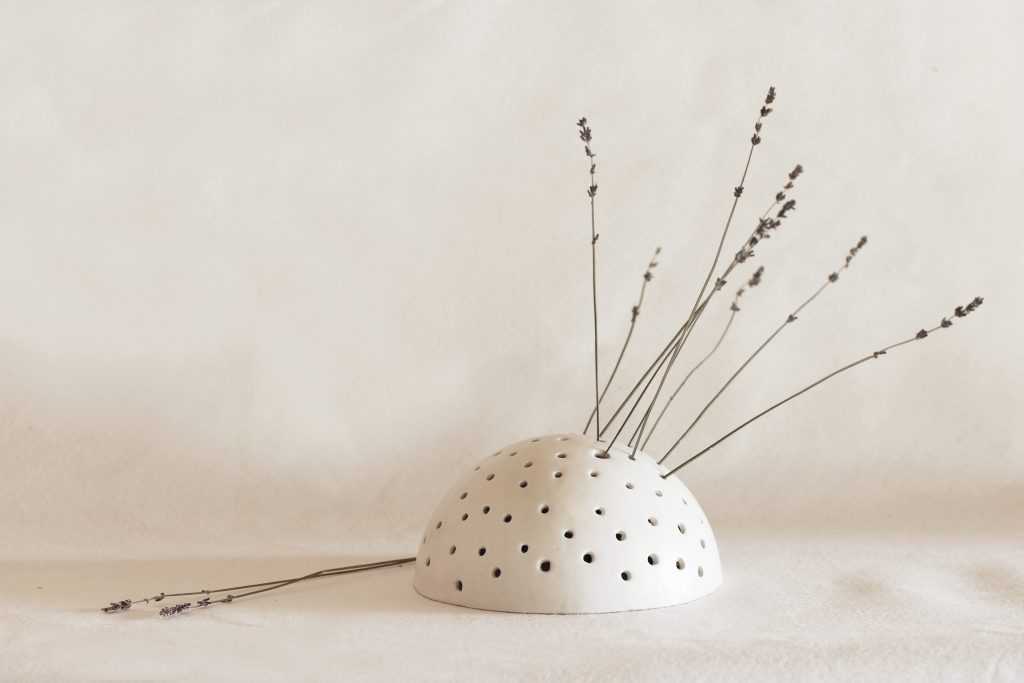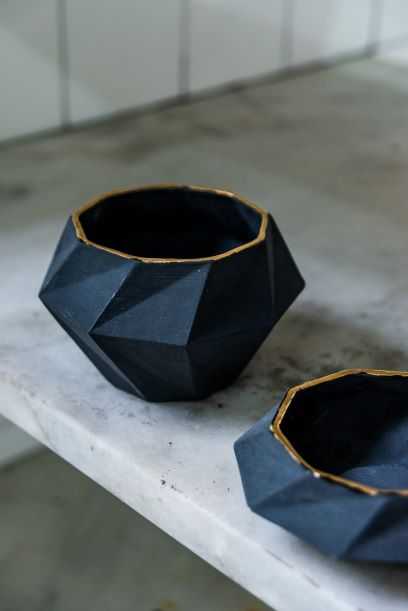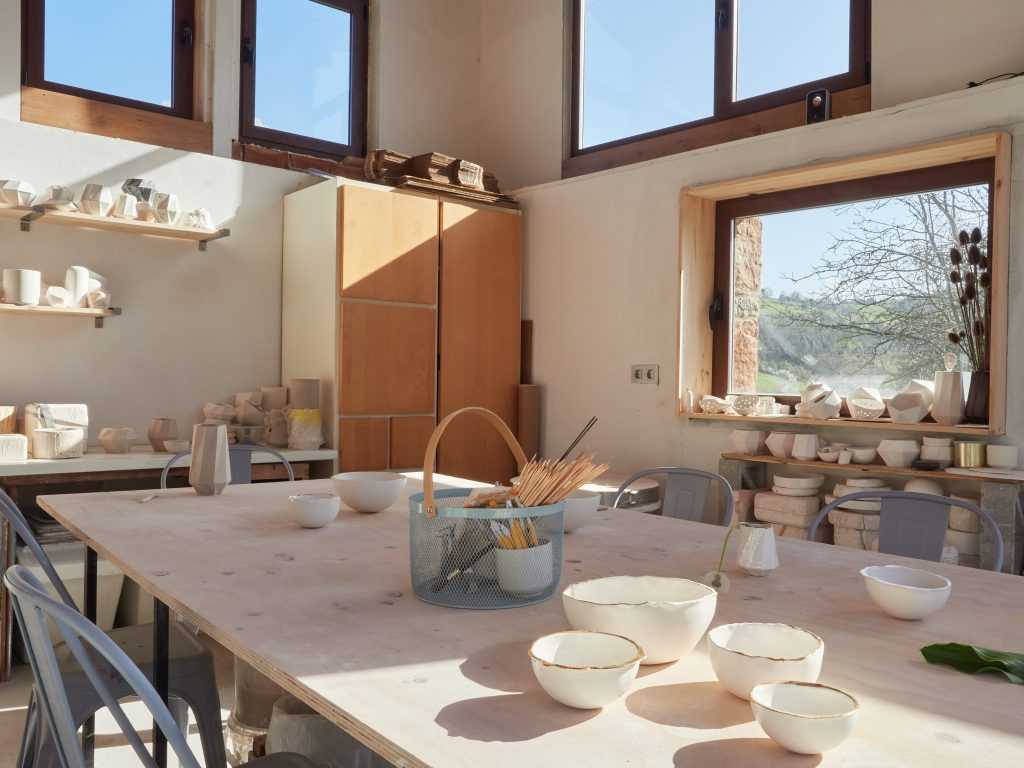 Images courtesy of Natalia Suarez, except as otherwise indicated.