Profile: Mediterranean Fusion: Exploring New Design Horizons from Valladolid
July 19, 2021
/
/
Comments Off

on Profile: Mediterranean Fusion: Exploring New Design Horizons from Valladolid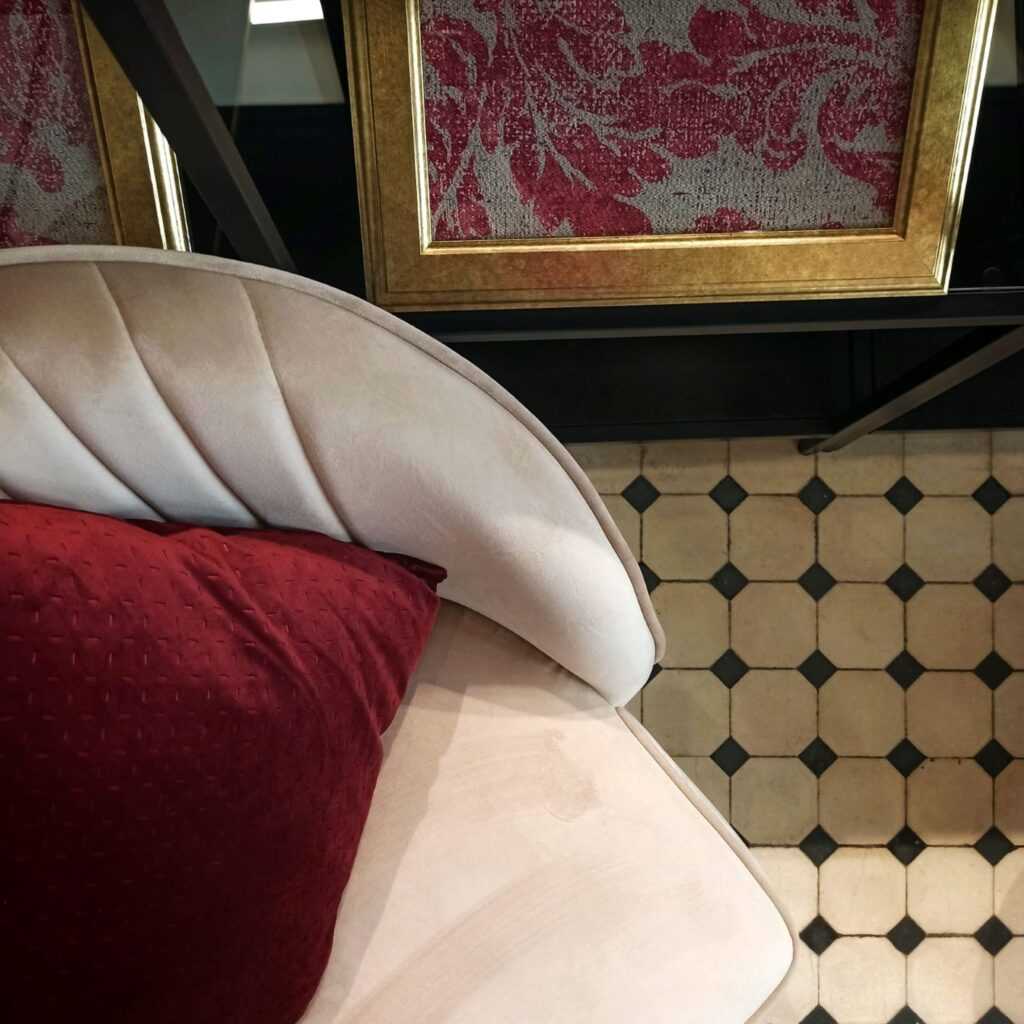 Based in Valladolid, the capital of the Spanish autonomous community of Castile and León, Mediterranean Fusion opened six years ago. The studio has since developed into a multidisciplinary team working on commercial and residential projects, with specialists in architecture, interior design, product design, industrial engineering, and 3D visualization.
Partner Miriam San Juan Fernandez studied technical architecture and later earned postgraduate degrees in interior design and architecture, industrial design, and product development. She has made regular television appearances discussing the studio's work. I first saw her speaking about the Mercè Restaurant project in Valladolid while viewing a YouTube video of a program on CyLTV, the main privately-owned regional channel in the community of Castilla and Leon. I was dazzled and wondered why mainstream media in Spain rarely feature studios outside Madrid, Barcelona, Valencia, and other large urban areas.
What is evident from a view of the projects on the website are warm, colourful spaces that nod to tradition but aren't beholden to it. There is a variety of material and colour palettes. The colour palette is particularly inspired; vibrant hues for the Paparazzo footwear store and the Malafacha restaurant, restrained and ethereal for the Jiapan restaurant. Many of the projects seamlessly integrate custom furniture and architectural pieces, which elevate the spaces to singular designs.
After viewing the video, I immediately called the designer to request an interview, a move that I had never made to contact a designer or artisan. Fortunately, she consented and provided insights into the studio's trajectory, inspirations, and the must-see sites in Castile and León.
Custom Designs
Atelier Jairo Barthe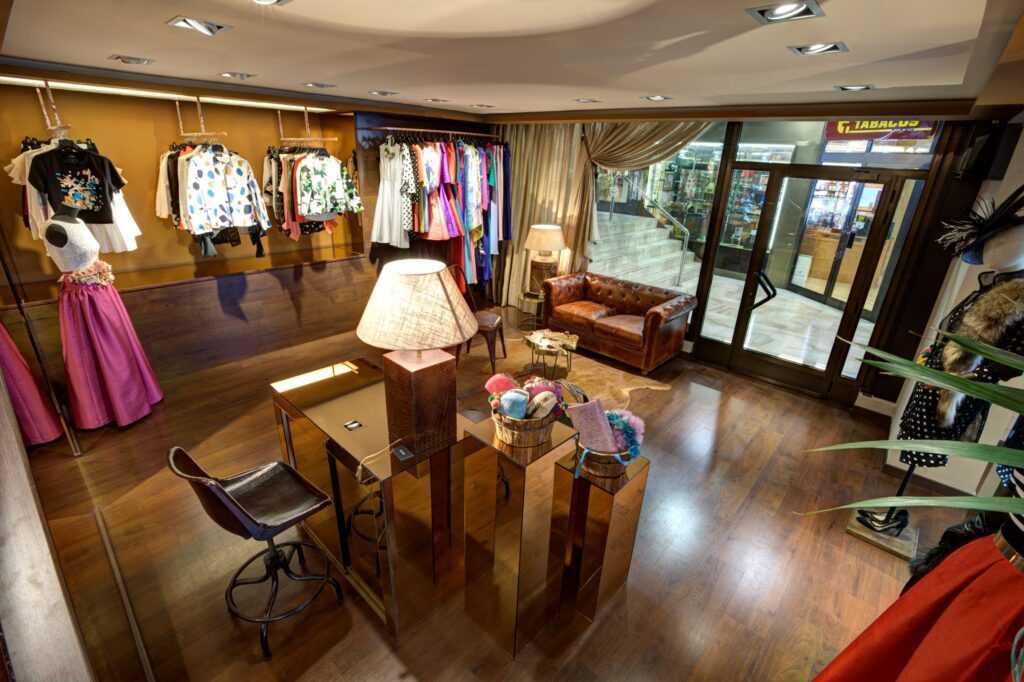 The concept was to create a sophisticated, friendly, and homey atmosphere. The custom faceted glass counter is in the center of Atelier Jairo Barthe. As Miriam explains, "It is both sophisticated and intimate. It had to transmit elegance and movement with its pink reflections and be functional as well. It had to be a special object because it was going to be the focus of the customers' attention when entering the atelier."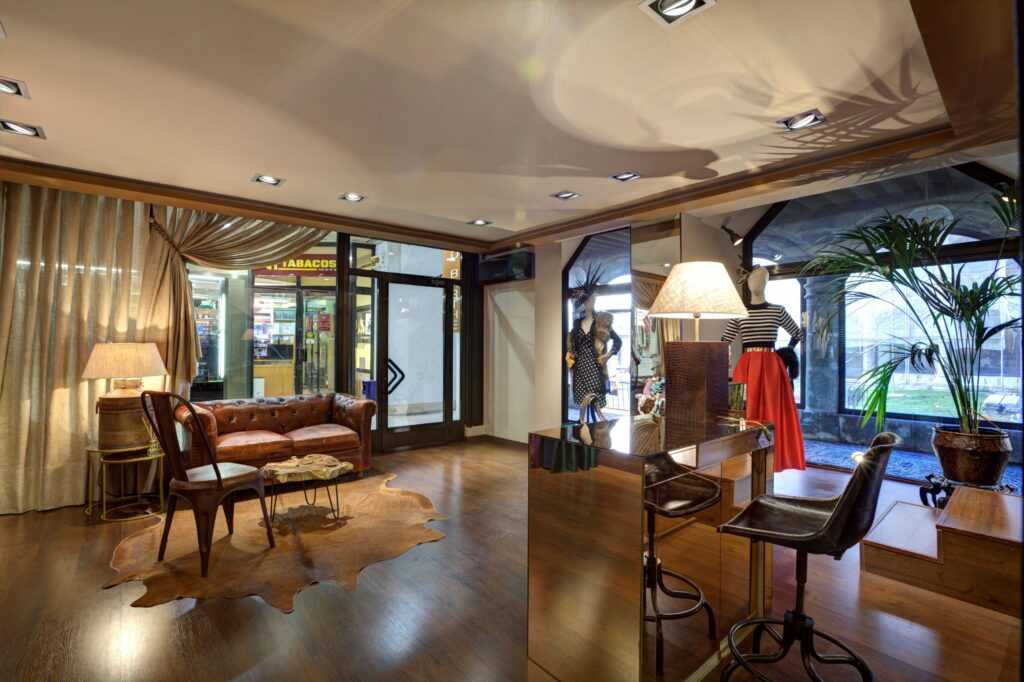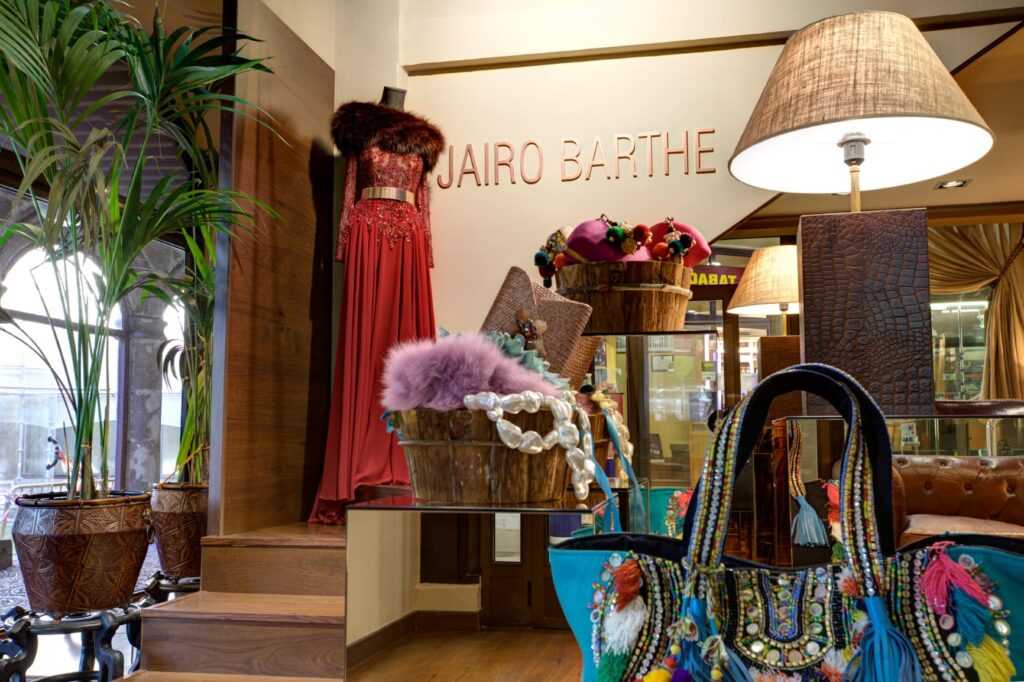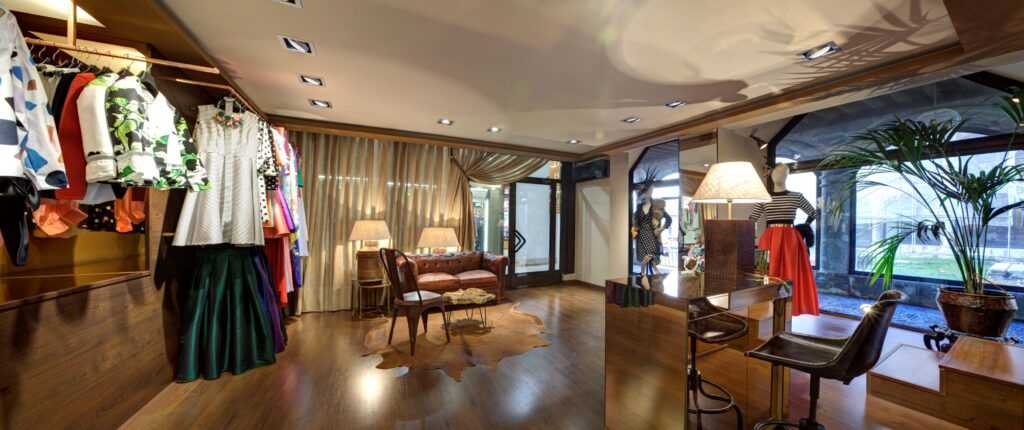 This residential project involved the renovation of the dome in a historic building and its integration in the living space below. The studio created a floating staircase to unify the rooms. "This stair was designed as a sculptural art piece, paying special attention to its visual lightness. The inspiration was the book Requiem for the Staircase by Oscar Tusquets Blanca. We conceived this piece to standout, to be the protagonist of the entire space. As Oscar Tusquets Blanca says, 'an ingenious device in danger of extinction, a victim of the proliferation of regulations and ordinances…'."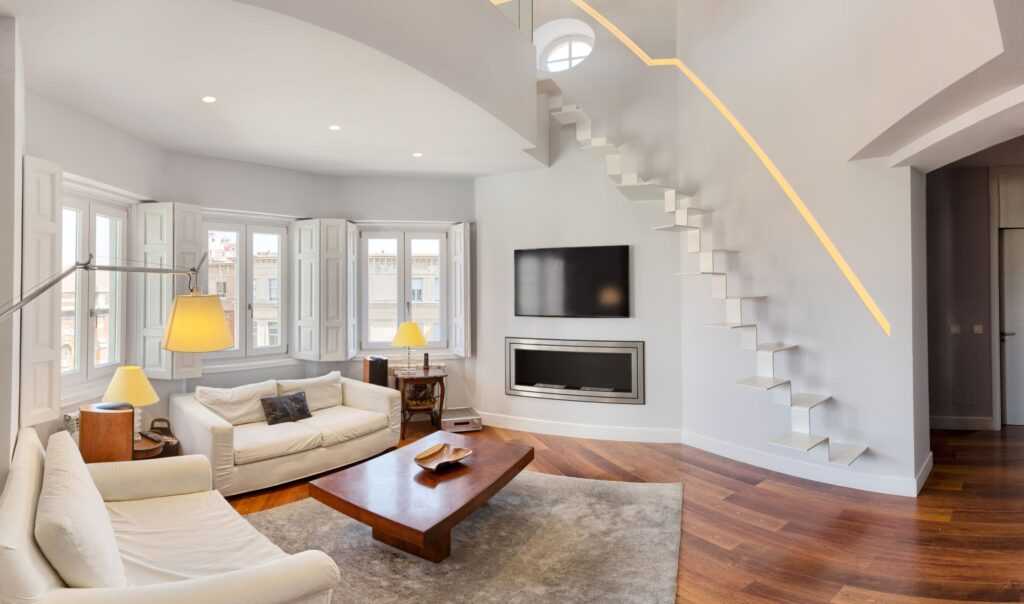 The Spaces
Zapatería Paparazzo (Valladolid, 2020)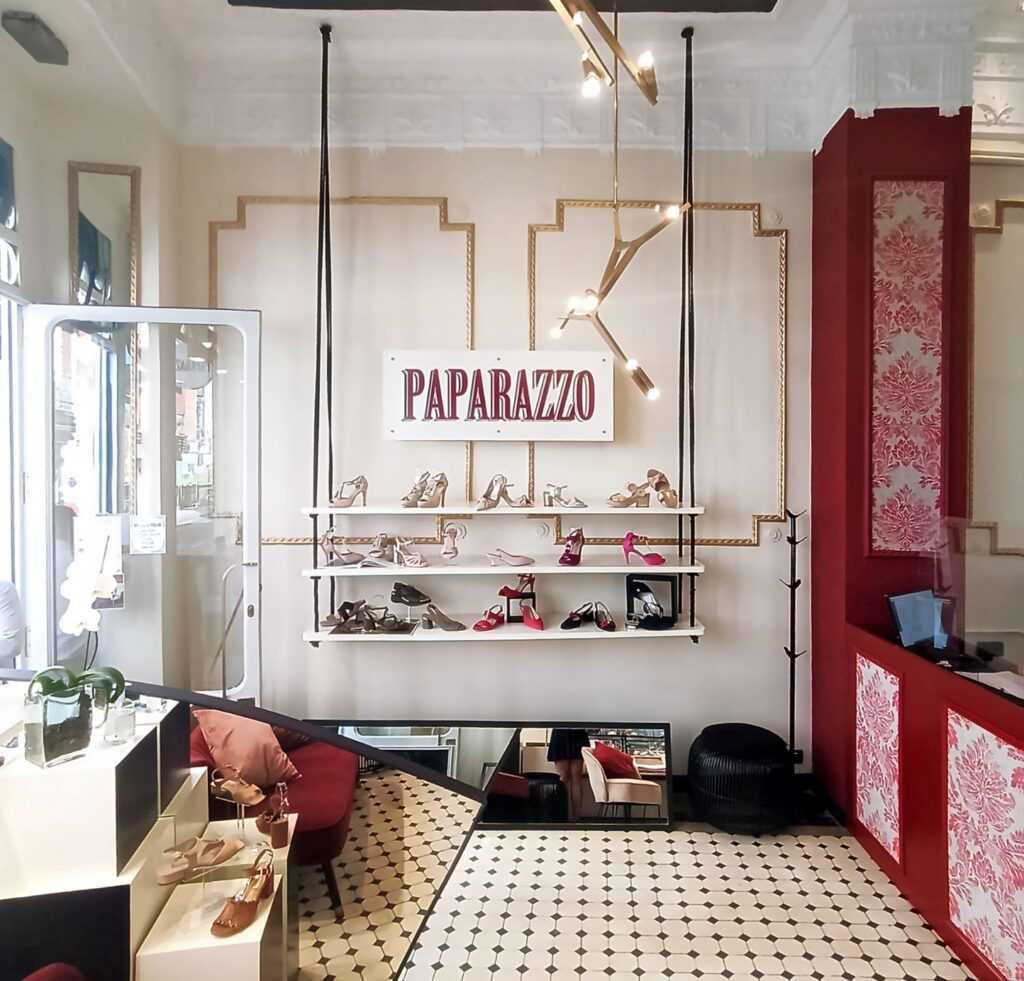 Zapatería Paparazzo is a shop in the heart of Valladolid that sells avant-garde footwear and accessories. The studio retained the original interior architecture, including the high ceilings and floors, but injected design elements that make it fresh and current. The deep maroon on the drywall and patterned wallpaper are juxtaposed with gold metal accents.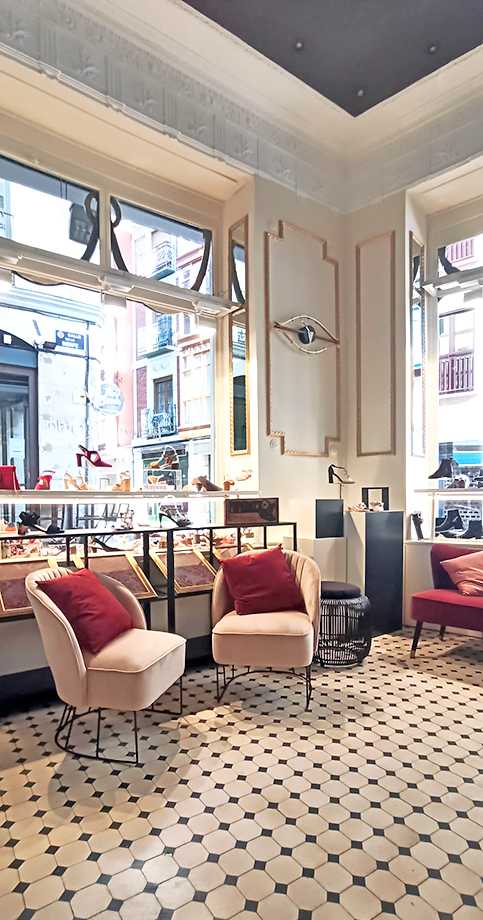 A curated selection of footwear are displayed as if museum pieces.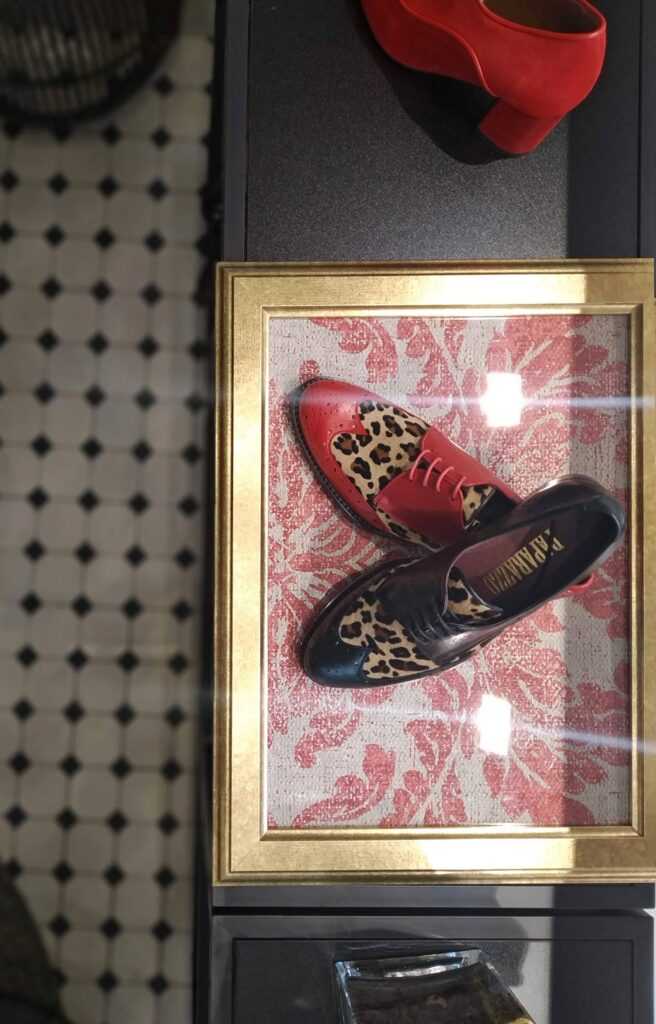 Mercè Restaurant (Valladolid, 2020)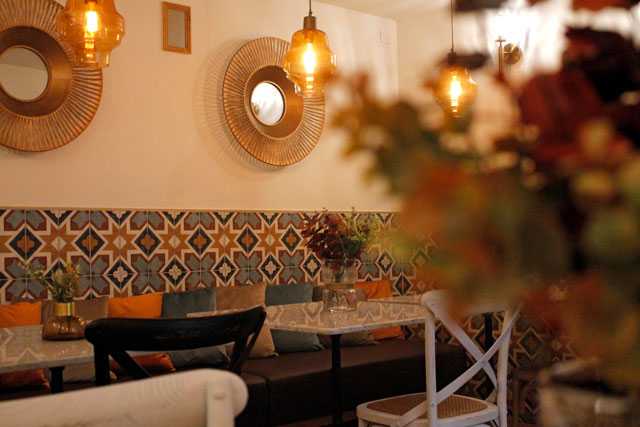 Distinction, tradition, avant-garde are the themes for the gastronomy of this restaurant in Valladolid that reinvents the traditional. Guests at the Mercè select from classic Spanish dishes and those with a touch of the exotic, all made from quality local products.
The gastronomy drives the design aesthetics. The furniture, flooring, and decor are reminiscent of traditional village homes but are combined with art deco, modernist, industrial, and contemporary pieces to give this restaurant its singularity. Wood and fiber are the materials that connect the various areas.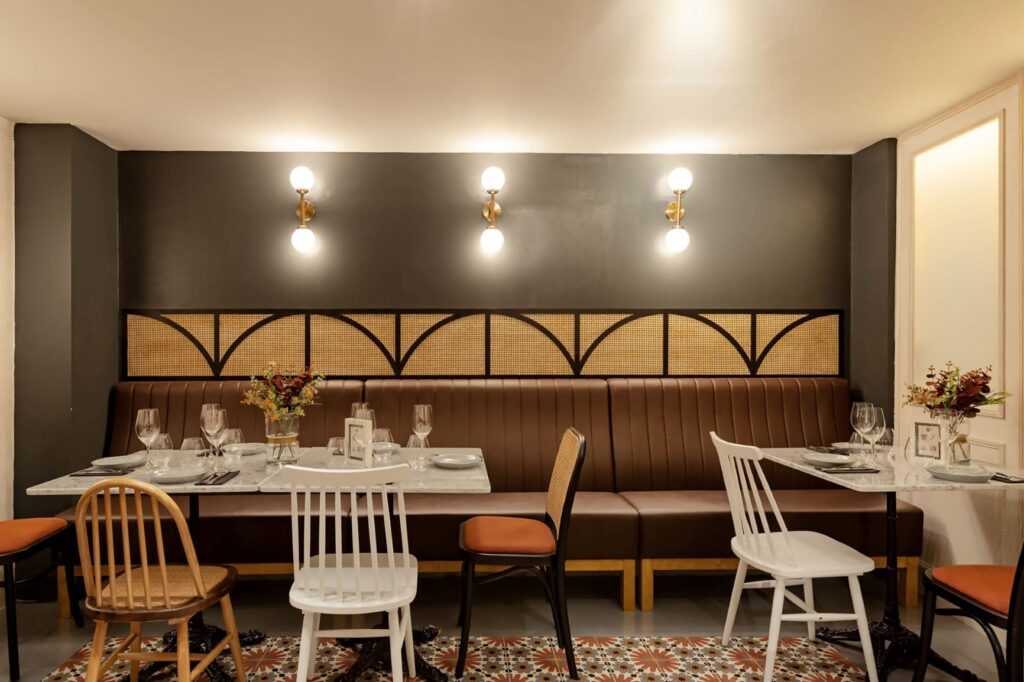 The caned chairs and marble tables recall those found in traditional homes. The ochre, grey and terra cotta wall tiles combine perfectly with the cushions and mirrors.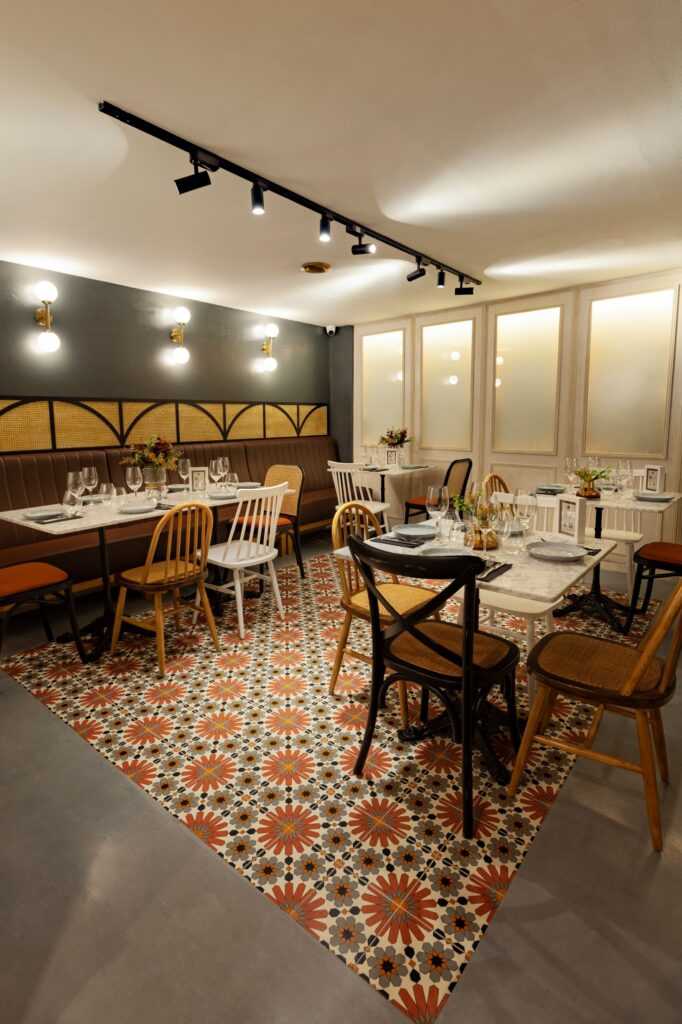 Guests cozy up to the striking bar area for informal dining. The focal point is the illuminated plasterwork on the custom bar that references materials used on the roofs of traditional village homes. The striking plant holders with their caning also recall traditional crafts. The pendant laps add an industrial touch.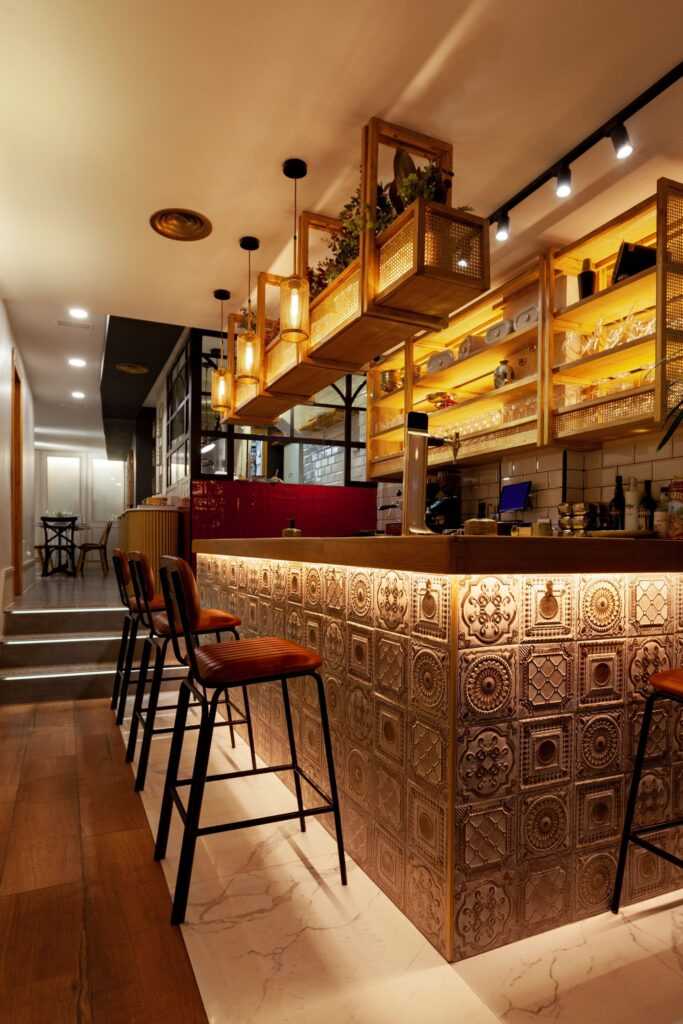 The entrance area mixes traditional and art deco pieces.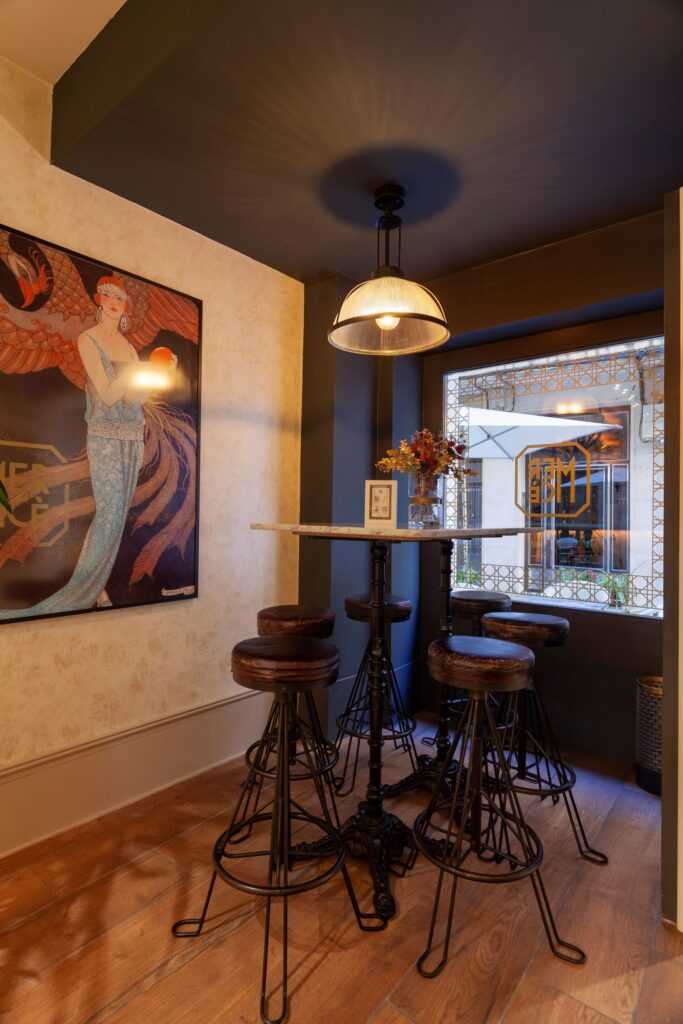 Jiapan Restaurant (Valladolid, 2018)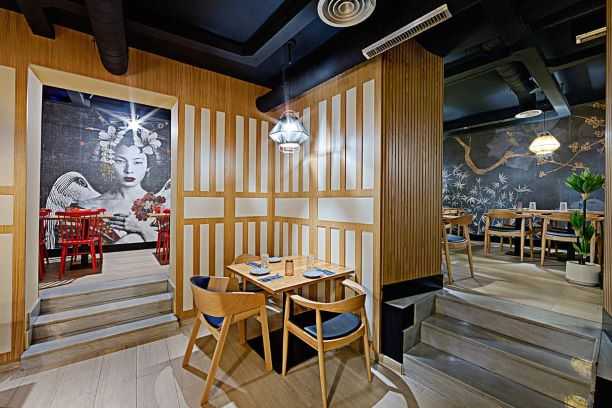 The studio created an immersive experience for guests at the Jiapan restaurant. As the designer explains, "With the interior design of this Japanese restaurant, we wanted to transport its guests to Omoide Yokocho, a narrow alley in Tokyo full of bars and yakitori food bars. Thus, as you move through it, you will pass different exterior and interior environments that transport you to the other side of the world, full of carefully chosen details."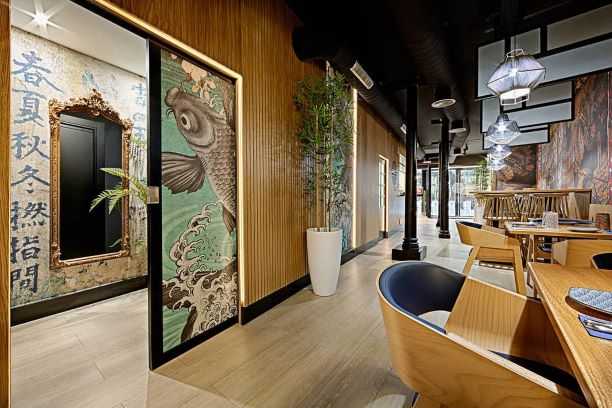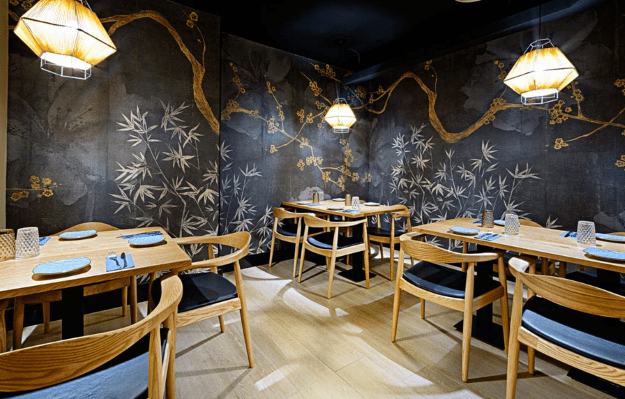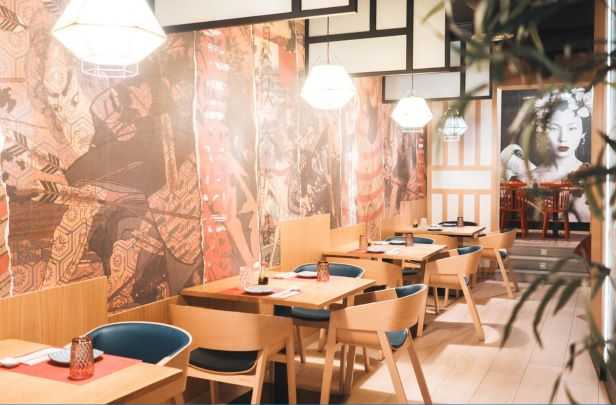 Malafacha Restaurant (Valladolid, 2017)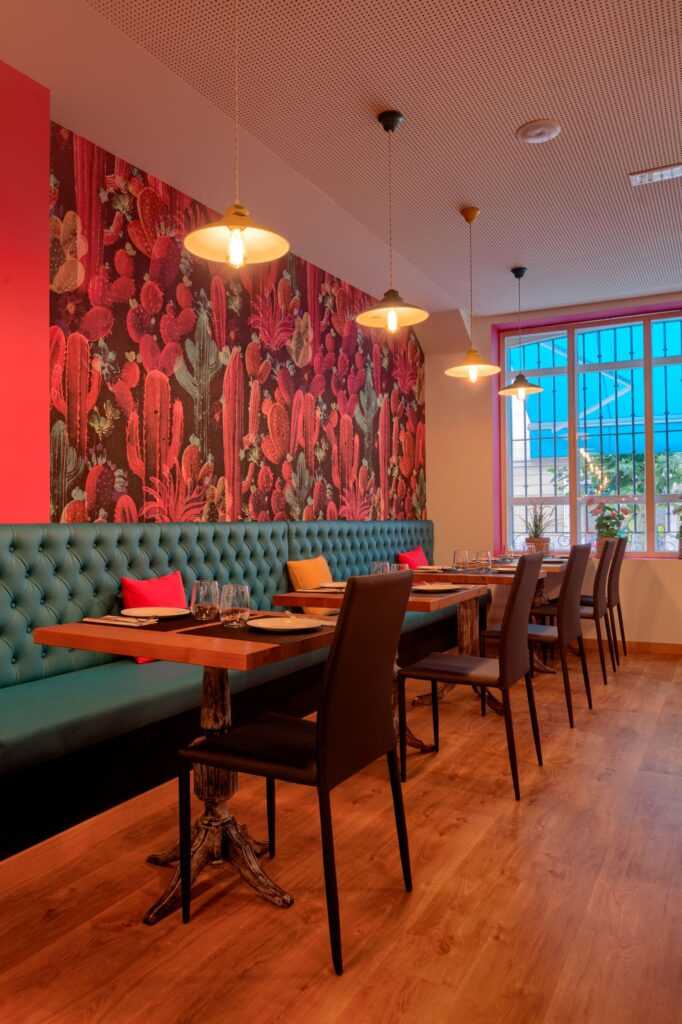 The brief was to design a vibrant interior for this eatery that serves Mexican cuisine. For the Malafacha, the studio introduced a combination of primary colors as intense as the food while avoiding a hackneyed green, white, and red chromatic palette. The Cacti and Catrinas imagery evoke a canteen in Mexico. Accent pieces are ornamentation and iconography that one associates with Mexico. The hand-painted wallpaper, lights, mirrors, and wood create an environment full of energy and contrast.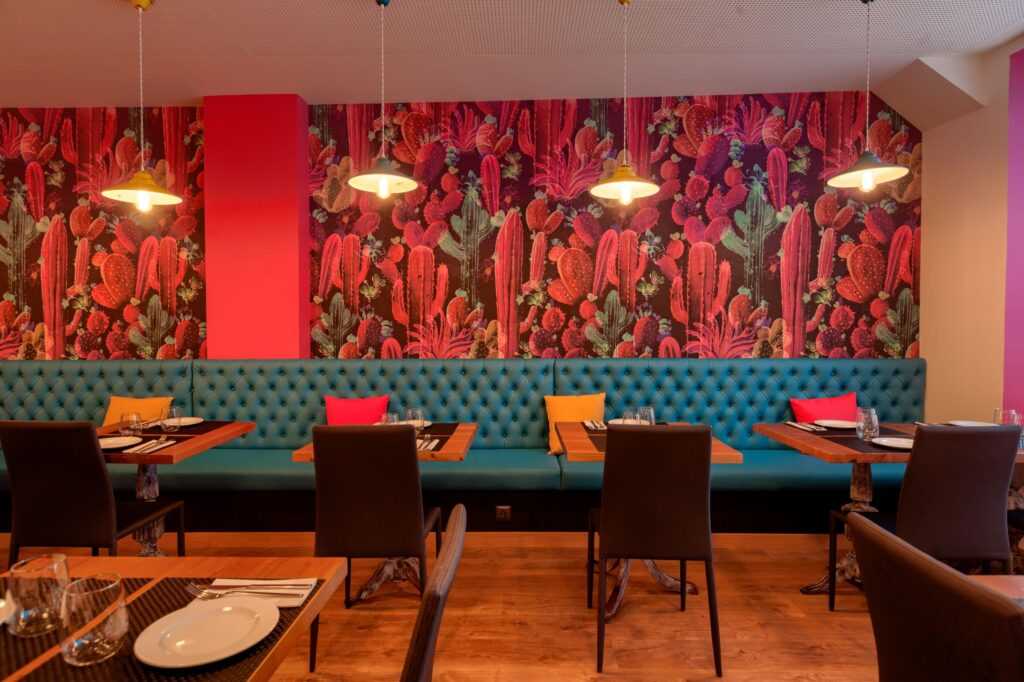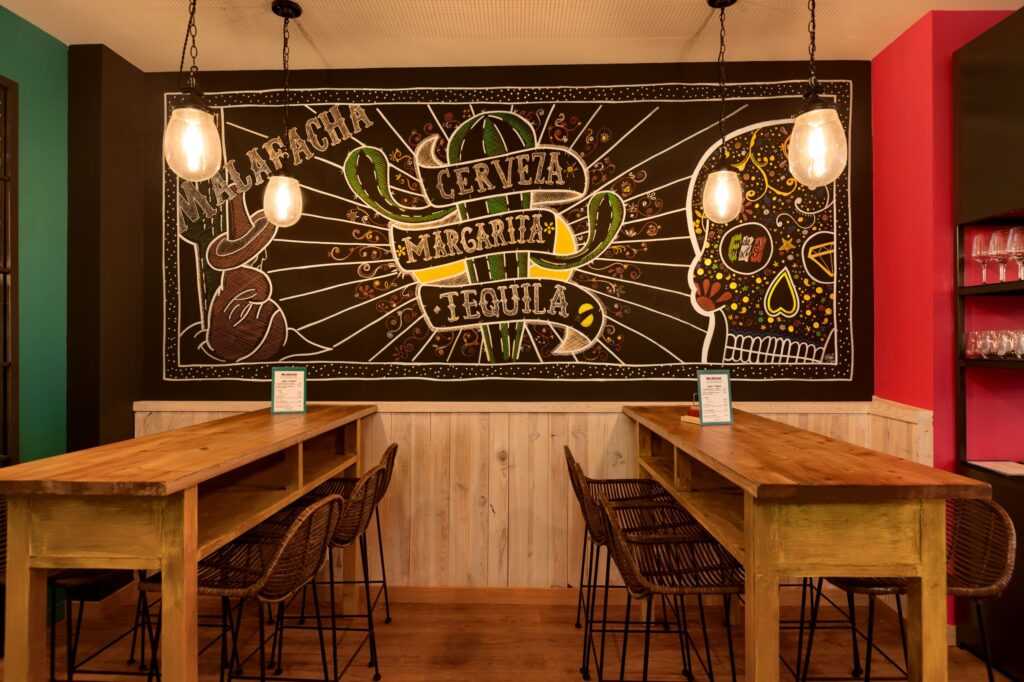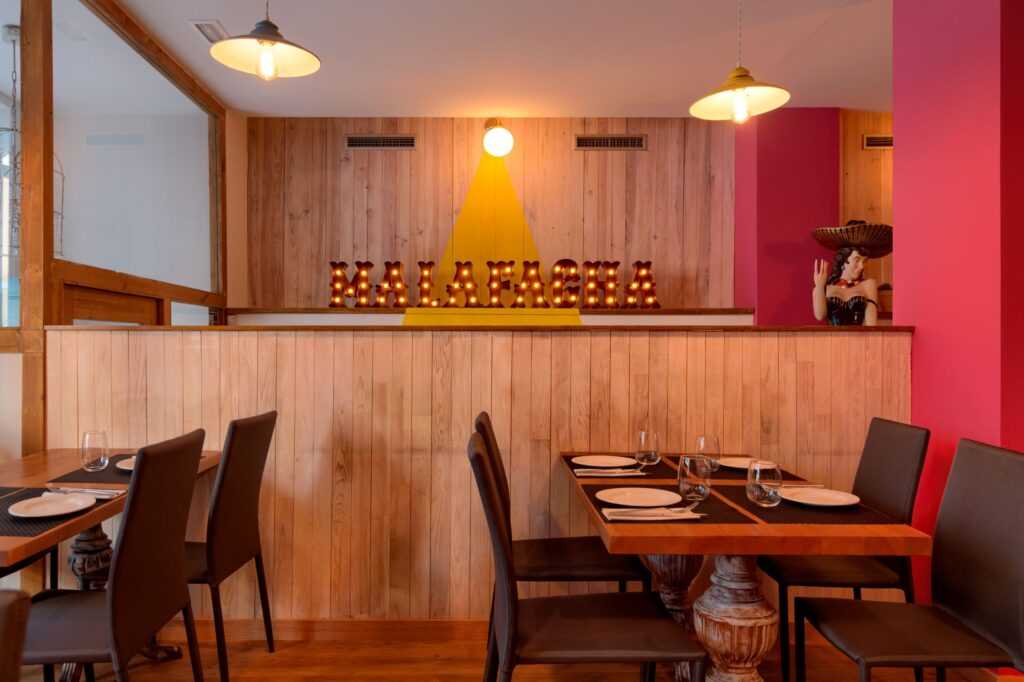 How have you approached building a client base thus far? Was it a slow process?
Building a client portfolio is always a slow proces, but we have become well known in our city. Our clients have placed trust in us and have always expressed satisfaction.
What have been the highlights for the studio thus far?
All our projects have been significant to a greater or lesser extent. We are very proud of all of them, whether large or small. We have learned a lot from all of them, which helps us evolve and continue to give the best of ourselves.
Do you think design studios now have to work at the intersection of interior and industrial design?
It is always interesting to combine different points of view and knowledge. We have been doing so for years. If we are to offer the highest quality services, it is essential to do so from a broad knowledge base of all the areas.
What are your inspirations or influences?
We love the work of diverse studios, both national and international: Norm Architects, Guille García – Hoz, Francesc Rife, Madrid in Love, Studio McGee. They have very different styles, but all have something interesting that inspires us. We never stop learning.
What is your signature?
The variety of textures we use and wallpaper on vertical surfaces impart a unique character to our spaces. We also like to use dark colours and different painting techniques to go beyond the conventional.
Does the studio's design aesthetic or process represent a Spanish, regional or local style or look or none at all?
Our work does not focus on a regional or local style, but we like to use natural and traditional materials from the country. We are committed to using vintage pieces and noble materials that we often recover and rehabilitate to create unique environments.
What is your view of how Spanish artisan traditions or craftsmanship can be part of design processes for Spanish designers?
In many of our projects, we draw on the work of artisans to create furniture or bespoke pieces: cabinetmakers, forgers, glass artisans. The unique look of the objects that they create make these pieces art in their own right.
Your interior design work has been a mix of residential and commercial design. Is this a choice?
Each type of work (residential or commercial) is a different challenge, with different needs. Because our work is very creative, we like to explore new horizons. We have a lot of fun doing it, which would not be possible if our projects were not so varied.
How do you view the work of the design media in Spain and their promotion of designers outside large areas, such as Madrid, Barcelona, and Valencia?
There are noteworthy designers all over the country. Unfortunately, the focus is often on the big cities, and the work that is undertaken in other areas is forgotten.
Does the studio integrate any environmental considerations into its design processes?
We always try to do so. We try to recycle materials. For example, objects that are not useful for a specific project, may function perfectly in another. We try to create the least possible waste in every project.
How has social media impacted your reach to the public, potential clients, and the media?
Many of our clients have met us through the networks. Many clients know us from having passed in front of our studio. It is a street-level space with large windows and differs from a conventional office space. It attracts a lot of attention from the street and leaves no one indifferent. Clients imagine that we can create any environment they dream of beyond established parameters.
Any recent events or planned projects about which you are excited?
We have several exciting pending projects. Although we can't provide too many details, one relates to one of the most prestigious wine cellars. Another is a unique shop.
"My dream design project would be …."
We haven't done large hotel projects, so we're keen to get into that sector and try new things.
Destinations: Valladolid
Restaurants: In Valladolid, we have a rich gastronomic culture. The city is full of restaurants with incredible quality: Mercè, Trigo, Villa Paramesa, Martín Quiroga (Calle San Ignacio, 17, 47003 Valladolid, Spain). The list is very long, and all of them are a must.
Museums, art galleries:
The Patio Herreriano Museum. The National Sculpture Museum of Valladolid (Museo Nacional de Escultura) has jewels of polychrome art. We also recommend touring the province and not just the city in search of all its treasures of religious architecture and, of course, all the castles that populate these territories, unknown to many Spaniards. Urueña, Medina del Campo, Simancas, Olmedo, Peñafiel, Tordesillas. These towns are full of history, and we love to get lost in their corners.
Images courtesy of Estudio Mediterranean Fusion.