5 Made in Spain Blankets to Snuggle Up In
I love blankets. Besides the obvious function of keeping one warm, they add depth to a decor scheme with colour, materiality, and pattern. They make great wedding, birthday, or house-warming gifts. Vibrant and subtle colour palettes. Traditional and contemporary motifs. Merino. Mohair. Cashmere. Alpaca. These are descriptions of the blankets from five makers that I have selected that exemplify the best of Spain's textile tradition. Choose a comfortable chair, a book, a tray with a hot drink and biscuits, a stool to place it on, and wrap yourself in a beautiful blanket. What more does one need to create the perfect cozy nook at home?
Mantas de Grazalema: The Warmth of Tradition
Photo courtesy of Grazamela.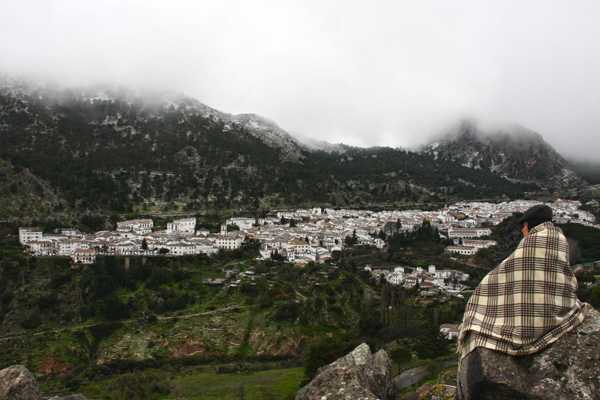 Mantas de Grazalema is a company that has utilized the skills of artisans in Grazalema, an area in the Andalusian province of Cadiz with a wool-making tradition that goes back to at least the 18th century. Grazalema is said to be the wettest town in Spain. This climatic condition is the secret of its wool, one that is cleaner and more thoroughly washed than any other. The Endrinal Check travel blanket is one of the company's most emblematic designs. The origins of the design are unknown but go back over 100 years ago. The handmade blanket with hand-rolled fringes is 100% merino wool, made of natural colours, neither dyed nor tinted.
Ábbatte: Subtle Palette, Luxe Material
Photos courtesy of Ábbatte.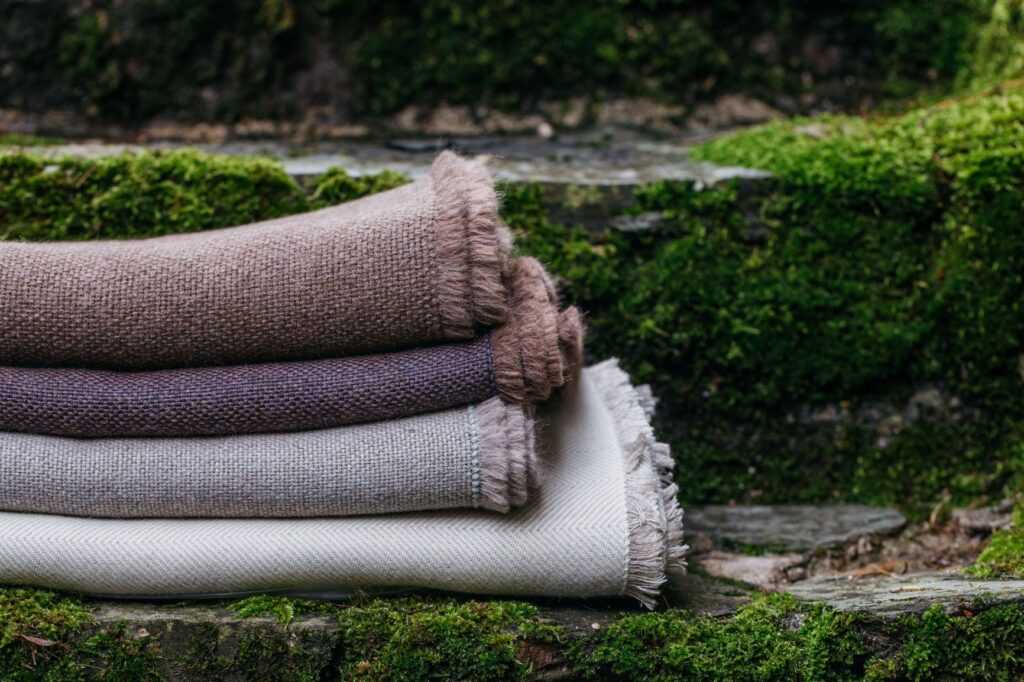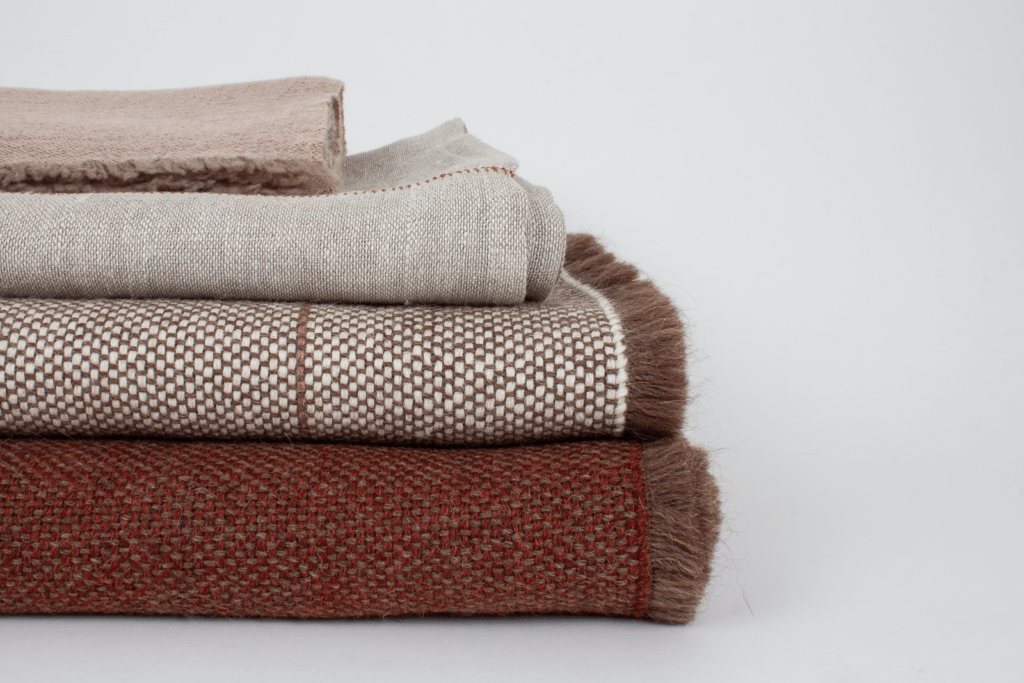 Ábbatte creates exclusive textile pieces with the finest silk, alpaca, cashmere, wool, and linen yarns sourced globally. Elena Goded Rambaud and her daughter, Camila Lanzas Goded, launched the company in 2013, after careers as a university professor and an art historian, respectively. They committed to promoting traditional weaving techniques and timeless design by utilizing the skills of local textile artisans and passing on this knowledge. The name Ábbatte derives from "abbey" (monastery). All of its products are handmade on the grounds of the 13th-century Cistercian monastery, Santa María de la Sierra, in Segovia. Of 100% alpaca, the Tabby blanket is the company's most emblematic design. Subtle tonality, the contemporary look of the weave pattern, and the distinctive fringe are hallmarks of this collection.
Read my interview with this leading maker in Profile: Ábbatte: Fine Contemporary Spanish Craftsmanship.
Ábbatte is a founding member of SACo, the association of contemporary artisans in Spain whose mission is to showcase creations by artisans and designers from Spain who work in various disciplines. Link to SACo: Showcasing Contemporary Spanish Artisanship to read more about this association.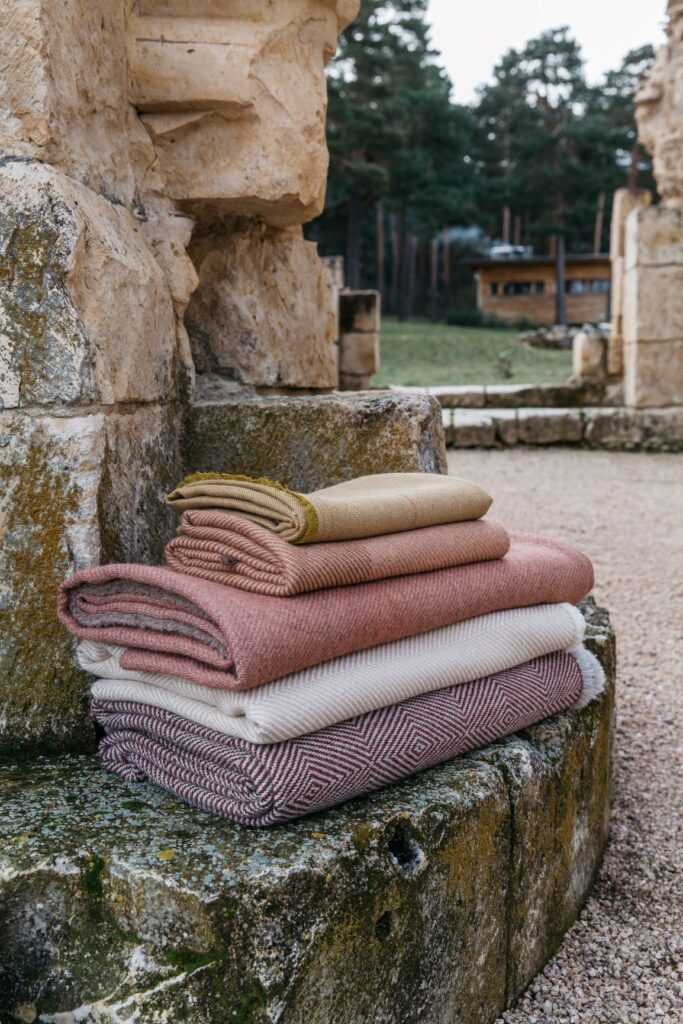 Teixidors: Earth Tone Beauties
Photos courtesy of Teoxdors.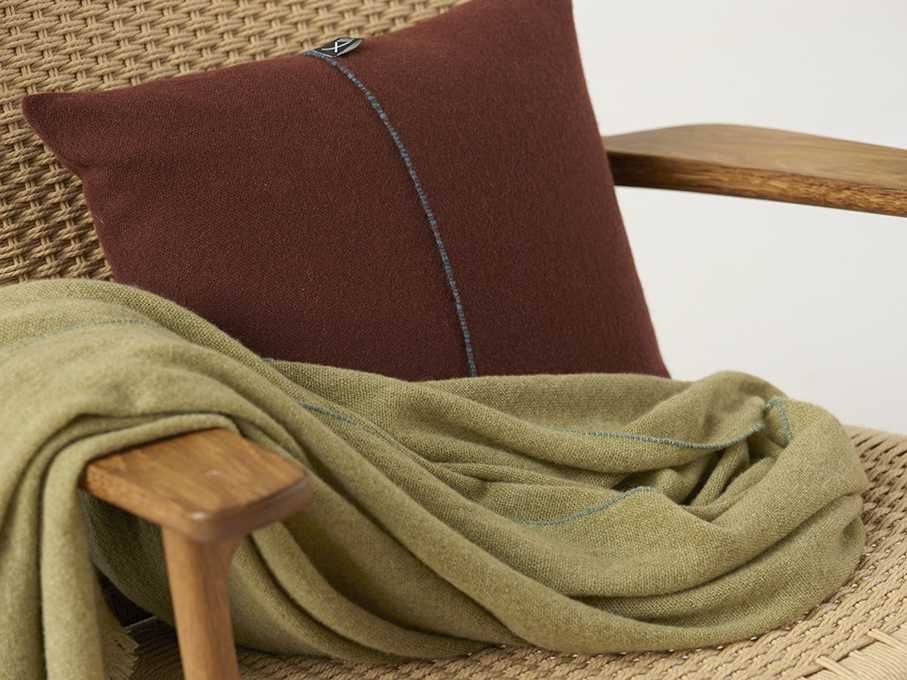 Located in Terrassa, a city in the east-central region of Catalonia, Spain, contemporary textile maker Teixidors uses expert weavers who handloom its textiles on wooden looms. Marta and Juan founded the company in 1983 as a social endeavor to employ people with intellectual disabilities. The Jazz collection is the most iconic design, and its colour profile is one of the company's hallmarks, for which each piece is a unique work of art. Suitable for all seasons, the blankets are 100% Italian cashmere. The nine shades mirror the palette in our environment: the luminosity of green, the most suggestive turquoise, and intense reddish colour. Creative director Nuria Bitria defines the earth tones as "a walk from light and luminous greens to earthy and dense reds, after passing through a deep and evocative turquoise."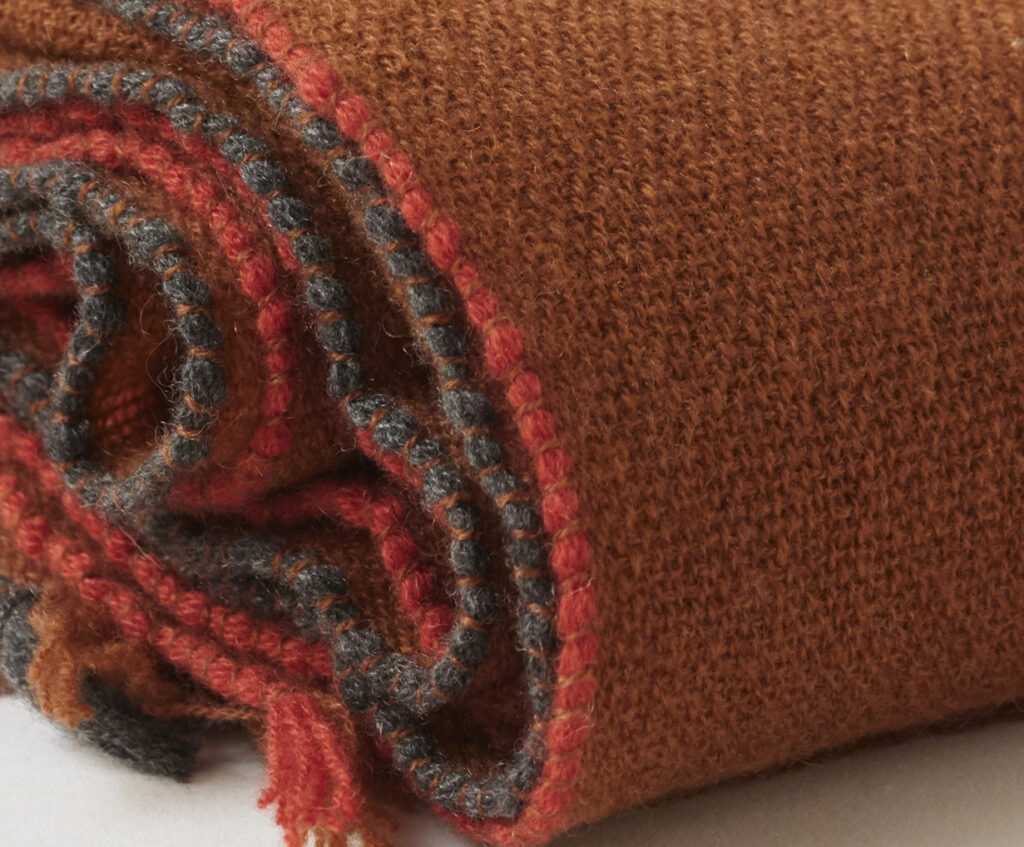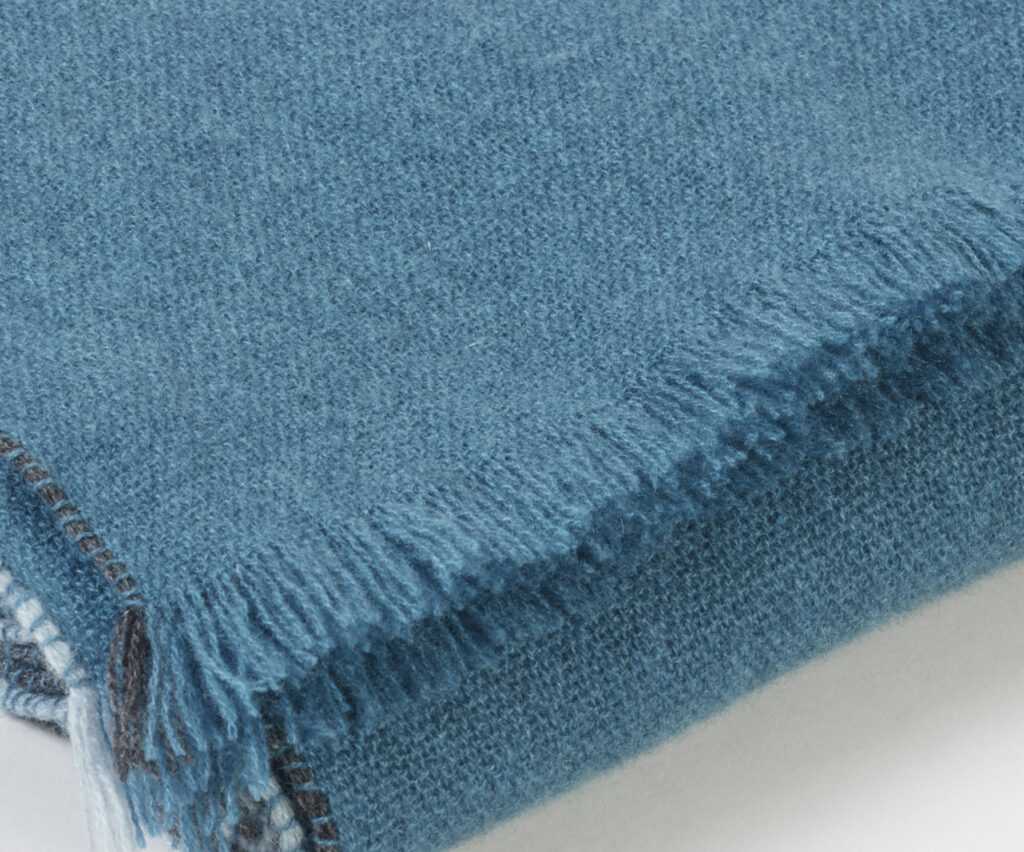 Mantas Ezcaray: Colour Field
Photos courtesy of Mantas Ezcaray.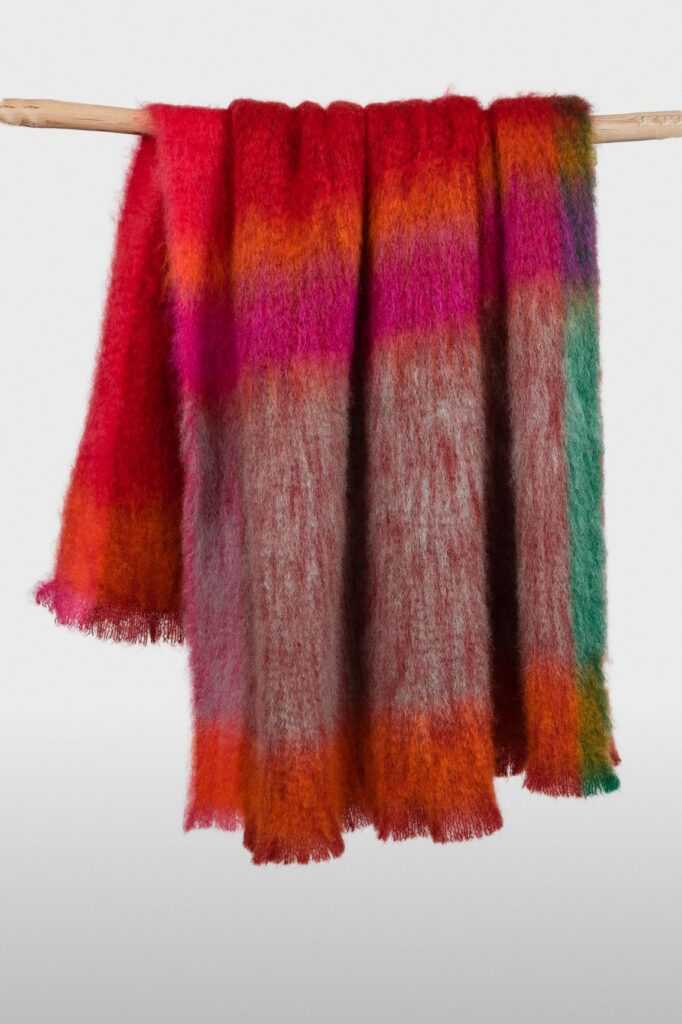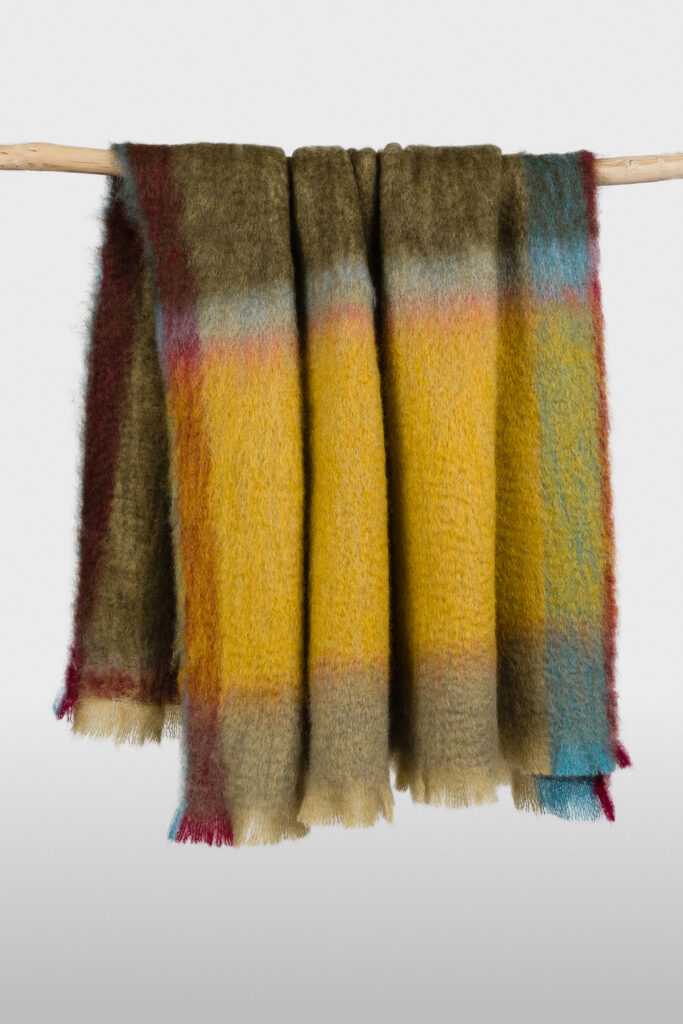 Ezcaray is a town in the southwest of the La Rioja community of Spain. In the High Valley of the Oja river and surrounded by mountains, forests, and abundant water, it has been a reference of the textile industry for centuries. In 1930, Cecilio Valgañón transformed the production of cloths into handlooms for the manufacture of scarves, shawls, and blankets. Thus began the story of Mantas Ezcaray. The Rozco collection takes its inspiration from the vibrant colours in the works of Mark Rothko, known as "Color Field painting." These blankets are 73% mohair, 24% wool, and 3% polyamide.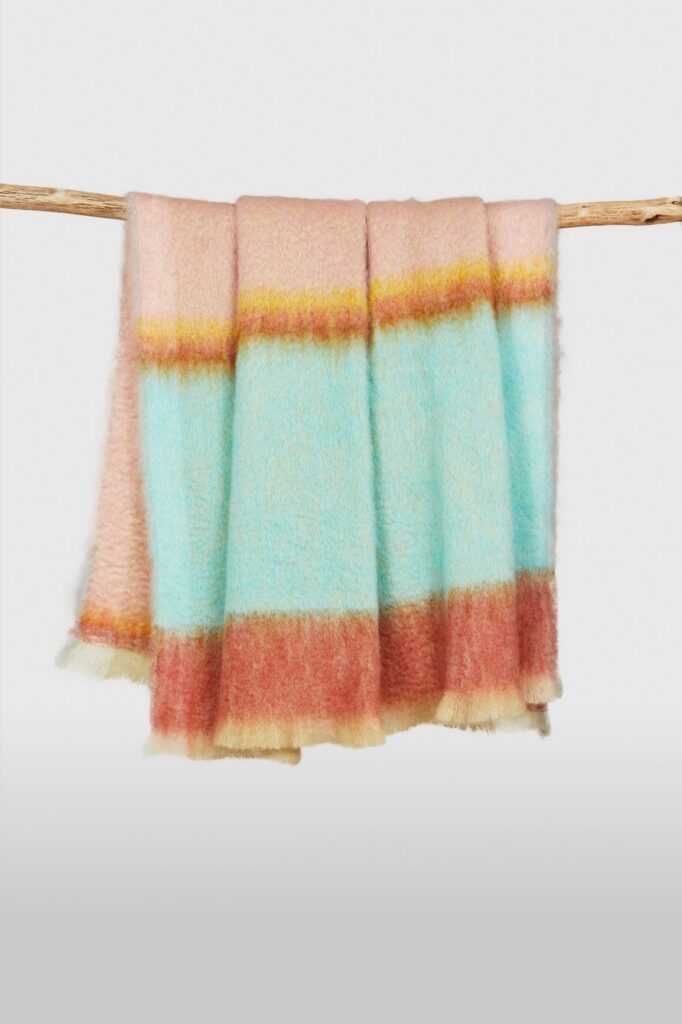 Anna Champeney: Softening the Urban Experience
Photos by Lluis Grau.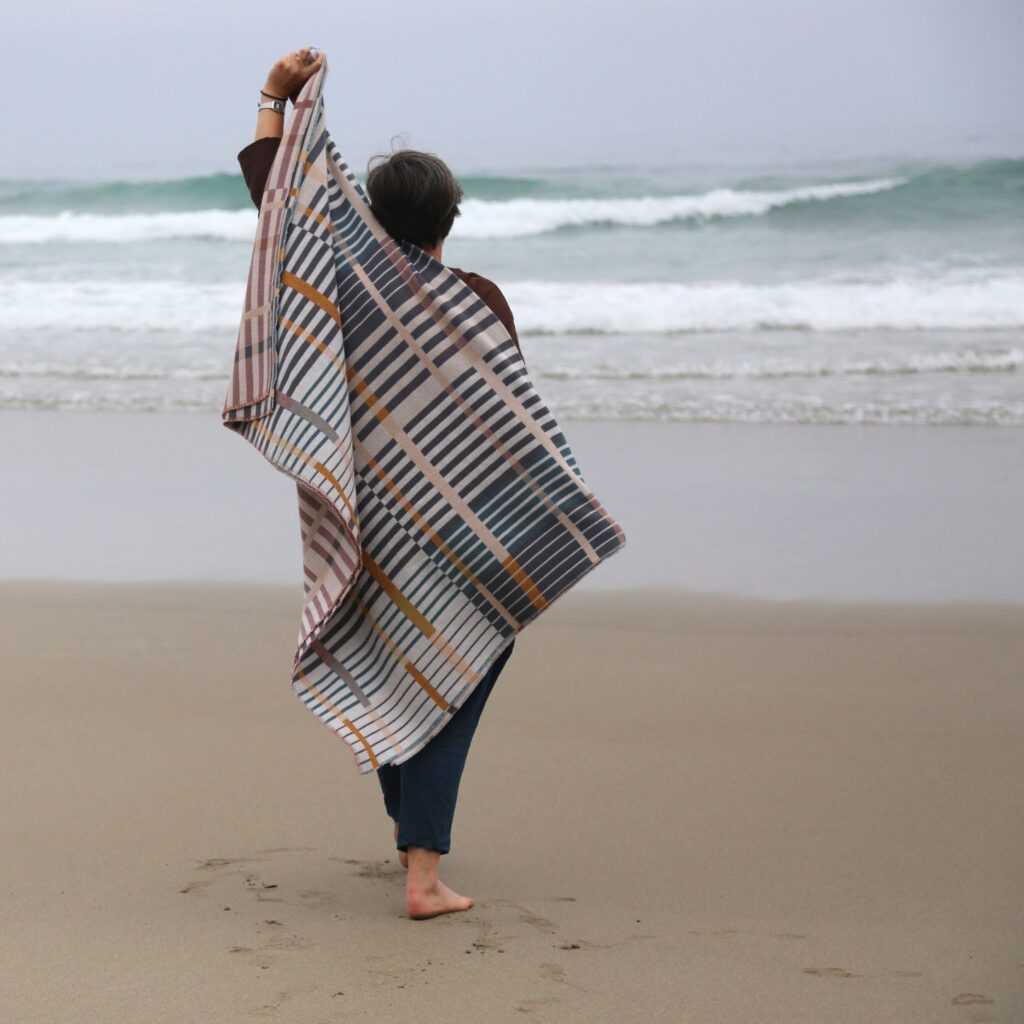 The Aquamar Optic Stripe throw by Anna Champeney is part of a collection inspired by urban living – softening the urban experience with natural textiles. The motif recalls the constant energy and movement of city life, in which pedestrians and cars interweave their lives. The inspiration for the colour palettes of the throws in the entire Anna Champeney Soft Urban range is rural Galicia, where Anna designed and prototyped the blankets by handloom. Cathedral Beach, Anna´s favourite beach in Galicia, the colours of the Cantabrian Sea, and the rose grey lichens on the rocks are all present in the subtle palette.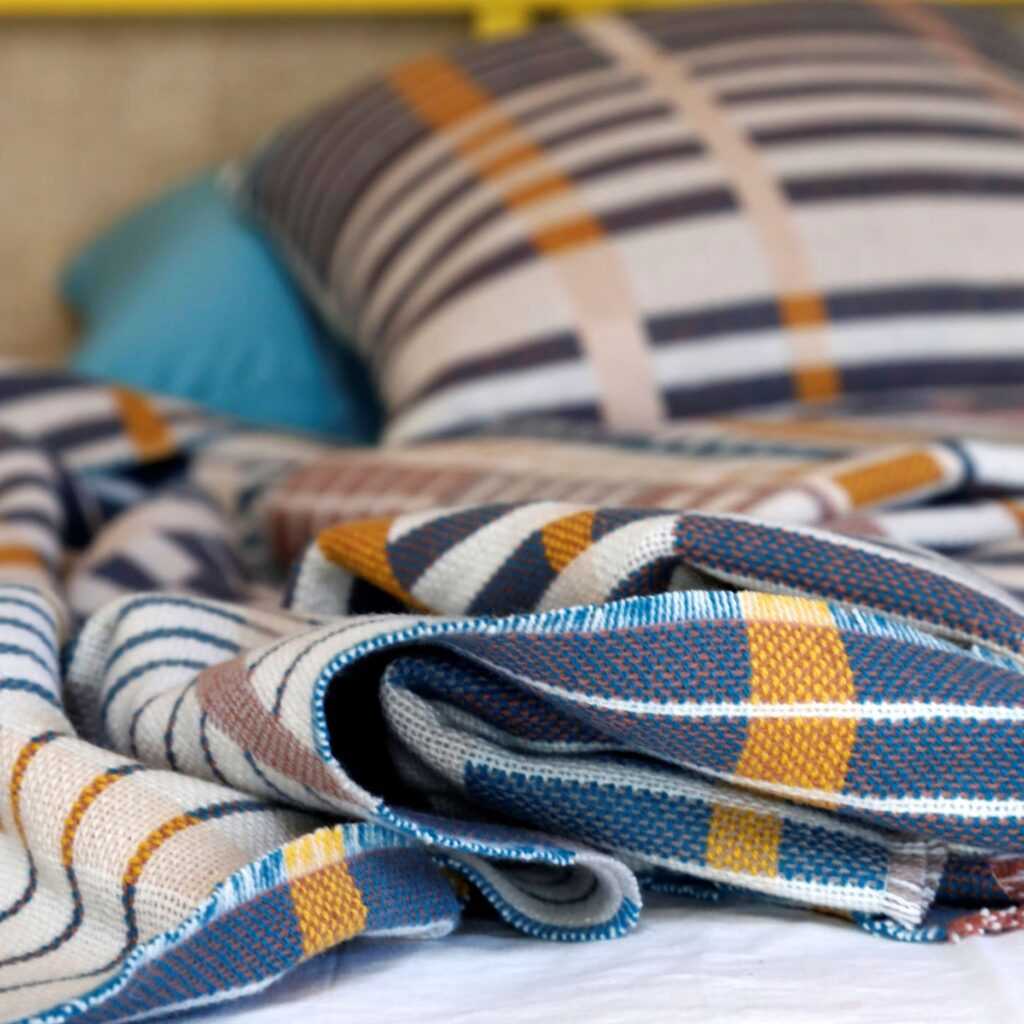 Spain for Design reached out to this British-born maker.
What is your background? Why Spain?
My partner is from Barcelona, and I knew Galicia from my student days. Spain was thus a natural choice for us to settle. I was attracted to traditional Galician folk textiles. The Blok and Optic Stripe throws have a contemporary aesthetic. However, my source of inspiration was the large-scale colchas, traditional woven Galician bedcovers. The Galician bedcovers challenged me to design differently. Blankets tend to have small-scale repeating patterns. But the Galician coverlets have largescale complex designs and this is what I wanted for my Blok and Optic Stripe designs. You notice this when you unfold the blanket. They have an air of abstract textile art.
What are the sources of inspiration for your technique, material and colour selection, and design for the different collections?
Ooh, I could go on for ages because it is a subject about which I am passionate. I am attracted to a technique known as "double weave." It is the weaving of two separate layers on the loom. I have explored the design potential of this technique for well over a decade. I use 100% merino wool because it is a fabulous, soft, and high-quality material. I want my blankets to last and become favourite and familiar objects in my clients´ homes. The colour selection for the Soft Urban throw collection stems from over two decades of working with natural dyes. The colour palettes differ- Mulberry Spice, Forest, Tobacco – warm chocolate and berry tones, burnished orange, petrol and teal and mustard, cool lichen, and forest greens. However, they all harmonise because they share the same base tones. Take any two blankets, and they will go together. 
Do you integrate any environmental considerations in your processes?
I think small "Slow" craft businesses like mine, which prototype by hand, in-house, and then either hand-make or partner with local producers, are making our contribution. Consumers are increasingly becoming aware of the wasteful "fast fashion model" that fuels home textiles, and they are beginning to prefer having less, to choose quality over quantity. I know designers within the industry that also feel sickened by the business model they must embrace. Consumers need to step up and lead the shift to longer-lasting, more bespoke, clothes, and objects. In the future, I would love to partner with a Spanish producer to design a contemporary throw or home textiles using Spanish wool and, possibly, natural dyes. However, it is impossible to find material of the same quality as the imported merino I use. Thus it would be a different kind of blanket altogether.
What, if any, is the importance of craft markets, organizations as a showcase for your work?
I prefer to show within the context of contemporary design, homewares, or art textiles. The Festivalet in Barcelona in the Fabra and Coats venue in Sant Andreu is the closest type to a craft fair. Unfortunately, craft is still widely perceived and treated as a hobby in Spain. Some seek other more fruitful venues and contexts. Many professional designers and makers who employ craft techniques tend to avoid using the word "craft." Nobody would consider Loewe craft, for example. Yet, their bags are hand-made in Spain.
Anna Champeney textiles is a member of SACo, the association of contemporary artisans in Spain whose mission is to showcase creations by artisans and designers from Spain who work in various disciplines. To read my profile of this association, link SACo: Showcasing Contemporary Spanish Artisanship.
To view her online store, please link to www.annachampeney.com.