Profile: Masquespacio: Singular Designs
May 26, 2020
/
/
Comments Off

on Profile: Masquespacio: Singular Designs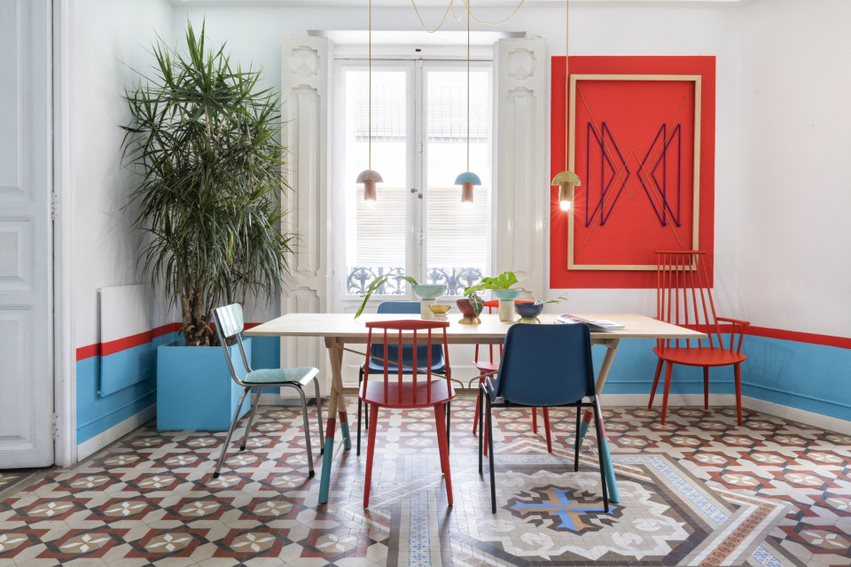 In 2010, Ana Milena Hernández Palacios, originally from Columbia, and Belgian Christophe Penasse, who had backgrounds in interior design and marketing respectively, founded Masquespacio, a creative consultancy in interior and industrial design based in Valencia. They work exclusively in hospitality and commercial design and have completed projects in Spain, Norway, France, the USA, Portugal, and Germany.
In 2016, Ana and Christophe won the "Wave of the Future" award from Hospitality Design magazine. Their work has been featured in numerous Spanish and international multimedia platforms, including Dwell magazine and AD Spain, which in 2016 selected them for the Massimo Dutti "New Values" award and in 2020 included them on its coveted AD 100, an annual list of the 100 best architectural and interior designers in Spain.
A casual glance at the interior design projects on their website indicate well-known design aesthetics. There are Mediterranean touches in the choice of materials (tile work, raffia), Memphis stylistic references (graphic, geometric motifs, saturated colors), and industrial-style elements (metal, exposed ductwork). These design elements are not unique to their work; however, the longer one stares at the images, as I have for many months now, one realizes that there is something that makes their style difficult to categorize, to define, but that it is singular. This singularity does not mean repetition. A review of their body of work reveals that they do not repeat themselves from one project to the next.
As Christophe explains," Masquespacio means More Than Space, because we try to bring the project further than just a design. We aim to create an experience".
The studio's first major project was in 2014 with the interior design and branding for the Nozomi Sushi Bar in Valencia. With inspiration from Japan and the guiding concepts of "emotional classic' and "rational contemporary", this space combines the brutality of concrete and the coolness of grays with the warmth of natural wood and hand-finished carpentry on the facade, entry, walls, ceilings, and floors. The project received a nomination in 2015 from the Restaurant & Bar Design Awards for the "Best Europe Restaurant" and in 2016 by Hospitality Design magazine for the "Best Upscale Restaurant".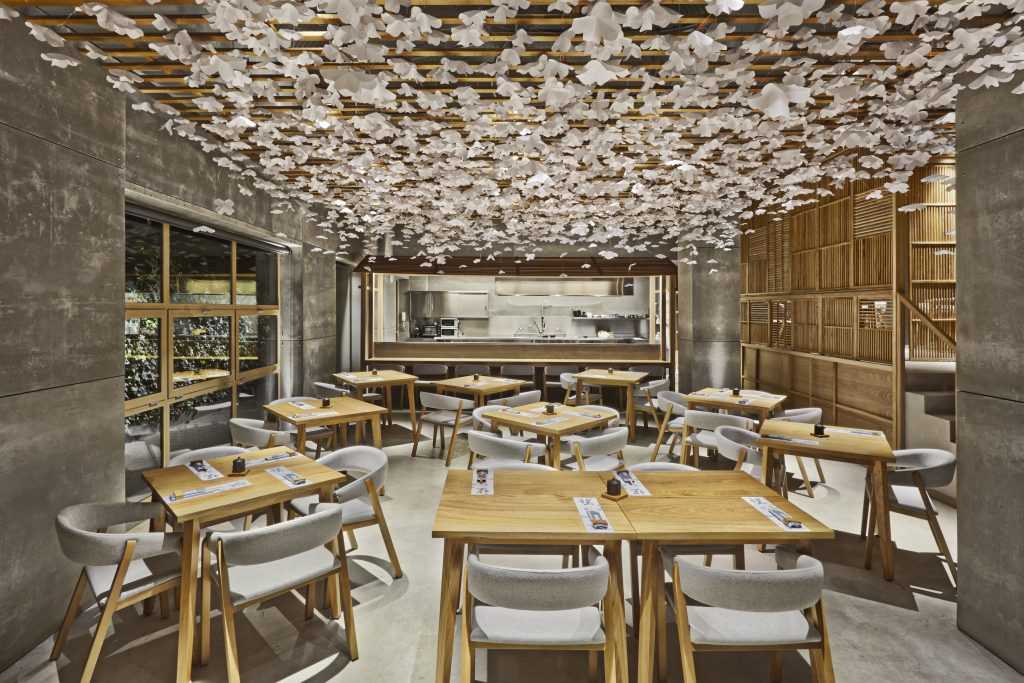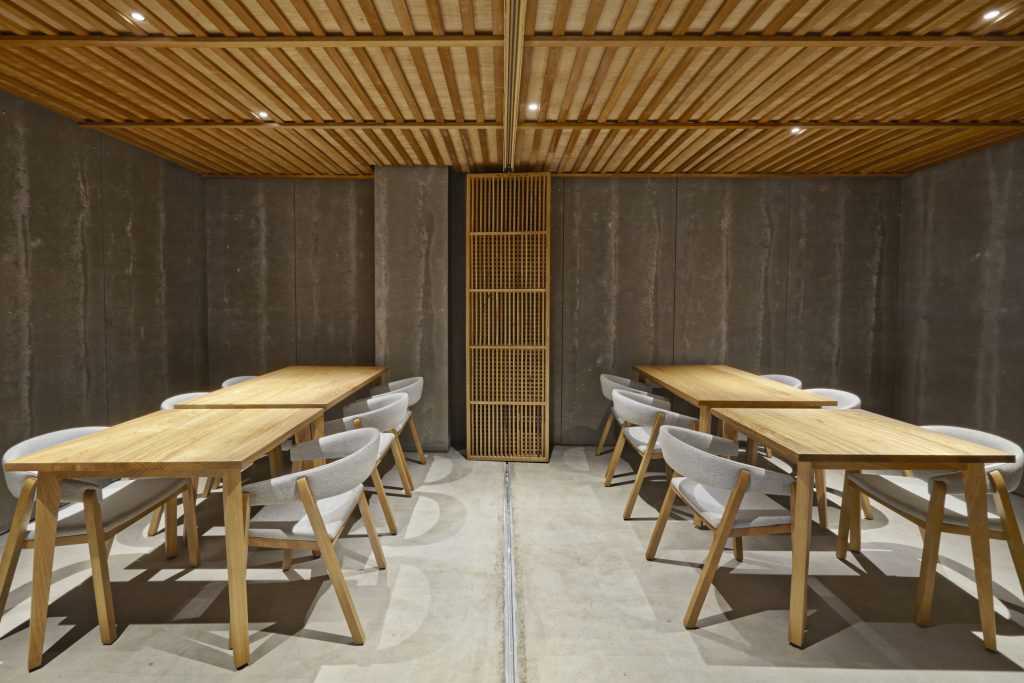 2014 also saw the studio design the branding and interiors for their first major international project, the Kessalao, a takeout restaurant in Bonn specializing in Mediterranean cuisine. Natural materials, notably birch veneer cladding on the walls and pine furniture, are combined with elements that add a Mediterranean touch, such as the raffia plant holders. The creation of folding bars and tables makes clever use of the small space. They fold so that it can operate as a takeaway during peak lunchtime hours and unfold to become a snack bar at night.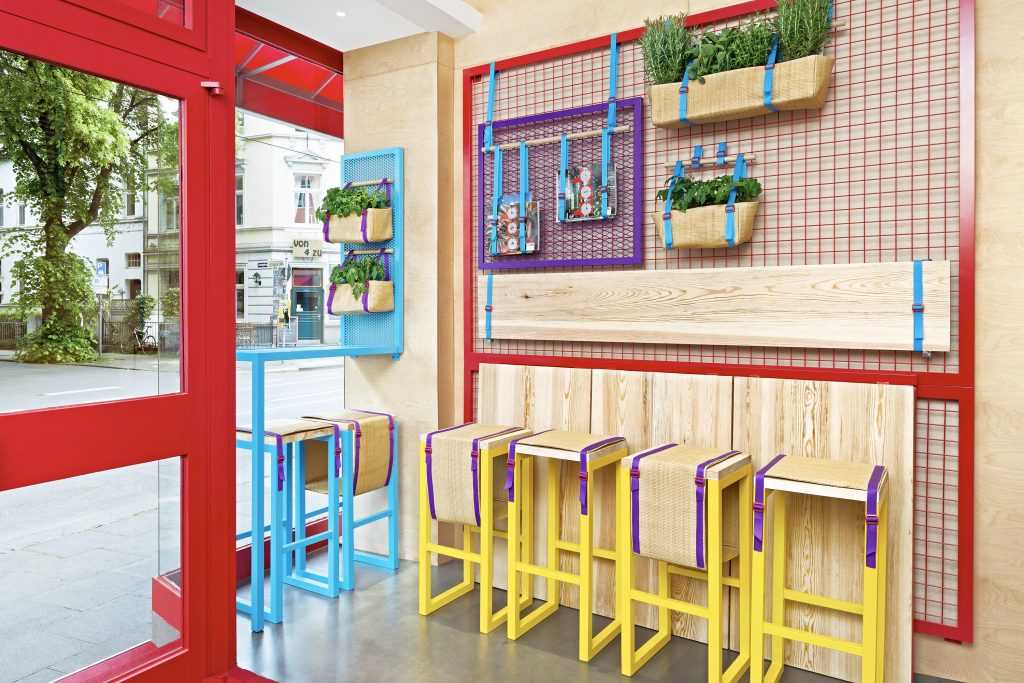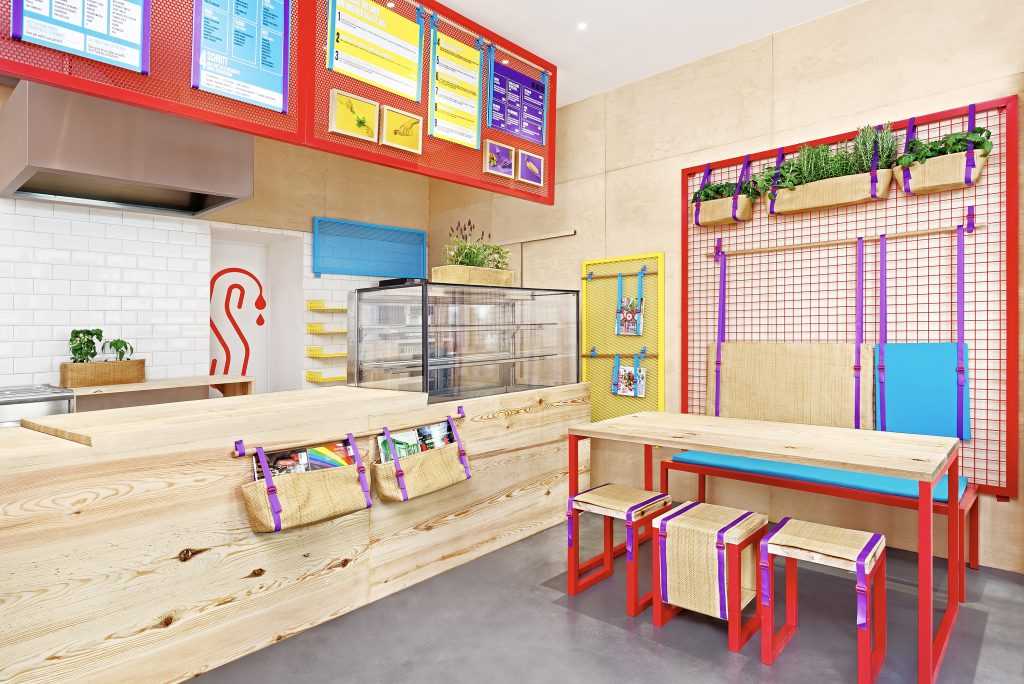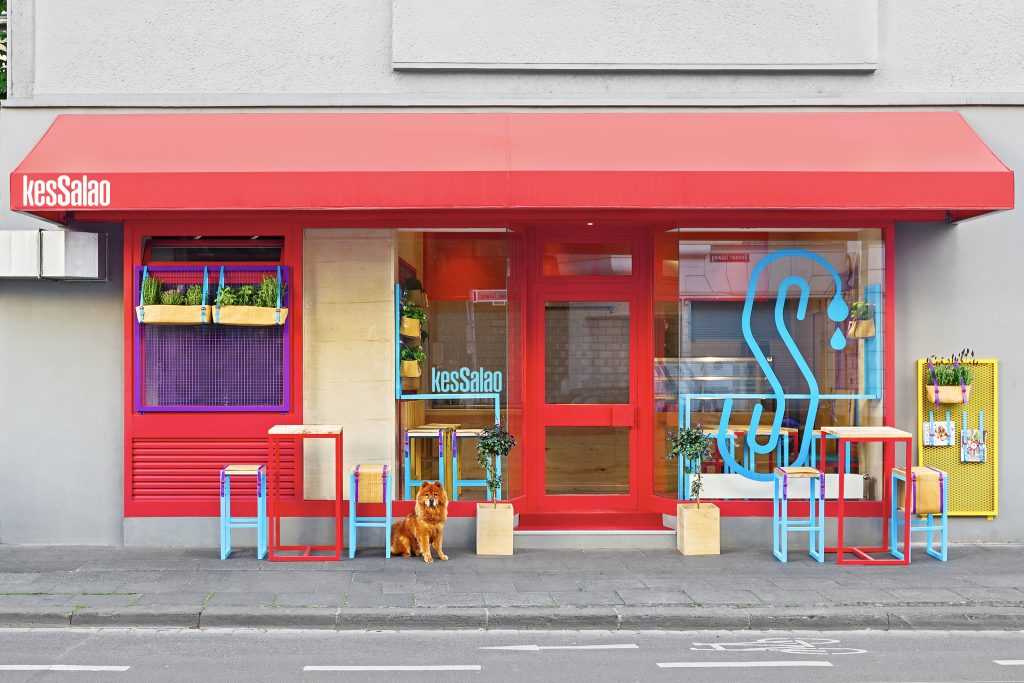 Masquespacio designed the interior of the first Valencian outpost of Piur, a restaurant chain that specializes in pizzas.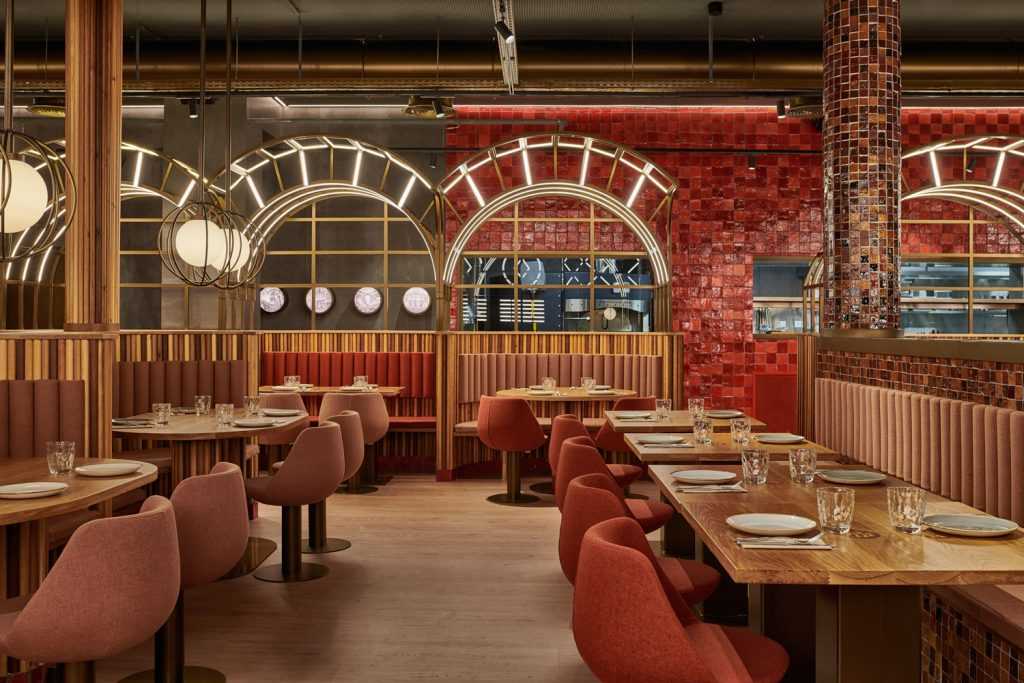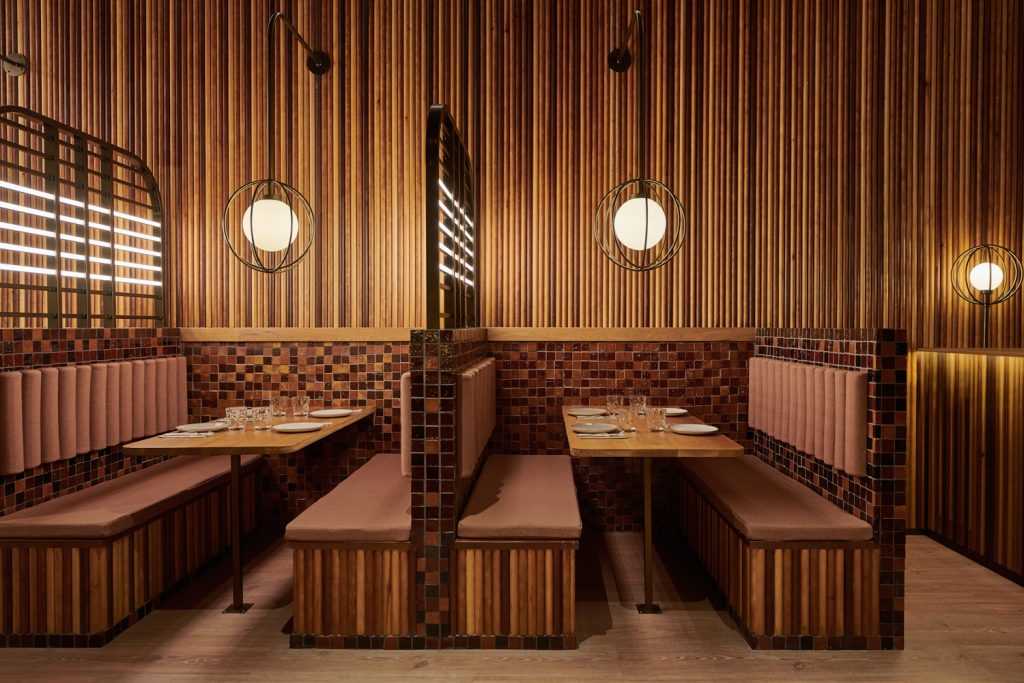 Masquespacio refurbished and designed the communal spaces for the first two Barcelona student-only establishments of The Student Hotel Campus for the Dutch hospitality group The Student Hotel, the 500-room Marina Campus, and the 97-room Poble Sec Campus.
Touches of the Mediterranean combine with raw textures that represent an industrial aesthetic, with nods to Memphis style and seventies vintage.
The projects received nominations in 2018 for "Best Hotel" from Inside Award and "Best Hotel" and "Public Spaces /Budget" from Hospitality Design magazine.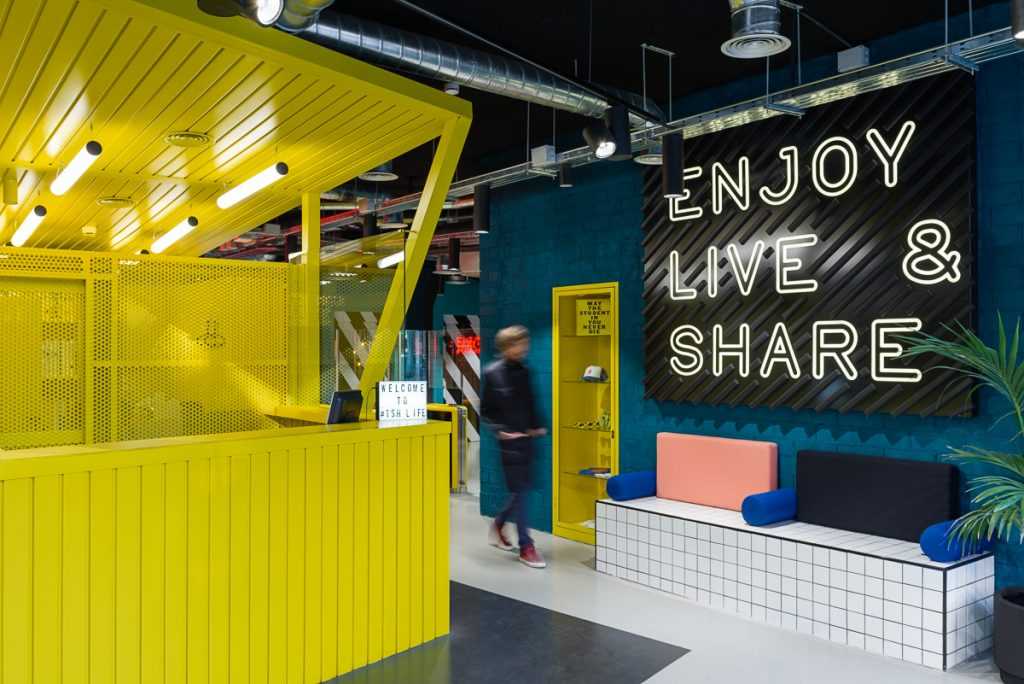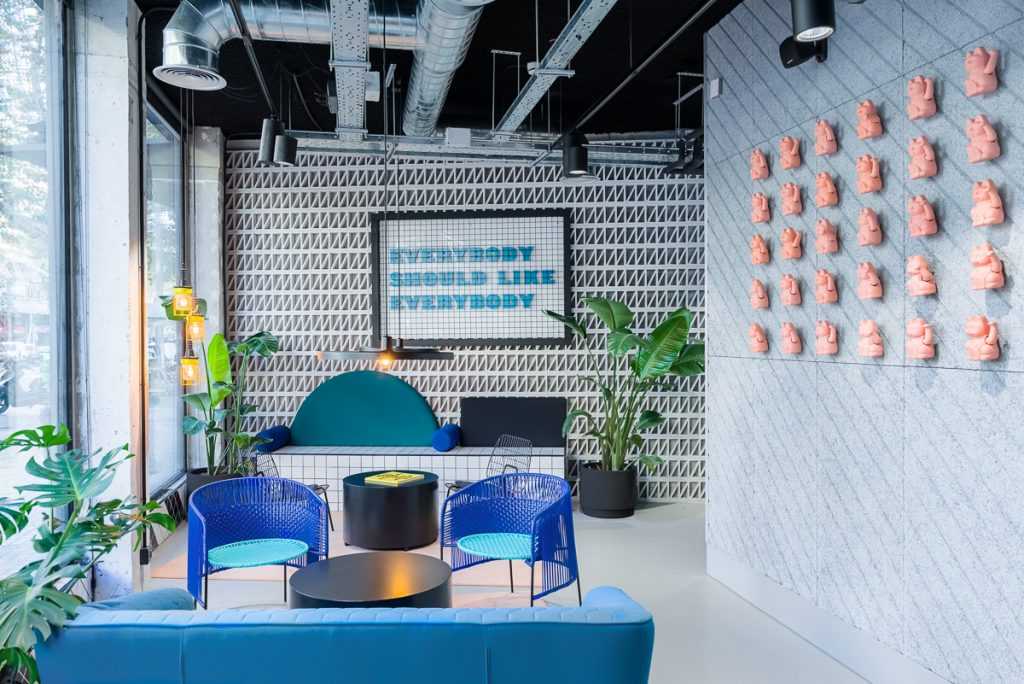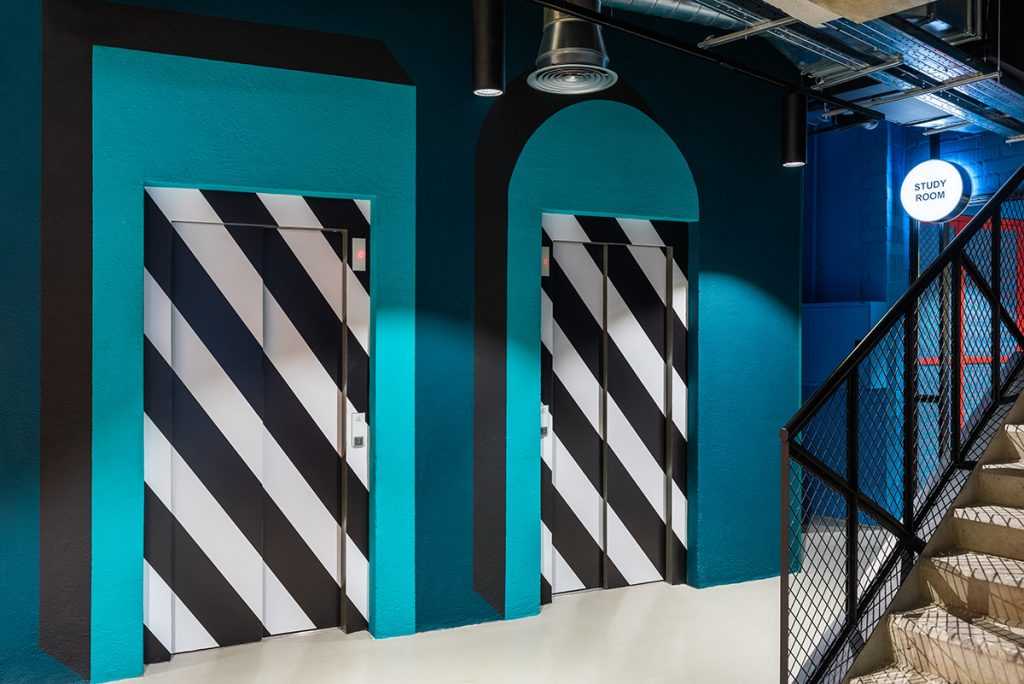 Masquespacio designed the eleven-room Valencia Lounge Hostel located in the city's old town. Ana preserved some of the existing early 20th-century interior architectural elements typical of homes of that period, notably the cement tiles and decorative plaster moldings on the ceiling. The goal was to make the spaces more contemporary while keeping the cozy, homey feel.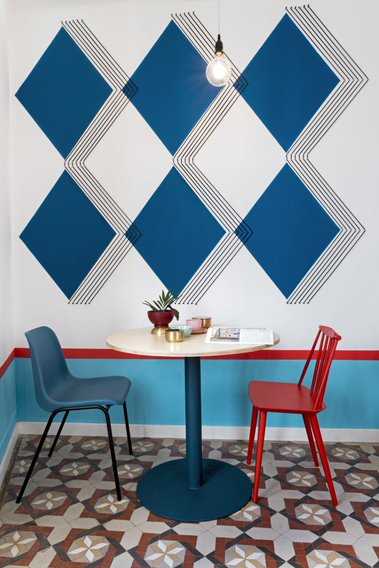 Each room has a unique theme. One has a surfing vibe. Another has the music lover in mind. Yet another is for lovers of ethnic craftsmanship. The studio designed lamps, tables, and decorative elements exclusively for the spaces.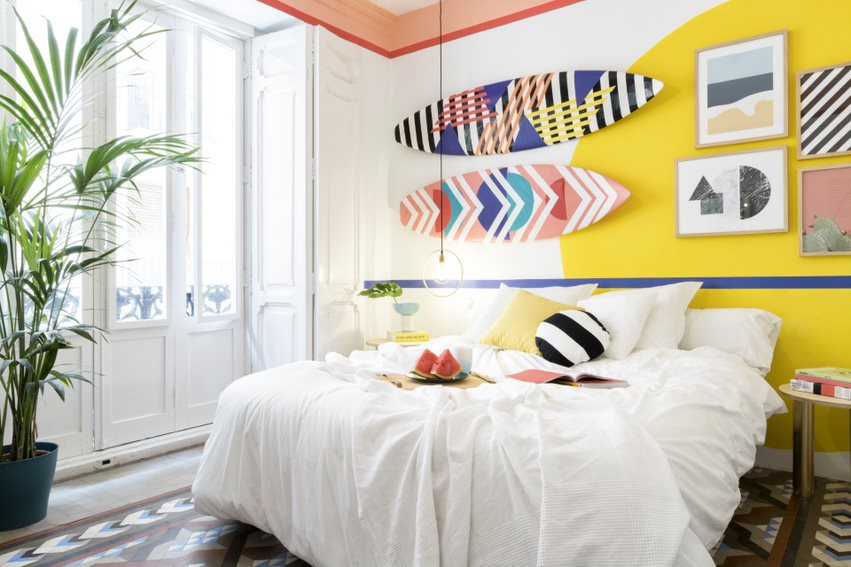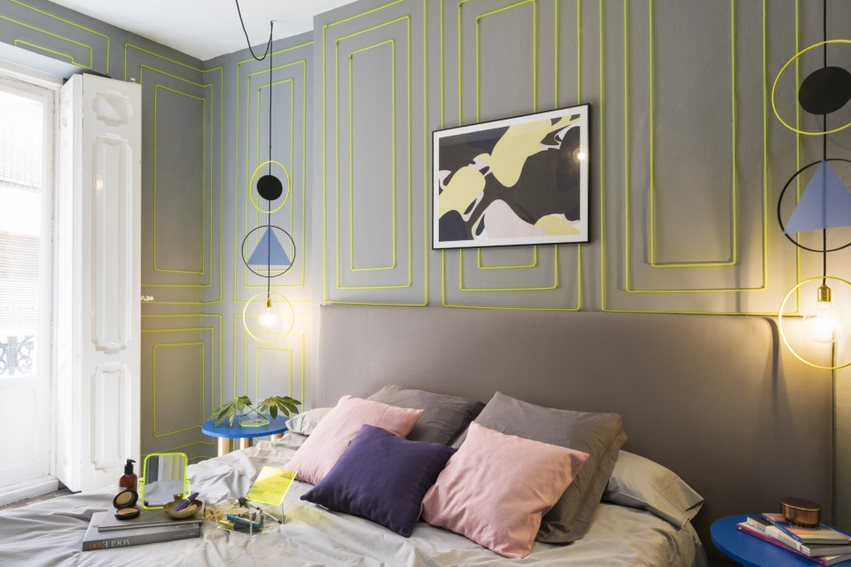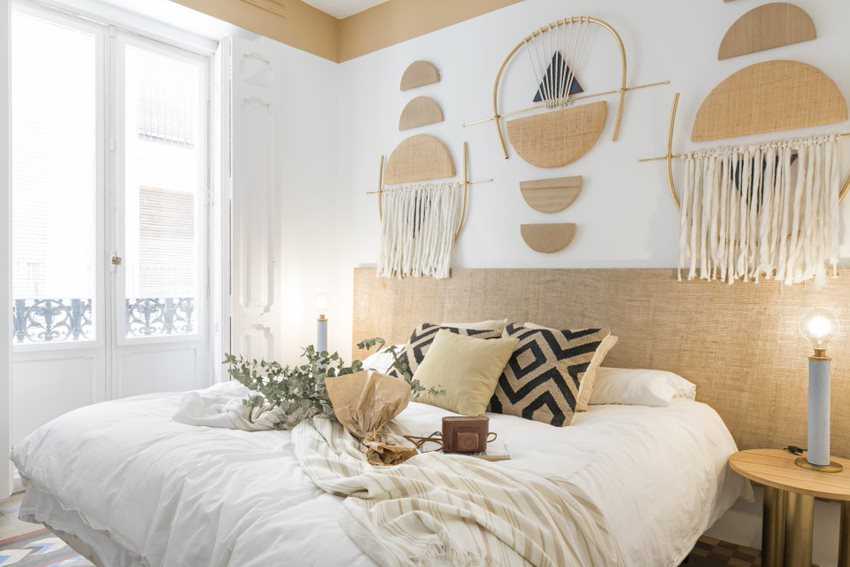 Masquespacio designed the interiors for lifestyle shop Gnomo, located in the Ruzafa district of Valencia.
The studio maintained the eighties-era features of the space, combined them with contemporary elements, such as the smooth granite flooring, and white walls, and added touches of blue and green to create a cheerful feel while avoiding visual clutter. The studio designed most of the furniture pieces and interior elements exclusively for the project.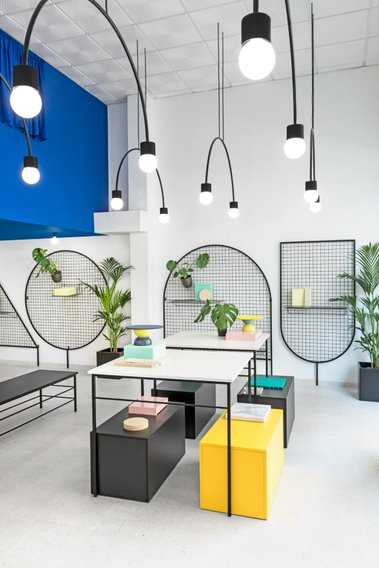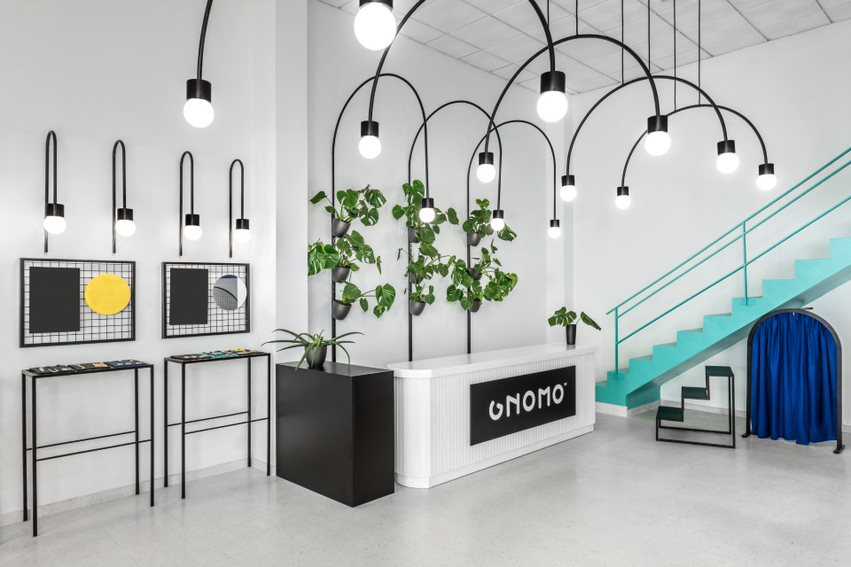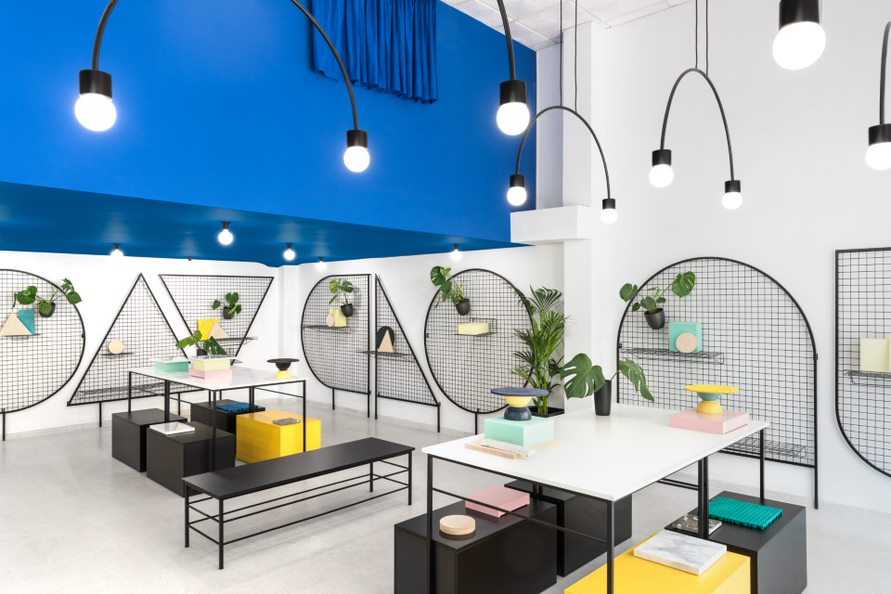 Masquespacio designed the interiors and signage for a locale in Cologne of the Solera supermarket chain, which Seville native Pepa Bascón founded more than ten years ago. Her business started as a small store selling Spanish products, which she later expanded to include a wholesale business. She tasked Masquespacio to design a space with a Mediterranean feeling that could also serve the functions of the business.
The somberness of the predominantly black color scheme contrasts with bright colours, ornamental grids, awnings, and tile work that transport one to the Mediterranean and Andalusia, without resorting to tired iconographies of Spain.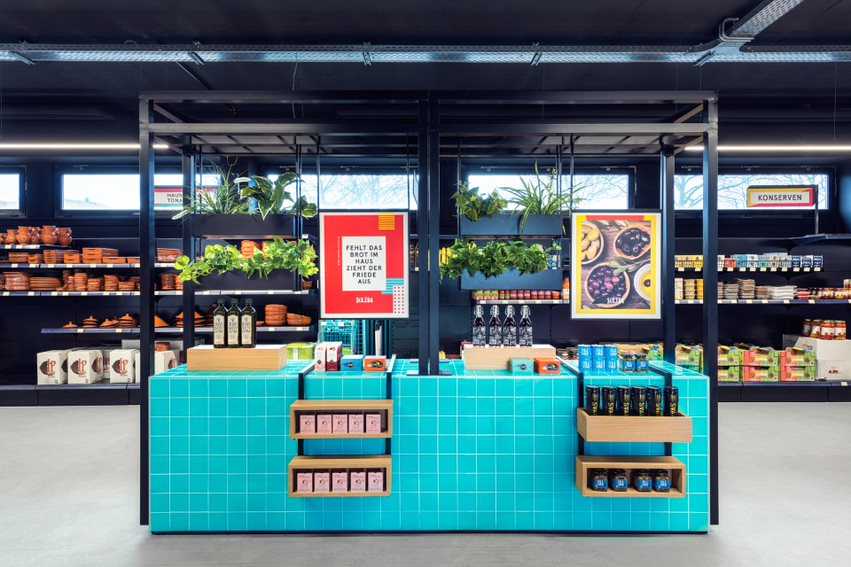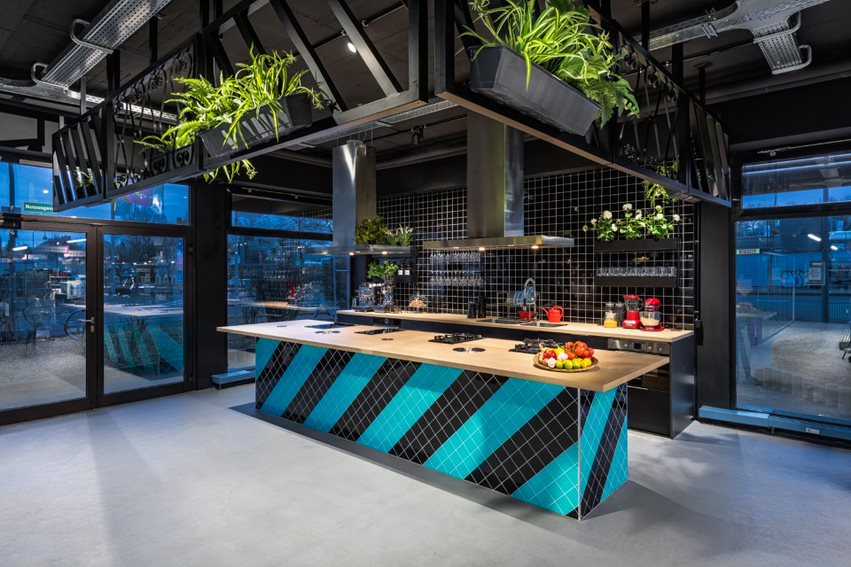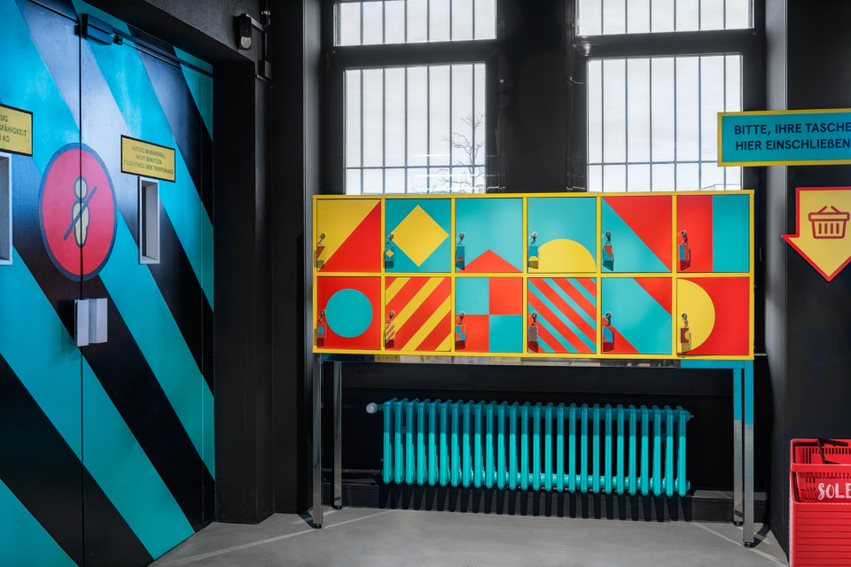 Whimsical Industrial Design
The studio's Toadstool collection for Valencia manufacturer of upholstered furniture Missana comprises three pieces that users can configure to suit their spaces; an ottoman, a table, and a sofa bench. The upholstery, marble, wood, and gold plating reference the Memphis movement and the architecture of Michael Graves.
In 2018, Masquespacio partnered with Houtique to create pieces for a brand that seeks to "change the world a little bit". The Wink floor lamp is an addition to the Wink lighting collection that was a highlight of the 2018 Maison & Objet Paris Design Week. The metal frame is made of 24-karat gold and the fringe is detachable.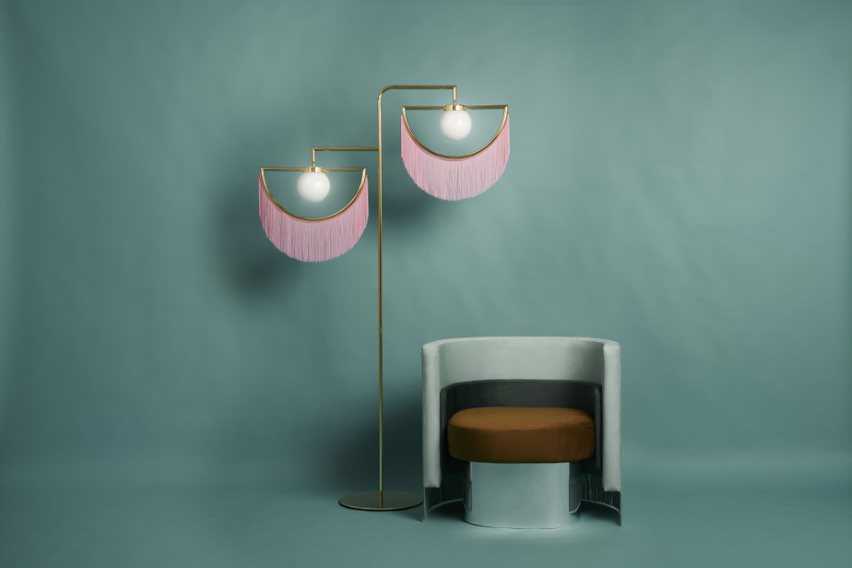 Doctor Workshop was Masquespacio's first product for the launch of its lifestyle brand, Mas Creations.
Inspired by the form of the Vilbert chair designed by Verner Panton for IKEA, the studio reinterpreted it with perforated metal. According to Ana, "We love the simplicity of the design, composed of only one material, although we wanted to reinterpret it, using a less common material for furniture design."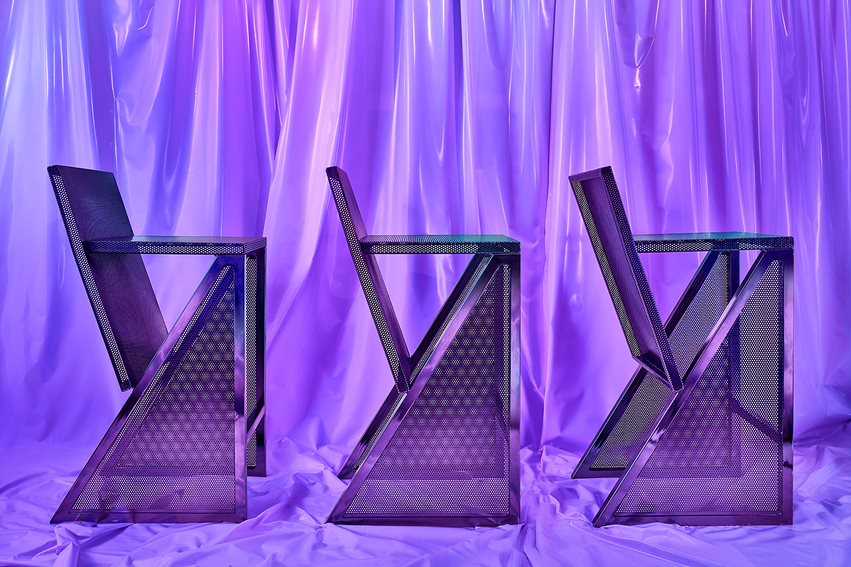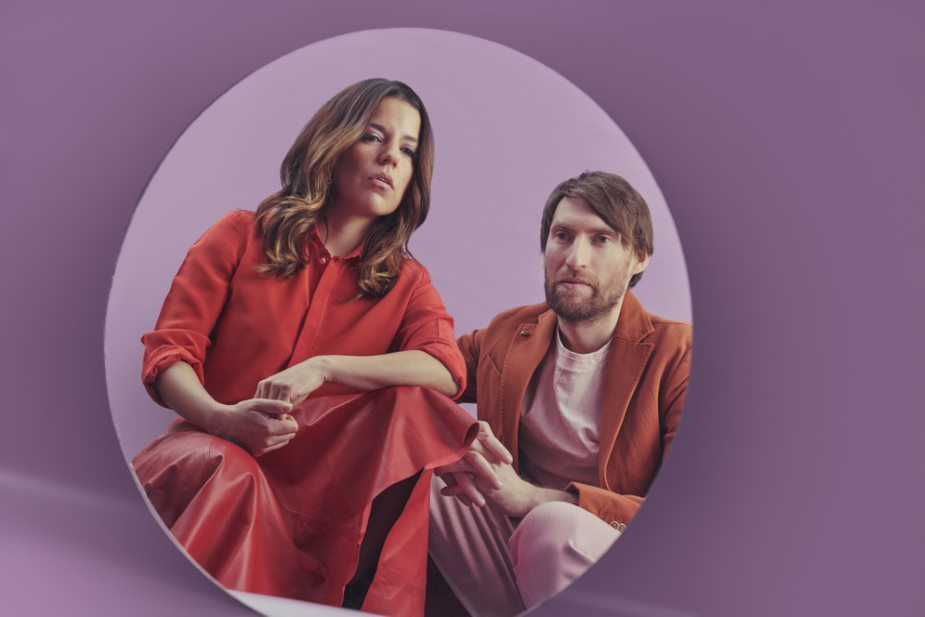 Masquespacio recount the early days of their studio, their creative and design processes.
What are your backgrounds in design?
Growing up, Ana was involved in the activities of her mother who is an event designer. She later left for Europe to study interior design. Chris did not have a background in design before opening Masquespacio.
How did you begin your firm?
We were experiencing the financial crisis in Spain when Ana finished her interior design studies in 2010. There was a huge lack of positions for interior designers in Valencia at the time and the available ones focused only on technical development. As she wanted to create her projects, we decided to open Masquespacio to bring together Chris's knowledge of marketing and Ana's knowledge of interior design.

Was it a slow process to build a client base? How did you do this?
We first focused on residential design, but it was a complete mistake as we immediately realized that a house is perceived more like personal space and there are many limitations on a creative level. To be able to develop innovative concepts, we had to refocus totally on commercial spaces. At the same time, we didn't have a lot of opportunities so we started to offer services like branding, brand strategy, event design, and a series of other services related to design. We reduced these activities over time as the studio started to grow so that we could focus on what we like to design, interiors, and products.
We developed our client base step-by-step, through the visibility of our projects on social media, blogs, magazines, and books, as well as through referrals from previous clients.

What was the turning point in your career?
There are several, but no one project propelled us. We have progressed step-by-step over the years, which we are still doing, but there are of course a few projects that established our name more than others. Without a doubt, the first was the project we designed for the Nozomi Sushi Bar, which has been our major project up until now. The first product launch, the Toadstool furniture collection, was another important moment for our studio, along with the two residences that we designed for The Student Hotel in Barcelona and the presentation of 100 years of Poggi Ugo during Milan Design Week last year.

What is your studio known for in terms of its style?
I think people recognize us mostly for the use of color, graphics, and the combination of different, unusual materials.
What is the one consistent aspect of your work?
We aim is to create a new user experience every time. We are not into developing a copy of a previous project. We are obsessed with creating a new concept for each new client so that we can surprise customers each time they visit a space that we have designed.

What are your favourite design elements to work with (e.g. color, texture, pattern, light, line, form) and how do you work with them?

Everything we design is developed in 3D. We may have a guideline for materials and colors at the beginning of the project, but we are not into making selections before beginning the process. We like a mix of all elements, but especially colors, textures, materials, and a touch of pattern. Although we have to say that it depends on the project as to whether we are going to use more contrasts or design a cleaner image with fewer details.

Does your business represent a Spanish, regional, or local style or look?
I think that the designs represent a global image that can work in every country, but we are living in a city with a lot of sunshine and specific materials, so of course, we can say that it has a touch of Valencia's lifestyle and materials. We are increasingly focusing on craftsmanship and hope to involve more clients in this process.

What inspires products like the Wink or Toadstool family of products?
The Toadstool family is a 100% representation of Ana's personality. It is small, with contrast, and is full of emotion. Wink is just a funny concept that came out of a shop design that we completed for Houtique.
What is the most iconic product at this point? Is this your favourite?
Without a doubt it is the Toadstool collection, our first product design collection. Our favourite is yet to come.

Does the company integrate any environmental considerations into its design processes?
We would like to integrate more environmental aspects into our design processes and are reflecting on how we could improve on this while respecting a reasonable budget. Until now, in many instances, the high cost of 100% integration of sustainability into our design has been an obstacle.
How has social media impacted your reach to the public, potential clients, and the media? Has it impacted your business in any way?
It is what we are about these days and is the main reason why our studio has gained international recognition.

Any recent events or developments that you are excited about?
We are developing our collections through our new brand, Mas Creations, which will showcase our vision, without intervention by any client. Another highlight was our recent project for Roca Tile at Casa Decor 2020, which is one of the latest projects that we have most enjoyed.
Any notable planned projects?

We are working on projects in several countries. We have a really interesting restaurant project in Valencia, La Sastrería, and an amazing project in Saudi Arabia.

"My dream design project would be …."

A boutique hotel in New York.
Destinations: Valencia

Hotels: Valencia Lounge Hostel
Restaurants: Nozomi Sushi Bar, Piur, Hikari, and Kaikaya.
Art galleries, antique stores, design shops: Sebastian Melmoth (@sebastianmelmothstore), Absoluta Flora and Poppyns.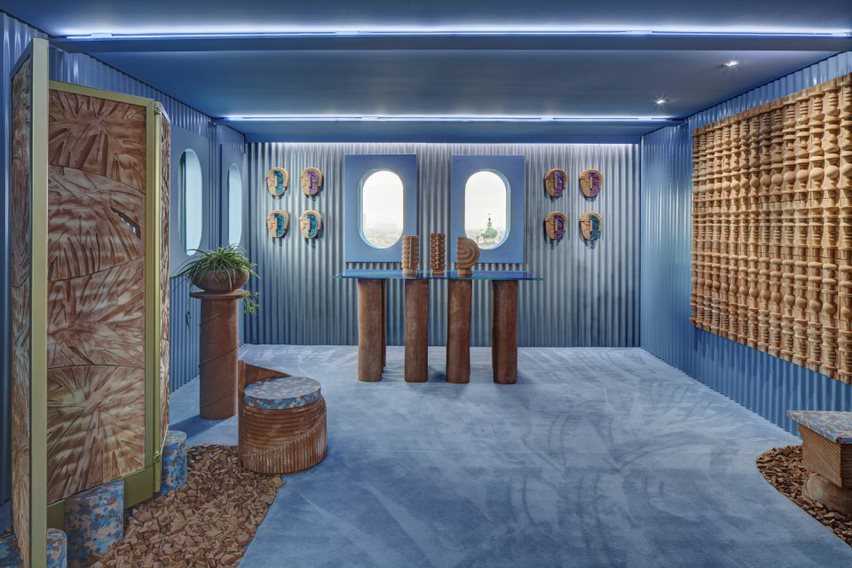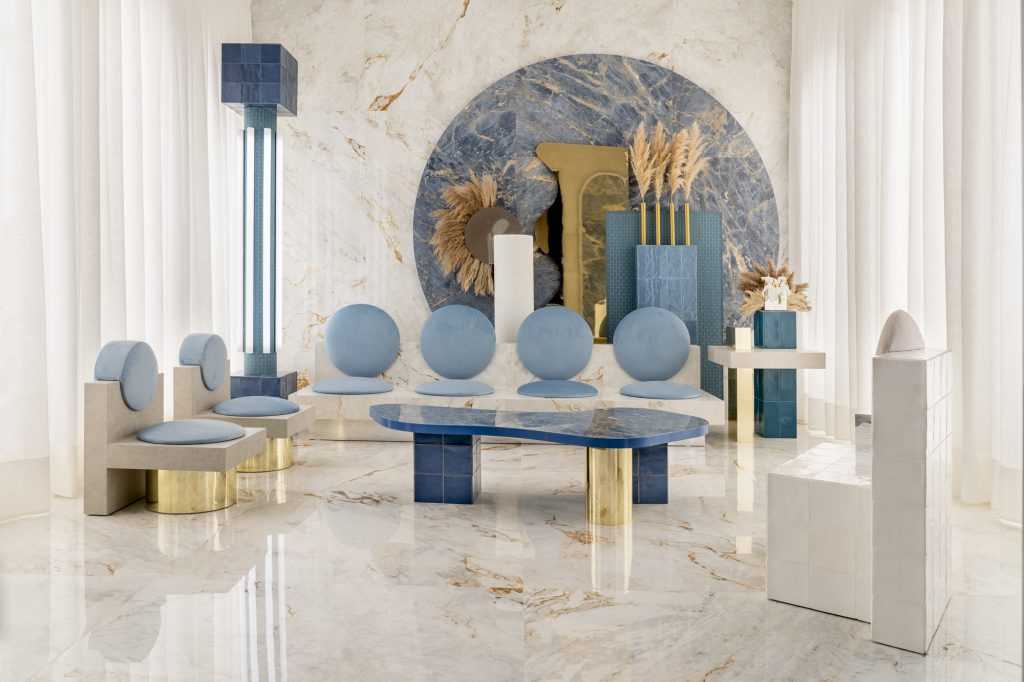 See more of Masquespacio's design in Casa Decor 2020.
Photography by:
Luis Beltran
David Rodríguez and Carlos Huecas for @cualitiphotostudio
Paula Caballero @caballerocosmica