Masquespacio Designs a Surreal Dream Experience for Visitors to the Mango Teen Store in Barcelona
October 3, 2022
/
/
Comments Off

on Masquespacio Designs a Surreal Dream Experience for Visitors to the Mango Teen Store in Barcelona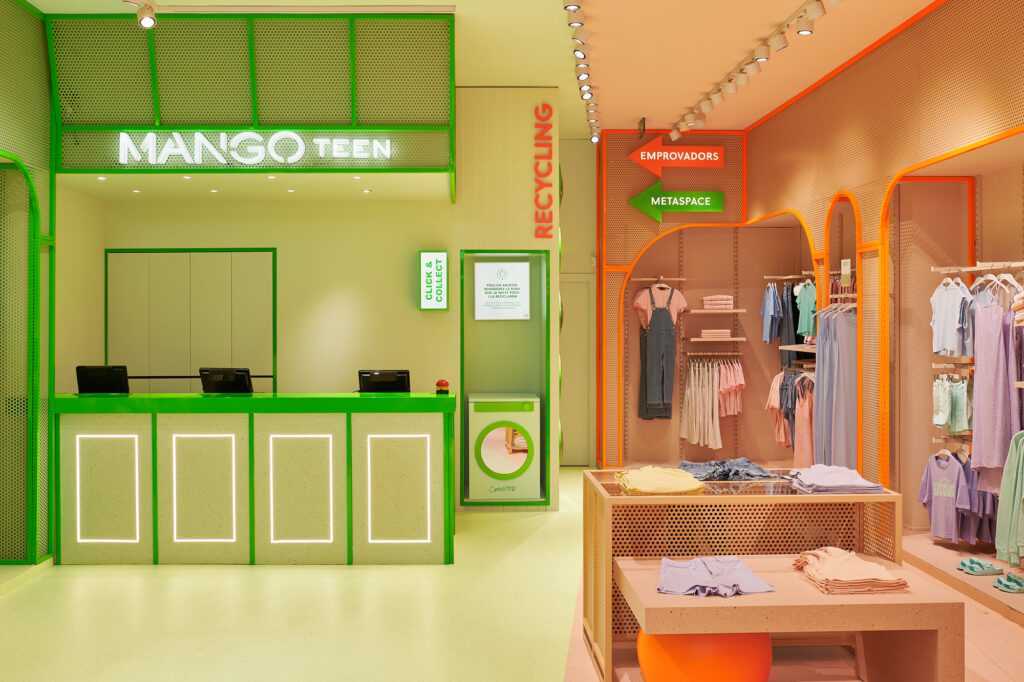 Prolific design studio Masquespacio has designed the first Mango Teen store in Barcelona, which opened in June 2022.
Working in collaboration with Mango's in-house design team, the design brief for the 120-square meter space was to develop a space identity that would connect to the lifestyle of customers. Mango's team had previously opened a series of pop-up stores before setting up the store in Barcelona as testing grounds for the design concept. Based on customer reaction, they became aware that color is one of the most relevant design elements, and stores needed to be experiential and interactive. The user experience had to simulate different perspectives and incoherent elements that are in dreams. Finally, the design had to connect with the lifestyle of the core demographic group, those between the ages of eleven and thirteen.
Ana Hernández, one of the founders and the creative director of Masquespacio, says, "the best thing about being a teen is that you are living in a world full of dreams, a world full of things to be discovered. It's an age when you start to dream big, without limits. Dreams are about strange things that are out of the box. Things that are not real."

The studio actualized this concept through design elements that play with the mind and invite customers to interact with the objects surrounding them, bringing the metaverse world to reality. In the entry, a backlit tunnel dislodges visitors. Ana Hernández explains, "The entrance tunnel takes us back to dreams that we had and transports one to a future in which conventional elements from the past are considered futuristic for new generations."

The surreal nature is evident with two types of finishes for the color application; conventional matte finishes alongside finishes that reflect color, which create an unusual combination that connects to a futuristic digital world with a fluorescent touch.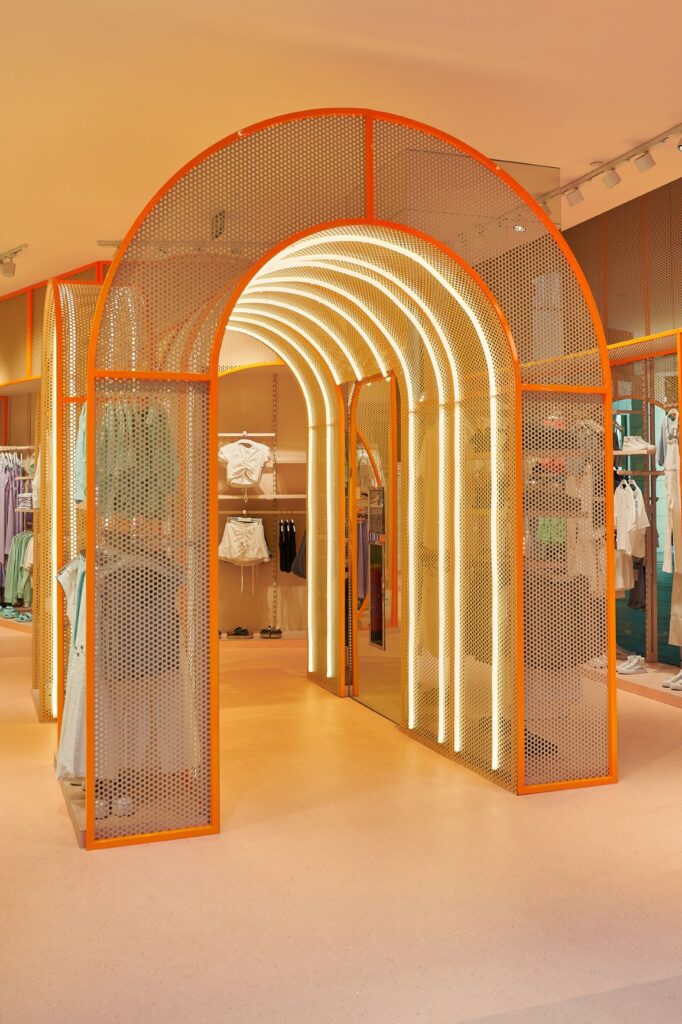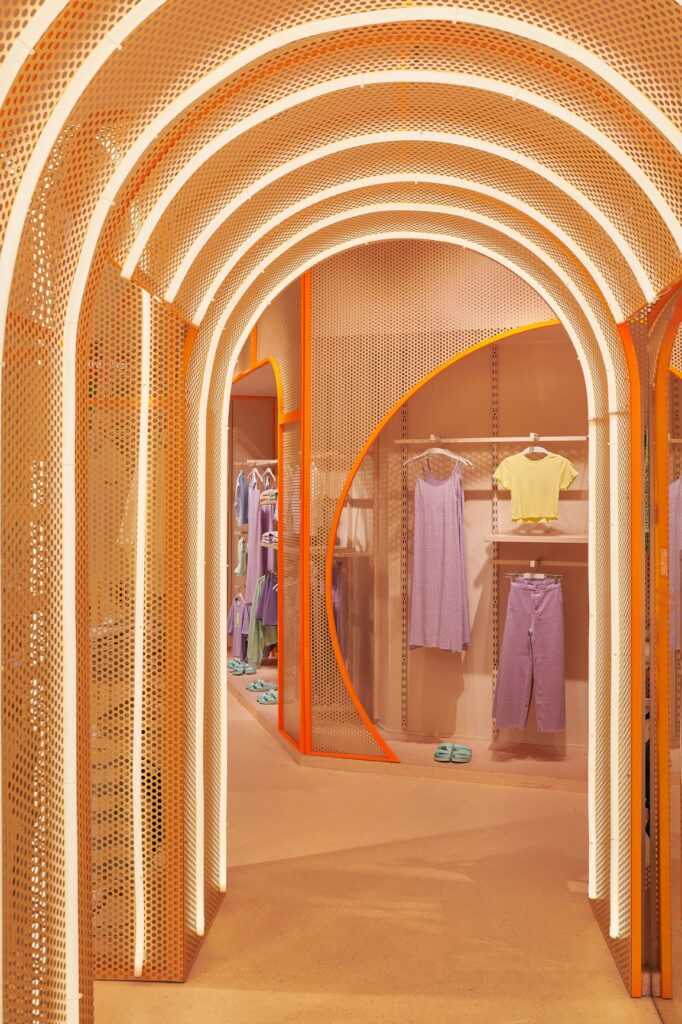 Design elements represent different facets of a dream in which incoherent elements invite teens to enter a universe in which objects have new uses, allowing them to let their imagination flow. A "hotel reception" is a place to pay and pick up shopping goods. An adjacent washing machine is for recycling old clothes. With straight lines and organic forms, the shelves and racks go against expectations in order to represent gender neutrality.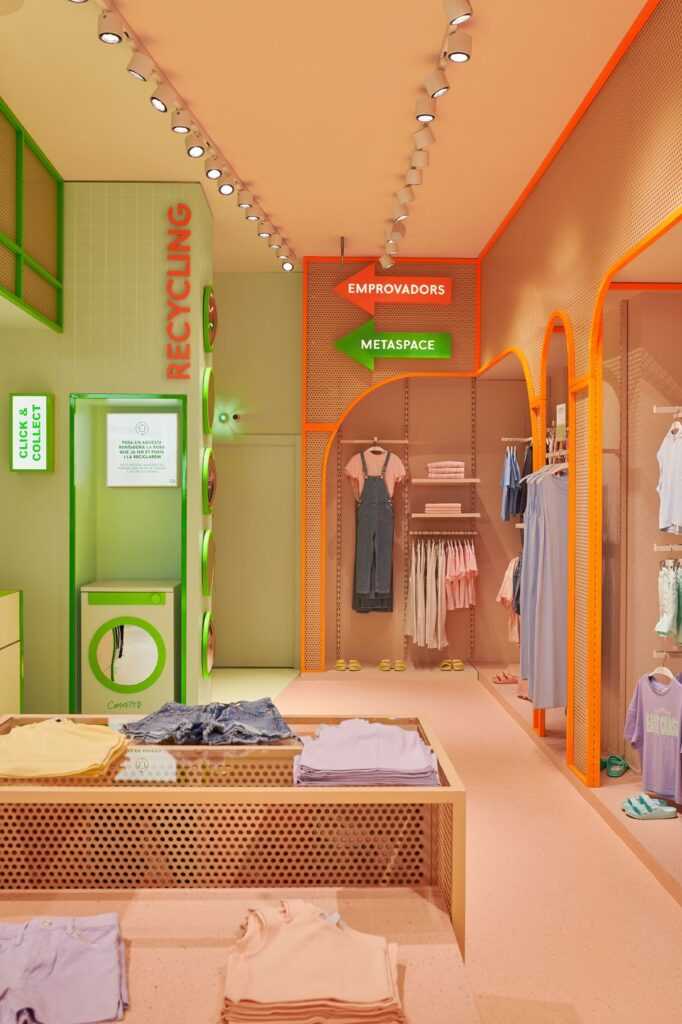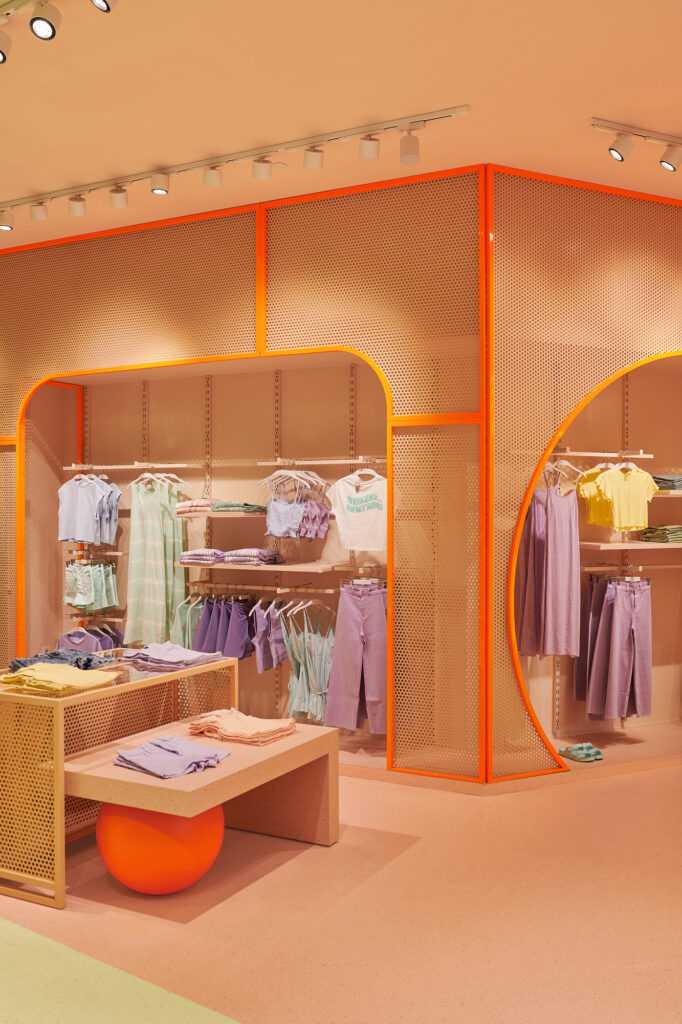 Another unexpected element is the "swimming pool", display shelves covered with blue tiles to recreate swimming pool tiles.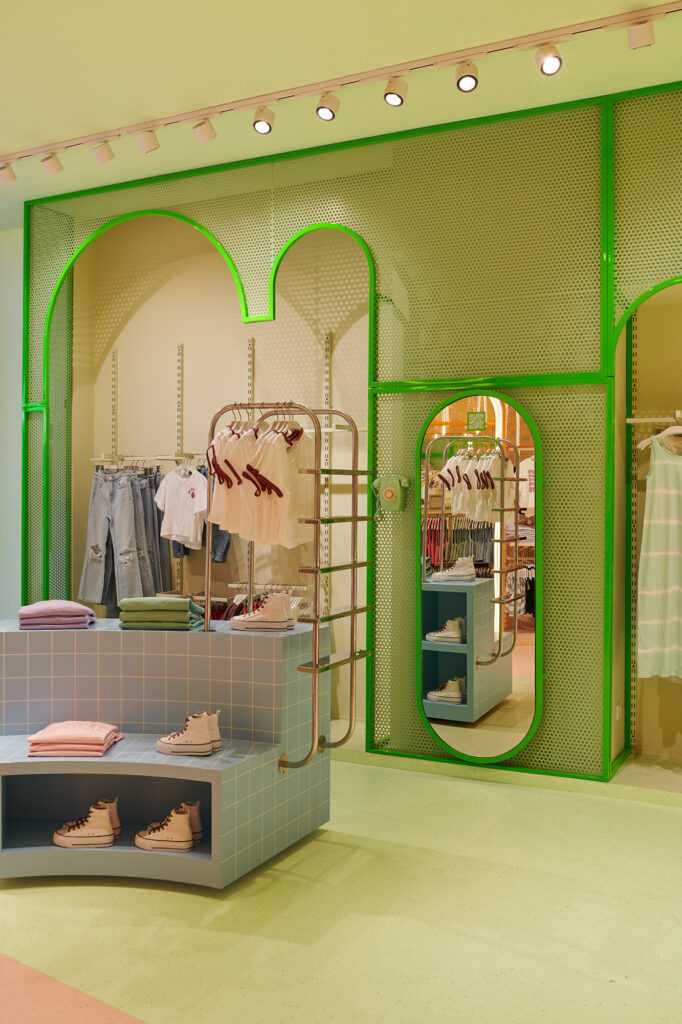 The fitting rooms incorporate a metaverse world, a design choice that responds to one of the most requested features by teens based on the findings from the pop-up stores.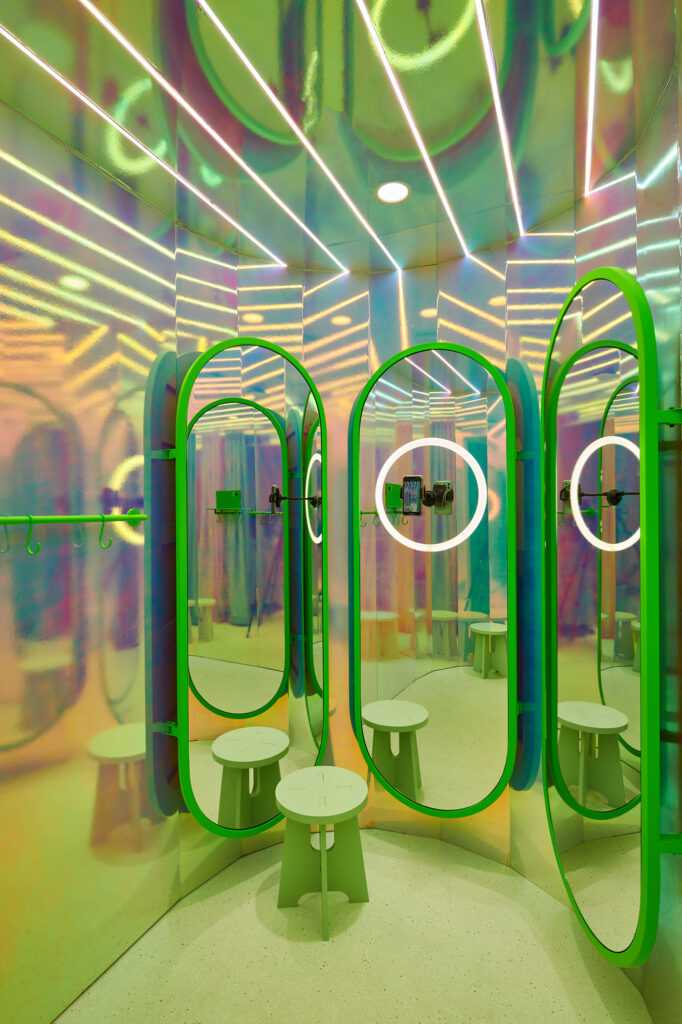 Masquespacio is an award-winning creative consultancy created in 2010 by Ana Milena Hernández Palacios and Christophe Penasse. Combining the two disciplines of their founders, interior design and marketing, the Spanish design agency creates branding and interior projects with fresh and innovative concepts. They have worked on projects in Norway, the USA, Portugal, Germany, Spain, Saudi Arabia, Cambodia, Qatar, Italy, France, and Colombia. Read my exclusive interview with them in Profile: Masquespacio: Singular Designs.
Learn more about the work of Masquespacio in Restaurant in Valencia Transports Guests to an Adobe in the Desert, The Natural Environment Inspires Masquespacio's Design of Restaurant in Huesca, and Masquespacio Designs Stunning Student Residence in Bilbao.
Mango is a leading global fashion company founded in Barcelona in 1984. It has an online channel and stores in over 110 markets.
Photography by Luis Beltran courtesy of Masquespacio.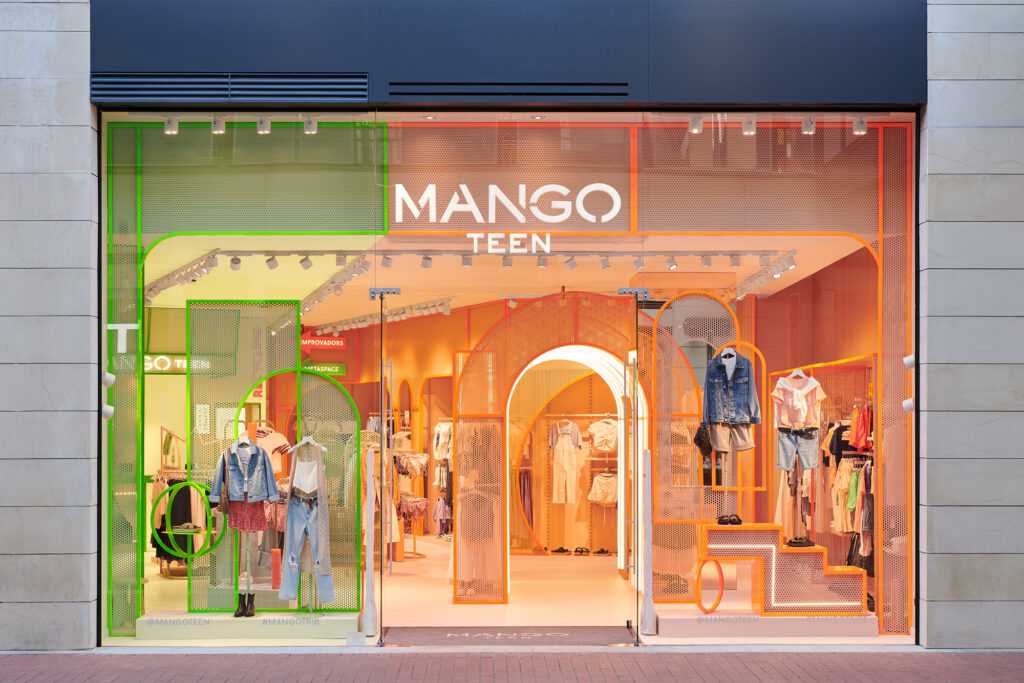 Photography: Luis Beltran