El Mono que Lee: Fine Dining in Quirky Atmposhere in Oviedo, Spain
August 8, 2022
/
/
Comments Off

on El Mono que Lee: Fine Dining in Quirky Atmposhere in Oviedo, Spain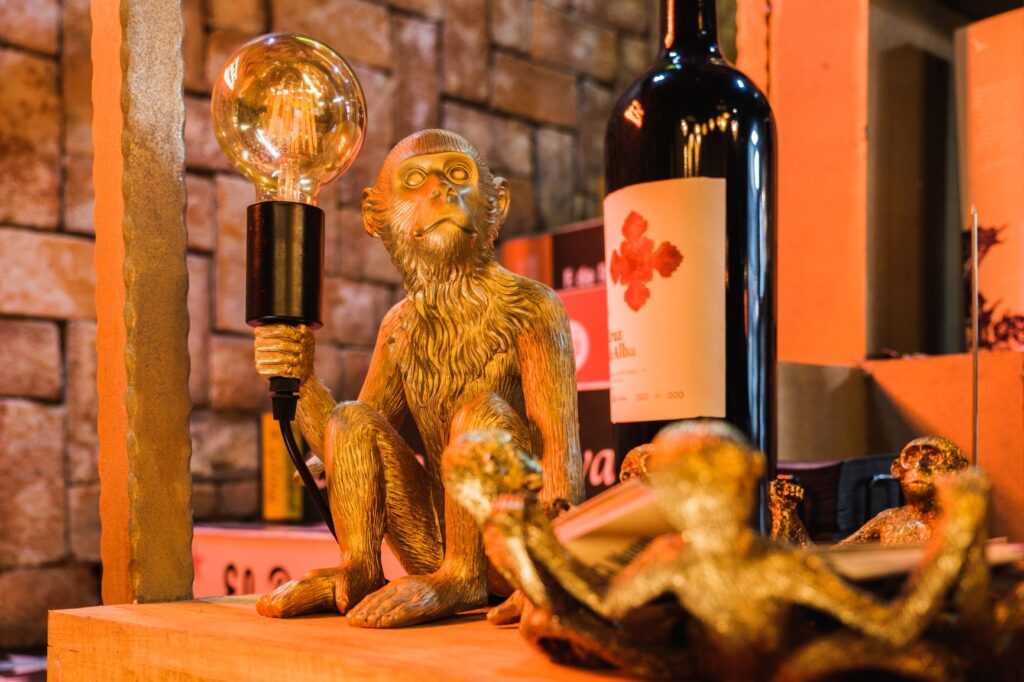 El Mono que lee is an award-winning restaurant in Oviedo specializing in Spanish and Asturian gastronomy. It has received acclaim for its cachopos, a traditional Asturian dish made of ham and cheese sandwiched between veal or beef steaks, coated in breadcrumbs, and fried.
The restaurant's name translates to the monkey who reads, referring to the former use of the space as a bookstore. The owners, who were in charge of the interior design, selected an eclectic mix of furniture, decor, and finishes dominated by green and golden hues to bring the outdoors in. Green and white neon lights appear throughout the premises, and shades of yellow, teal, and green hues wrap the velvety upholstery. The eclectic decor mix includes palm-patterned wallpaper that serves as the perfect backdrop for the greenery on the walls, the green ceramic wall tiles, and high-contrast patterned tile flooring. The varied seating includes bar stools, chairs, and banquettes. The rustic rattan ceiling lamps hang at different levels for high impact.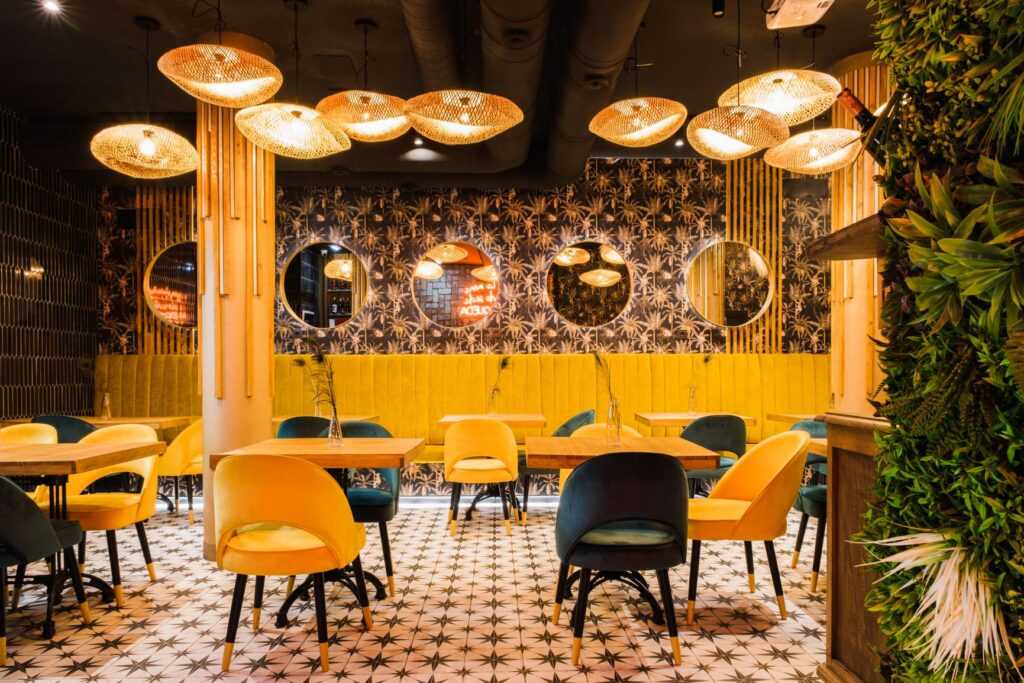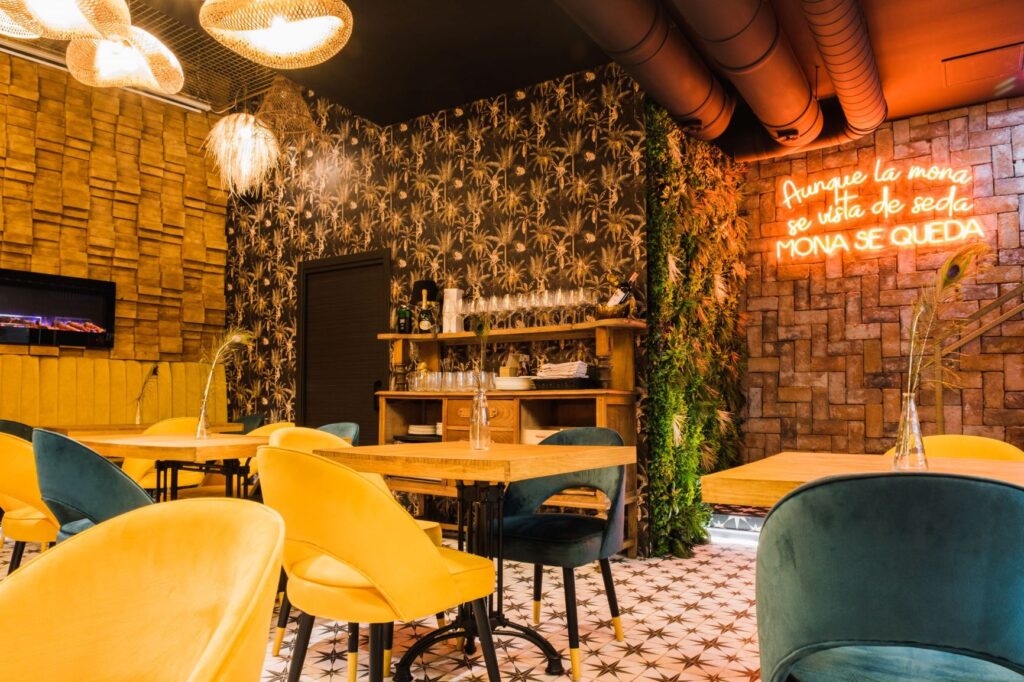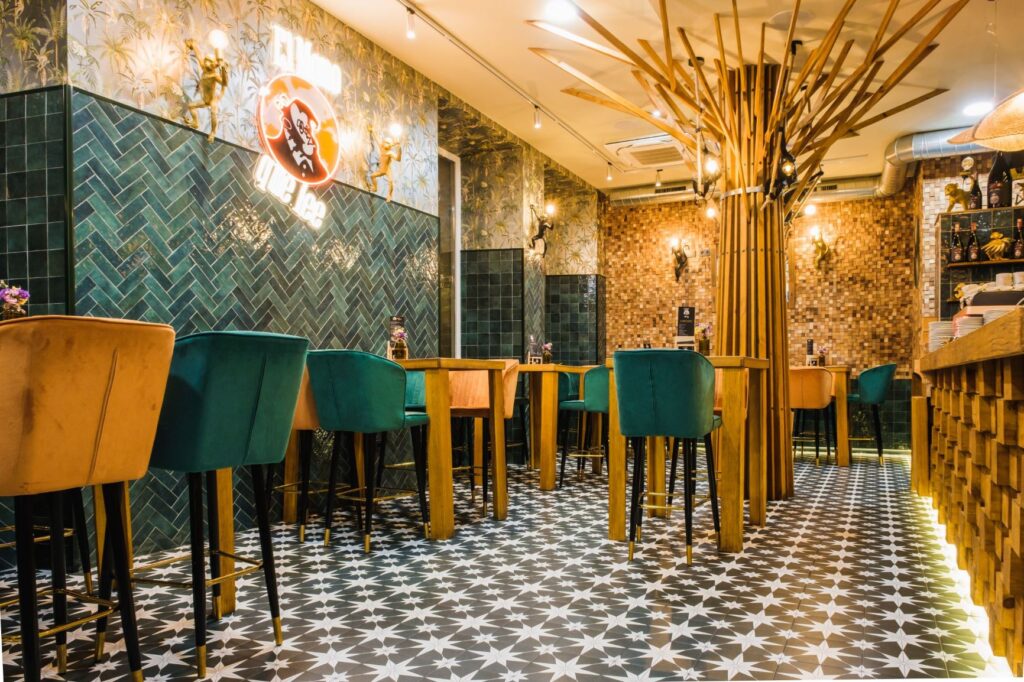 The monkey statutes that integrate lighting add to the playful vibe.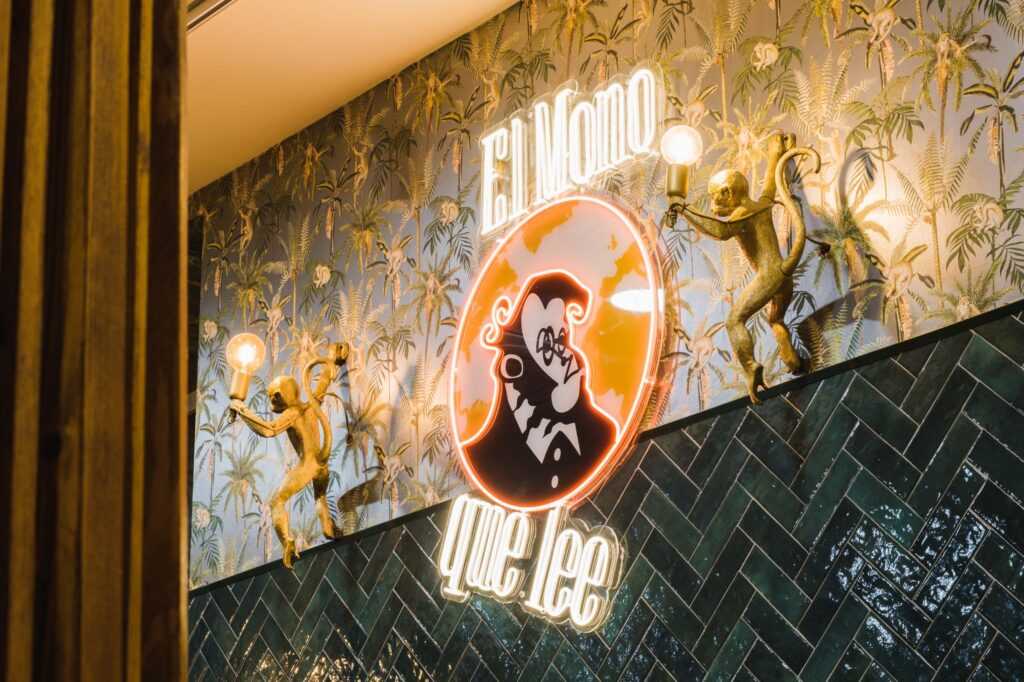 The bar area is one of the focal points, with its brick-covered surface, curved shelf replete with bottles, and integrated lighting.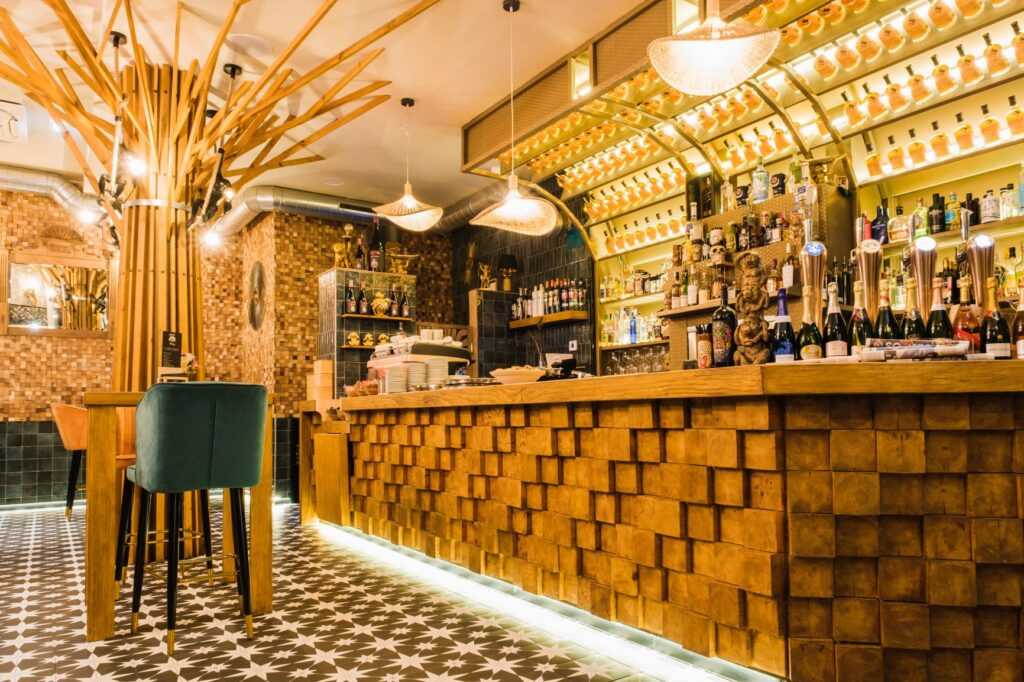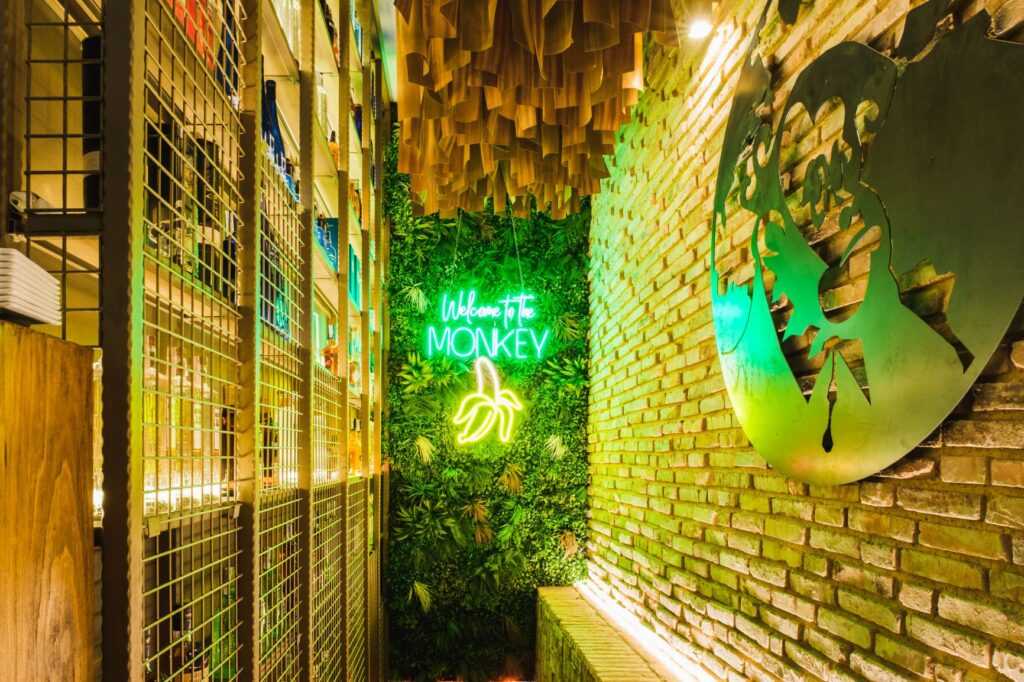 The staircase risers bear the name of a book title, a nod to the restaurant's former incarnation as a book store.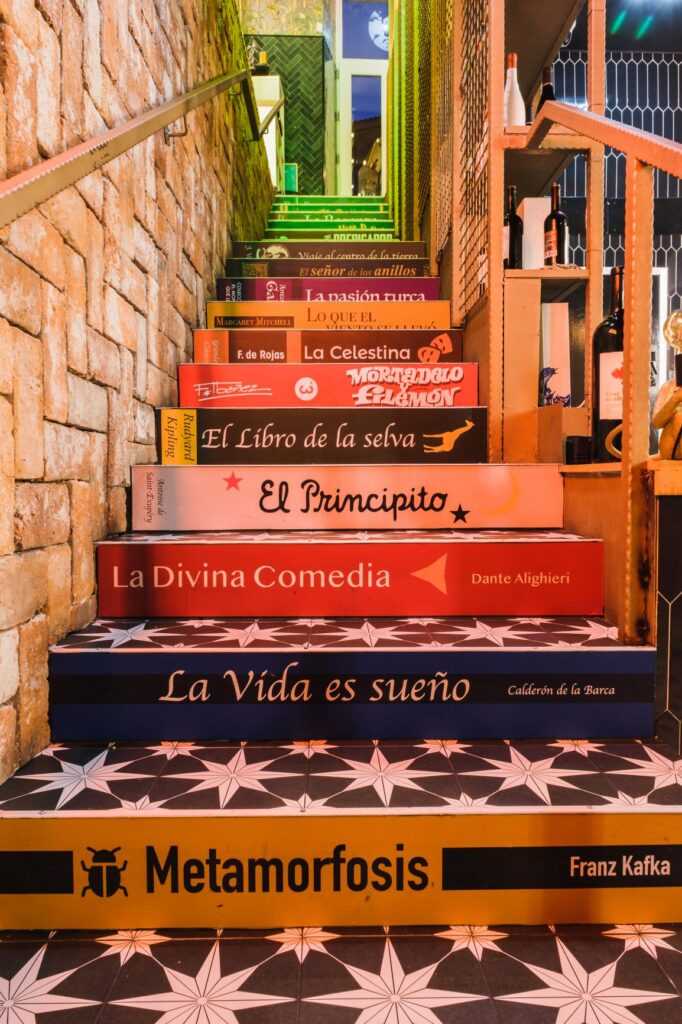 Address: Plaza del Riego, 3 – Oviedo
Photography by Érika Anes, exclusively for Spain for Design.
Asturias-based Érika Anes has been interested and linked to the arts since childhood, an interest that prompted her to study photography and lighting in Oviedo. In 2014 she started working for Mediadvanced, a multidisciplinary creative agency that develops communication, image, photography, art, marketing, and e-commerce projects. She has worked for several Spanish brands and companies in different sectors. A regular contributor to Spain for Design, she continues to develop as a freelance photographer. She set up her own studio for photography and video production, Deza Studio. (@dezaestudio).
To view more of Erika's photography for Spain for Design, see Café in Asturias, Spain Channels a Victorian Parlour, MonteNuño Residential Complex, Oviedo, Spain, and Asturias for Design.